The BGN News Archive
August 26, 2019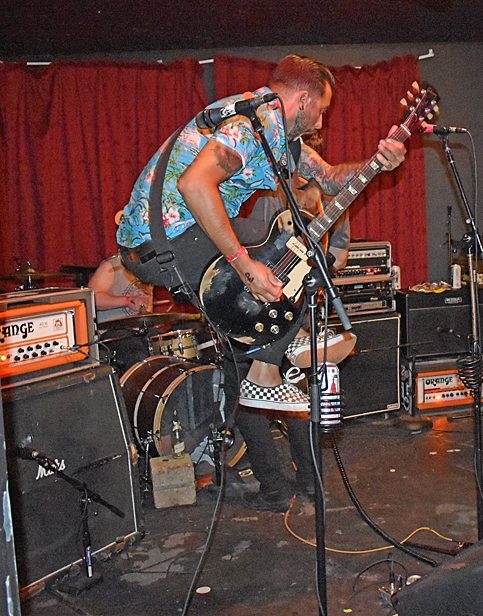 OC45
Photo: Blowfish
---
O'Brien's put together another punk rock bill on Thursday. OC45 is a band we like to catch every time and that goes for The Runouts as well. El Escapado we knew were on the same level because we saw them at the Middle East with OC45 last swing through a year ago. We did miss the openers - Sick Minds.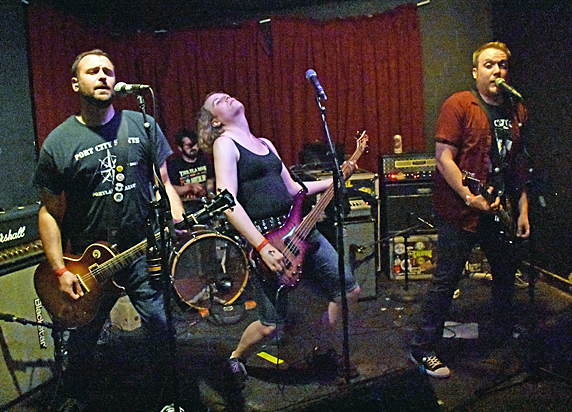 The Runouts
Photo: Blowfish
The Runouts started with some melodic punk. Andrew on guitar had a nice crunch to his Les Paul and dipped down to his amp to get feedback for an extra treat. The bass players amp is the smallest one we've ever seen. It's only as wide as most amps are deep. The bass sounded great and you could hear it fine.
One of the things that separate The Runouts from the pack is the vocals. The three members up front sing together or alternately to mix it up. One of their most memorable songs "Feculent Creatures" illustrates this up and they started their set with it. They did a pop punk cover mid-set that got the crown singing along.
On their recorded track "Static" you can hear them overlapping their vocals. That's the first cut on their album Bohemian Catastrophe. It's well worth getting on Bandcamp to give it a listen. There's not a lot of hoopla around The Runouts. Maybe there should be some attention getting routine but in any case you should give them a listen.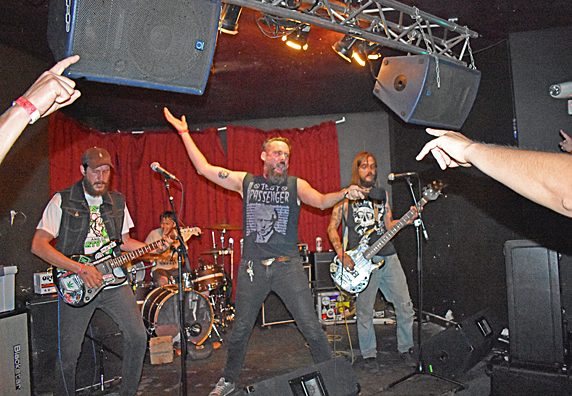 El Escapado
Photo: Blowfish
We had some reservations of El Escapado (translates as The Escaped) last time but not this time. At O'Brien's they were effective on all levels. The out and out blast from the stage made its point right off the bat. Abe, the front man was super hyper and made the lyrics come alive. The guitar and bass were both running endless riffs through songs with lots of twists. Drummer Joey was of the insane variety. He was rapidly nailing down complicated beats. We thought he would run out of energy – he never did.
Then there were the songs. We could see why OC45 like this band because they write songs with political and social criticisms. It felt good getting some lyrics with heft for this set and OC45. One song had the chorus "that's the way they ruin the world". They repeated that line a lot at the end and you felt its bitter truth. It was a a very involving set. It demanded attention and it gave its reward.
They did give a short comic relief mid-set with a cover of the Outfield's "Your Love" that got a sing-a-long going.
OC45
Photo: Blowfish
There's always a sort of mania surrounding an OC45 show, and this one had it too. When they get on stage that frisson is there and makes every show seem special even though this night the club was only half full.
Most of the songs we could ID were off their last CD Happy Accidents. They did our fave "This Bottle's Got Your Name On It". It's a song that they slammed out but had a chorus that is memorable and it had a story with an unusual twist in its offered lesson. That's why we love these guys.
They did their anti-gun song "Keep Your Guns" and it is so relevant now after several current incidents of mass killings. The band mentioned that in their intro and then went into the song with a vengeance. They also talked about the immigrant situation. They are very sensitive politically and are able to put real feelings and real down to earth arguments into the songs: another reason why we love these guys.
They got the whole audience to join in with the "Fuck the world" chorus in "Trainwreck". They do it every time and you wait for it. It's a great cathartic release.
It was back to O'Brien's the next day for another strong line up with Loser's Circle, Art Thieves and Barstool Preachers (From England).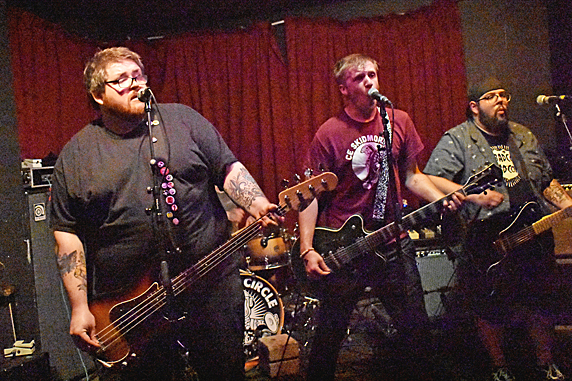 Loser's Circle
Photo: Blowfish
It always feels good to hear and see Loser's Circle. They play a melodic punk straight up. They passed the vocals around as they played the material from their album Took Long Enough. That album is looking more and more classic as time goes on. They played "Who's Bitter, I'm Not Bitter", "Getting By" and "The Great Illusion of Time".
They've been working on new 5 song EP and they played three new songs that stood out in the set. The new stuff fits in with their previous material and there are more hooks to hang on to. "It Starts at Home" was absolutely killer. That's a new fave right of the bat.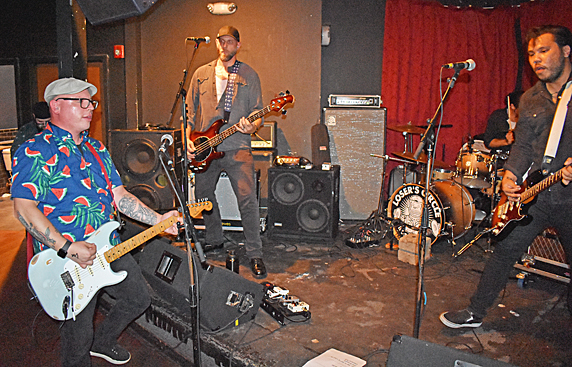 Art Thieves
Photo: Blowfish
We feel guilty that we haven't given Art Thieves more attention. The group has so much talent and are doing such interesting music. They added a guitar player since we saw them last year. That's given them another boost to what was already a well playing outfit. There were so many influences that we were heard in the music. They had art rock, punk, post punk, pop and agitprop. One minute they sounded like Gang of Four the next Joe Jackson. They are a history of punk rock in one band. It's was heady and thoughtful mixture. The jagged post punk was perfect for the mostly pointed political subject matter that they delivered with acerbic sarcasm. They tempered that with some melodic turns, even getting to choruses of "la, la, la's". This can be heard on the second video below.
Who can do this sort of thing? A lot comes from the lead singer who gets positively nasty as he makes a point about something distasteful in the lyrics. In between songs he spoke about how everyone in the club has a common unity and that helps us in the 'real' world when political turmoil hits us every day. We think that's true but never thought of it before.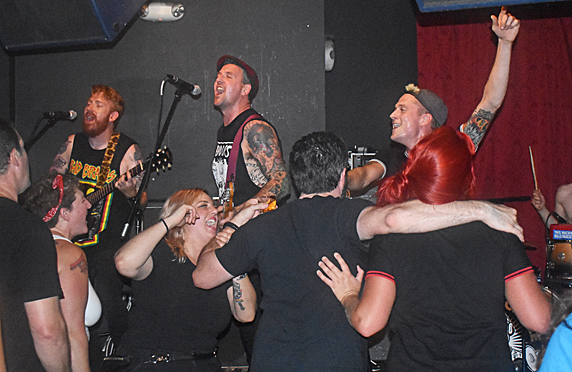 Barstool Preachers
Photo: Blowfish
The club was full but not sold out for this show. A section of people came for the Barstool Preachers. They are a ska band from Brighton, England. We wondered did they know they were a few blocks from Brighton, MA?
Lead singer, Tom McFaull, has a lot of charisma. Turns out he's the son of Cock Sparrer singer Colin McFaull.
This is a band that is going for the gold ring. They were projecting for a huge club not little O'Brien's. There was no way to deny that performance. They were so tight and forceful on their first song it was shocking. The previous bands were no wimps, but this was playing born of intense practice and commitment. The second song began with a huge sonic hit as the band jumped in unison. It was a visual and audio bomb shell.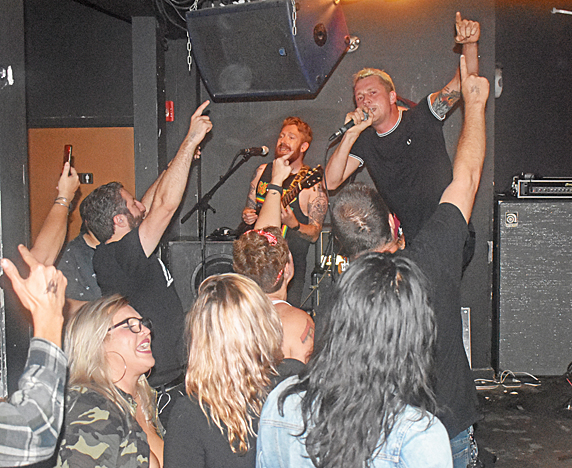 Barstool Preachers
Photo: Blowfish
They reminded us of The Interrupters and Aimee of that band has sung with them. They also have toured with the Dropkick Murphy's like The Interrupters.
They had politics in the lyrics and between song talk. They espoused unity in what they called the new punk community. That blue collar pick yourself up and join together feeling infused the whole set. It would have felt like a union meeting if it wasn't for the music. We've never seen so much uninhibited dancing at O'Brien's, most of the skipping ska style. We watched some of the videos on their webpage but they don't transmit the powerful live show that we saw.
That was so many good bands in just two days at O'Brien's. Meanwhile there was so much going on all over town we felt like we were missing out on. That's good. Summer used to calm down a bit with the students out of town but not the last few years.
Click Here for more band photos.
John Keegan had a busy week last week. He was on that Rum Bar concert on a boat in Boston Harbor with The Dirty Truckers, Stop Calling Me Frank and Muck & The Mires. Then he was up in Gloucester to catch Willie Loco playing with the The Persistence of Memory Orchestra Then he gets to The Square Root in Roslindale for The Savtones. He put together the slide show below with all those events. He also has a review on his page here ... John Keegan's Review
---
And in other news.....
WOW!! We just came across this interview on Razorcake: Stiv's Drinking Buddy: An Interview with Mach 5 By Brian. What a great dip into the past with Mach Bell talking about Thundertrain and the Dead Boys and the early days. There is also a convo with Jimmy Birmingham about his time with The Real Kids and John Felice.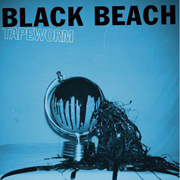 Black Beach is also releasing a single in front of an album release. "Sometimes This Body Lets Me Down" the song from the album Tapeworm. You can hear it on Bandcamp It's a raw blast that hammers a simple rhythmic riff. That's what they do.

In advance of a new CD by Indonesian Junk (Rum Bar) comes the single "City Streets". It's a thick mix of old school crunch and licks that seems familiar and impossible not to like. Check it out on Bandcamp. And check out the band on October 7 at Charlie's Kitchen with Baabes and Hambone Skinny.

Then we have to congratulate Cal Cali for Receiving the First Annual Dick Dale Memorial Surf Guitar Festival Award!!!
---
Here's some good shows coming up this week.....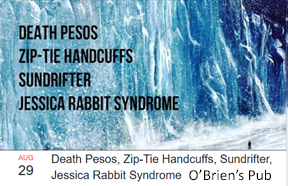 August 28 (Wednesday) Social Distortion & Flogging Molly at the Rockland Trust Bank Pavillion FB Page
August 29 (Thursday) Death Pesos, Zip-Tie Handcuffs, Sundrifter, Jessica Rabbit Syndrome at O'Brien's
August 31 (Saturday) A Crash Course For The Ravers LIVE Saturdays 1pm to 4pm at WMFO and transmits on 91.5FM Medford. This week we have RICHARD MIRSKY!
August 31 (Saturday) The 7th Annual "Rat" Beach Party at the C NOte in Hull, Starts at 3PM...a TON of bands including Joe Perry (SOTU solo), Bob Cenci & His 1980's Bandmates, Mad Painter, The Count's Love & Flame, The Fringe, The Baabes, GLiDER, Club Linehan A-Go-Go . Set times are on the FB page
August 31 (Saturday) Time & Place, PowerSlut, The Daylilies, Lonely Leesa & The Lost Cowboys at The Jungle - Music starts at 8PM
August 31 (Saturday) Fk the Str8 Parade w/ When Particles Collide, Salem Wolves, Big Nothing at OBrien's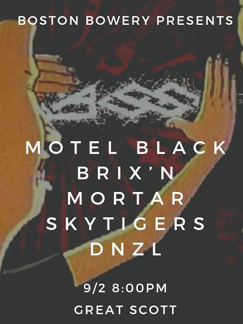 August 31 (Saturday) Randy Black Band (Randy Black, George Hall, John Phister, Matt Burns), Tony Kaczynski will also be doing a solo at Tavern at the End of the World
September 1 (Sunday) A Bunch of Jerks, Crunchtime, Zulu Lulu, The Black Souls - 3-7PM matinee at the Midway
September 2 (Monday) Great Scott's annual Labor Day BBQ! Beer, food, friends and ROCK 'N' ROLL! Grilling starts at 3pm! The music kicks off at 8:30pm with DNZL , Skytigers, Brix'n Mortar and Motel Black! Hey also - Brix'n Mortar will have copies of their long awaited EP "Poison Words" available!
And further out there is.....
September 3 (Tuesday) Rock and Roll Trivia with Erin and Brett - at City Winery 7:30-10:30 FB page
September 4 (Wednesday) Zip Tie Handcuffs, Birdgangs, The Dirty Pennies at O'Brien's
September 5 (Thursday) The Vibrators are at O'Brien's with Battle March, Sticker Shock, Duck And Cover Tix here.
September 6 (Friday) The Knock Ups, Smell The Only Humans The Deep State at O'Brien's
September 6 (Friday) Muck & the Mires, Jittery Jack & Amy Griffin, Bad Larrys at Sally O'Brien's
September 7 (Saturday) Mick Lawless & Reckless Hearts,Tsunami of Sound, Gene Dante & Future Starlets at The Square Root Roslindale.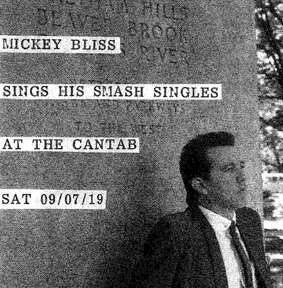 September 7 (Saturday) Buddy Hally Birthday Bash - Performing two sets of Buddy Holly's music: Evan Shore (Muck and the Mires) - guitar, John Sheeran (Township, Firekinf) - bass, Scott Pittman (Sugarblood Jinx, The Shods…) -drums, and guests Kevin Patey (Jittery Jack), Terry O'Malley (Stop Calling Me Frank) and more TBA! 10PM at The Plough.
September 8 (Sunday) Somerville Rock And Roll Yard Sale - Union Square - 11 AM – 5 PM FB page for more info
September 8 (Sunday) Private Instigators, Color Killer, Jonee Earthquake Band, The Degenerates of Punk 3-7PM show at The Midway
September 8 (Sunday) Vinnie Earnshaw Memorial featuring Greg Allen's Fringe Religion, Heidi Nirk Band, Neal Vitullo and the Vipers, Bob Angell, All Star Jam featuring Duke Robillard, Tim Taylor, BickerSins at The Met in Pawtucket RI. FB Page for info etc
September 9 (Monday) The Subhumans w/ FEA and Savageheads at Once Ballroom
September 12 (Thursday) Fireking, Hi-End, Radium Girls at The Jungle
September 13 (Friday) Screw Cart, Doug MacDonald Band, State of the Union at The Jungle
September 14 (Saturday) The Cotones, Kid Gulliver, Why Try?, Mosaic Mirrors at The Jungle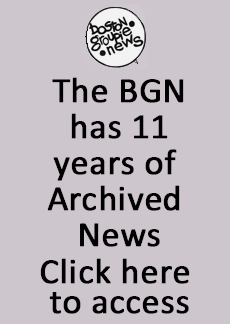 September 14 (Saturday) Punks for Pets!! with Stubborn Hearts, The Essays, Mike Donovan, Sex Coffee, Artist Jackie featuring BeatCo.ViaMental, Panzerchocolate, The Hangovers at The News Cafe in Providence RI FB page
September 16 (Monday) Ralph's Diner and Wormtown Ska Presents: The Toasters, Threat Level Burgundy, Sweet Babylon at Ralph's Diner in Worcester.Tickets.
September 19 (Thursday) Baabes, Fur Purse, North By North (Chicago), Sadie Vada at O'Brien's
September 19 (Thursday) Some Kind Of Nightmare with Skytigers, The Natty D's, DNZL at Opus in Salem
September 20 (Friday) Priors, Black Beach, Far Corners, Andy California at the Midway
September 21 (Saturday) PRIORS, Black Beach, Far Corners, and Andy California 8PM show at The Midway
September 21 (Saturday) Lyres and Glider at Once (TIX)
September 26 (Thursday) Ritualists (NYC), GLiDER, Sara & the Scaliwags, Lily Black at O'Brien's
September 26 (Thursday) The Runouts, Thee Fightin Fish, Muck and the Mires, Seawolf at The Jungle
September 26 (Thursday) Mick Lawless & Reckless Hearts,Tsunami of Sound, Gene Dante & Future Starlets at The Square Root.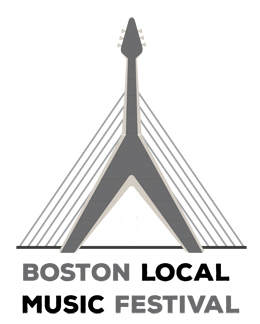 September 28 & 29 (Sat & Sun) The Boston Local Music Fest 10AM-6PM both days at Government Center. Check website for updated listings. They say: "There will be a variety of musical genres represented, as well as artists and artisans, food trucks, a beer garden, and a community of people supporting, experiencing, and celebrating our local music culture." We'll see.
October 1 (Tuesday) Agnostic Front w/Prong at Brighton Music Hall
October 4 (Friday) Cold Expectations, M.O.T.O., Little Billy Lost at The Jungle
October 5 (Saturday) Mudhoney, Pissed Jeans at Brighton Music Hall 6PM doors.
October 6 (Sunday) The Sinister Six, Martin / Morell / Fredette and TRiPLE THiCK - 3-7PM show at The Midway
October 7 (Monday) Hambone Skinny, Indonesian Junk, Baabes at Charlie's Kitchen
October 10 (Thursday) Kid Gulliver, State of the Union and The Chelsea Curve at The Jungle
October 11 (Friday) Sister Suzie (from the UK) Jittery Jack & Amy Griffin at O'Brien's
October 12 (Saturday) Lyres, Tiger Bomb, Glider at Sun Tiki Studios 375 Forest Avenue, Portland, Maine 04101 FB page
October 19 (Saturday) A Crash Course for the Ravers has Richard Mirsky - 1-4PM WMFO 91.5 FM
October 19 (Saturday) Avenir (French punk rock) at the News Cafe in Provi RI - check out their bandcamp page ..and here's the FB page for the show & tix etc!!!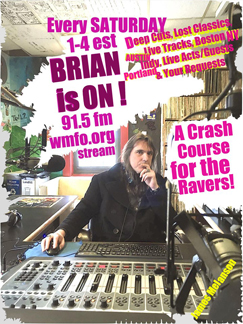 October 19 (Saturday) Cactus Attack, Black Leather Lagoon, Tarantula Bros, Nick the Barbarian at Opus in salem

October 20 (Sunday) Stiff Little Fingers, The Avengers at Brighton Music Hall doors 7PM

October 20 (Sunday) The Vivian Girls are at Once

October 23 (Wednesday) Flipper with David Yow (Jesus Lizard) "40th Anniversary Show" at The MIddle East Down

October 23 (Wednesday) 999, The Clap, Vixen 77 at The Fire Philly PA FB Page

October 25 (Friday) Flamin' Groovies, Richard Lloyd Group, Tiger Bomb at ONCE

October 25 (Friday) 999, The Clap, the Parasitix, The Transmission Now at the Catasauqua American Legion 215 PA FB page

October 26 (Saturday) The Fleshtones, GLiDER, Muck & the Mires, Baabes at Once Ballroom

October 26 (Saturday) 999, The Clap, The Bobby Lees, Blank Spots at Coney Island Baby in NYC FB page

October 29 (Tuesday) 999 & The Clap at Randy Now's Man Cave 134 Farnsworth Ave, Bordentown, New Jersey 08505 FB page

November 8 (Friday) Muck & The Mires, The Gotham Rockets, Tiger Bomb, Gene Dante at Alchemy in Providence RI FB page.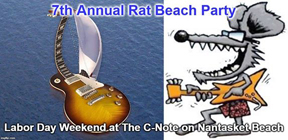 November 9 (Saturday) The Von Traps, Salem Wolves, blindspot, Jakals at Opus in Salem
November 16 (Saturday) International Pop Overthrow at Union Tavern...check FB page for info as it comes.
November 21 (Thursday) Robert Gordon with special guest Chris Spedding at Once
December 21 (Saturday) MOTO, The Thigh Scrapers, The Thirsty Pirates (NYC) , The Montgomerys at The Midway for a Matinee Show 3-7:30PM
January 10 (Friday) The Mercy Case, Bystander, blindspot, Foxes at Koto Salem
March 28 (Saturday)The Zulus at The Paradise
CONTACT US AT....misslynbgn@yahoo.com Send us your gig listings, your news and anything else ya got!! You want your CD reviewed?? Contact us for that too.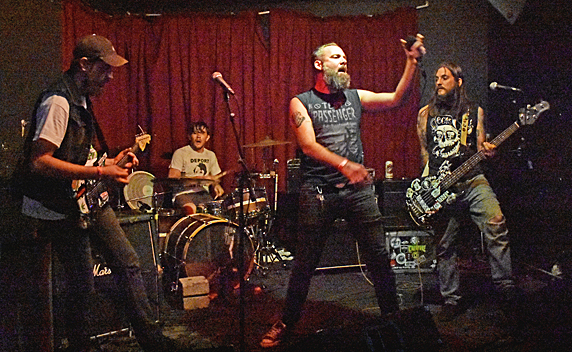 El Escapado
Photo: Blowfish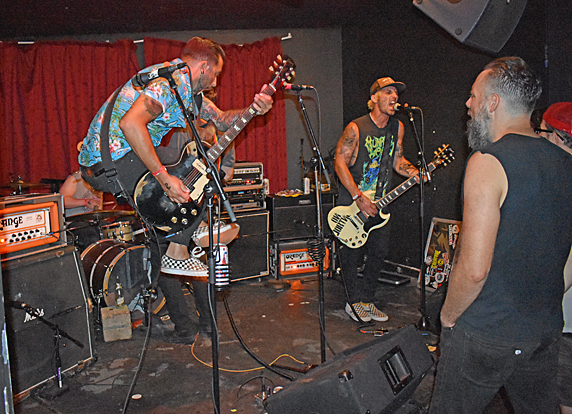 OC45
Photo: Blowfish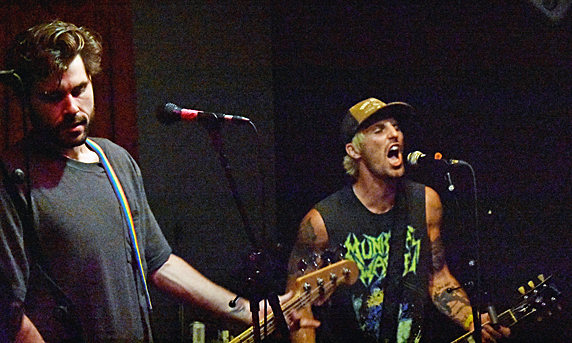 OC45
Photo: Blowfish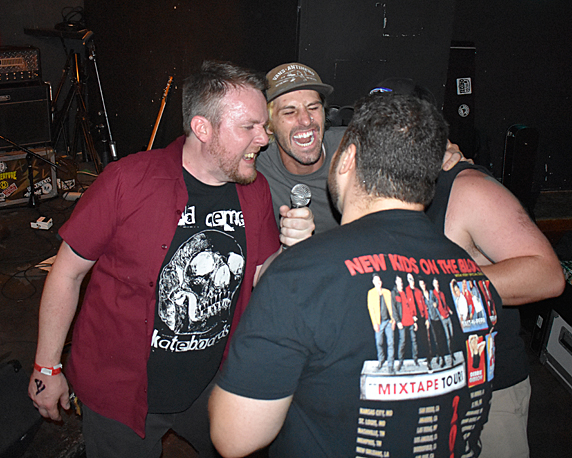 The Runouts
Photo: Blowfish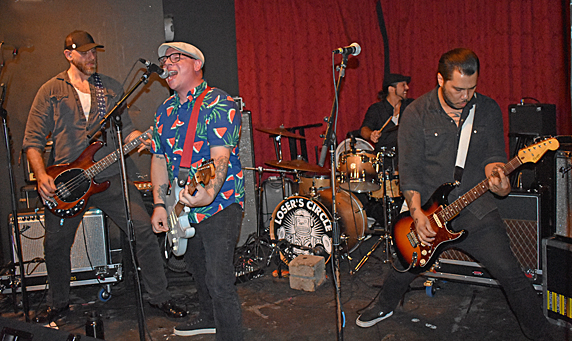 Art Thieves
Photo: Blowfish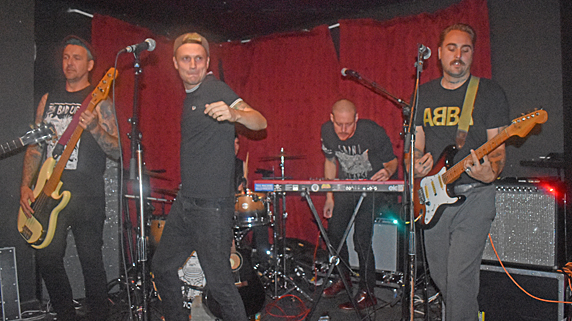 Barstool Preachers
Photo: Blowfish