The BGN News Archive
August 30, 2021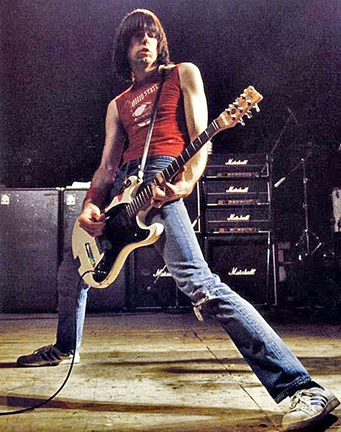 Johnny Ramone and his Mosrite guitar
In a sign of how important punk is now thought of, one of its artifacts will be auctioned at a starting price of $500,000.00. The item: Johnny Ramone's white Mosrite guitar.
RR Auctions (Remarkable Rarities) will be selling the collection of Daniel Rey (Ramones producer) on Saturday September 25. There are 27 items. There is another later model blue Mosrite Mark II look alike for sale. Johnny's original Freedom amp that he used at CBGB's is included. See a video about it here . There are some posters and two Shrapnel singles.
We know that a lot of our early Boston punk singles are worth money as well as the early hardcore vinyl. How much would that Rat stage sign go for if that were auctioned? See all the auction items and maybe bid here.
A few weeks ago Charlie Watts bowed out of the next Rolling Stones tour and he never did that before, you knew it was serious. He died this week. The tributes are all over the news and web. We liked him because he always kept it simple. Even in the seventies when many drummers got bombastic he remained tasteful. He kept the Stones solid at the core. There's a lot of tributes collected on the Deadline website
Of course in Boston we have a band named after him: Watts.
We were again sad when Don Everly died. The Everly's didn't have much of a direct influence on punk although The Real Kids did sing their song "Problems".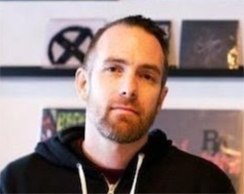 Dig Magazine interviewed Chris Wrenn of Bridge Nine Records. It get very specific on how the small label has fared through the Covid shutdown. We've heard a lot of hard stories yet we are not dulled to them. Being a small company and trying to remain solvent over a year and a half of restrictions is a bitch.
Here's a re-evaluation of Thalia Zedek's 1999 album Been Here and Gone, just re-released also. Thalia's stature is growing with time. Read more here.
Someone pretended to be Jonathan Richman and booked a concert in at a festival in Olympia, Washington. The scam was discovered the day before the concert. Jonathan remarked, "I just heard of your wonderful festival, and (it) sounds like an ideal place for me to play someday. Did the guy who called you up manage to imitate my voice pretty good? If he did, you've got to hand it to him. Most people can't do it." The story is in the Olympian newspaper website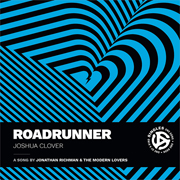 And speaking of Jonathan: "Jonathan Richman and the Modern Lovers' 1972 song "Roadrunner" captures the freedom and wonder of cruising down the highway late at night with the radio on."
We thought that says all that's needed to be said, but evidently not. It seems like there's a book in it too. Joshua Clover has written the book titled Roadrunner. He gives it 144 pages of explication. The blurb says that Clover "…locates "Roadrunner" at the intersection of car culture, industrialization, consumption, mobility, and politics."
You can get the book on the Duke University Press page. It's available in eBook form too, so you can get it immediately.
Roadrunner is the first book in a series called Singles: one song, one book, by Duke Press
Ralph Fattelo is working on a Vinny reunion in 2022. Hey, we'll all be doing "The Ravioli" again.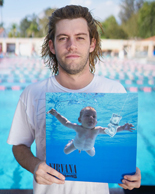 Will the craziness never end? The baby on the cover of Nirvana's Nevermind sues the group?
The Brooklyn Vegan short article outlines the scenario. Despite milking his fame, the floating baby, Spencer Elden, now claims he was ignored by the current representatives of the group and is suing for a lifetime of earnings. We have a feeling the court may say….Nevermind.
Patti Smith recorded seven songs at Electric Ladyland studios from a series run by Spotify. Songs include "Birdland" (9:18 minutes long) from Horses, which was also recorded at Electric Ladyland. "Blame It On the Sun" is a Stevie Wonder song which was also originally recorded at the studio. Bob Dylan's "One Too Many Morning" was also performed.
All the material is piano driven. She ends with "Peaceable Kingdom" a song she has performed a few times during live streams this past year. The story is on the Brooklyn Vegan website
You can listen to the tracks below.
Louder Sound webzine has a list called - 10 brilliant but obscure punk bands who should've been huge. It's a good list. They have Warsaw Pakt, Stinky Toys, Rudi Dangerous Girls, The Dancing Did. They put The Avengers on the list. We didn't know about poet Clive Pig who must have crossed paths with John Cooper Clarke.
The article is here
You can hear most of the selections below…
John Keegan played the Midway last Sarurday (8/21) with his group Crow Follow. He compiled this video slidewhow which shows the whole day with groups: The Concerns, The Skirts and Connor Storms.
---
VIDEOS......................
We have been liking the songs coming out of the Canadian group The Bambies' next album. Now we all get to see them on a video showcase called Spaghetty Town Circus 2. It's a rough rocking set with snotty vocals.
There are like minded groups following in the video like: RMBLR (Rumbler), The Boatsmen, The Bitch Queens, The Ravagers and The Strip.
Also in the lineup is Brad Marino whose video for "Local Shows" includes guest shots of Malibu Lou, Kurt Baker and Danny Laj.
Gene Dante and the Future Starlets have a video for their song "High Time" and you know with Gene it's all about the visuals. With "High Time" you join Gene in his world of make-up mirrors and mannequins. The insistent drumbeat really makes this song one of the groups best.
On Thursday's Late Risers Club Joanie Lindstrom played The Control Freaks from Scranton doing "Riot." It's the sort of punk song we used to hear all the time but not so much anymore. The video is fun too. Video above.
The album will not be released till September 30. Here's their Bandcamp page. We'll check back to search for more good punk.
Is Jim Janota now going in a "..new serious direction", and is he "…deeper more thoughtful"., and with a "…sincere effort to explore the human condition", with "…metaphorical double-entendres sure to please the most literary amongst his fans"? Somehow we couldn't find all that in his new video for "Hot 2 Trot" but we're just philistines who like AC/DC.
PODCASTS............
Blowing Smoke With Twisted Rico sits down and talks with Steve Martin of Nasty Little Man a NYC public relations company that has clients like Smashing Pumpkins, Helmet, The Beastie Boys, the Foo Fighters and Paul McCartney, but Steve also was in the Straw Dogs and Agnostic Front back in the day. Martin talks about the hardcore times a little but then it's into the history and workings of his publicity company.
---
MUSIC/CDs.....................
The band Come has a re-release of its second album, 1994's Don't Ask, Don't Tell and it comes with an extra album of b-sides and unreleased tracks.
Two tracks are available on Bandcamp now. "Car" which was their first song and a demo called "German Song". Thalia Zedek's work stands up to time. It's looking more classic every year. "Car" sounds like a masterpiece on its own.
Come will celebrate the re-release of Don't Ask Don't Tell with a show in Brooklyn's Union Pool club on November 5 and 6. Tickets here
Kurt Baker has a new single: "Keep It Tight"/"Get Away". With another artist we would praise these pop wonders with Kurt you have to go further and question how does he continue this streak of amazing material, seemingly endlessly?
If you like pop like this all you have to do is keep sitting on Kurt's Bandcamp page and scoop them up as they come out. This single is even available on clear red vinyl!
The Chelsea Curve log in yet another great single. "Inconceivable" is a fun song about someone who uses five syllable words (like the song title itself). We would call that person a sesquipedalian and hey, that's six syllables, beat ya! There's a lot of five syllable words in the song lyrics.
We are so loving this group now. We are hooked beyond belief. To think of the album with all these singles!!!
---
Here's some good shows coming up .....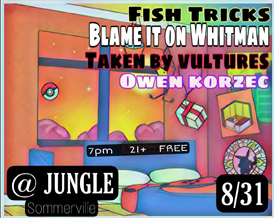 August 31 (Tuesday) Taken by Vultures, Blame it on Whitman, Owen Korzec, Fish Tricks at the Jungle
September 1 (Wednesday) High n' Heavy, Bone Church, Mother Mammoth, Death Pesos at The Middle East
September 2 (Thursday) Public Serpents, Threat Level Burgundy, Loser's Circle at O'Brien's
September 3 (Friday) Thalia Zedek, Helen Money, Chris Brokaw, Hilken Mancini and Chris Colbourn at The Middle East
September 3 (Friday) Rebuilder, Choke Up and Old Soul at the Sinclair - Tickets
September 3 (Friday) The Zulus rescheduled show at The Paradise - doors 8PM, music 9PM. FB event page
September 4 (Saturday) Wire Lines, Minibeast and Deprogramer Cult play an album release show for Wire Lines at the Middel East Up. is the FB page.
September 4 (Saturday) Stormstress and Lily Black are performing live at Herter Park in Allston. FB page for info and direction. It's FREE!! Music at 7:30.
September 4 (Saturday) Actor|Observer, Girih, Dreamwell at O'Brien's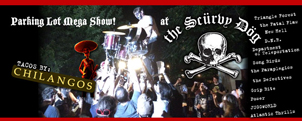 September 5 (Sunday) Scurvy Dog Parking Lot Megashow II - with Triangle Forest, the Fatal Flaw, Juggworld, Song Birds, Department of Teleportation, New Hell, D.N.R., the Paraplegics, Grip Bite, Poser, the Defectives - starts at 1PM and is FREE!!! FB page.
September 5 (Sunday) Bad Larrys, Leiko, Scare City, Shirts and Skin in Ralph's Parking Lot (Worcester) Music at 7PM.
September 10 (Friday) The DollyRots at the Middle East Up - Baabes have been added to this show!! FB page.
September 11 (Saturday) Rock and Roll Yard Sale, Union Square, Somerville
September 11 (Saturday) Kid Gulliver, Hired Men, Field Day at the Square Root
September 11 (Saturday) Lovelorn, Biproduct, Betties, DJ set by Octalisk at O'Brien's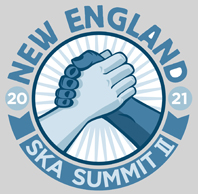 September 11 (Saturday) New England Ska Summit II with The Skatalites, Bim Skala Bim, Void Union at The Middle East down.
September 11 (Saturday) Guided by Voices at the Sinclair. Tickets.
September 12 (Sunday) Mark your calendars! Frank Rowe's 70th Birthday Party featuring Classic Ruins, Unnatural Axe, and Kenne Highland's Air Force- at the Midway
September 13 (Monday) Field Day (x-Dag Nasty), Moving Targets at The Middle East 6PM!!
September 16 (Thursday) Richie Parsons at The Midway - 8:00- 9:15PM. September 16 (Thursday) Bob Mould is at the Paradise - Tickets here
September 17 (Friday) The Dents, Duck and Cover, Fullmoon Vagrants, Deprogrammer Cult at The Jungle FB page
September 18 (Saturday) Martin, Morell, Fredette with guests Field Day and Randy Black at The Midway. These are early shows - 3-7PM
September 18 (Saturday) Michael Kane & The Morning Afters, When Particles Collide, Adi Sun, Senseless Optimism at Once @ Boynton Yards...doors 6- music at 7PM....TIX here.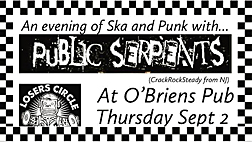 September 18 (Saturday) Punk On The Patio at Ralph's Rock Diner! Rockin Bob Punk Band and Scotty Saints and the True Believers, Trash Muppets, Kermit's Finger at 8PM
September 19 (Sunday) STORE 54 POP UP another moving event - 9 AM EDT – 6 PM - FB page He'll be selling stuff - like Miss Lyn's artwork!!
September 19 (Sunday) It's the return of Tubefest -New England Surf/Instro Showcase! Lots of surf and instrumental bands for your enjoyment! Tubefest Facebook page. This will be a matinee show - 3 to 7:30pm at the Midway. Groups are Tsunami of Sound, The Weisstronauts, Max Heaton and the Electric Heaters, The Malfunctions and the Tarantinos (good name) from NYC.
September 23 (Thursday) Black Souls at the Plough, Cambridge, MA, 10p
September 24 (Friday) Reagan Youth along with Rockin Bob Punk Band, Fat Chance, Neighborhood Shit, Sorry Mom at Sammy's Patio in Revere FB page.
September 24 (Friday) Diabolgato, Salem Wolves, The Evil Streaks at Koto. As per order of the City Of Salem , masks must be worn regardless, and that includes the bands onstage .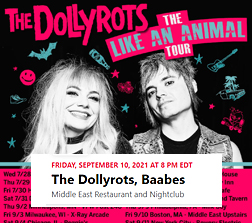 September 24, 25 and 26 The New England Shake Up is CANCELLED!!!!
September 25 (Saturday) Stop Calling Me Frank, The Hi-End, The Idolizers, The Shang Hi-Lo's at The Midway
September 25 (Saturday) The Royal Arctic Institute, Clamb, Home Despot, Sapling at The Jungle
September 30 (Thursday) Nervous Eaters/Barrence Whitfield/Willie Loco and the Boom Boom Band/Carissa Johnson at the Paradise . Get Tickets Here!
October 1 (Friday) Sam Black Church, Stomp Box, Only Living Witness at the Paradise (a benefit for Julie Duffy) FB page with Tix link.
October 2 (Saturday) Oh the Humanity! record release show at O'Brien's
October 3 (Sunday) Thalia Zedek, Andrew Cohen, Honey Radar at O'Brien's Pub
October 4 (Monday)Gary Neuman at the Paradise Tickets
October 5 (Tuesday)The Chops, Weatherworn, Louzy, Key of Caustic at The Midway
October 9 (Saturday) Little Billy Lost, Peppermint Kicks at The Square Root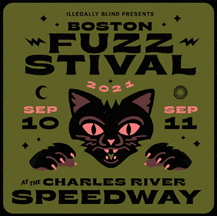 October 9 (Saturday) NE Ska Summit doc w/ The Copacetics and Riki Rocksteady at the Regent Theater Arlington FB page
October 14 (Thursday) Ministry at the House of Blues. Tickets
October 15 (Friday) Tsunami of Sound, Jonee Earthquake Band, Doug Macdonald Band, Kenne Highland's Airforce, The Thigh Scrapers at Pete's Grille Quincy. FB page
October 16 (Saturday) Magic Room in Norwood presents Smitt E. Smitty & The Feztones and Gene Dante & The Future Starlets FB page
October 18 (Sunday) Martin, Morell, Fredette are having a residency at The Midway - 3-7PM
October 22 (Friday) Brad Marino, Geoff Palmer and Kurt Baker playing 2 sets of hits from all their bands with The Dents in the middle. At The Square Root.
October 22 & 23 (Friday & Saturday) The Town & The City Festival, Lowell. This has been postponed until April 2022!! Website for tix & info ... FB Event page.
October 24 (Sunday) Nervous Dater, Good Looking Friends, Tatoonie Punk Scene at O'Brien's in Allston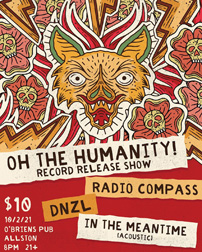 October 27 (Wednesday) Richie Ramone and Public Nature at Ralph's Diner Worcester
October 31 (Sunday) Dropkick Murphys At Hogan's Run again 7-11PM...best Tessie costume wins a free drinks bracelet for the night. FB page.
November 5 (Friday) The Guns of Brighton return to the Breakaway in Danvers FB page here.
November 13 (Saturday) Field Day (x-Dag Nasty), Moving Targets, Lenny Lashley's Gang of One at the Middle East Up TIX!!
November 13 (Saturday) Tsunami of Sound, U-ey at the Buoy at The Square Root
November 19 (Friday) Hardcore Stadium and Grayskull Booking Presents: Slapshot - Celebrating 35 Years of Hardcore Day 1- Stars & Stripes, Noi!se, COA, Patriot, Violent Way at Sonia - (already sold out!!)
November 19 (Friday) Joan Jet & the Blackhearts will be at the Chevalier Theatre in Medford Square. Tickets.
November 20 (Saturday) Lurid Purple Flower, Verdegree, Motel Black, Shrink Ray at The Jungle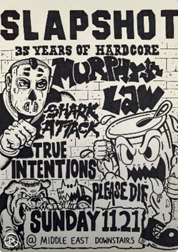 November 20 (Saturday) Hardcore Stadium and Grayskull Booking Presents: Slapshot - Celebrating 35 Years of Hardcore Day 2 -Slapshot, Sheer Terror, Death Before Dishonor, Pummel, Count Time - at The Middle East Down. (already sold out!!)
November 27 (Saturday) Jason Bennett & the Resistance, The Damaged, The Hagglers, & Chris Skel at The Middle East
November 27 (Saturday) Dinosaur Jr. at the House of Blues on Saturday Nov 27. Tix
November 30 (Tuesday) The Labor Pains, Disqualifier, Tensor, Bad Sandy, The Lost Boys at The Midway. FB page
March 13, 2022 (Tuesday) Reigning Sound at the Sinclair Tickets: https://www.axs.com/events/402182/reigning-sound-tickets
April 22, 2022 (Thursday) Circle Jerks at the Paradise
CONTACT US AT....misslynbgn@yahoo.com Send us your gig listings, your anything else ya got!! You want your CD reviewed?? Contact us for that too.
---
---