The BGN News Archive
September 8, 2014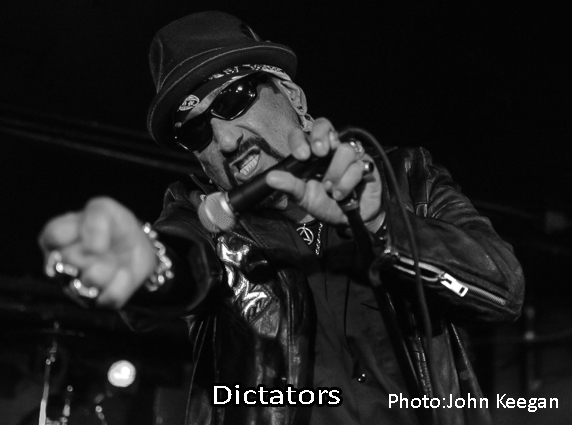 Whoops, I did it again. I caught the Real Kids...I mean the Statutory Apes (this week anyway)...at the Midway. This is quickly becoming one of my favorite summers (fall) of Boston rock. There are gigs all over by a variety of new and old local and non-local acts, there is a month of amazing reunion gigs for the Pipeline! Anniversary event, The Rat Beach Party....and to top it off all these Real Kids gigs all September! WOW!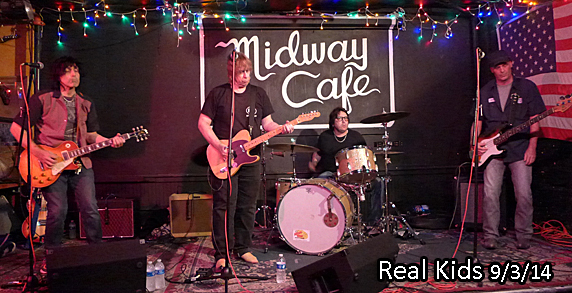 The Midway gigs have been up close and personal. The band is working hard. They are getting new songs in the lineup and making sure that every week's set is a little different to keep things interesting. This week I think the guitar interplay was stellar. John and Billy were trading off solos and that came to a head on the extended Reggae, Reggae their last song. As the guitars were taking off that was a point where you could see the advantage of Dickie and Randall keeping everything rock solid on the bottom. Again Billy donned the 12-string for Don't Talk to Strangers. I loved hearing My Baby's Book. That just whips me back to the old days. When that great version of Baby Blue that they have been doing ended Mitch from Triple Thick ran over and said, "did you ever hear anyone cover a tune like THAT!"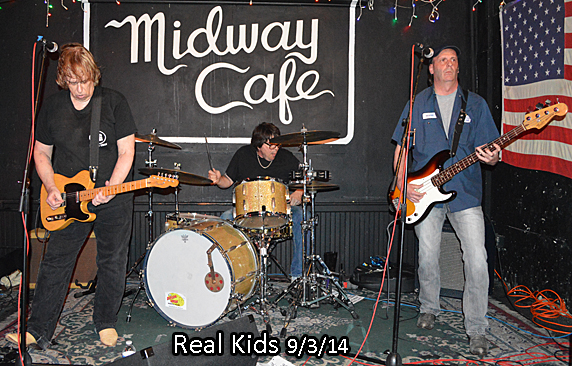 Who Need You is such a strong emotional song and the incident and girl that prompted that song also prompted All Kindsa Girls.
Did you know that? It's in our old 1978 Real Kids/BGN interview (click here to read it!)
We also got a kicking version of All Kindsa Girls. There is nothing like hearing the intro lick to that song and knowing what's coming and getting blown away anyway. I live for moments like that.
I talked to John Felice afterwards and he's in a great mood. We all know it's 2014 not 1976 and he's doing what he can to make things work and to keep creative. He was talking about some of the outrageous antics they did back in the day which he was sort of embarrassed by now but you know at this point it all feeds the legend. They were the bad boys of Boston punk - let the stories be retold.
I felt that connection with him of having been on the scene since 1975 as we were in the same clubs with the same people and going through all sorts of personal changes. Most of the clubs are gone and some of the people are gone but there we were outside of the Midway after a gig. It's not all about the old days for him…or me. It's about the rocking out now. So hey, will you catch the next gig? Check the news below!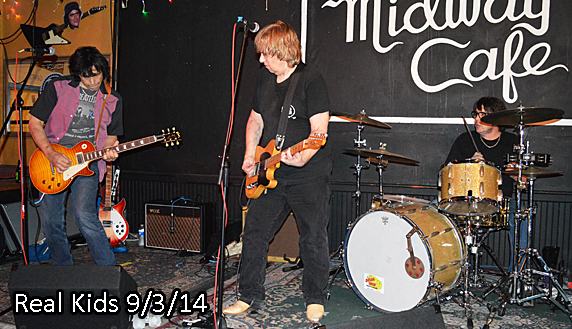 My favorite popster Kurt Baker was playing Tavern at the End of the World. Kurt is currently based in Spain so gigs around here are rare now. When I got to the Tavern it was very hot inside. The listening room was full of people (although it is small) and I couldn't even get in there to see the Dirty Truckers who had John Blout from Watts singing for a song. Realizing it was going to be several hot uncomfortable hours and I might not have a good position to see Kurt - I bailed.
These days there are gigs aplenty and I headed to TT's to join the Viva La Eva benefit. The Dogmatics were up and their performance just warmed me up inside. I love hearing Thayer Street especially. All the sets tonight would be a bit truncated because of the large line up. The Queers were a no-show though because of airline problems…I heard. Ed Moose Savage played but I missed him. A major back operation a few weeks ago might have slowed him up but didn't stop him from this gig.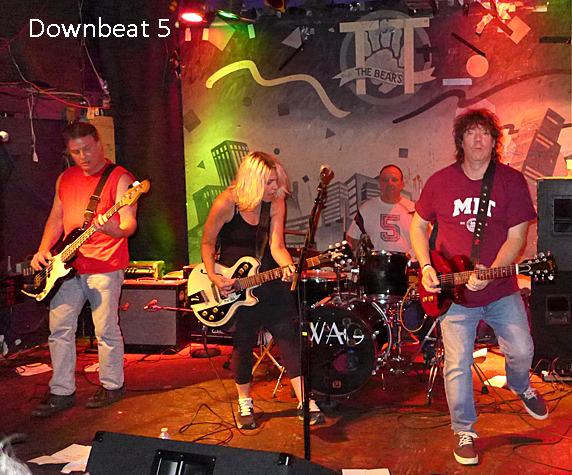 It was a treat to be able to catch The Downbeat 5. I think the last time I saw them was 2011 (here's our review and pics) It's just a gig here and there for them since they are not officially a working band anymore. JJ Rassler is a joy to hear. He channels so much garage, soul and sundry influences through his guitar playing. You add Jen's voice and you have a group who carved their own niche. And it couldn't be done with the drummer and bass player who make it all rock balls out. Jen's has been very high profile with her career but I also want JJ to be actively gigging.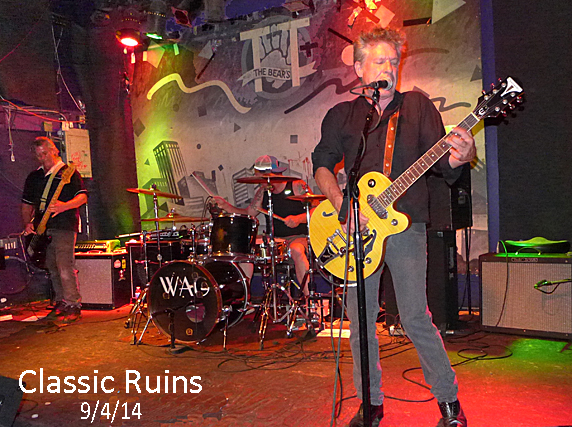 Topping the night is Classic Ruins. There in good form. Frank Rowe has a guitar I don't think I've seen before and the sound always changes with Frank's choice of axe whereas say Carl Biancucci is always dependably constant in his bass playing. We always sing the praises of Dave Kowalcek and tonight, as usual, he looks like he just loves playing with the band. He's grinning the whole time and I am too.
If anyone has seen this group more than me I'd love to know who it is…OK, Matt Burns comes to mind. I was wondering - what if someone just saw these guys tonight for the first time, what would they think? I believe they would be impressed with the songs. I think they would wonder where the songs came from and of course admire the playing. We know all that but that's a long story.
I caught three good performances but TT's, if I may complain again, was not AC'd enough for me. Thank god this summer was cooler than usual because these clubs refuse to turn up the AC. How many customers would Target or Walmart lose if they had hot stores?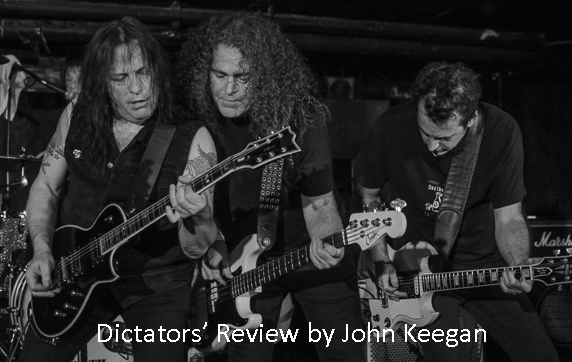 Next night it was onward to the Middle East down. The Dictators brought out the faithful. The club was full of people we recognized: Gail Corcoran and Ed Lynch, Swid, Chris Brat, Kenny Kaiser, Tom and Judy White, Frank Dehler, Joanie Lindstrom, Sara J., Rochelle Joseph, Paul Robinson, Michelle Haber, Jimmy Birmingham & Kim Ernst, Bob Colby, Eric Law, Perry Adler, Judy Parsons, Peter Gates, Brett Milano, Judy Wilburn, Michelle Paulhus and Jim Janota, Cal Cali, Andrew Hegarty, Kim and Cam Ackland, Matt Burns, Paul Armstrong. A lot of people we talked to had seen the Dictators multiple times. Last show of the group Manitoba was at Church May 2012.
John Keegan continures our Dictators coverage with a page of photos too.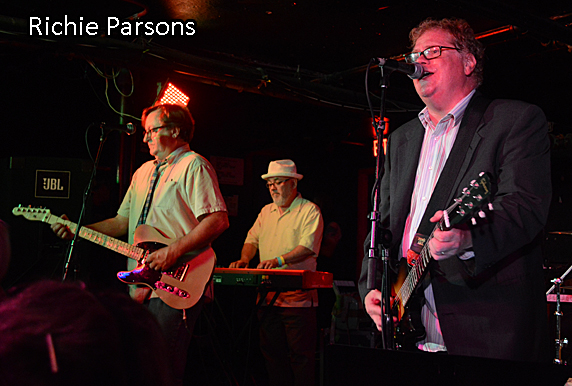 This gig was set up by Richie Parsons. The idea being to have a good platform for his new CD and indeed it worked out that way. It's a long way from Unnatural Axe's Hitler's Brain to the angelic opening "Owww Ahhhhh's" of Honey and Tears. Where Axe is raucous this project is calm. The miracle is that this Dictators audience gave rapt attention to this whole set of pop. And really I think many people were here tonight not just to see The Dictators but to support Richie's project as well. He's done this material with a group at the Beachcomber (which you can read about here) and solo.
Tonight he has five players behind him. It's John Lynch of the Neighborhoods on drums and Lee of the Hoods on acoustic guitar, Fritz Ericson and Ed Riemer of Band 19, Doug Harper who is on the CD on guitar and celebrity musician/mixologist Brother Cleave on keyboards and accordion. This line up was able to recreate the arrangements and that is important for this type of music because it's all in the details. Every band member delivered the goods tonight and they were needed. There are many finesses in just the vocals that have to be captured. Richie uses different tones to his voice and of course the harmonies are all important.
A lot of these songs are atmospheric and play on a mood and that is one of the hardest things to bring out on a large stage. Richie was able to do that with songs like Blue Sands (about the beloved bar ) which was dark, Love Letter (my fave) which was light and wistful and When You're Dancing gained a joyful lilt.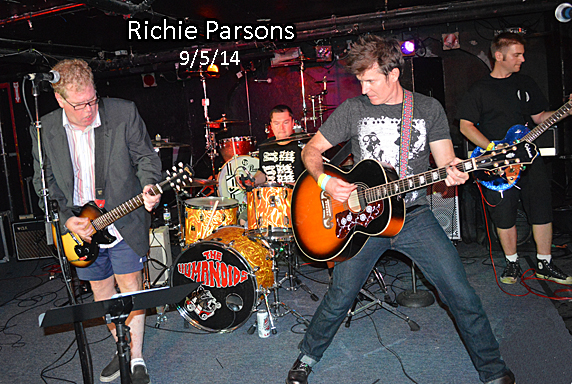 People who were primed to hear the Dictators listened attentively to the whole set even Hey Little One the Glen Campbell cover that was the slowest and sweetest of the set. About three fourth's through they played a Band 19 song to give some variety. For those of us that have digested the CD it was rewarding to hear it all done live. This was all a new twist for Parsons. He must have felt very good after the great reception the band got this night.
Jim Sullivan did an interview (you can read here) that gives a perspective on how Richie came to this material now. And in case you didn't make it to the merch table here's Richie's on-line merch table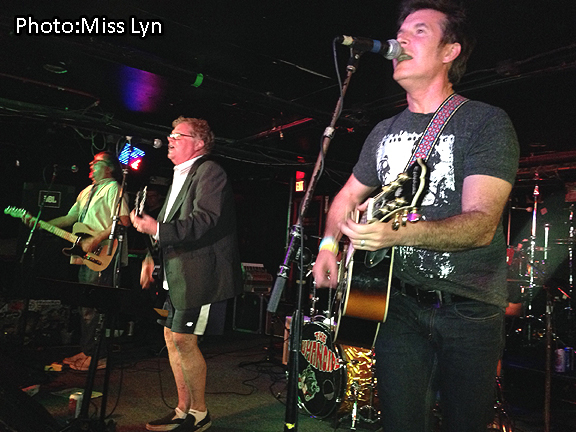 At the beginning of the night we missed the Humanoids but caught the never-miss good-timing-romp of Muck and the Mires. Dave Aaronoff has departed and they have Pete who used to play with the Ape Hangers, Port Charles Quartet and Muck and the Mires too…he's returning to the nest. He is the perfect voltage for this group. This may be the best line up yet for the Mires. He more than matches the energy and enthusiasm of Evan and that's saying something. The riffs and chords flow like a torrent out of this guy. Another thing about Muck and the Mires is how they fill and seem ultra-comfortable on the larger stage of the Middle East. They are bigger than the Beatles now; the world just doesn't know it yet.
Oh and...Saturdays have become Blowfish's Crash Course for the Ravers day. They have interesting guests playing live. The talk and the music are lively. The Willie Loco show was one of the best things on radio in a long time .
They always have loads of fun in the studio. So Blowfish went over this week with no agenda other than to just crash the Crash Course. He talked a little about the Groupie News, had some cake for Marie's birthday and said hello to Brian Young, Paula Worsley and another guest Carl Biancucci. He also got to meet that week's guests; Trusty Sidekick. They did a few songs live that were interesting to see close up.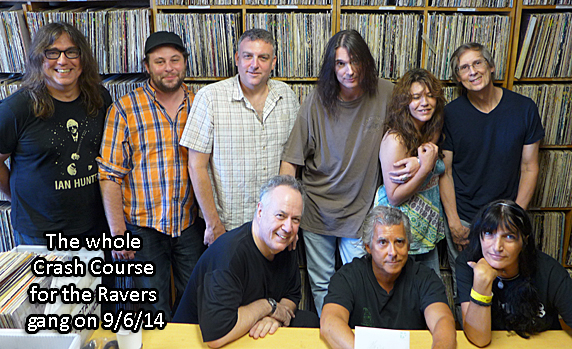 Tony Kacszynski is in Trusty Sidekick. Six months ago I didn't know who he was but since then I've seen and heard about him from everywhere (especially Kenne Highland's at Large). He plays in a few groups and sits in on others. He's a go to guy when you need a guitar player which is what he was doing when I saw him at the Litehouse gig at the Cantab (which you can read about here). Blowfish and gang in the studio.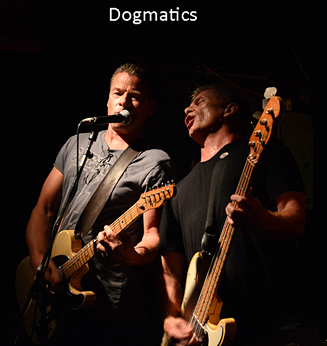 Fellow Raver Mike Stewart who is involved in lots of local music projects revealed that Jan Crocker is ready to release the next DVD in the La Peste saga called La Peste V2.0. This is a Bradford Hotel Ballroom gig of the La Peste with Ian Blast as the guitar player. That's some good news!! Then it was a little more birthday cake and that was a week.
And there's more for your reading pleasure friends!! Kenne Highland At Large is shock full of krazee Ken stuff you'll luv reading!! Check it out here: Kenne Highland At Large
And what's coming up.......
At the Cantab on Poetry Slam night SEPT 10 will be the great John Cooper Clarke. That seems unbelievable to long time Clarke fans but true. You can read it here. And its three bucks to get in!!! He's visiting in the area so he's doing this and another gig on Sept 22 on Church's Punk Rock Monday...the cover this time? $5!!!
OK folks it has already started....great gig days- a crazy, exhausting and exciting couple of months of music in Boston....read on...amazing shows coming up and lots of them.....
Oh yeah this Tuesday September 9th at the Midway Brian Young hosts a show with Johnny & The Hartebreakers, The Classic Ruins and Tsunami of Sound....(this is one of the shows we mention above) so um, this "Johnny and The Hartebreakers" better be good......or Mr. Harte may say "Who needs you" and I hope they make me shake out of control.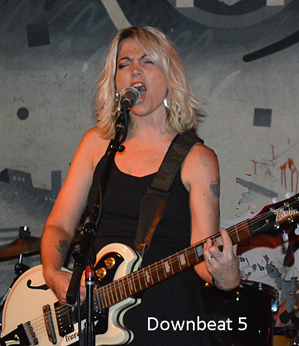 This Wednesday SEPT 10 At the Cantab on Poetry Slam night will be the great John Cooper Clarke.
Tony Savarino is having a Record Release Party on Thurs/Sept 11 at The Lizard Lounge to celebrate his Guitararino cd.
The Legendary Shake Shakers are coming to the Middle East down Friday September 12th.
50 Years of Boston Rock, WMBR's Pipeline!'s 25 year Anniversary officially starts this Friday Sept 12. It's at various venues in Boston, Cambridge, Brighton, Somerville and Arlington. Specifically it's going to be 13 shows featuring close to 80 reunited Boston-area bands performing at 5 venues over 5 weekends from September 12 to October 12 - at the Paradise Rock Club in Boston, The Middle East downstairs in Cambridge, the Brighton Music Hall, the Regent Theatre in Arlington, and Cuisine en Locale in Somerville, a new ballroom-like space with a capacity of 425.!! So get ready now. (There are current plans to add a 14th night to the series) Tickets are now available at all venues! Click to see the insanely long entire list of line ups on the Facebook page . The first show has O Positive!!! this Fri. Sept. 12 at Regent Theatre, Arlington: The Freeborne, O Positive, Cordelia's Dad, We Saw the Wolf, String Builder TICKETS can be had here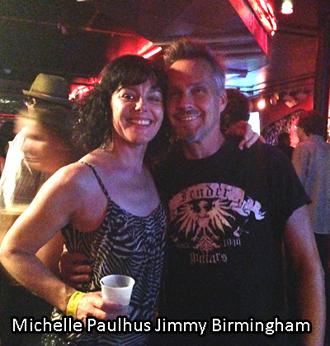 And there's 4 straight nights of awesome shows at the Midway starting with folk/punk show Friday 9/12 with Bryan McPherson, The Old Edison, Marl Lind and Jeff Rowe.
Also on Friday the 12th there's a good show at The Beachcomber in Quincy with Screw Cart (Former members of Kilslug & Upside Down Cross, Toecutter, Ointment, and Noble Rot.) , Deklaration, Truman Highaway and Black Friday...
And Bob Colby's back in business with his shows at Store 54 on Friday the 12th he's got Count Zero, The Vivs and Uranium Daughters
There is a lot going on Saturday Sept 13....first off there's a early evening matinee with 4PM doors at the Midway, it's all ages and only $7.00...on stage is Risk, Class Struggle, Working Poor USA, Aftermath (from CT) and Traces of Empire
Then that night, at The Midway on Sept 13. Cal Cali brings us Lyres-Nervous Eaters-Cal Cali Band- The Invaders (Les Envahisseurs-from Quebec) - oh mon dieu!!! What an excellent line up!
AND Sept 13th the beginning of the Pipeline! shows with Baby's Arm, Berlin Airlift, The Dogmatics, The Neats' Eric Martin & friends, Stranglehold, The Turbines - CUISINE EN LOCALE (link to tix) 156 Highland Avenue, Somerville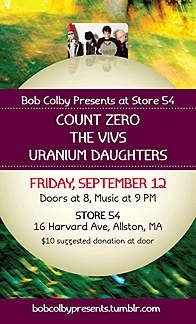 But don't forget Sat. 9/13 is also Matt Burns' 60th Birthday Party! He's celebrating at The Lizard Lounge. So far the bill includes Litehouse, The Handymen, Kenne Highland, and more bands to come.....
Sunday September 14th --the Midway will bring us the legendary UK band The Members!! also with them are Greg Allen's Fringe Religion and OC45...here's the FB page link
Then on Monday Sept 15th....not to be missed the band you never heard of but want to see in this setting - The Shakes Outta Control, just click their link and see where it brings you) but also on the bill TRiPLE THiCK, Banditas and Jay Allen & The Archcriminals! This should be a great night!
Thursday September 18th head over to Church for The Monsieurs, Nice Guys, Boogie Boy Metal Mouth, Ben Katzman's Degreaser

Saturday, September 20 we get to see James Straight & The Wide Stance again!! They are at Copperfield's along with The People's Party, Green Street Station , and Sunrise Showdown...then.....
Kurt Baker heads back to Madrid shortly...so there's a Kurt Baker Send off Party show up in Portland, ME at the Bayside Bowl on Sat. Sept 20. It's a special performance by Kurt with Kip Brown check out the FB page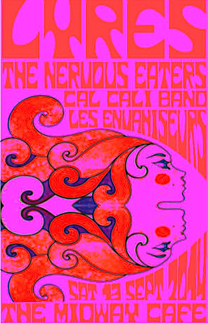 Sunday Sept 21 at TT The Bear's there's is Queerstock 2014 with Gunpowder Gelatine, Thalia Zedek, The Kitchenettes and Fur Purse .......
And September 22nd at the Middle East up is a great show with Shonen Knife and Petty Morals.
Monday Sept 22 is also on Church's Punk Rock Monday with John Cooper Clarke!!! 5 bucks!!
Tuesday Sept 23rd is another one of those special Midway shows...this one has The Egos, Problems (ha ha that's a good one, see above reference to changes and bad reputations), The Knock Ups and Hambone Skinny
Wednesday 9/24 is yet another excellent show at The Midway with The Savtones, Axemunkee and Mission Creep (it's their Album Release!)
Here is another one of those insane weekends with loads of great stuff going on- but its the norm for Sept/Oct in Boston!! :
It's starting early at TT's on Thursday Sept 25th. FINALLY Endation is playing in Boston again, and this is their CD Release party. Yellabird starts out the night at 9, then Eddie Japan, Endation is on at 10:50 and Do Not Forsake Me Oh My Darling finishes off the night and (this is the ONLY time you will see them for the rest of the year).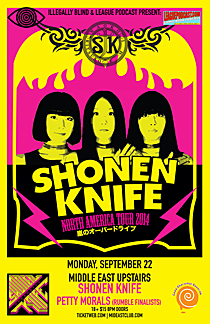 at TT's on a definite, awesome actually, punk note Friday the 26th they have The Angry Samoans, Reagan Youth, Burning Streets and The Welsh Boys opening the night.
REGENT THEATRE in Arlington Sept 27 is yet another amazing Pipeline! Show with: Barry & The Remains, Cardinal, The Downbeat 5
Sept 26, 27 & 28 is The 2nd Annual New England Shake Up it's Three Rockin' days of Bands! Record Hops! Vendors! Car Show! Indoor Pool Party! And More! All taking place at the lovely Sturbridge Host Hotel in Sturbridge, MA....Boston bands Jittery Jack, The Rollin' Pins and Lynnette and The Longshots will be performing.
The Rat Beach Party set for September 27 & 28 (Sat & Sunday) you get all the info on their Facebook page new bands are being added.
Crash Safely is coming up in September/October - night #1 is at The Midway on Saturday September 27th with Pete Donnelly, Pete Hayes and John Powhida (Aka The Petes), Watts, Gene Dante and The Future Starlets, The I Want You and As The Sparrow
And Terry Brenner has a Garage Rock Extravaganza on the North Shore! on Saturday the 27th with The Connection (at 11), The Charms (at 10) and Corolla DeVille ( at 9) and its all happening at The Spotlight Tavern...for only $5!!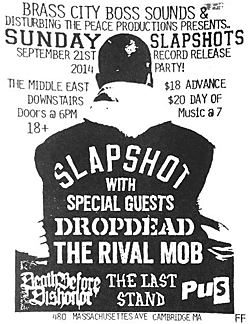 And the Gizmos are playing in Memphis at The Gonerfest on September 27th
At BRIGHTON MUSIC HALL on Sunday Sep 28 is Pipeline! super show Anastasia Screamed, The Flies, The F.U.'s / Straw Dogs, Men & Volts, The Nervous Eaters,
on Friday Oct 3rd at MIDDLE EAST RESTAURANT DOWNSTAIRS we got another amazing Pipeline! Show with : The Blood Oranges, The Bristols, Buttercup, Fuzzy, Lazy Susan, Robin Lane and The Chartbusters, Tacklebox
And for The Midway early evening show (4PM doors) this Saturday October 4th - Kenne Highland and Eddie Flowers are at it again with The Rockabilly Yobs (mems of The Gizmos/Afrika Korps), Didn't Planet, Wasted Luck (from Germany) and The New Frustrations
Saturday October 4th O'Brien's has a really good ...and long and early starting show with 3PM doors: DRAGO, The FU's, Black Cheers, Silver Screams, Quiggs and Little Richards ...you can read our write up on the Quiggs and The Black Cheers here from when we saw them at The Midway in March.
Next night Sunday Oct 5th Pipeline! has something at The PARADISE with Big City Rockers (Atlantics), The Charms, The Dents, High Risk Group, Reddy Teddy, Shake the Faith, Willie Alexander & The Boom Boom Band.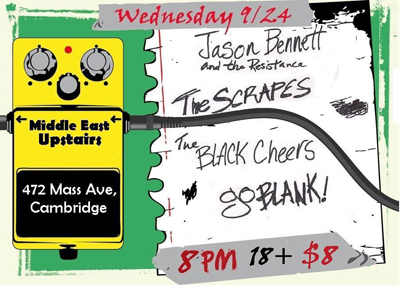 October 5th - another amazing Sunday show at The Midway will bring us The Vibrators!!! also on the bill MOTO and The Skeleton Beats. And the Vibrators have a new record coming out September 16th on Cleopatra Records it's Punk Mania - Back To The Roots: "14 killer reminders (plus 3 more on the CD) as to why Knox, Eddie & Co. have built a long, successful career on their razor sharp riffs and rousing hooks!"....check it out here.
Friday October 10 is Night 2 for Crash Safely Benefit this one's at the Midway again...and there's a great line up with Petty Morals, Gymnasium, Tsunami of Sound and My Own Worst Enemy.
Pipeline! Show #12 - Sat. Oct. 11 at Cuisine en Locale, Somerville: The Cavedogs, Gigolo Aunts, Flying Nuns, The Rising Storm, Drumming on Glass, The Natives, The Dambuilders' Dave Derby & friends You can get TICKETS here.
over at Store 54 Bob Colby Presents The Beachcombovers and Mars on Saturday October 11th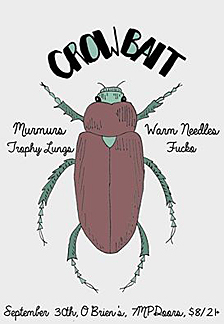 The Gizmos are in Brooklyn at Union Pool on Saturday October 11th this line up will be Kenne Highland, Eddie Flowers, & Ted Niemiec bringing the original 1976/77 Gizmos to NYC w/ assistance from Kenny Kaiser (Afrika Korps), MJ Quirk (Kenne Highland Clan), & Matt Burns (KH Clan) also on the bill: Lame Drivers, Milk Dick, & Liquor Store.
Also on October 11th an all day affair with the 9th Annual Hot Rod Fallout in Glastonbury CT - Bands & Continuous Music All Day
Vendors, Food, Booze, and more.....1963 & Older Traditional Styles Vehicles - Hot Rods, Customs, Stock, Race and Bikes
Pipeline! Show #13 - Sun. Oct. 12 at The Middle East Downstairs, with The Gizmos (original line up of Highland, Flowers, Neimec), The Bags, The Voodoo Dolls, Kenny Chambers / Electric Ears (Moving Targets), The Underachievers, Carrie Bradley (of Ed's Redeeming Qualities, The Breeders, The Buckets) TICKETS can be bought here
In case you've been missing the Roy Sludge Trio as I have, they're back and on a Sunday too October 12th ...at The Midway from 4-8:30PM along with special guest The Calamity Cubes and all for only $5!!
Monday October 13th there's a special show at Weirdo Records with Eddie Flowers and Kenne Highland , its the day after their Pipeline! show at the Middle East Down. Pre Kenne/Eddie there's CTM opening the night around 8pm and Cryostasium middle things out around 8:30-8:45. If you know the album 'Vernietiging', you'll love the set. Triple guitar attack all coming out of tiny l'il amps. Keep in mind that this is a TINY place so if you want to see the sets best to get there earlier than later.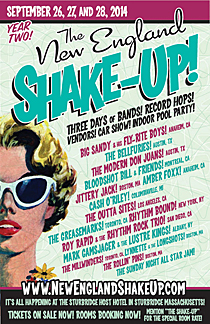 Friday October 17th is Night 3 of Crash Safely Benefit...this time its at the Middle East Up and wow, the line up again is killer with Township, White Dynomite, The Field Effect, Triple Thick and Animal Hospital!!
Also on Oct 17th at The Midway is Sasquatch and the Sick-A-Billys, Tigerman WOAH, Tail Light Rebellion, and The Radiator Rattlers
Saturday October 18th there's a insane bill at The Cantab with Kilslug, Hirudinea, Witch King and David Carradine
October 25th we can see The Cranktones at The Midway again kids...it's WMFO's Easy Ed presents:- The Cranktones, Johnny Carlevale & The Rollin' Pins, plus Easy Ed's Record Hop!!! - great night!!!
The Damned are touring this Fall with TSOL. They are playing Halloween in NYC but playing Boston on Saturday October 25th at the Royale...tix here....
In November Bob Colby has his Store 54 show with When Particles Collide and Powerslut on Saturday November 8th
Newsflash we are happy to report: Rick Coraccio comes out of retirement!! Yup....the CalCali Band, Asa Brebner Band, Tsunami of Sound ...and the Last Ones at Sally O'Brien's - Union Square- Friday Nov. 7
And WHEW!! WHAT AN AWESOME show this'll be - (thanks Perry Adler for emailing this on Amy Prohaska's list!!) Cavestomp ! & King Yum Records Present: Lyres with Special Guests Wicked Cool Recording Artists Cocktail Slippers, The Connection, TRiPLE THiCK on Friday, Nov 14, 2014 at The Middle East - Up. (Tickets here) The Cocktail Slippers, great Norwegian female band: "The band's main musical influences are Blondie, The Shangri-Las, Joan Jett, Foo Fighters, The Ramones, and The Beachboys". Their real good version of the Connie Francis/Ellie Greenwich song "Don't Ever Leave Me":
CONTACT US AT.....misslynbg@yahoo.com Send us your gig listings, your news and anything else ya got!!