The BGN News Archive
September 14, 2009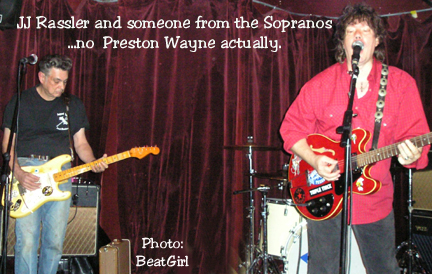 hey folks it is vaca time here at the BGN...Le Blowfish went off for a short jaunt to the country....and thank goodness for BeatGirl, she saved our butts by going out to see The Odds and Muck show at Precinct last Saturday....so here's some pics for yiz......

Muck in blue...
Photo:BeatGirl


...Muck in red.
Photo:BeatGirl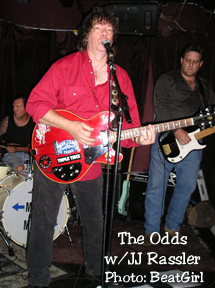 Well I guess we gotta say it...he was not a good friend of mine, but he died...RIP Jim Carroll...I personally was not a fan of Basketball Diaries but many many punks were.
And I also gotta say RIP Patrick Swayze....a very cool guy...I love it when guys have the cajones to be macho yet dance better than anyone and act in movies as a drag queen
OK...so on to brighter things...whew.....
Awesome weekend for music here in Boston: This Thursday is Juliette Lewis at the Middle East down...I think I heard a song or two by her before and it was pretty lame but she has sure been in some fab films and done an awesome job acting in them so she deserves a listen and a lot of respect as far as I'm concerned!!...and I am damned sure she's gonna put on an excellent show!!!...
Friday the 18th you can find The Swinedells (on at 9PM so get there early) , Barrence Whitfield and The Raging Teens at TT The Bear's in Central Sq Cambridge....
Saturday, Sept 19th, The Marvels are playing again at The Baseball Tavern over in The Fenway along with Razors in the Night and The Sprained Ankles...excellent show!
Then on Sunday September 20th at 1PM - Harper's Ferry: another awesome show with The Ducky Boys, Everybody Out, Confront, Have Nots, Burning Streets....
And at The Cantab on Sat Sept 26 it is Neon Nite (as in Nancy!) with The Joe Harvard Band, My Own Worst Enemy, Fox Pass and The Varmints...
And here is a very special event....
on Sunday 9/27 at 8pm at Church there is a Lou Miami "Reunion" Rootoo Family Benefit...playing will be James Straight and The Kozmetics (JS used to be in James Straight and The Beaureaucrats and was a good friend of Lou Miami's) the band will include former members of Lou Miami's bands, they'll be doing Lou songs...and man did he writer some excellent ones!!! "Throw me up a flight of stairs, throw me down a flight of stairs...." also on the bill will be Girl On Top...and From Karen Di Biassi we hear: " Lou Miami came to me for voice lessons around 1984 and we became close friends. After the Kozmetix broke up Jack Rootoo (guitarist) joined Girl On Top and played with us for fifteen years. Both have since passed away:-( They are missed. Please come and support them." ...the word is that Jack Rootoo's family is having a very difficult time and need help so please come out and give some support.......it's $10 at the door......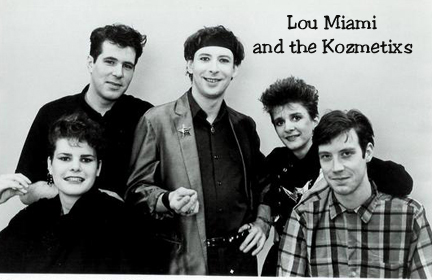 And looking forward to October here's some cool stuff to plan for: both at The Middle East UP to make things easy for you: The Dirty Truckers and Muck & The Mires on Friday Oct 9th and next night, on Saturday Oct 10 it's The Glam vs. Punk Extravaganza : with Gene Dante & The Future Starlets, The New Alibis, MeandJoanCollins and The Acro-brats -cool!!
Ok folks, email me ....let me know what's happening..thanks!! click and write me!.... Lyn