The BGN News Archive
September 26, 2022
| | | |
| --- | --- | --- |
| Guttermouth | The F.U.'s | Wimpy Rutherford |
Captain Easychord has two reports for us this week!! One was a mostly hardcore show at the Middle East up. It was West Coast's Guttermouth along with Baabes, The F.U.'s and Wimpy Rutherford.
Hit the photo link below for the full report.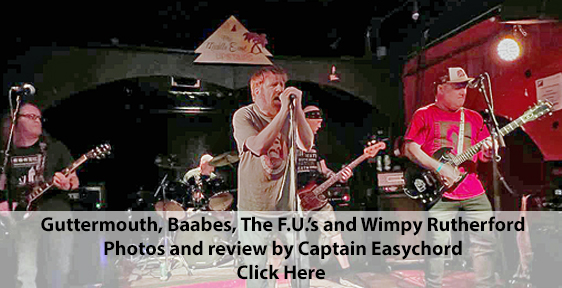 He also took in the Hallapalooza in Lexington which was rescheduled from earlier in the summer. That had a few opening acts that were followed by a few Red on Red Records acts: Speedfossil, Justine & the Unclean, Cold Expectations and the Andrea Gillis Band. Then it was the Mach Bell Experience that made a big impression. Mach now has another chapter in his musical career now after getting lots of attention from his books and his promo appearances.
Hit the photo link below for the full report.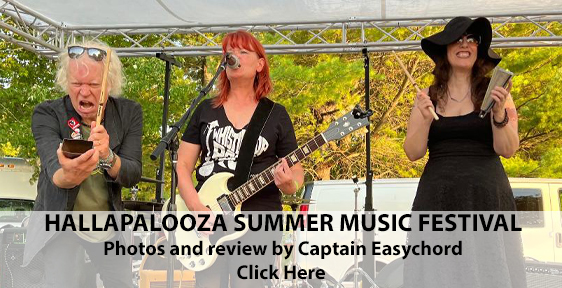 Frank Rowe posted that the Classic Ruins show at the Midway last Saturday 9/24 was cancelled because he had Covid. It's a reminder, if one needs it, that Covid is still a concern.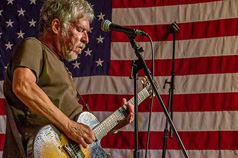 Even though there still are deaths from Covid the concert scene is back to pre Covid levels and even exceeding them.
Says the Washington Post 9/24/22.
""Everybody's returned to pre-pandemic levels, across all venues, from small clubs to stadiums and festivals," a promoter said. That's true across the concert industry, according to Pollstar, which collects box-office data nationwide. The average number of tickets sold per show jumped above 2019 levels in the first half of this year, the data showed."
Although Classical music and Broadway attendance are 32 and 50 percent below pre Covid levels respectively.
The New England Tiki Society are having a benefit for Brother Cleve's wife called A Toast for Brother Cleve. It's Monday October 10 from 6 to 8pm at the Wusong Road Tiki bar in Cambridge (112 Mt. Auburn St in Cambridge). For tickets or donations go to https://www.newenglandtikisociety.com/a-toast-to-brother-cleve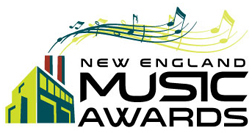 Stormstress has been nominated for four New England Music Awards: Artist of the Year, Album of the Year (for Silver Lining), Hard Rock/Metal Act for the year and Video of the Year. You can help them by voting here.
Also listed for Artist of the Year in the awards are Weakened Friends and Paper Tigers. The Chelsea Curve are nominated in New Act of the Year.
In the Punk Rock Act of the Year they have: Linnea's Garden, The Jacklights and the Chelsea Curve.
In Rock Act of the Year they have: Gymnasium, Weakened Friends, and Dutch Tulips.
Andrea Gillis is in the Pop Act of the Year.
In Video of the Year they list "Quitter" by Weakened Friends and "Goth Beach" by Walter Sickert & His Army of Toys.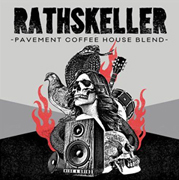 Local coffee franchise named Pavement has a new blend called The Rathskeller. That's no coincidence, it's about the club.

"Inspired by people who live on their own terms, this is Pavement's Rathskeller. No local rock club had a more notorious reputation than The Rathskeller. To be young, free, and turning your finger up to authority in the 70s, 80s, and 90s was to find yourself in Kenmore Square when it was more sleazy than squeaky clean.

A night at "The Rat" guaranteed loud, edgy, electrifying music and people. Known equally for the music (think Thin Lizzy, Talking Heads, and Pixies) and its wicked nasty scene, The Rat remains in infamy for a generation of Bostonians."

We hope it doesn't have the distinctive bouquet of the club!

Jimmy Harold RIP would have loved this. If you want to buy, here's the website https://pavementcoffeehouse.com/products/rathskeller

The Dropkick Murphys have announced their St Patrick's day shows. You know if they've announced it, the tickets are probably gone now. In any case the shows are going to be in two clubs. One will be at the new MGM Music Hall and the other in the House of Blues on March 17 to 19.

This year they will be featuring their newest album This Machine Still Kills Fascists which is a tribute to Woody Guthrie. Tickets here The story in the Boston Globe .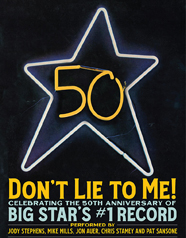 It's the album that won't stay down. That would be Big Star's #1 Record. It's loved to death by pop aficionados and influential in inverse proportion to its popularity. Maybe one of the best things about it is that some people just don't get it. "What is it about that record," they ask?
Well for those that know a road trip might be in store for you. They have a dream band line up going out on tour to play the #1 Record. The band includes Chris Stamey (dB's), Mike Mills (REM), Jon Auer (The Posies) and Pat Sansone (Wilco/The Autumn Defense),
The tour is: 11/30 - Athens, GA, 12/3 - Memphis, TN - 12/4 - Jersey City, NJ - 12/6 - Philadelphia, PA - 12/7 - Washington, DC -12/9 - Carrboro, NC.
Here's an article in the Brooklyn Vegan about it that comes with the #1 Record streaming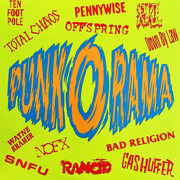 Brooklyn Vegan also reports that they are going to reissue the 1994 first Punk-O-Rama compilation album on cassette. Those compilations were everywhere for a decade. They got up to #10 in the series.
The albums represent the punk music of their time. Volume one has: Descendents, Rancid, T.S.O.L., NOFX, Down By Law, Poison Idea, Bad Religional and the New Bomb Turks. More on the Brooklyn Vegan website along with photos of the new merch
Artist Amber Rose Tortorelli of Sapling has an art exhibit in Worcester. There was a big write up in the Worcester Mag website on the show. The name of the exhibit is 'Mani(a)c'. Amber has mental illness issues and her art deals with that. The exhibit has everything from a typewriter to a video of shadow puppets.
The story gives Amber enough space to explain what she is doing. Read it here
---
VIDEOS......
Steve Diggle has kept the Buzzcocks going since the death of Pete Shelley in 2018. The group now has a new album, Sonics in the Soul, the first since 2014.
The first song/video released is "Manchester Rain". He's decided not to try to artificially write in the Buzzcock's vein. "Manchester Rain" has some sections that recall the buzz guitar but mostly goes its own way. See the video above.
The album is now on Bandcamp. It's much like the single, it's not the Buzzcocks as they were, but the album is good in its own way. Diggle's voice is nasal like Pete's was and it sounds very English.
"Nothingless World" is a fave cut.
Hear the album below or go to Bandcamp
Jeff Hudson has a bunch of new video/songs on his YouTube channel. One that we liked was titled "Hey You". Video is above left.
It seems nice and calm but then it has a creepy quality to it. What's with the 'little creatures' and going to the zoo?
Then there is the very obvious song "Bullshit" that captures that idea. The video is above right.
Jeff has been doing this for decades. The synth sounds have a retro quality to them that's appealing but it's also new material that has current concerns going for it.
---
PODCASTS.........
Blowing Smoke with Twisted Rico interviews Mike Nash who is a drummer for Bird Language. Their album got sidetracked by Covid, sidetracked for 625 days which is the name of the album. Because of the vinyl backlog they elected to release their album on cassette.
Bird Language does something different with this album. The music hangs in the air sometimes even as there are some heavy tonalities. We fouond it intriquing.
This is another case of finding some new music on this podcast.
---
NEW MUSIC/CDs......
We heard of Move when they were mentioned in an article on Actor\Observer. The group was formed to articulate the black experience in Hardcore.
Their name comes from the group in Philadelphia that got bombed by the police in 1985. The Proletariat named their last album for that some movement. In February of 2021 they released a 5 song EP, Freedom Dreams. The music is politically charged and the music is pounding hardcore. It recalls Bad Brains.
This is long overdue for Boston and that it's so well done is more than could be expected!! There is an short article in Sterogum website
We've seen Screw Cart get better and better with time. Their last few singles have been very effective. The last song "Foot Washer" was very intense. Now they release "Anibus" and this one is just amazing!!
They have it all together here. The lyrics are warning of the antics of Anibus the Egyptian god of the dead. He has they head of the dog as the lyrics say. That also leads to the line " the jackal cackles raising hackles." Mark Kennedy imbues every word with menace. The music is a pulsating mass below the vocals. There are all sorts of effects on the guitars. They squeal and swoop in and out. Near the end it sounds like a vibraphone line, but that may be done with a keyboard?
This song alone with "Foot Washer" sounds EPIC!
Geoff Palmer has released the whole of his cover of the Dee Dee Ramone solo album Standing in the Spotlight.
Geoff's cover did its job with us, it made us appreciate Dee Dee's creation. The album has some daredevil mash ups. "Mash Potato Time" is a combo of the sixties dance music with rap. "Brooklyn Babe" is similar. What an idea ... and it works!
"Emergency" is just a neat pop punk song.
There are songs that are rap with the rock below it. "Poor Little Rick Girl" is sort of rap, but not too rap, with a great chorus. "Commotion On the Ocean" is more punk.
Listening to this we get what Dee Dee was doing as we hear Palmer stamp it with his musicality. It's a wonderful mix.
We saw The Endorphins at the Hong Kong in February 2020
They are on the verge of releasing an album. "Voyager of a Daydream" is a heavy psych tune. The recording has a lot of depth to it and the singing gives a sense of import to the lyrics. There are a ton of people trying to do psych, you have to have the chops to distinguish yourself and this group does.
If the rest of the album is of this caliber they have a winner!
FEEP is a group that formed during Covid. They discovered their sound as they started to play together.
There's some electronics that go 50/50 with the guitar work. It sounds a bit cheesy and garage-y which is a good mix for us.
And yes, FEEP was that macrocephalic alien that introduced monster movies on TV way back when.
They are playing the Hambone Skinny Record Release with Jay Allen & The Archcriminals and The Hi-End, at The Midway on October 8th.
Key of Caustic have a new single titled "Pretty Little Suicide". It's a neat hunk of good sounding punk. We like the vocal and the sound of the guitars. It's a fast 2:18, as it fades we just pushed that slider to the beginning again. Very cool.
Little Billy Lost, that line up of veteran rockers, has a new tune out titled "Whiskey Pointe". Everything is measured and controlled to deliver its maximum effect. You can appreciate the knowledge these guys bring to the table. James Melanson's vocals are the most obvious thing that hits you, but then you can hear the rest of the band doing their welll executed thing.
The band is slowly building up their catalog of songs. When that 12 cut album comes out it's going to be a killer.
---
Here's some good shows coming up .....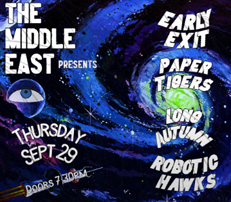 September 26, 2022 (Monday) Mallcops, Cape Crush, Seltzers, Going222jail at the Silhouette Allston
September 29, 2022 (Thursday) Key of Caustic is playing the Boston MiniFest at Sonia on 9/29, doors 6pm.
September 29, 2022 (Thursday) Early Exit, Paper Tigers, Long Autumn, Robotic Hawks - Middle east Up.
September 29, 2022 (Thursday) Mairead, Alaskas, Johnnie and the Foodmasters, Bradford Barker & Unwavering Beacon of Righteousness at The Jungle FB page for band info
September 29, 2022 (Thursday) The Modern Day Idols, Tad Overbaugh & the Late Arrivals at Notch Brighton 7-10PM
September 30, 2022 (Friday) Crow Follow Record Release Party with: The Daylilies and The Jacklights at The Square Roots, Roslindale.
September 30, 2022 (Friday) McGunks, West Side Rats, D.O.P., Golly Geewillikers, Kermits Finger at Ralph's Diner in Worcester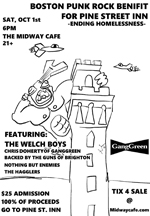 October 1, 2022 (Saturday) Benefit for Pine St. Inn ft. The Welch Boys w/ Chris Doherty, Nothing But Enemies, The Hagglers, Guns of Brighton at The Midway - get TIX here FB page.
October 1, 2022 (Saturday) A Wilhelm Scream, Oh The Humanity at the Middle East Down
October 1, 2022 (Saturday) WhistleStop Rock, Linnea's Garden, Justine and The Unclean, Kid Gulliver, The Chelsea Curve at The Jungle
October 1, 2022 (Saturday) Rocktoberfest At the Marina Beer Garden - Michael Kane & The Morning Afters, Motel Black, Radio Compass, Evil Felipe, Pet Fox, Hyber, Prateek at 225 Derby St Salem - music 3-10PM, food trucks, all ages etc... FB page
October 1, 2022 (Saturday) Octoberfest at Dusk with a Full day/night of live music. Indoor and outdoor stages. Bands/Food/Drinks/Vendors. Bands: Vudu Sister, Jade Tourniquet, Brown Apples, Joy Boys, DNR, Minibeast, Paranoid Android, LooksThat Kill, Parapalegic, Ski Bunny, Atlantic Thrills, Joudy Ju, Northeast Traffic - starts at 2PM and goers all day and night. FB page.
October 3, 2022 (Monday) Rick Berlin, Eastern Function(PA), GLiDER & Bill 2 @ The Silhouette Lounge, Allston, MA ...starts at 7:30.
October 5, 2022 (Wednesday) Dr. John Cooper Clarke at City Winery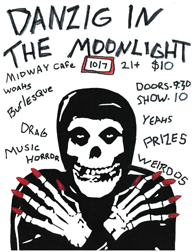 October 7, 2022 (Friday) At the Midway. Oh this one is NOT TO BE MISSED!!! Danzig in the Moonlight - Come on down to this burlesque and drag tribute to everyone's favorite grouchy horror punk grandpa- Glenn Danzig. Misfits! Samhain! Danzig! A lot of VERY questionable comics and two ???movies??? came from this absolute New Jersey weirdo's lil' brain, and we both love and will give him grief for it. Featuring Dahlia Strack, Lucifer Christmas, Hazel Hellcat Ivana, Ophelia Orchid, Dyke Van Dick, AND MORE TBA Read more on the FB page.
October 7, 2022 (Friday) Joan Jett Birthday show with Anrea Gillis & Friends and Sue Minichiello & friends doing everything Joan Jett. At Sally O'Brien's
October 8, 2022 (Saturday) Phantom Ocean, The Guilloteenagers, The Teezers. Electric Paisan for a 3PM matinee at The Midway
October 8, 2022 (Saturday) Hambone Skinny Record Release with Jay Allen & The Archcriminals, The Hi-End, FEEP at The Midway 8PM show
October 8, 2022 (Saturday) Roger Miller will be performing some of Dream Interpretation at the Lilypad Facebook page
October 8, 2022 (Saturday) Captain Vampire at The Square Root
October 9, 2022 (Sunday) Plymouth Punk Rock Market at Mayflower Brewing in Plymouth Mass. 12-5PM -JK and Macky, formerly of Wicked Whiskey will be playing acoustic punk covers. now there are over 40 vendors booked for October. FB page for info, vendors etc.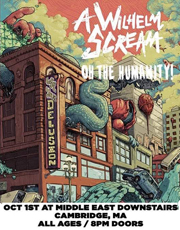 October 9, 2022 (Sunday) L7: Bricks Are Heavy 30th Anniversary at Big Night Live FB page.
October 9, 2022 (Sunday) Brix 'N'Mortar, Cry Havoc, Triggered, Blood Stained Brindle, Grip Bite at Dusk in Provi.
October 10, 2022 (Monday) Husbands, Today Junior, Motel Black at The Silhouette Lounge Allston
October 11, 2022 (Tuesday) Lion's Law, Violent Way, Blood Stained Brindle, Battery March at Sonia - TIX!!
October 11, 2022 (Tuesday) Agent Orange, Midnight Creeps and Gnarnia at Alchemy in Provi, RI FB page.
October 14, 2022 (Friday) Shakedown at the Shaskeen - Scissorfight returns to the stage with Drunk off diesel and Humanoids. at the Shaksheen Pub Manchester, NH
October 15, 2022 (Saturday) Speed Fossil are at The Square Root
October 15, 2022 (Saturday) Third Annual Punktoberfest at Thirsty First in Lowell...Razors In The Night, The Fake Boys, SkyTigers, Taken By Vultures, Diablogato, Warthog, Chumhuffer, Working Poor USA, The Downhauls, Hagglers, Baabes, CE Skidmore And The Damn Fine Band ... FB page
October 15, 2022 (Saturday) ROCKTOBER GARAGE & SOUL REVUE with Barrence Whitfield & Four Piece Suit, Nervous Eaters, Tiger Bomb at Geno, Portland, ME FB page.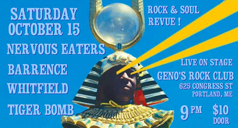 October 16, 2022 (Sunday) Already Dead, Moving Targets, Bad Idea USA, Shiny Beasts - 3PM matinee at The Midway
October 17, 2022 (Monday) Gollylagging, Kerosene Heights, Tatooine Punk Scene at The Silhouette Lounge Allston
October 20, 2022 (Thursday) Tsunami of Sound, U-Ey at the Buoy, Josephine With a Cause at Notch Brewery Brighton FB page
October 20, 2022 (Thursday) June of 44, The Thalia Zedek Band at The Middle East Down
October 21, 2022 (Friday) Key of Caustic at The Square Root.
October 21, 2022 (Friday) Stars Like Ours, Gene Dante & The Future Starlets, Paper Tigers at Faces Brewery Malden
October 23, 2022 (Sunday) Dead Boys with The Briefs and Suzi Moon has been moved to Alchemy. FB page.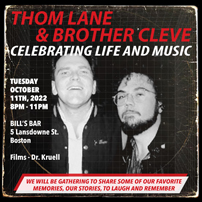 October 28, 2022 (Friday) FEAR performing The Record in its entirety at The Middle East Down - FB page.
October 29, 2022 (Saturday) Red on Red Dress Like a Rock Star Halloween Party with Stupidity (from Sweden) with Keith Streng from the Fleshtones, Cold Expectations, Andrea Gillis, Justine & The Unclean and Speedfossil - at the French Club in Waltham. FB page
October 29, 2022 (Saturday) Tiffy, Divine Sweater, Kipani, Paper Tigers at O'Brien's
October 30, 2022 (Sunday) The Manglers, The New Frustrations, The Instamatics, Charmed & Strange -3PM matinee at The Midway
November 2, 2022 (Wednesday) River Of Trees, Black Helicopter, Accidental Caps, Tower Brothers at The Midway
November 5, 2022 (Saturday) The Mahones, The Pourmen, The Gobshites at Askew in Provi.
November 7, 2022 (Monday) Starcrawler at The Brighton Music Hall - this is all ages and EARLY at 6:30PM TIX.
November 11, 2022 (Friday) Hardcore Stadium Presents: Wound Man, Tinnitus, Robert Siege, Hideous, Shawnie Brando, Strictly Hip Hop, Sinister Wand, Operation Paperclip, Biproduct at The Middle East Down. Doors at 5 PM.
November 11, 2022 (Friday) Speed Fossil are at Sally O'Brien's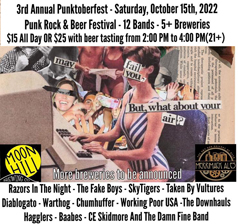 November 11, 2022 (Friday) The Teezers, The JackLights, Phantom Ocean, Key of Caustic at The Jungle
November 11, 2022 (Friday) Hardcore Stadium Presents : Wound Man, Tinnitus, Robert Siege, Hideous, Shawnie Brando, Strictly Hip Hop, Sinister Wand, Operation Paperclip, Biproduct at The Middle East Down
November 12, 2022 (Saturday) SO/CAL Punk Invasion 2022- Black Flag, The Dickies, TSOL, Total Chaos at The Granite State Music Hall Laconia, NH - TIX!
November 16, 2022 (Wednesday) Youth of Today, Art Thieves, ICU at The Middle East Down TIX!!
November 17, 2022 (Thursday) The Thigh Scrapers, Mad Painter, Doug MacDonald Band, The Stigmatics at The Middle East Up.
November 19, 2022 (Saturday) A Crash Course For The Ravers on WMFO 91.5 FM has Mach Bell as guest. 10AM- 1PM
November 19, 2022 (Saturday) Men and Volts at The Square Root
November 20, 2022 (Sunday) Hardcore Stadium presents - The Trouble at the Middle East Down (alas this show is sold out)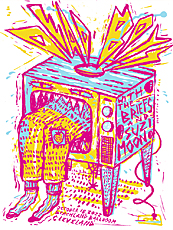 November 25, 2022 (Friday) Grayskull Booking & Hardcore Stadium present Slapshot, Crown of Thornz, Risk, Neighborhood Shit at The Middle East Down
November 25, 2022 (Friday) The Sheila Divine, Valleyheart, The Rupert Selection at the Paradise Facebook event page Tickets
November 26, 2022 (Saturday) Stars & Stripes, The Prowlers, Cinderblock, Luger at Sonia
November 26, 2022 (Saturday) Dinosaur Jr., Guided by Voices and Eugene Mirman are at the House of Blues -FB page
December 17, 2022 (Saturday) New England Punk Rock Flea Market presents our inaugural live event, happening here at the historic Hotel Vernon, located in the vibrant and newly revitalized Kelly Square. Join us for a fun day of vendors and bands, a toy drive, and holiday raffles! 11AM - 9PM Music at 7PM -Music 7PM with Michael Kane (solo), Scare City, Sapling, Memory Lame FB page for vendor info etc
December 17, 2022 (Saturday) The Lemonheads are playing the Paradise
December 18, 2022 (Sunday) The Lemonheads are playing a seco0nd show the Paradise - Facebook event page
October 11, 2023 (Wednesday) The Mission UK & The Chameleons: Deja Vu Tour 2022 Rescheduled to 2023!!! also on the bill Theatre of Hate
CONTACT US AT....misslynbgn@yahoo.com Send us your gig listings, your anything else ya got!! You want your CD reviewed?? Contact us for that too.
---
---