The BGN News Archive
October 1, 2018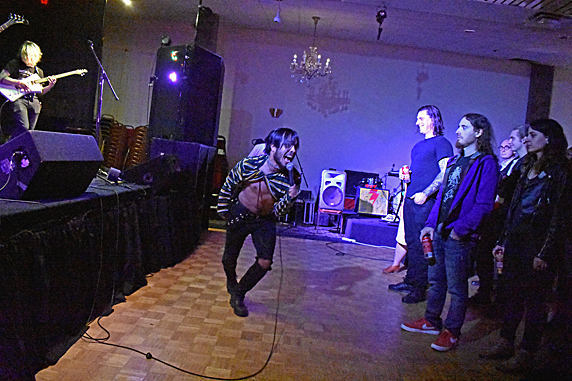 Hairspray Queen
Photo: Blowfish
Judging by online listening the Wednesday show at the Middle East had promise, so there we went.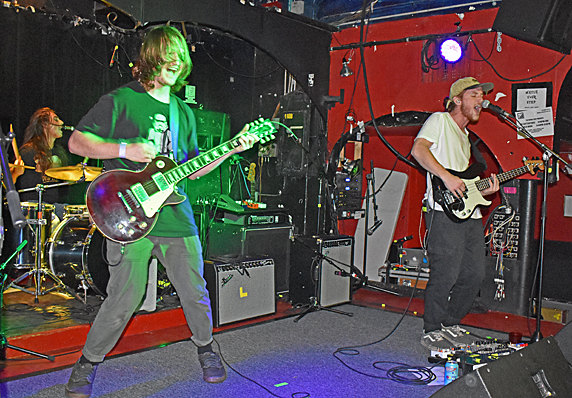 Dube
Photo: Blowfish
The first group we saw was Dube from Canada. They reminded us a bit of Black Beach in the way their music was loud and aggressive without relying on power chords or going metal. Turns out they have an inspiring story behind the origin of the band. Read that here
They are so Canadian that they had an amplified hockey stick called a Guit-ocky stick (we think that's what they called it). They just used it for one song but the three string stick did a good job. Check it out in the video below.
A lot of the set was like "Pretty Girls on Bikes" where there were a few dynamic ups and downs. One song that stood out was where the singer explained it was about "life and death". The song began in a quiet way and slowly gained some steam. At the halfway point the guitarist carved out a space with a rusty toned solo which was perfect for the song. Then they ramped it up some more and then ended softly. The whole song had a wonderful arc. We just loved the whole set really.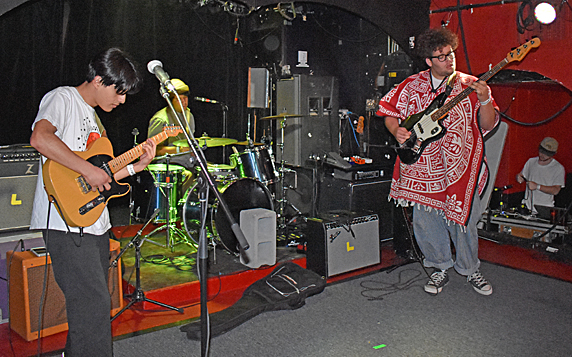 Beach Goons
Photo: Blowfish
That was also true of Beach Goons. They're from San Diego and as their name suggests they have some surf influences. Those textures are mixed in with a garage punk sound.
This is also the mix of Black Beach and Today Junior. The Beach Goons were on the raw end of things which is where we love it. They had the knack of putting a short melody hook on a few chords, sort of like pop punk. They did it many times and it was rewarding to keep finding those moments. We were already in a good mood after Dube and Beach Bums continued that buzz. Some of the music reminded us of older influences. The sixties surf was obvious but there were some things that reminded us of even older fifties ways. To confirm that guess, they ended with a cover of "La Bamba" (video below).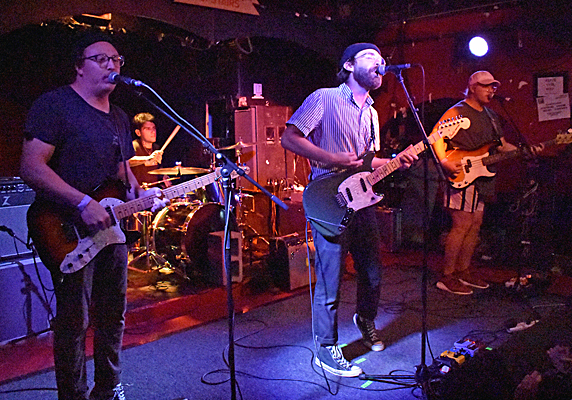 Super Whatevr
Photo: Blowfish
Those first two bands were loose and raw which is exactly what Super Whatevr were not. They were tight and sharp. Their songs had much more detail in them and the playing was excellent all around. They had an indie feel to them. You could tell the audience was there for them. There were 50 to 60 people there. People were singing along with the songs. One called "Kathrin With a K" was greeted with cheers. Somewhere we don't know about, this band is getting attention. This wasn't just a regular show at this point. The people there really loved this band and were soaking up every word. You could feel the emotion in the room. They were connecting big time.
The band started in 2016; maybe this is the beginning of something and we'll hear more about them in the future. Here's a YouTube video of "Telelelevision," off their new album Never Nothing out now on Hopeless Records!
There was a lot going on Friday. We took a short look at what was going on at the Fuzzstival at Once. Looking at the line up there didn't seem to be much, or any, psych bands and we thought that was the point.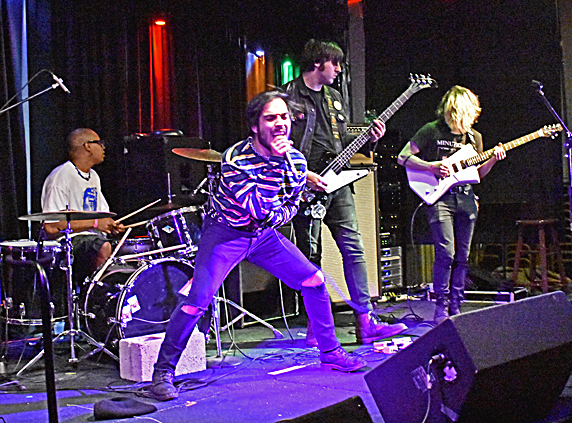 Hairspray Queen
Photo: Blowfish
But we didn't care when Hairspray Queen from Providence took the stage...well, the band took the stage; the singer was all over the floor in front of the stage. They describe themselves as punk/goth/hardcore/hip hop/post punk. We not sure it's any of those except post punk. The band was putting out a noisy screeching backdrop. When they stopped playing, the feedback still rang out uncontrolled.
The singer jumped off stage early and was writhing all over the floor, crazy dancing, stuffing the microphone through his shirt, confronting the audience a la Andy MacBein of The Monsieurs (who were also on the bill), running around the dance floor and taking his shirt off and then on and then getting tangled in the shirt. It was a wild performance.
In a smaller club that would all be even more amazing. They were a find. We'll be looking for future shows. Here's their Bandcamp page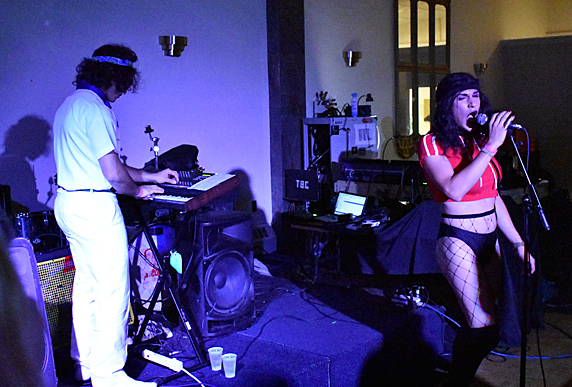 Le Neve
Photo: Blowfish
Next up was La Neve with dance music via turntables with a singer in drag. Sorry but, dance music leaves us cold and we think we missed the message because on their Bandcamp page they say the words are "decrying decaying working standards, condemning artists who uphold the status-quo, and proclaiming an urgent need for action - but puts it through a deadpan dance filter".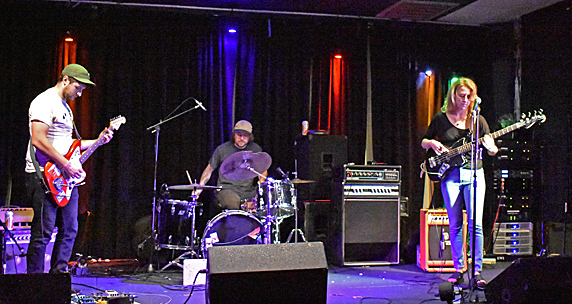 Rick Rude Ensemble
Photo: Blowfish
The Rick Rude Ensemble that followed played some nice indie music.
We left feeling we missed the psych that we came for, but there was many acts to follow.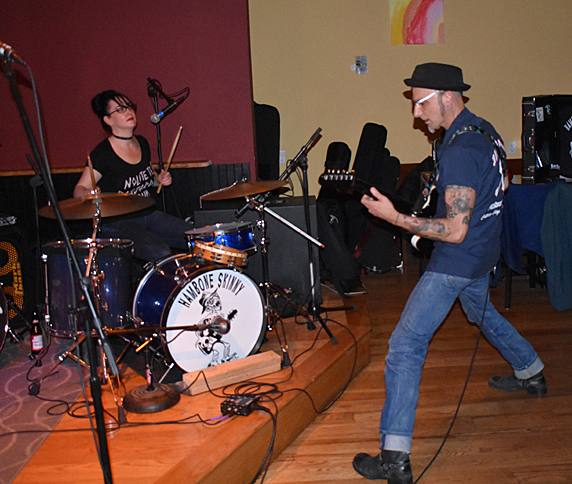 Hambone Skinny
Photo: Blowfish
We wanted to see Stop Calling Me Frank CD release party at Sally O'Brien's. It was a Rum Bar night with Hambone Skinny opening. We were in the mood for the bluesy swamp music. There was a nicely done R.L. Burnside song that captured a mood.
The band seems so right in the cozy Sally O's. They made the club feel like a living room with friends, which is what Stop Calling Me Frank did later also. They closed with their version of early Fleetwood Mac's "Green Manalishi" where they took the song to the bayou.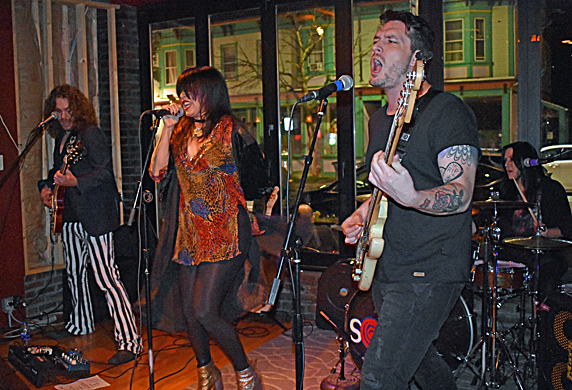 Soraia
Photo: Blowfish
Soraia has a record on Little Steven's label and their song "Still I Rise" has been played on the show many times. The singer had a stunning voice; she could crank it up and it was impressive. Early on they did a cover of the NY Dolls "Trash" and that went down well with us. It began with an almost Doo Wop begining. That is the first video below.
They also covered a Prince song that was cool. It was mostly melodic rawk that was easy to take.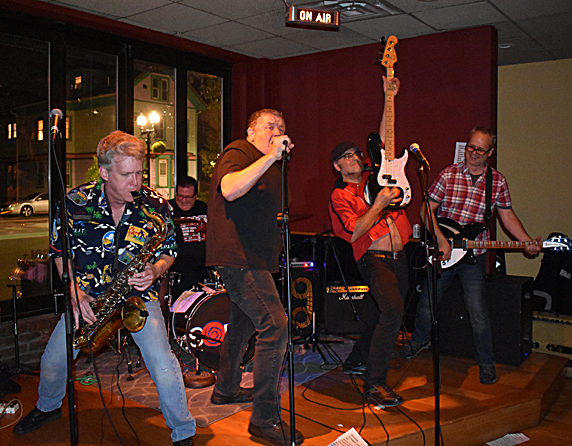 Stop Calling Me Frank
Photo: Blowfish
You could tell Stop Calling Me Frank were up for this gig and when they hit the stage they were a non-stop freight train. They played many of the songs from the CD. They started with "Spider In My Beer" with the first words "Coo, coo, coo, coo". That didn't sound like what any other band would ever do. You laughed, tapped your foot and you were in SCMF land.
One standout on the CD is "5000 Miles", which they did, and we were surprised to find out it is a cover of a Piranha Brothers' song. They are playing more and more lately and as a result are tighter than ever. They did their set but it wasn't enough. Even though it was getting past 1am they steamed through three more songs. It felt like a house party by then. The SCMF story is one of artistic integrity and endurance…and of party time, too.
We like the Saturday afternoon shows at Midway and we went again this week.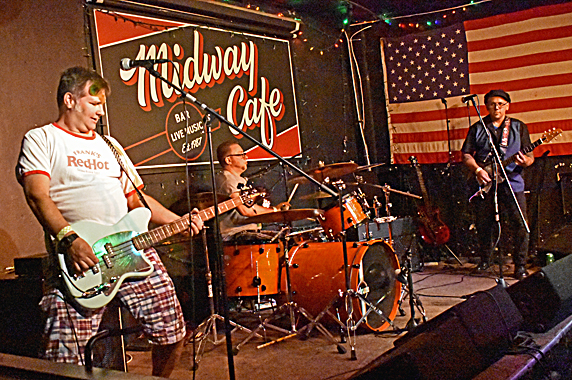 Instamatics
Photo: Blowfish

The Instamatics are a surf band. They're not your usual surf band playing note for note reproductions of "Pipeline" or "Hawaii Five-O". They punked it up a bit and had a set that was a collection of originals and unexpected covers. The bass player is Eric from the Grommets.


Their originals followed the surf template of composition but were delivered without gloss. It was a garage version of surf and probably closer to what a real surf band would have sounded like. The song titles, like "Too Drunk To Surf", show where they are coming from .

They started playing a song that we recognized as a cover but couldn't peg. Slimedog was there and ID'd the song as "The Model" by Kraftwork. If you didn't know the original song you would have sworn it was a surf classic. The following song, the same thing happened again and Slimedog knew it was a cover of The Cure's "The Forest" That was a big leap for a surf song but it worked.

They took an older music form and gave it some life. Way to go Instamatics!!!

By the way the Instamatic was the camera Miss Lyn used in 1976 to take early photos for the BGN of the Dead Boys, Willie Loco and the Plasmatics.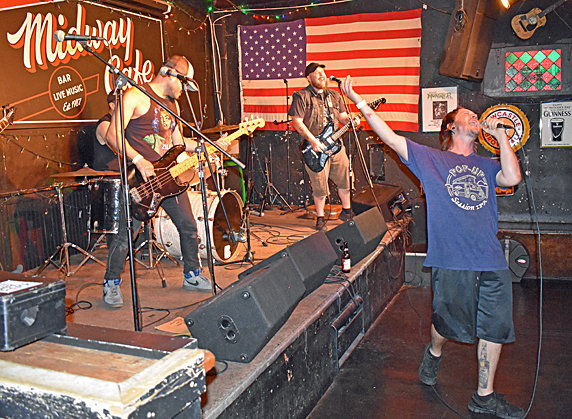 More Beer Please
Photo: Blowfish
More Beer Please, from Lowell, was a change from surf with some hard hitting hardcore. The lead singer took a stand on the floor right from the beginning. True to the band name he seemed ossified. It might have been a put on because the music had some fast change ups and he hit all of them, no problem.
He was doing the screamo thing and putting everything into it. It made for an exciting show. After a half dozen songs he switched with the guitar player. Then the guitar player was on the floor singing. It now was like a regular band. It was like the balloon popped. But it was a good dose of loudness in any case and we like it.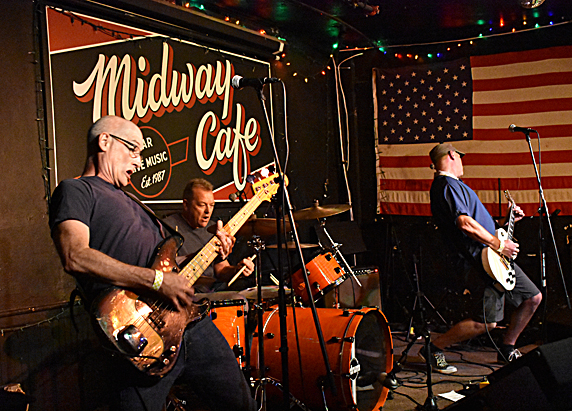 The New Frustrations
Photo: Blowfish
We've seen The New Frustrations many times over a long period and we love them now more than ever. They put you in a pop place and they make it look easy. They played mostly the same set as when we saw them in August
It's a great set with originals like "Radio Generation" and "Right As Rain" and covers "Teenage Head" and the obscure "She's on the Cover (of Explosion Magazine)" by The Model Rockets. Anyone who likes rock pop would love this band. At this point we just want to see them again.
More band photos below the show listings
---
And in other news.....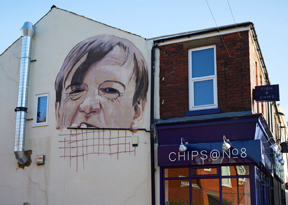 We love Mark E. Smith of The Fall. We see that he got a mural on the fish and chips place in his home town of Prestwich. Check it out here.
Let's talk about the Boston Music Awards 2018 They did a good job in the Punk category this year.
Punk/Hardcore Artist of the Year: Actor|Observer, Art Thieves, Choke Up, Nice Guys, OC45, Oh The Humanity!, Rebuilder, Street Dogs, The Monsieurs, Tied To A Bear. That's a pretty good list! Black Beach and Salem Wolves are in there for Rock Artist of the Year. Weakened Friends and Carissa Johnson & the Cure-Alls get the nod in a few categories also.
Harvard has had Arthur Freedman's material for a while now. They are hinting that they will say some anouncement soon. You can see some of the material listed here on their Archive page.... here. And here is the Arthur Freedman page!
They're always been looking for ancillary info about the shows captured. As this goes on it would be great if the bands offered input themselves. Contact info is at the bottom of the Arthur Freedman collection page.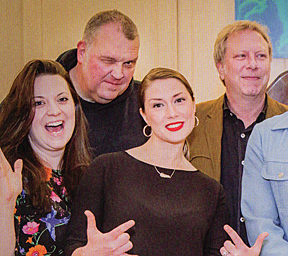 Tim Downie (Marsman) who used to play for the New Frustrations (who we saw this week, see below,) got into the very glossy South Shore Living magazine. Seems he's part of a group called Plymouth Rocks Events, Inc. who are using rock and film shows to raise money for local school music programs. Another example of Punks doing good. And visit Mars Records when you are in Plymouth!!
Here's a shocker. In the latest issue of Goldmine magazine, the MC5 man himself, Wayne Kramer is asked what he is listening to now and he says, "There's a band called Lake Street Dive which I'm sure all of my hard rock fans will hate me for saying I love them but too bad. They are a great band with great musicians. They look great and sing great. They write great songs and they can play live music. They are real musicians. I just think that they are everything I would love to see in a real band."
---
Here's some good shows coming up this week.....
October 1 (Monday) Major Stars *tour kickoff* Chris Brokaw Rock Band & Bong Wish at Charlie's Kitchen

October 2 (Tuesday) Rock n Roll Trivia at The Sinclair!! FB page.
October 2 (Tuesday) Coffin Salesman, Bob Cenci, Troll 2 and 1 more tba at Opus in Salem
October 5 (Friday) The Billy Connors Project at Sally O'Brien's
October 5 (Friday) Kid Gulliver, The Hi-End, The Stigmatics at The Jeanie Johnston Pub in JP
October 5 (Friday) The Woggles, Muck and the Mires, The Jackets, The Maxims at the Middle East Up
October 5 (Friday) At the C Note in Hull - 61 Ghosts, 1.4.5., Classic Ruins, Johnny Thunders Orchestra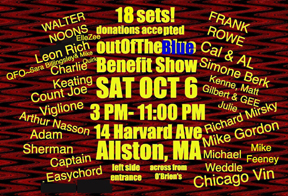 October 6 (Saturday) Out Of The Blue Gallery Benefit~Allston location ~3-11pm~ 18 sets mostly solo peeps like Frank Rowe, Adam Sherman, Kenne Highland and Gee Julie, Rich Mirsky..... see FB page for info and address.
October 6 (Saturday) Art Thieves, Stemwinder, Michael &TMs, Blood Built Empire at O'Brien's
October 7 (Sunday) The Crank-tones are at Atwood's 4-6PM
And further out we have......
October 8 (Monday) Loser's Circle, Coffin Salesman, Voice of Addiction, Cook Bag at Charlie's Kitchen
October 12 (Friday) Brix'n'Mortar, DNZL, Secret Spirit, The Kreutzer Sonata, Rooftops at O'Brien's
October 12 (Friday) Salem Horror Fest After Party with Diablogato, Gray Bouchard and the Dedications and Petty Morals at Opus in Salem
October 13 (Saturday) D-sagawa, Inconvenience Store, BRAINDËTH, The Ratz, Sewer Buddies at The Midway afternoon show 4-8PM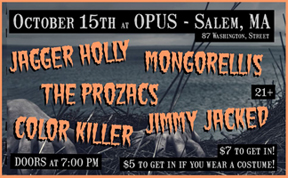 October 13 (Saturday) The Pack A.D., Tom Baker & The Snakes, The Gala at ONCE
October 13 (Saturday) Satan, The Humanoids, Hessian, Black Mass at Great Scott
October 14 (Sunday) Punkcake's Halloween Market with lots of cool vendors and music by The Evil Streaks, The Demon Seeds, Coffin Salesman at Ralph's Diner 12-5PM FB page for more info
October 14 (Sunday) Jagger Holly, MATB, The Prozacs, Mongorellis, Color Killer at Beatnik's in Worcester.
October 15 (Monday) Jagger Holly, Mongorellis, The Prozacs, Jimmy Jacked, Color Killer at Opus Salem
October 15 (Monday)- October 18- Thursday Jonathan Richman at the Middle East Up.
October 17 (Wednesday) The Damned are back and at The Paradise.
October 18 (Thursday) The Proletariat, Savageheads, Silver Screams at Sonia -FB page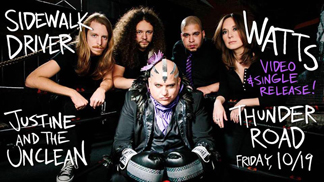 October 19 (Friday) Sidewalk Driver, Watts, Justine and the Unclean at Thunder Road
October 19 (Friday) Halloween Show with Kid Gulliver, The Knock-Ups, Ski Bunny, Sapling will include Special Halloween covers and a full cover set with The Knock-Ups doing Siouxsie and the Banshees. At jeanie Johnston Pub in JP
October 20 (Saturday) Nervous Eaters, Indonesian Junk, Duck & Cover at the Middle East Up
October 20 (Saturday) Stop Calling Me Frank, Crunchtime, The Jiblantos and The Black Souls at The Midway for a 4PM matinee. Hey everyone this is a John Keegan BIRTHDAY BASH so come on down!!!
October 20 (Saturday) If We Go At All, Modern Day Idols, Double Star, Powerslut at The Midway night show
October 21 (Sunday) Boston Premiere of the Chet's Last Call Documentary at The Regent Theater Arlington with live performances byRandy Black and The Heathcroppers, The Dogmatics, Bim Skala Bim, TBA Allstars - starts at 7PM TIX etc
October 22 (Monday) OC45, Bad Larrys, BDSX, Von Traps at OPUS Salem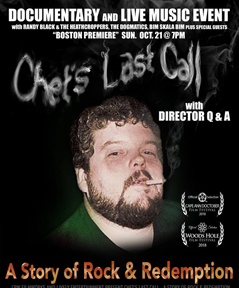 October 25 (Thursday) Damnation, Forbidden Dimension, Demon Seeds, Knock Ups at O'Briens'
October 26 (Friday) The Humanoids, Slim Jim and the Mad Cows, Maiden New England, Electric Street Queens at The Midway
October 26 (Friday) The Radiator Rattlers, Kermit's Finger, Black Hatch, The Grommets at O'Brien's
October 27 (Saturday) The Stigmatics on A Crash Course for the Ravers on WMFO 91.5- 1-4PM with Brain Young
October 27 (Saturday) Benefit for Mission 22/Dennis Donahue's Birthday Show! with Kind Crew, Neighborhood Shit, Sick Minds, Jerry's Got Jokes, and Whoopi Sticks at The Midway -Early Show 4-8PM
October 27 (Saturday) Lyres, GLiDER, the modifierS at The Middle East Up- Early show doors at 6:30PM
October 27 (Saturday) The Descendents w/ Teenage Bottlerocket at The Palladium in Worcester FB page for tix etc
October 28 (Sunday) Roy Sludge at Sally O'Brien's
October 28 (Sunday) Zipper, The Instamatics, Larseny, Billy Squire at The Midway for a matinee 4-8 pm show
October 29 & 30 (Mon & Weds) Now here's how to do Halloween!! At Symphony Hall this Halloween season when Keith Lockhart and members of the Boston Pops visit The Bates Motel and perform the original score of the Alfred Hitchcock film, "Psycho", in sync with the film on the big screen. One of the greatest suspenseful thrillers of all time, this cinematic masterpiece comes alive with Bernard Herrmann's spine-tingling score performed live. The unforgettable and disturbing slashing chords played during the now famous shower scene are just as terrifying now as they were to first-time audiences in 1960.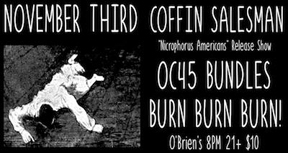 October 31 (Wednesday) Halloween Clownfest - candy, psychic readings and balloons! and Robot Clean- a Misfits Tribute, Driven Sane, Lucreatia's Daggers at Once - starts at 7:15PM
November 1 (Thursday) Kris Rodgers & The Dirty Gems - The Connection - Kurt Baker at The Dover Brickhouse in Dover NH FB page.
November 2 (Friday) Roky Erikson at Once. Tix here.
November 3 (Saturday) Coffin Salesmen, OC45, The Bundles, Burn Burn Burn at O'Brien's
November 4 (Sunday) Book release party for Poetry for the Neon Apocalypse by local Punk Poet Jake Tringali with Mint Green, Ski Bunny, The Sewer Buddies, Jenn Lombari, Hyber at The Midway 4-8 PM. FB page
November 5 (Monday) Rea, Musical Mandalas, Binge Magick, Sternman at The Midway
November 10 (Saturday) Rockin Bob Punk Band, Smartyr, Banshee, Raw Radar War at The Midway 4-8PM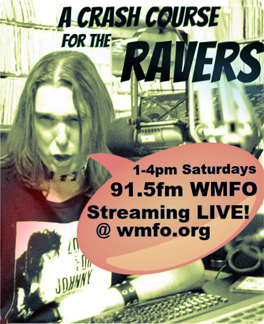 November 10 (Saturday) Kurt Baker is coming to Boston!! One show only at Sally O'Brien's Nov 10. with Muck and the Mires, Stop Calling Me Frank and Kris Rodgers and the Dirty Gems
November 10 (Saturday) Keith Brooks Memorial Veterans Day Show #1: The Welch Boys, Pint Killers, Abductors, Step 13, Barfight Champs at The Midway
November 11 (Sunday) DNZL, Standard Issue, Psychic Weight, TBA - 4-8PM Early Show at The Midway
November 11 (Sunday) Keith Brooks Memorial Veterans Day Show #2: Colin of Arabia , Zero Hour, Cry Havoc, Neighborhood Shit, xForgiveness Deniedx, Foulfellows at The Midway 9PM
November 11 (Sunday) Save the date!! Brian Coleman who has published the much talked about Buy Me Boston book will be having a slideshow and panel discussion (including our very own Paul Blowfish Lovell and David Bieber) to promote the book. It's at The Brattle Theater - more info as it becomes available.
November 16 (Friday) Justine and the Unclean, Tad Overbaugh EP Release Party at Sally O'Brien's
November 17 (Saturday) Brian Young's A Crash Course For The Ravers featuring The Gala!!! One of our favorite bands!!
November 17 (Saturday) It's HIXXGIVING!! The joyous return of the annual celebration of white trash culture and redneck vittles. This year they'll have newcomers - Alice Highland, New Jersey's Sex Zombies, Your hosts- HIXX and the formidable Screw Cart. This will, no doubt, be off the hook! The buffet will be provided by the bands. Hixx asks that you bring non perishable food items, as always, for a local woman's shelter. At The Midway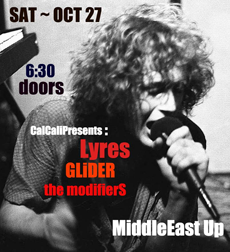 November 17 (Saturday) Post Punk 1977-87 Cover Night at Sally O'Brien's - 3 super groups will be covering songs from 1977-87. (punk, new wave, synth pop etc)
The groups are: Chuck Ferreira, Josh Pickering & friends, Duncan Wilder Johnson & friends, and Anthony Kaczynski & friends. FB event page
November 17 (Saturday) Jittery Jack, Miss Amy Griffin, Whiskey Kill & DJ Easy Ed at Sally O'Brien's
November 17 (Saturday) Scissorfight, Welch Boys, Taxi Driver, Watching It Burn, COB at Maggy's in Quincy FB page
December 1 (Saturday) the second and final Red Invasion show - with Funeral Cone and Brix N' Mortar and one more TBA. @ The Middle East Upstairs This is an early show- doors are at 6:30
December 9 (Sunday) Trusty Sidekick, Stigmatics, Crunchtime. Dick Pics do a Matinee 4-8 show at The Midway
December 15 (Saturday) Duck & Cover, Stop Calling Me Frank (Album Release), State of The Union, The Angel Martins Early Show 4-8PM at The Midway
December 22 (Saturday) Greg Allen's Fringe Religion, Classic Ruins, 1.4.5, Fireking - Early Show 4-8 at The Midway
January 12 (Saturday) IL Mostro (CD release) w/ Cortez, Scuzzy Yeti & Wrought Iron Hex at O'Brien's
CONTACT US AT....misslynbgn@yahoo.com Send us your gig listings, your news and anything else ya got!! You want your CD reviewed?? Contact us for that too.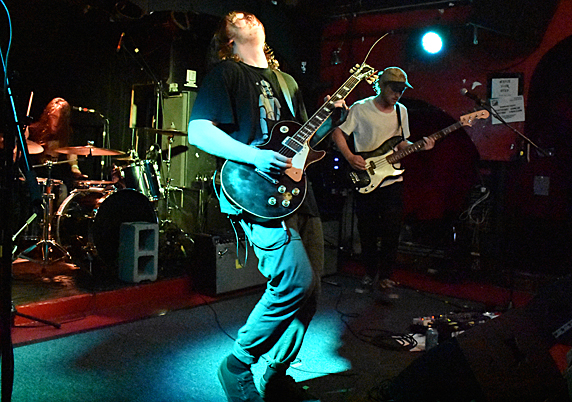 Dube
Photo: Blowfish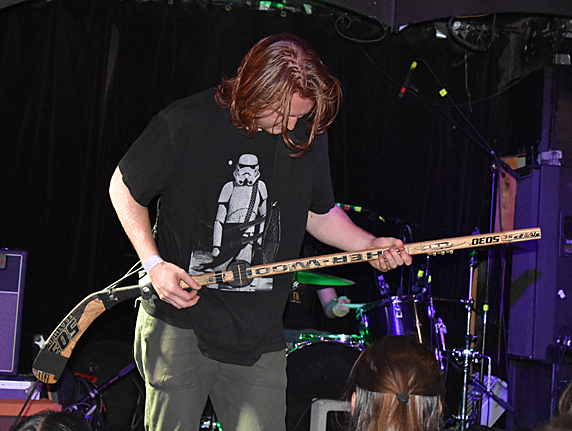 Dube with the electric hockey stick
Photo: Blowfish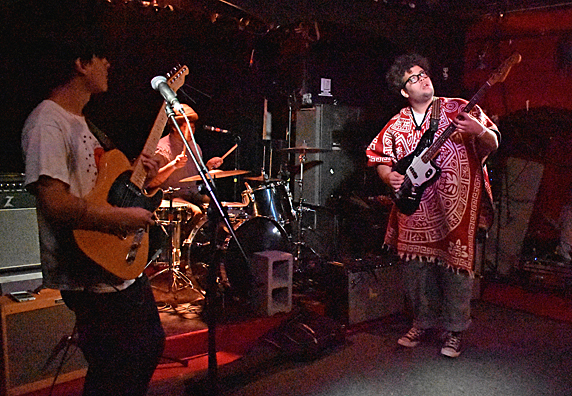 Beach Goons
Photo: Blowfish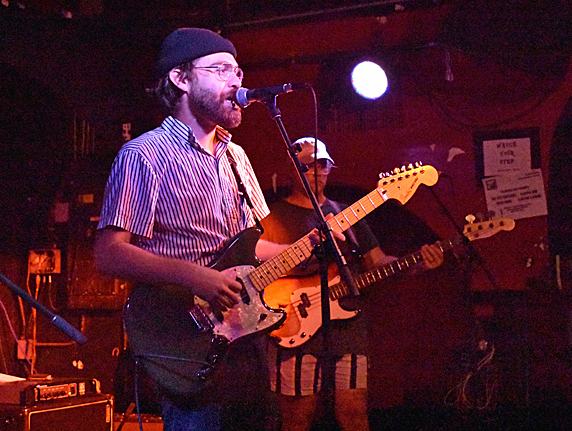 Super Whatevr
Photo: Blowfish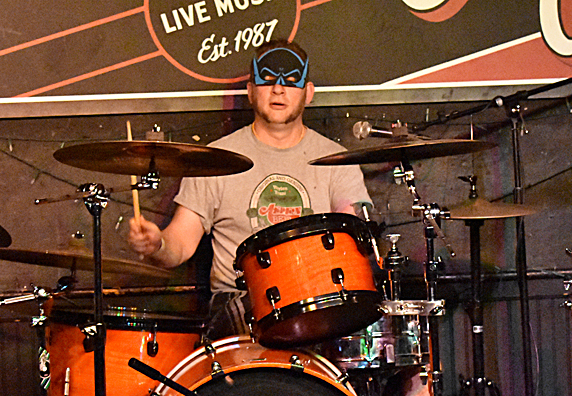 Dressed for "Batman" - Intamatics
Photo: Blowfish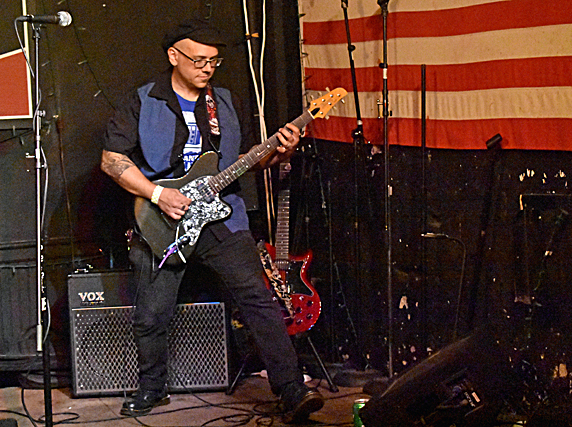 Intamatics
Photo: Blowfish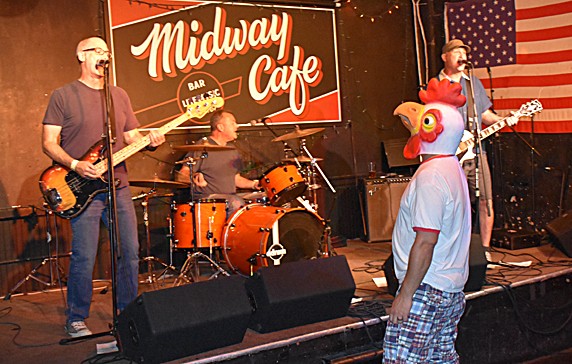 The New Chicken Frustations
Photo: Blowfish