The BGN News Archive
October 4, 2021

It was postponed a few times over the course of a year but it finally happened. The Nervous Eaters, Willie Loco and the Boom Boom Band, Barrence Whitfield and Carissa Johnson played the big show at the Paradise which we were proud to co-sponsor. John Keegan does the write up for this and he has a batch of great photos. We give you the video slide show above for an easy way to see it all.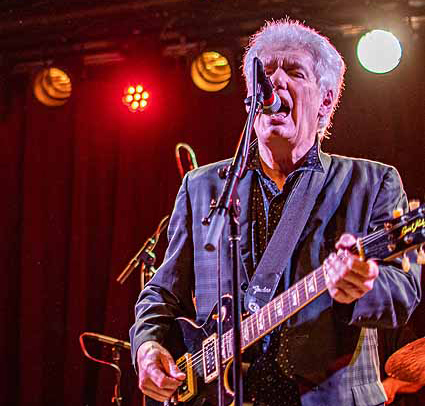 Steve Cataldo
They had a big surprise - Adam Sherman was in the band. They sure know how to hold it close to the vest. On bass was Brad Hellan. As for the set list, John says, "Cataldo chooses to forego some of the raging riffs of youth for a batch of new, slightly less caustic, but engaged, steely-eyed takes on his world. No sitting on the hits tonight. " The newer songs were "Wild Eyes" and "Why Are You Telling Us Now". They did play some faves like "Just Head" and "Hot Steel and Acid". The Eaters play the Northeast Comic Con on November 28. There are details in the concert report listings.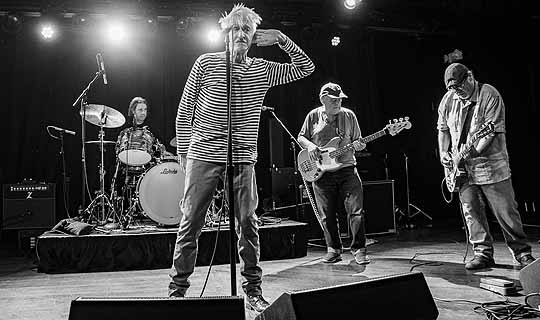 Willie Loco and the Boom Boom Band
Next up was Willie Loco and the original line up of the Boom Boom Band. They opened with "At the Rat" (What do clubs think when they hear a crowd go crazy for a song praising another club?). Then they did their magic. Says John, "Willie's arms flap in the breeze, his hair is standing on end perfect, and his fingers dance on his well-traveled keys. He's in love with rock and roll and the crowd is loudly in love with him. He lets us take a breather with his homage to Kerouac - originally recorded with the Nervous Eaters as the backing band, talk about full circle. "Radio Heart", "Hit Her Wid de Axe", "RnR 78", "Dirty Eddie", and "Mass Ave" never let up. It was spectacular."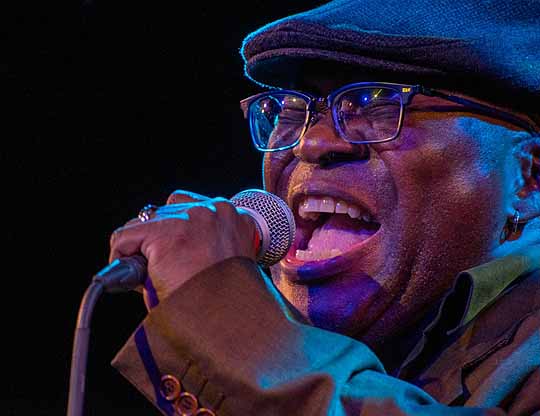 Barrence Whitfield
The crowd thinned a bit for Barrence Whitfield but they missed a lot by doing that. Openers were Carissa Johnson and the Cure-Alls. They have impressed the whole Boston scene these last few years. On this night John makes the point, "Johnson lays down the law with the big bass and shows the crowd that the band's stream of public accolades is well deserved."
You should go to John Keegan's full page on the concert by clicking the photo link below.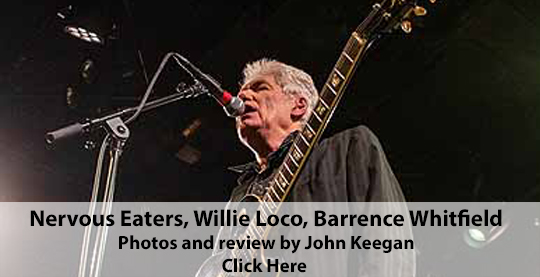 ---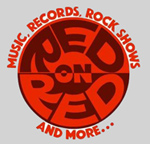 Red on Red has taken another step in fulfilling their promise of quality projects and building an empire David Minehan of Woolly Mammoth Sound/The Neighborhoods and Justine Covault of Red on Red Records/Justine and The Unclean announce a new collaborative partnership, Red Mammoth Concerts!
Their first show ever is "Dress Like a Rock Star", a Halloween party featuring Hey Blondie and BETH! Their new venue is The French American Victory Club in Waltham. There's a parking lot and a commuter rail stop near by as well.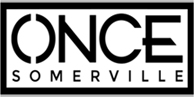 Tickets for Dress Like A Rock Star are at Eventbrite
Once is now transitioning from outside shows to inside as the weather gets colder. They had a show at the Elks Lodge in Cambridge this last Saturday and they also will keep the Once Virtual Venue going . On October 13 the OVV will have Bullpup, Eleanor & The Pretty Things, Girl Scout Cookies. Info on Eventbrite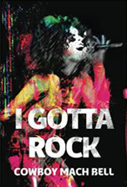 Somehow Mach Bell has found time while doing promo for Once A Rocker to write another book! It's out now. It's called I Gotta Rock. This one is all about his early days and the whole Boston punk scene. They'll be a lot of familiar names in this one.
It's 492 pages with over 200 photos. One big lesson learned from Mach – keep a diary!! I Gotta Rock is available on Amazon
Mach will be at the Northeast Comic Con on November 27. Comic Con is regularly adding rock to the shows. This time they will have the Nervous Eaters, Justine and the Unclean and Tsunami of Sound. More details online
Blue Bag Records in Cambridge will have new owners in November. The store will close on October 3 and reopen in November with the new owner. Their website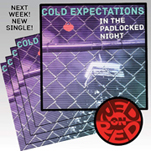 Cold Expectations will release their third single and video, "In the Padlocked Night", next Tuesday. Their Facebook page
The BGN started as a fanzine late in 1975. We sort of still think of ourselves as a fanzine, just online. Lately there's been a resurgence of zines, covering many subjects. A lot deal with health issues and personal empowerment. Last Saturday the Watertown library had a Zinefest. They had speaker and work stations where people could make their own zines. https://www.watertownlib.org/615/Zine-Fest
The library will have a circulating zine collection where you can borrow or leave your own zine. Maybe we'll throw some old BGNs in there!! We know how much doing a zine can be fulfilling, it's nice to see it's out there as a way to inspire people.
---
VIDEOS......
Red on Red had an hour with Kid Gulliver as a record release celebration for the debut of the video for "Stupid Little Girl". It's hilarious and as always insanely catchy. Kid Gulliver now has an album with all the material they created in this last year and a half. The video by Red on Red had Justine Covault interviewing Simone Berk interspersed with the song videos the group made this year.
We found it all very interesting and much more entertaining that anything on TV. Red on Red may do more like this, we'd encourage it. This was a little different and informative.
And ..... it's Simone's birthday!! to celebrate she is asking for donations to go to STAR, the Gulf Coast & Southern Texas Animal Rescue where she got her dog Clementine. Here's the link
A Bunch of Jerks got to dress up and have fun doing the video for "Whiskey Fight". They have a madcap dinner scene with background guests Dr. Caligari, Nosferatu, Marx's Brothers, Dr. Jeckel and Mister Hyde. See the video above, left.
The Rat Tales podcast also has a video element. They've posted the FULL SET of Frank Rowe's Birthday Party at the Midway with Classic Ruins, Unnatural Slacks, Crow Follow, and Kenne Highland's Airforce. See the video above, right.
The Jacklights new video is one of the first Halloween themed vids. Nilagia says, "The lyrics to 'Monster Love' are inspired by the Frankenstein and Bride of Frankenstein movies from the 1930s. It's an unrequited love story, referencing some of the imagery from the movies. It's about feeling out of step with the world and thinking you've found someone who is a good match, but it doesn't work out. "
We have come to love the tone of Nilagia's voice and the way it weaves itself through the punk backdrop. It's a thing.
Freak Scene is a new documentary about Dinosaur Jr. It's directed by Philipp Virus who is the brother-in-law of J Mascis, so it's not a hard hitting critical look at the group. It may be sympathetic but it does go over the contentious group relationship through the years. You read a bit more about it on the Gardian
There is a video about Mo Tucker of the Velvet Underground on YouTube done by a YouTube poster and drummer Cam Forrester. It's getting attention because of its quality. You can see from the beginning that it's jammed with info and photos and film clips fly by at a good pace.
The highlights are when Cam gets on the drums and shows exactly what Mo is playing in each song. This is important because Tucker played so differently than a normal drummer. She would stand or sit on the floor while playing. This is a must see for VU fans, by concentrating on the drums you get a whole new appreciation of the group.
---
RADIO..............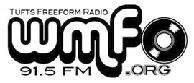 Crash Course for the Ravers had a welcome return last Saturday. Brian Young started with a Ramones block. We got our first listen of "Dead Boston Clubs" by the Kenne Highland Airforce, the group has a heavy sound. Kenne lists the first clubs he played in Boston and yes, they're all gone now. He also bemoans the clubs closed now with "co-vid". It closes with a guitar mimicking the English ambulance sound…makes sense? It's Kenne!
You can hear Crash Course on Saturdays from 1-4pm on WMFO
---
PODCASTS......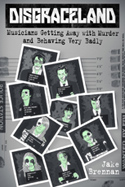 Jake Brennan and his production company that does the podcast Disgraceland have added more podcasts to go under the same umbrella. Double Elvis Productions (the podcast company cofounded by Brennean) has added the podcast Curious Creatures is by Lol Tolhurst, former drummer for The Cure, and Budgie, former drummer for Siouxsie and the Banshees. It's about post-punk music. Sound and Vison is interviews by Andrew Loog Oldham the Rolling Stones manager and Washed Up Emo is about emo music.
If you don't get a paywall you can read more on the Globe.
Blowing Smoke With Twisted Rico gets the goods on Jon Butcher. Jon has been part of the Boston scene from the same time as punk started. Jon's big break was when Maxine Satori of WBCN played and pushed their first song "Suzanne". In his early days in Boston Jon says any race problems went out the window when they heard him play guitar.
---
MUSIC/CDs.................
Kid Gulliver has released Kismet. What a line-up of tunes!! Most of these are familiar to us, it's the fact that they are all lined up in a row. "Suzie Survived Chemotherapy", "Boy in a Bubble", "Beauty School Dropout, Carousel"," I Wanna Be a Pop Star", "I Started a Joke", and "Forget About Him"…I mean really?
It's on Spotify
This was a good week. It's always a good week when Chelsea Curve drops another single. "7000 Hours" is a change up for the group. They take things down a notch. This song is a bit moodier, janglier and has a keyboard in it too. It has a regretful something-was-lost feeling about it.
Stubborn Hearts the duo with Jenn Lombari released a 7 song album this week titled What Fresh Hell. Jenn does a lot with just the one guitar and drums.
The songs have the very appealing rush of pop punk to them. This batch of songs is the catchiest yet. There is a song about the News Café where the Stubborn Hearts have often played.
We're not picking a favorite song with this, you can't go wrong with any of them.
Now, it's on Spotify and soon their Bandcamp page.
It's another compilation round up from Rum Bar. Has there ever been any label that has been able to put out compilations so fast as this and to have so much good material each time? This one has 38 cuts. The line-up of songs is so good it's like a preprogramed radio show, and online radio shows love Rum Bar for that reason.
A lot of the songs we have talked about here. Looking for even newer material – there is Mad Mojo Jett playing a raw "Chastised on the Spot". Immediately you think, I'd like to hear more from this group!! They are from Minneapolis, a spot where Lou Mansdorf has scooped up some new groups.
The inclusion of "Until Then" by the Idolizers made us give that another listen and we liked the rush feeling and speed of the song.
There's a song "Runaway Scars" by Tim McCoy. We assume that's Tim from Watts. So, it looks like he may have an album on the way.
It cranks pretty mightily.
A Bunch of Jerks log in a cover of Blondie's "(I'm Always Touched by Your) Presence Dear". The comp also has Muck and the Mires, the Yum Yums, Cromm Fallen and on and on.
---
Here's some good shows coming up .....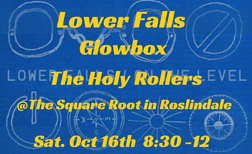 October 5 (Tuesday) The Chops, Weatherworn, Louzy, Key of Caustic at The Midway
October 5 (Tuesday) What Famine, Tysk Tysk Task, Sidebody at The Jungle
October 8 (Friday) One More Time Under The Friday Night Lights Mess-Around at The Plough: This month's guests include the one and only Nat Freedberg and Chris Blue. And recently relocated to Boston Dave Harrison (The Voodoo Dolls, The Nines, The False Positives) and of course Justine Covault, Tom Baker, and Jay Allen
October 8 (Friday) Hardcore Stadium presents No Pressure, Koyo, Fleshwater, JINX, Crescent Ridge at the Middle East Up. All Ages.
October 8 (Friday) Fall Into the Groove Show! Margaret Garrett Band, Crow Follow, Field Day Duo at The LilyPad in Inman Square FB Page
October 9 (Saturday) Little Billy Lost, Peppermint Kicks, Bunch of Jerks at The Square Root FB page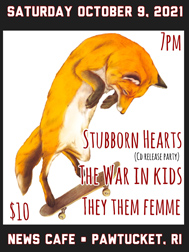 October 9 (Saturday) Stubborn Hearts CD release party at News Café with The War in Kids and They Them Femme.

October 9 (Saturday) NE Ska Summit doc w/ The Copacetics and Riki Rocksteady at the Regent Theater Arlington FB page

October 10 (Sunday) KCUF record release, Time & Place + special guest at The Hong Kong 8PM doors.

October 10 (Sunday) Scurvy Dog Parking Lot Mega Show III with Hope Anchor (9:30 pm), Kepi Ghoulie (8:45 pm), the Worried (8:00 pm), the Hammer Party (7:15 pm), Disfellowshipped (6:30 pm), Black Sorcery (5:45 pm), Anxious Wave (5:00 pm), the Hi-End (4:15 pm), the Smoke Breaks (3:30 pm), Moodrunners (2:45 pm), Brown Apples (2:00 pm). WOW 13 hours of music!! FB page.

October 14 (Thursday) Black Beach, Bummer Camp, Today Junior at The Hong Kong

October 14 (Thursday) Mad Painter at The Union Tavern

October 15 (Friday) the Dogmatics and Gypsy Moths at The Magic Room. FB event page

October 15 (Friday) The Sonomatics & Link Brothers at Nick's Bar, 124 Millbury St, Worcester MA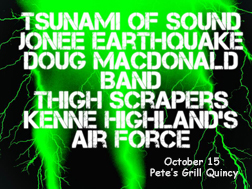 October 15 (Friday) Tsunami of Sound, Jonee Earthquake Band, Doug Macdonald Band, Kenne Highland's Airforce, The Thigh Scrapers at Pete's Grille Quincy. FB page
October 16 (Saturday) 2nd Annual Punktoberfest at Thirsty First in Lowell - The Welsh Boys, 45 Adapters, Brix'n'Mortar, The Only Things, Disco Volante, Diablogato, DNZL, Gripbite, Stoploss, Color Killer, Nick the Barbarian, Horsehands, Timmy Heist & The 456 - starts at 2PM!! FB page
October 16 (Saturday) The Cretins, State Of The Union, The Challenged, Rusty Things, DJ Chris Atwood at Bill's Bar Landsdown St by Fenway Park. FB page.
October 16 (Saturday) Magic Room in Norwood presents Smitt E. Smitty & The Feztones and Gene Dante & The Future Starlets FB page
October 17 (Sunday) The FU's, Arctic Horror, Give Up, Grip Bite at the Midway - a matinee shows 3-7PM. FB page
October 22 (Friday) The New England Mafia (Brad Marino, Geoff Palmer and Kurt Baker) playing 2 sets of hits from all their bands also on the bill now Muck and the Mires at The Square Root.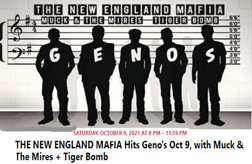 October 23 (Saturday) The Molly MaGuires, Modern Day Idols, The Hi-End, The Cast Irons at The Jungle
October 23 (Saturday) Freeloader Album Release party at The Plough & Stars on October 23
October 24 (Sunday) The Grommets, The Fatal Flaw, Girth Control, The Jacklights at The Midway - a matinee show 3-7PM
October 24 (Sunday) Nervous Dater, Good Looking Friends, Tatoonie Punk Scene, Stubborn Hearts at O'Brien's in Allston
October 26 (Tuesday) Premature Ejack-U-Lantern 2 with Loser's Circle, The Blame Shifters, Squallie Greenthumb at The Hong Kong
October 29 (Friday) The Dents, Black Helicopter, Motel Black at O'Brien's
October 30 (Saturday) Tsunami of Sou nd, Ghost Truckers, Gypsy Moths, Jonee Earthquake Band at The Midway - a 3PM matinee show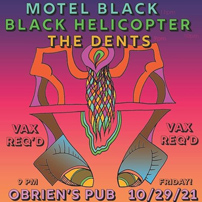 October 30 (Saturday) Hello Blondie, BETH, Justine and The Unclean, Kid Gulliver, Key of Caustic, and speedfossil at The French American Victory Club in Waltham Music at 5:30!!

October 30 (Saturday) Halloween with Tsunamibots, Brand New Luddites and State of the Union in Montpelier, Vermont at Charlie-O's World Famous. FB page.

October 31 (Sunday) Dropkick Murphys At Hogan's Run again 7-11PM...best Tessie costume wins a free drinks bracelet for the night. FB page.

November 1 (Monday) YAY!! The Hong Kong is back!! Ignorantes, Wanted, G.R.I.N., The Massacaered, 4 Minute Warning,

November 5 (Friday) Shake The Faith (reunion gig!!) with Little Billy Lost at The Magic Room in Norwood. FB page. Here's a vid of Shake The Faith at the Channel 1989

November 5 (Friday) The Guns of Brighton return to the Breakaway in Danvers FB page here.

November 6 (Saturday) Mister Vertigo, Modern Day Idols, The Chelsea Curve, If We Go At All...8PM show at the Midway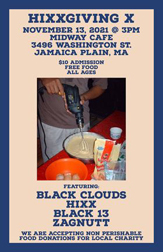 November 13 (Saturday) Field Day (x-Dag Nasty), Moving Targets, Lenny Lashley's Gang of One at the Middle East Up TIX!!
November 13 (Saturday) Hixxgiving X 3pm at The Midway Black Clouds, Hixx, Black 13 and Zagnutt - they are serving free food and they also are accepting food donations for local charities.
November 13 (Saturday) Hixxgiving X with Black Clouds, Hixx, Black 13 and Zagnutt - The Midway 3pm Matinee shows - there'll be free food and they are accepting food donations for local charities.
November 13 (Saturday) Tsunami of Sound, U-ey at the Buoy at The Square Root
November 19 (Friday) Hardcore Stadium and Grayskull Booking Presents: Slapshot - Celebrating 35 Years of Hardcore Day 1- Stars & Stripes, Noi!se, COA, Patriot, Violent Way at Sonia - (already sold out!!)
November 19 (Friday) Joan Jet & the Blackhearts will be at the Chevalier Theatre in Medford Square. Tickets.
November 19 (Friday) Letters to Cleo are at the Paradise. Tickets here
November 20 (Saturday) Lurid Purple Flower, Verdegree, Motel Black, Shrink Ray at The Jungle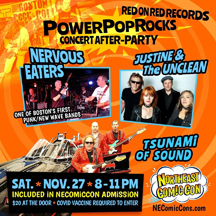 November 20 (Saturday) Hardcore Stadium and Grayskull Booking Presents: Slapshot - Celebrating 35 Years of Hardcore Day 2 -Slapshot, Sheer Terror, Death Before Dishonor, Pummel, Count Time - at The Middle East Down. (already sold out!!)
November 27 (Saturday) Jason Bennett & the Resistance, The Damaged, The Hagglers, & Chris Skel at The Middle East
November 27 (Saturday) Dinosaur Jr. at the House of Blues on Saturday Nov 27. Tix
November 30 (Tuesday) The Labor Pains, Disqualifier, Tensor, Bad Sandy, The Lost Boys at The Midway. FB page
December 3 (Friday) Kurt Baker, The Fatal Flaw, Dutch Tulips at The Jungle
December 11 (Saturday) The Hi-End, Watts, Freeloader - Middle East Up - starts at 12:30PM!!
December 18 (Saturday) Koto's Killer Kristmas Party with Marianne Toilet and the Runs, Fog Wizard, Dust Prophet at Koto Salem.
March 13, 2022 (Tuesday) Reigning Sound at the Sinclair Tickets: https://www.axs.com/events/402182/reigning-sound-tickets
March 31, 2022 (Thursday) The Parquet Courts are at the Royale. Tickets are here
April 22, 2022 (Thursday) Circle Jerks at the Paradise
CONTACT US AT....misslynbgn@yahoo.com Send us your gig listings, your anything else ya got!! You want your CD reviewed?? Contact us for that too.
---
---