The BGN News Archive
October 10, 2022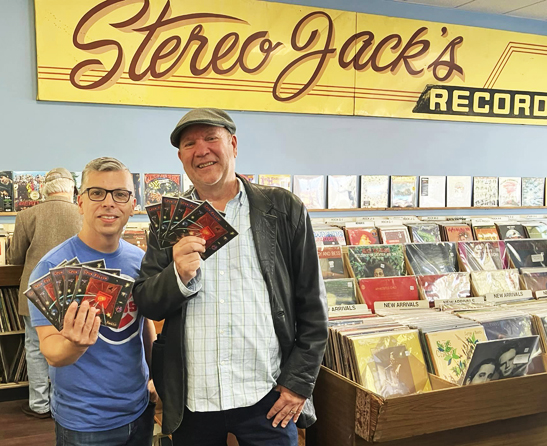 Chris Anzalone and John Keegan
Our own John Keegan, also sax player for Crow Follow, went to Stereo Jack's this week to drop off the brand new Crow Follow CD Red Velvet Radio. Here is Chris and Keegan with the new CD!
Stereo Jack's is now at 736 Broadway In Ball Square, Somerville and you can get the Crow Follow CD there or on Bandcamp.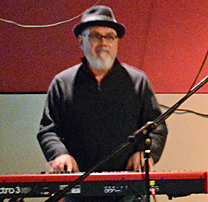 Brother Cleve, after his untimely passing, continues to garner more respect, especially in print ... and rightfully so!! It's amazing to realize he was so well known, and so respected and loved, in so many areas. He did so much musically but was most well known, far and wide, as a master mixologist.
In the Wednesday Food section of the Boston Globe there was a very informative article about Brother Cleve. We find out the beginnings of his love for cocktails.
The Fabulous Billygoons' page has a Brother Cleve obituary written by Lester Miserables. Read that here. And here is the Billygoons FB page with more on Brother Cleve....photos etc.
We've talked about the Harlots of 42nd St before. Seeing them you wouldn't believe they didn't take from the NY Dolls but they we're contemporaries.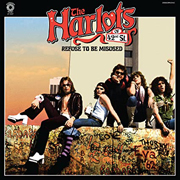 Said David Johansen: "We used to compete with the Harlots of 42nd Street which was a group of guys who looked like truck drivers but dressed like the Dolls and wore, like, fishnet stockings over these big muscular hairy legs. They were my favorite band." Miss Lyn saw them in Boston before the punk days.
Now their album is about to come out. It' pairs their one single with eight studio cuts. It's to be released on October 14 and comes with a 30 page insert…..and pink vinyl if you want!
You can get it at Sundazed .
Or Amazon.
---
VIDEOS......

Gang Green's Chris Doherty sang "Alcohol" with the Guns of Brighton at the Midway last Wednesday. The Guns of Brighton have it on their video channel. Look at that guitarist with the Budweiser guitar, how did he get that?

Here's their version of "Another Wasted Night" and "Skate to Hell"

Speedfossil are keeping up interest in their latest album No Anesthesia by releasing another video of a song. This one is "Simple Simon" it's a clever mix of video and animation. The song is a two and a half minute pop nugget with a Beatlesque ending.

>

The Damned concert film A Night of A Thousand Vampires will get its first showing at Cineworld Leicester Square in London on Thursday October 27 including an exclusive Q&A with The Damned and director Martin Gooch.

When will we get to see it? No idea at the moment. But take a look at one song they have released "Grimley Fiendish." It looks and sounds wonderful.

The documentary film, Meet Me In The Bathroom based on Lizzy Goodman's book of the same name about the New York music scene of the early 2000s, is coming to theaters and streaming on Showtime in November. It zeroes in on bands like The Strokes, Yeah Yeah Yeahs, LCD Soundsystem, Interpol and TV On The Radio. So far it's being shown in a few theaters in Metro West. You can see that info here.

Here's an article on the film in Pitchfork

The Smugglers were a Vancouver band that had their day in the 1990s. There's still enough interest to have a new 2 album release, In The Hall of Fame, to come out now. All we have to go on is this video of "Rock 'n Roll Was Never This Fun" and we like this loose garage rampage just fine.

It sounds just contained enough to work. We would have loved to be at one of their live shows, looks like lots of fun!! The Smugglers website and FB Page To order the album go to Lava Socks Records.

Urban Struggle: The Battle of the Cuckoos Nest is a 40 minute documentary originally made in 1981 but was never actually released. It's about the club in Orange County in the early 80's that had the Black Flag debut gig as well as tons of other punk bands playing there. The film has had a lot of legal issues, but here it is to check out now!! It has some live music by Black Flag, Circle Jerks and T.S.O.L. and there's a lot of the punks talking and you get the flavor of what was going on. Punks vs the straights and punks vs the world are the main elements. Being a punk in the early days was no walk in the park anywhere as we know.

Dangerous Minds website has an article about it. and on IMBD

>

We've been following Arizona's The Venomous Pinks just because we like their inspiring punk. They have a new video for the song "Cross My Heart and Hope to Die" off their last album Vita Mors.

The setting is a roller rink with the local Arizona Derby Dames. The backdrop is a compatible canvas for their aggro sound.
---
RADIO......
In conjunction with their new single (see below in New Music) Cold Expectations did a live set on WMFO's Live with Mikey Dee show on last Wednesday.
They played "Hey Compromise" as well as some of their releases like "Summer Dress,""In The Padlocked Night" and "Two Blueberries." Their cover of Camper Von Beethoven's "Take The Skinheads Bowling" was a revealing choice. It shows where they get some of their offbeat indie ideas.

Also on the show was "High" by Stars Like Ours that sounded so fine in the mix. Also played was the new Nervous Eaters song "Hop Sing Says" and the new Miracle Blood album (reviewed below).

To catch the show go to the WMFO schedule page hit Live with Mikey Dee on Wednesday at 9pm and then hit the 'archive' link.

On Gorilla Got Me on WMBR Sara has a superb opening set. Some Rubber City Rebels, Boomtown Rats, Killjoys (Keven Roland from Dexy's was in that group) and Rich Kids (doing Small Faces). In the middle of that was the Wyld Gooms doing "You Did Me Wrong". That song is an authentic sounding garage tune from the new group. It was on a single that is not that easy to get. See the video below and see how 'sixties' they look.

>

Sonic Overload is always a show to listen to with regularity for a wide variety of hardcore. Al Quint also throws in a few other things. This week his punk picks were The Wipers, Dead Boys and Rick Agnew. He played locals Wild Stares and The Rentals (I've Got A Crush on You").

He played "Diabla" by The Warm Jets which was an early effort by CJ Ramone. Here it is on YouTube.
He also threw in a Cheap Trick and Nashville Teens.
To hear the show go to Sonic Overload
---
PODCASTS.........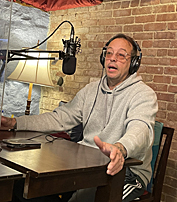 Blowing Smoke with Twisted Rico gets Lenny Lashley in the studio for an interview. The show started out with Lenny playing a new song in the studio.
Lenny's earlies influence? The Dogmatics! He lived near them and visited the musical O'Halloran household for lessons.
Lenny gives the whole story of "I Hate the Unseen." People always remember that song. Lenny is a good story teller and has some striking stories about Darkbuster. They talk about his other groups: Lenny and the Piss Boys, The Street Dogs and Gang of One.
Lenny talks about his new album Five Great Egrets (or is it Five Great Regrets?). He has a lots of guests on the recording: Joe Sirios (The Mighty Mighty BossTones), Tim Brennan (Dropkick Murphys), Johnny Rioux (Street Dogs), C.J. Ramone (Ramones), Pete Steinkopf (The Bouncing Souls). There will be a vinyl version. You can preorder here
When asked for his influences, Lenny's list was wide ranging and unusual.
AJ Wachtel had Chris Doherty from Gang Green on his podcast Wachtelligence. They talked about all the facets of Chris' career.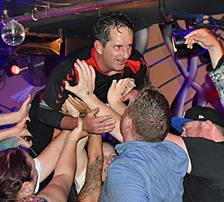 Chris was the only member in all the versions of Gang Green through the years. Chris said that he had his address on the This Is Boston Not LA album and he got letters from all over the world.
Both Chris and AJ had great stories about "Alcohol" and "Voices Carry" and their effects on crowds in the bars. The stories of the Gang Green's 1982 win at the WBCN Rumble and its effects on the music establishment is still eye opening.
He revealed that a live Gang Green set from 1983 in Washington, DC that will be released. He also has 11 songs that he did before his stroke, some of those may end up on a split with new songs from The Freeze. His recommendation for new bands are Worm from the South Shore and the (Rockin' Bob's) Punk Band with Bob Cenci.
---
NEW MUSIC/CDs......

Actor|Observer has released "Man Enough" their second song from an upcoming album Songs For the Newly Reclusive. The song is an emotional polemic against those that are trying to dictate how people live and even think about themselves. This is so hard hitting, we want to say it's on a higher level than other material by them but all their material is intense.

But this is one powerful piece of work. The lyrics cut to the bone, they are sung with fury and empathetic pain. If you listen closely you have to be affected. A lot of groups shred on their guitars, this group shreds your psyche.

They are one of the best groups in town and they are playing at their top form. Their last song "Fool's Gold" got some attention and play. We hope that builds with this song and continues with the new album. Their record release show is Wednesday Nov 9 at The Rockwell. More info in the gig listings (scroll down below)

Cold Expectations released a single titled "Hey Compromise". We've come a long way from the revenge songs and those Dylan put down tunes, now it's "Hey Compromise". Cold Expectations show that some frisson rather than anger works just as well as grist for the mill.

The song has pop leanings but it's not light, there's emotions and hard life choices in the lyrics. The synth lines add color without diluting the heaviness of the body of the song.

The group continues to make smart choices and are in a sweet indie pop area that seems so right for them.

The recording was done at Wooly Mammoth. It amazing how much quality material is coming out of that studio.

Miracle Blood changed drummers and got way more intense along the way after we had seen them at the Club Bohemia in 2117

.

There new album Melter has a few places where the singer lets out some full throated screams that leave their mark on your psyche. They are things of beauty. The music is right there behind the singer being scathing and edgy. The group sound is always pushing with full energy. The drummer is not to be denied. The drums are half the story here.

The album doesn't fit snuggly into a genre. It's punk/noise/metal and a few other things. It's certainly hard rocking and creative. If you're looking for what's new in local punk, here it is.

After two reunion shows The Zulus are now a working band and have released a new album; Outer Space.

They throw a curveball by making the first song "Outer Space" a mid-tempo number that is eleven minutes long. It's three and a half minutes with vocal over a repeating riff on the guitar low strings. After that the riff continues for another seven and a half minutes with Rich Gilbert taking it to some cool sonic spaces. It's a tour de force that shows The Zulus artistic reach.

Listening to this one can see why Zulu fans were clamoring for the group to come back. With Larry Bangor singing you get a bit of a Human Sexual Response feel. The group are all top notch musicians and Gilbert with studio musician chops make for a pristine recording. There's no unnecessary flash here, everything serves the song. They instill those slower songs with feeling without bashing out in anger.

Gilbert moved from Nashville back to the Northeast recently, so one imagines the "No More Nashville" sentiments come from him even though Larry Bangor wrote the song. The song seems to express some negative emotions. There maybe is a story to get there.

"I've Had Enough" works the title's expression and brings it home.

This is an album you are going to want to live with a while, giving it repeated listenings to digest these songs with lyrics to contemplate.

The CD isn't quite out now but we scored via Rich Gilbert's website…and you can too.

Native Tongue were active in the early 1980s. They were compared to Mission of Burma and were classified as art rockers.

Two of the members have been active since 2020 as a unit named Dream of a Man in a Top Hat.

Their sound is in the same ballpark and it still sounds cutting edge. Their newly released song "Opposite Poles" is very disorienting and we imagine that is the idea. The lyrics are coming out from what seems like three or more sources and not in sync but overlapping and intruding on each other. It's like you've been kicked in the head and your head is scrambled.

The background has waves of guitar splashing around. There are also some regular guitar work to hang on to.

We listened to this a lot because it seemed like such a well put together construction.

Dream of a Man in a Top Hat has updated their cutting edge music and it still works today. We're going to catch up with the earlier work we missed.

Check them out on Bandcamp Their Facebook page

Highway Chapel has a new album coming out. Right now there is one song on Bandcamp titled "Trouble About Her".

It has a raw guitar chomping down and an 70s style riff that kicks in regularly. The solos also sound 70s ish. We'll see how this works into the whole album soon.

Meanwhile nice to see Joseph Fagan and team back in action.

We've featured The Beatersband from Italy a few times for their appealing punk, most notably "My Mother's a Punk" .

They've worked up a worthy cover of "Nightmare On Elm Street" by the Misfits. "Nightmare on Elm Street, where no one can hear me scream"…let the scary songs begin.

Kurt Baker does what he does best….release another song. His latest is called "Move Up". This is a straight up call to dance. He's loaded the lyrics with dance references. It's a bit different for Kurt.

He did this at Wooly Mammoth studios. We don't know if he's recorded there before. There is a David Minehan guitar solo tucked in there too!

Telemor (Tom Hauck of Atlantics) has another single done up in his long line of singles. This one is called "Monster In the Attic". He summons up a primitive beat, a la Barrence Whitfield, to back up his plea for this Monster to get out of the attic and see the sun and dance. There's always a light touch with Telamor.
---
Here's some good shows coming up .....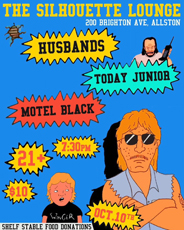 October 10, 2022 (Monday) Husbands, Today Junior, Motel Black at The Silhouette Lounge Allston
October 11, 2022 (Tuesday) Lion's Law, Violent Way, Blood Stained Brindle, Battery March at Sonia - TIX!!
October 11, 2022 (Tuesday) Agent Orange, Midnight Creeps and Gnarnia at Alchemy in Provi, RI FB page.
October 14, 2022 (Friday) Shakedown at the Shaskeen - Scissorfight returns to the stage with Drunk off diesel and Humanoids. at the Shaksheen Pub Manchester, NH
October 15, 2022 (Saturday) Speed Fossil, Modern Day Idols, The I Want You and Glowbox are at The Square Root
October 15, 2022 (Saturday) The Devil's Twins with special guests Tiny Stills and Senseless Optimism at Askew In Provi.
October 15, 2022 (Saturday) Third Annual Punktoberfest at Thirsty First in Lowell...Razors In The Night, The Fake Boys, SkyTigers, Taken By Vultures, Diablogato, Warthog, Chumhuffer, Working Poor USA, The Downhauls, Hagglers, Baabes, CE Skidmore And The Damn Fine Band ... FB page
October 15, 2022 (Saturday) ROCKTOBER GARAGE & SOUL REVUE with Barrence Whitfield & Four Piece Suit, Nervous Eaters, Tiger Bomb at Geno, Portland, ME FB page.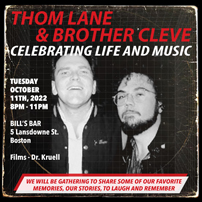 October 16, 2022 (Sunday) Already Dead, Moving Targets, Bad Idea USA, Shiny Beasts - 3PM matinee at The Midway
October 17, 2022 (Monday) Gollylagging, Kerosene Heights, Tatooine Punk Scene at The Silhouette Lounge Allston
October 20, 2022 (Thursday) Tsunami of Sound, U-Ey at the Buoy, Josephine With a Cause at Notch Brewery Brighton FB page
October 20, 2022 (Thursday) June of 44, The Thalia Zedek Band at The Middle East Down
October 21, 2022 (Friday) Key of Caustic at The Square Root.
October 21, 2022 (Friday) Stars Like Ours, Gene Dante & The Future Starlets, Paper Tigers at Faces Brewery Malden
October 22, 2022 (Saturday) Jason Bennett & the Resistance, The Manglers, Mistakes Were Made, Jake Bell (Barroom Heroes) at The Midway - MATINEE at 3PM.
October 22, 2022 (Saturday) OktoberFest at Once Boynton Yards with Emperor's Martins Stationary Marching Band, Conical Cacophony and DJ Al Watkins this is a FREE event also with a vendor market, crafts, giveaways, food by Cuisine en Locale, drinks, live music, and more. 11am to 5pm - to Register!!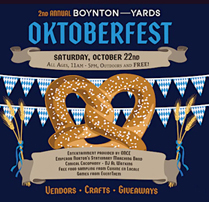 October 22, 2022 (Saturday) Mercy Union, Lenny Lashley's Gang of One, Mikey Erg, Jeff Rowe at Faces Brewery Malden.
October 22, 2022 (Saturday) Gatekeeper Jam 7 with Kill Your Idols, Anklebiter, Neighborhood Shit, Live Fast, Die Fast, Klaxon - @ Lighthouse Skatepark (881 Main St - Pawtucket, RI) - this is an early show at 5PM - All Ages $15.

October 22, 2022 (Saturday) The F.U.'s, Sonicness and Balloon Thief at The News Cafe in Pawtucket, RI - FB page
October 23, 2022 (Sunday) Lady Pills, Little Fuss, and Olivia Sisay at ONCE at The Rockwell
October 23, 2022 (Sunday) Dead Boys with The Midnight Creeps, The Briefs and Suzi Moon has been moved to Alchemy. FB page.
October 23, 2022 (Sunday) Live Music Pop Up Events at The Worthen Attic - with Red On Red artists Canyons & Locust debut performance and poster art, merch, vintage stewreo gear and vinyl.
October 27, 2022 (Thursday) Modern Day Idols, Gretchen Shae & The Middle Eight at Notch Brighton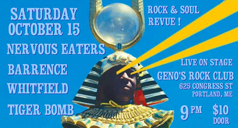 October 28, 2022 (Friday) FEAR performing The Record in its entirety at The Middle East Down - FB page.
October 28, 2022 (Friday) Free Halloween Show at The Worthen Attic with RoseR - as "AEROSERSMITH", members of Wildcat Slim - doing Morphine as "The Mighty Morphine Power Rangers", members of Speed Fossil - doing Guided by Voices as "Guided by Choices" and members of Radio Compass - doing Green Day as "1,039 Smoothed Out Slappy Half-Hours"
October 29, 2022 (Saturday) Matinee Massacre with Hammered Saint, Hambone Skinny, Black Souls at The Jungle - 4PM early show.
October 29, 2022 (Saturday) Red on Red Dress Like a Rock Star Halloween Party with Stupidity (from Sweden) with Keith Streng from the Fleshtones, Cold Expectations, Andrea Gillis, Justine & The Unclean and Speedfossil - at the French Club in Waltham. FB page
October 29, 2022 (Saturday) Halloween Cover Extravaganza by Once at The Armory with bands: A Lad Insane are David Bowie, Staring At The Sea are The Cure, Grechen and the Banshees are Siouxie and the Banshees, Bikini Whale is B52's - TIX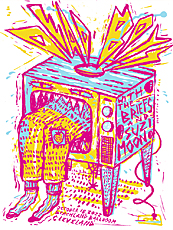 October 29, 2022 (Saturday) Tiffy, Divine Sweater, Kipani, Paper Tigers at O'Brien's
October 30, 2022 (Sunday) The Manglers, The New Frustrations, The Instamatics, Charmed & Strange -3PM matinee at The Midway
October 30, 2022 (Sunday) A Red on Red Halloween Mess-Around! with Stupidity featuring Keith Streng (of the Fleshtones), Lynda Mandolyn, Linda Pardee and Tim Gillis, Justine's Black Threads, Tom Baker and of course Mess Boss Jay Allen 4PM at The Plough &Stars FB page.
October 30, 2022 (Sunday) Lucretia's Daggers' 20th Band-iversary with Happy The Clown, Dead Harrison, Lucretia's Daggers, and Lobotomobile at The Rockwell by Once.
November 2, 2022 (Wednesday) River Of Trees, Black Helicopter, Accidental Caps, Tower Brothers at The Midway
November 5, 2022 (Saturday) The Mahones, The Pourmen, The Gobshites at Askew in Provi.
November 7, 2022 (Monday)Starcrawler at The Brighton Music Hall - this is all ages and EARLY at 6:30PM TIX.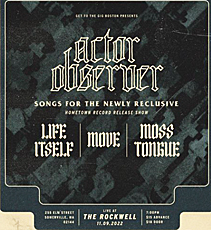 November 9, 2022 (Wednesday) Actor|Observer's record release show they will be joined by Moss Tongue, Kid Disaster, and Life Itself is at The Rockwell - this is a 7-10PM show. Tickets
November 11, 2022 (Friday) Hardcore Stadium Presents: Wound Man, Tinnitus, Robert Siege, Hideous, Shawnie Brando, Strictly Hip Hop, Sinister Wand, Operation Paperclip, Biproduct at The Middle East Down. Doors at 5 PM.
November 11, 2022 (Friday) Speed Fossil are at Sally O'Brien's
November 11, 2022 (Friday) The Teezers, The JackLights, Phantom Ocean, Key of Caustic at The Jungle
November 11, 2022 (Friday) Hardcore Stadium Presents : Wound Man, Tinnitus, Robert Siege, Hideous, Shawnie Brando, Strictly Hip Hop, Sinister Wand, Operation Paperclip, Biproduct at The Middle East Down
November 12, 2022 (Saturday) Dutch Tulips Bellwire, Bellwire and Jonee Earthquake Band at Faces Brewing Malden
November 12, 2022 (Saturday) SO/CAL Punk Invasion 2022- Black Flag, The Dickies, TSOL, Total Chaos at The Granite State Music Hall Laconia, NH - TIX!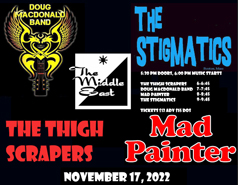 November 16, 2022 (Wednesday) Youth of Today, Art Thieves, ICU at The Middle East Down TIX!!
November 17, 2022 (Thursday) The Thigh Scrapers, Mad Painter, Doug MacDonald Band, The Stigmatics at The Middle East Up.
November 19, 2022 (Saturday) A Crash Course For The Ravers on WMFO 91.5 FM has Mach Bell as guest. 10AM- 1PM
November 19, 2022 (Saturday) Men and Volts at The Square Root
November 20, 2022 (Sunday) Hardcore Stadium presents - The Trouble at the Middle East Down (alas this show is sold out)
November 25, 2022 (Friday) Grayskull Booking & Hardcore Stadium present Slapshot, Crown of Thornz, Risk, Neighborhood Shit at The Middle East Down
November 25, 2022 (Friday) The Sheila Divine, Valleyheart, The Rupert Selection at the Paradise Facebook event page Tickets
November 25, 2022 (Friday) Tree are at Alchemy in Provi RI - FB page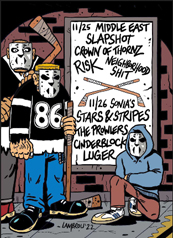 November 26, 2022 (Saturday) Stars & Stripes, The Prowlers, Cinderblock, Luger at Sonia
November 26, 2022 (Saturday) Dinosaur Jr., Guided by Voices and Eugene Mirman are at the House of Blues -FB page
December 10, 2022 (Saturday) New England Punk Rock Flea Market presents our inaugural live event, happening here at the historic Hotel Vernon, located in the vibrant and newly revitalized Kelly Square. Join us for a fun day of vendors and bands, a toy drive, and holiday raffles! 11AM - 9PM Music at 7PM -Music 7PM with Michael Kane (solo), Scare City, Sapling, Memory Lame FB page for vendor info etc
December 17, 2022 (Saturday) SCMF, Dogmatics, Jittery Jack & Amy Griffin at Faces in Malden FB page.
December 17, 2022 (Saturday) The Lemonheads are playing the Paradise
December 18, 2022 (Sunday) The Lemonheads are playing a seco0nd show the Paradise - Facebook event page
October 11, 2023 (Wednesday) The Mission UK & The Chameleons: Deja Vu Tour 2022 Rescheduled to 2023!!! also on the bill Theatre of Hate
CONTACT US AT....misslynbgn@yahoo.com Send us your gig listings, your anything else ya got!! You want your CD reviewed?? Contact us for that too.
---
---