The BGN News Archive
October 16, 2023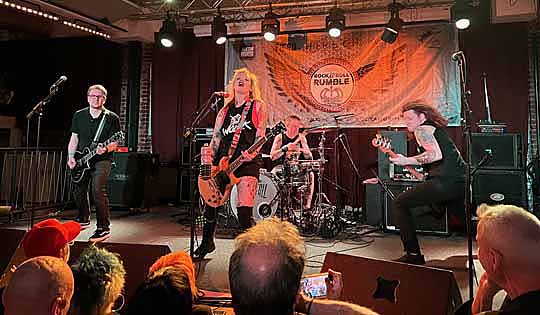 News on One Fall's new EP Spine First
Photo: Captain Easychord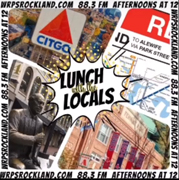 WRPS is the radio station from the Rockland Public Schools, they had the scholarship fund raiser with The Dogmatics and the Dogumentary showing back in August .
They play a mix of punk and indie music with a focus on local music. Now they have an all local music show called Afternoons at Noon. They are asking for local groups to submit music to them at Music @ wrpsrockland.com.
And while we are at it....we're talking to you local bands - you can submit your upcoming gigs for inclusion in our Gig Listings. The Gig Listings is our most visited page which means lots of people will see your show is coming up and will come to it and will pay at the door - you can submit your gig listings by clicking the link at the top of our page.
Paper Tigers are having a release show for their new album Charmer at O'Brien's on Friday November 3. Johnny Dalton who is up for Sound Engineer of the Year award from the Boston Music Awards will be doing sound. Also playing will be Gold Hoax and Trailer Swift. O'Brien's event page for tix.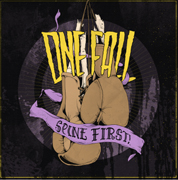 Hard to believe but One Fall who won the Rock and Roll Rumble this year only played their first show last December. They got a lot of attention with their first three song release that was recorded in their basement.
They now have a 5 song EP, Spine First that will be released this week (10/20). We've heard the EP that was recorded at New Alliance Studios; "Rage/Quit" comes on like a herd of buffalos going over your head. The drummer, Caleb Wheeler, is a beast!
Despite the balls to the walls guitar onslaught, the vocals are clear so you can hear lyrics ... and they are worth hearing. They sing, "I will break, before I bend" and you feel that in the attitude of the music. This group is pushing it all to the ultimate.
"Raleigh" is melodic as well as hard hitting. That's a trick that this group is already known for. They cover "Born To Run" and it's a relief to the four blistering songs before it.
Here's their Bandcamp page with their first EP and the One Fall Instagram and FB
Vanyaland has an interview with Gordon Gano of the Violent Femmes on the occasion of the groups show at the MGM Music Hall on Friday October 13.
The interview is very good. One thing that stuck out for us was a Jonathan Richman story. When Gano was 17 (before the Violent Femmes), he was an opening act at a show and during his set he could hear what he thought was heckling. After the show the 'heckler' came back stage. It was Richman. He told Gano that he sounded just like him when he was 17.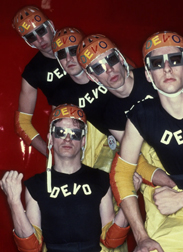 The New York Times had an article on Devo this week. They were mocked when they first came out, now they are seen as visionaries. The idea of De-evolution seemed like a joke, now it is seen as a savvy prediction.
Outside of de-evolution Devo had a series of early videos that predated the rest of the music world's fixation, they also used those video in their live shows that foreshadowed stage shows to come by others and Trent Reznor of Nine Inch Nails credits them as an influence especially with the electronic sounds.
Members of Devo went to Kent State and the group formed when the school went on hiatus after the Kent State shooting in 1970. Later Mark Mothersbaugh wrote soundtracks for TV shows (Pee Wee's Playhouse) and movies. His latest soundtrack was Cocaine Bear. "Watch Us Work It," was initially commissioned for a Dell computer ad. See the ad here.
This is yet another case of where early punk gets credit way after the fact. The NY Times article if you can get by the paywall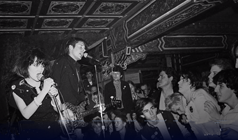 The PBS documentary The Chinatown Punk Wars premiered on a KCET, a California PBS station on October 4th. The film is about the dueling clubs in LA's Chinatown; the Hong Kong Café and Madame Wong's. It includes interviews with Alice Bag, John Doe and Penelope Spheres and others that were involved in the scene.
The film begins with the beginnings of punk and the early LA scene with The Germs and The Bags. It was an unusual circumstance with unusal venues and personalities. The film is well done and at less than an hour's length it moves along at a good pace. It's definitely worth watching. Check it out here
---
BOOKS......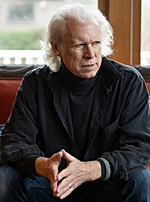 Mach Bell's new book Rock Survival is finished! It's coming out on his own Panther Rock Books.
The promo reads: "Prepare to be swept away on a chorus of hope and resilience, as Mach Bell rediscovers his rhythm, reforges his legacy, and ascends to the hallowed halls of fame. The story of a rock legend reborn, Rock Survival is a resounding testament to the power of music, the indelible bonds of friendship, and the relentless pursuit of one's true calling. Readers of all ages, from diehard rock enthusiasts to those seeking inspiration, will be captivated by this enthralling journey through the heart and soul of a man who refused to let his dreams perish."
Mach certainly has his mojo back .... if it ever left. He's out there on stage with energy to spare. He's endlessly on the promo circuit and is now enshrined in the New England Music Hall of Fame. After this we assume the recording studio is next with his band the Mach Bell Experience.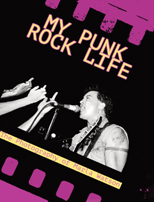 My Punk Rock Life is a photo book centered on Los Angeles punk. The photographer is Marla Watson who took photos of The Vandals, Dead Kennedys, Misfits, Black Flag and Minor Threat in the 80's.
Marla is interviewed on the No Echo website. She says every club welcomed the camera except the Whiskey a go go. Surprisingly, being a woman in a mostly male situation was not a problem, "As for macho assholes, it really I didn't find many in the punk scene. The guys certainly outnumbered the girls 10:1. I'm not saying there wasn't sexism but having a camera gave me entrée to a different view of the scene. Much like being a musician, photographers brought an element of skill to the table and there was some respect for what we did, even then."
Marla Watson website
The book on Amazon
---
VIDEOS......
Smitt E Smitty has timed his latest effort to lead into Halloween. In "The Growler" Smitty lets his inner animal out. He growls, howls and barks while double exposed with wolves in the vid. The Fezztones, who always seem like a 'pack' of musicians, kick up some appropriate backdrop for all this. Smitt E Smitty and the Fezztones don't sound like any other group. They do their own thing which is refreshing. You get a good example of the Fezztones experience with this vid.
Dan Kopko has a video of the title song of his Danny The K EP "Cigarettes and Silhouettes," We've been fixated on his sweet as candy pop songs, that we were distracted from this title song!!
With the video you get another chance to listen more closely. The video captures the idea in the song of time passing and something that is now over but the memory remains. You see the image of cigarette smoke repeatedly. Smoke is real but hard to grasp, like memories.
The video was done by Harry McCoy at PonyHenge in Lincoln MA.
The Oxys frm Austin have released their video "Isolation." it was filmed at the Austin club, Mohawk. It looks like a wild night and all because of the band performance.
The song was written during Covid shutdown. It is two and a half minutes of raging against being alone. Who can't relate to that?
It looks as if the lead singer has straight jacket straps on his wrists. That's a good one. This is from the band's latest album Generation Irrelevant out now on Dead Beat Records. The title track is on Bandcamp
You can buy the CD here.
---
RADIO......

Skybar had The Jacklights in for an interview last Tuesday. They've done a lot, and gone a long way, in the few years they've been together. They talked about the new Final Girl EP and the video for the title song.
To hear the show go to the WMFO schedule page. Hit the Rising show on Tuesday at 8pm and then hit the 'archive' link.
---
PODCASTS.........
This week on the Elastic Glam show we loved the old stuff: Sweet, Slade, Harpo and Hello.
We also loved the new Velvet Insane song "Boogie Star".
We weren't looking for a glam radio show but sure glad we found this.
---
NEW MUSIC/CDs......
There's another tribute to Justine Covault: Stop Calling Me Frank has a new song titled "My Band On Her T-shirt." It's about seeing Justine wearing a SCMF t-shirt at a show ... and the photo on the digital single is the proof.
The song written by sax player Terry O'Malley transmits the joy band members have when some is wearing their band shirt. "Retro boots, patterned tights/ And a mini skirt/ But she has my band on her t-shirt."
The song has a fifties feel. It has that SCMF joyful and life loving attitude that marks the group.
Crow Follow has a new single this week. "In Between" has all the Crow Follow earmarks. At this point the group makes everything work even sharper. They always have their signature smoldering sound and this time the hooks seem secure in place, their group sound even more assured. We like their trick of having the vocal come in like it's through a scratchy radio. This time they counter John Keegan's baritone sax with a crisp trumpet line.
They explain that the song takes Dylan's "All Along the Watchtower" and imagines what the two horsemen do after they ride away.
The recording was done at New Alliance and the engineering and mastering are done so well. Everyone was on their game with this.
Rum Bar Records has a new 42 cut….42 cut!!!...sampler After School Special.
This compilation is the first time one of the new Richie Parsons' punk song becomes available. This is no small thing. Parsons with Unnatural Axe defined punk in Boston so many years ago. To have some new punk material by him in 2023 is a big deal. This shows he still has the punk punch on call (as if we didn't know) and the humor in the lyrics. The lyrics tell the story of a couple who go from one hopeless mishap to another. They are made for each other, even if they are a shit show. There's some real nice single line guitar fills.
The song has a long tail end, about 40 seconds, and the playing, background vocals and guitar fills are so interesting that we did a multiple repeat on that section alone. Richie's new EP Rhymes with Rock will be out on Rum Bar very soon!!
Also on the sampler:
Cold Expectations' excellent version of "I Live With Ghosts." The Slamdinistas stand out in this line up again with the previously released album cut "Time Flys By."
The Lemon Drop Gang have their retro "Johnny is A Jerk." That's one of those efforts that you can hardly believe a group can still pull off.
Glimmer Stars have a sweet poppy "Sunday" that we liked. They were on the last compilation Swagger with "Pictures of You". We're ready for an album from this group.
Then there are the groups we haven't seen lined up with Rum Bar that we'd like to know about: Wimps doing "Little Heart", The Last Conspirators with "History " and Paul Vermin playing "Great Party (Gotta Go)".
There are the dependable Rum Bar groups we have featured here on the BGN. It's up to you to delve in and listen…and this is a worthy line up by any measure.
Canyons and Locusts do a lot with just two instruments and they've had a signature sound since the first single. Their newly released song "Buck Dharma's Eyes" has that sound. They've managed to keep things interesting with melody and lyric content and that's the case here.
We really want to read into "Buck Dharma's Eyes" but the lyrics don't reveal anything specific. The repeated use of 'amen' also raises the stakes. The verses when read without the music almost seem like a meditation, a calming. Is the title just a way to get the word 'dharma' (cosmic order) into the song? It's all intriguing.
The Va Va Voodoos are a three piece from Albany. Bootleg Dan booked them at the Square Root last August and they were on A Crash Course for the Ravers and made an impression with us as we took in their music.
Their new release is a cover of Jonathan Richman's "Pablo Picasso". They pack it with echoed up grungy noise and make it their own. It's dark and menacing. Nice twist.
The Spackles, (the ex A Bunch of Jerks), have a new digital single. "The Man With the X-ray Eyes" has a glam feel and plenty of Bowie touching points. There is lots of juicy guitar to catch like the echoed up guitar screech that comes across as a laser effect.
"I'll Be You" has a Caribbean beat feeling. It's quirky which and the Spackles are probably fine with that and we are too.
We missed this release by The Spackles. It's a cover of The Blob" the real theme song to the 1958 movie (with Steve McQueen). A studio group named The Five Blobs recorded the song and it was played on rock radio, such as it was in 1958.
The Spackles have lots of fun with this. They juice it up with guitar, as is their thing. They keep the latin beat (rumba?) and the finger cheek popping. With all that they bring back the spirit of the fun loving fifties with it's plethora of novelty songs. And who else would do this? We love this group more and more.
---
Here's some good shows coming up .....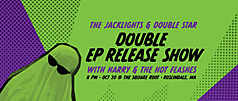 October 20, 2023 (Friday) The Jacklights, Double Star (EP Release Party!), Harry & The Hot Flashes at The Square Root
October 20, 2023 (Friday) Bootleg Dan Presents Ivan Julian, Muck & The Mires, Judy Ann Nock at The Burren - 6PM show!!! FB page
October 20, 2023 (Friday) The Zip-Ups, Magen Tracy & the Missed Connections, Stars Like Ours at Sally O'Brien's
October 20, 2023 (Friday) Jonathan Richman is at The Somerville Theatre Tickets!!
October 20, 2023 (Friday) Lewsberg, Chris Brokaw, Minibeast at The Middle East Up
October 20, 2023 (Friday) Wreckless Wreck Chords presents Wreck-O-Ween at The C Note This is a TWO day event - Day 1 - Barfight Champs, War Graves, Mitch Kramer, Screams Of Hockomock, Witches Tears, Hardwired, Barry Larry Tickets here. $25 for both days Day 1 FB page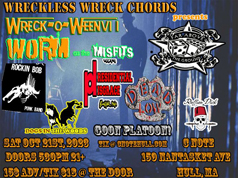 October 21, 2023 (Saturday) Wreckless Wreck Chords presents Wreck-O-Ween at The C Note - Day 2 - Worm ( as Misfits for Halloween Guest Singers)
Far Above The Ground, Rockin Bob Punk Band, Presidential Disgrace (ME Punk Rock), Dead Low, Dogs In The Woods, Goon Platoon, Ruffian Dick - Day 2 FB page.
October 21, 2023 (Saturday) Psych-O-Postive featured on A.C.C.F.T.R. WMFO 1-4PMS
October 21, 2023 (Saturday) Psych-O-Postive NYC, Classic Ruins, Little Billy Lost at The Square Root
October 21, 2023 (Saturday) Here they come, the Halloween shows....Halloween Kick Off Cover Extravaganza - post punk cover bands are ready to get you into the costuming swing: Gretchen and The Banshees, Staring at the Sea (The Cure), The Devil (The Pixies). Plus the whole night will be MCed by the most fabulous Gene Dante! Dress to impress. Dress to win! It's at Once at Arts @ The Armory. Tix
October 25, 2023 (Wednesday) The Zip-Ups, Magen Tracy & the Missed Connections, Stars Like Ours, at Sally O'Brien's
October 26, 2023 (Thursday) Mudhoney at The Brighton Music Hall 18+ TIX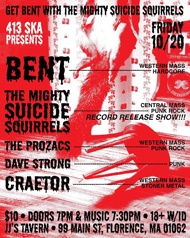 October 26, 2023 (Thursday) Tim Sköld and Nero Bellum combine forces for their brand new project, NOT MY GOD. with special guests Snakes of Russia, Klock Work Echo, Death Loves Veronica plus local guest metal industrial band Deprived at Koto Salem
October 27, 2023 (Friday) Hand of the Tribe, Black Helicopter, Wrought Iron Hex, Luxury Deathtrap at The Jungle
October 27, 2023 (Friday) Bootleg Dan Presents: The Grip Weeds, 1.4.5., Preacher, Kenne Highland Airforce at Lost Horizon, Syracuse NY FB page.
October 28, 2023 (Saturday) The New Frustrations, State of the Union, The Grommets, Stop Calling Me Frank at The Midway for a 3PM matinee show.
October 28, 2023 (Saturday) Halloween Hangover with blindspot, Twig, Joshua Sweet at The Jungle
October 29, 2023 (Sunday) GBH and NIIS at The Middle East down. Tickets
October 31, 2023 (Tuesday) Monsters at the Midway with Your Friends In Hell, Coffin Salesman, Minusworld, Thou Merciless Graves
November 1, 2023 (Wednesday) Handsome Dick Manitoba playing classic punk including The Dictators songs - Garage B Brighton MA
November 1, 2023 (Wednesday) Nick Lowe & Los Straitjackets at Brighton Music Hall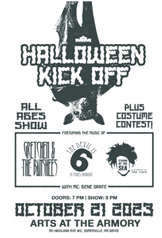 November 2, 2023 (Thursday) Key of Caustic, Baabes, No Detour, Octavate at The Jungle
November 2, 2023 (Thursday) Handsome Dick Manitoba playing classic punk including The Dictators songs at Geno'sd Portland, ME
November 3, 2023 (Friday) Paper Tigers will be playing their whole album Charmer in its entirety at O'Brien's
November 3, 2023 (Friday) Modern Day Idols Single Release Party with Tad Overbaugh and the Late Arrivals at Square Root, Roslindale.
November 3, 2023 (Friday) Night of The Living Fez! with The Strangemen (Reunion), Two Ton Com'n & The Heavyweights, Smitt E. Smitty & The Fezztones,
Special Guest MC Host Destiny Costa at The Magic Room. FB event page
November 3, 2023 (Friday) Handsome Dick Manitoba playing classic punk including The Dictators songs at Race Street Live Holyoke, MA
November 4, 2023 (Saturday) Plymouth Punk Rock Market Invades Weymouth! Noon - 4 PM at Barrel Z - FB page.
November 5, 2023 (Sunday) Handsome Dick Manitoba playing classic punk including The Dictators songs at The Music Room in Yarmouth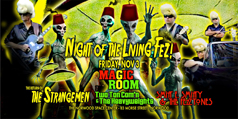 November 5, 2023 (Sunday) Bootleg Dan presents Captain Easychord, Hummingbird Syndicate, American Ocelot at The Worthen Attic 4PM
November 6, 2023 (Monday) Renegade Cartel, Falsely Accused, GhostGuard at The Jungle
November 9, 2023 (Thursday) The Cocktail Slippers, The Chelsea Curve at Cafe Nine New Haven, CT
November 10, 2023 (Friday) The Cocktail Slippers (Norway), Diamond Dogs (Sweden), Soraia at The Burren Back Room
November 11, 2023 (Saturday) KLYAM's annual Rama Lama Ding Dong Fest! with Johnny & The Foodmasters, Balaclava (NY), Gossip Collar (ex-Spitz), Nurse Joy, Orange Whip (new band with members of Funeral Cone/Ancient Filth) at O'Brien's Tickets
November 11, 2023 (Saturday) The Cocktail Slippers (Norway), Diamond Dogs (Sweden), Soraia, Tiger Bomb at Geno's Portland, ME
November 11, 2023 (Saturday) Swamp Roots (Artie Sneiderman and Steve Aquino)along with The Black Souls and Thee Sonomatics are having a rock & roll and blues show at the Century Sportsman's Club in Auburn, MA - It's an Early show - starts at 6:00pm! Here's the FB event page for more info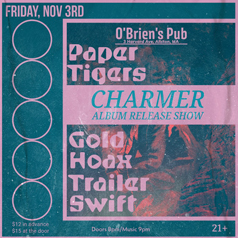 November 12, 2023 (Sunday) Cynz, USM, C.E. Skidmore, The DFB at The Worthen House Attic
November 12, 2023 (Sunday) Diamond Dogs, Soraia at Divine Theater, Holyoke MA
November 15 - 18, 2023 (Weds - Sat) International Pop Overthrow at The Square Root Rosindale
November 16, 2023 (Thursday) Cocktail Slippers, Muck and the Mires, Stigmatics, Sourpunch at Alchemy Providence
November 17, 2023 (Friday) Mighty Suicide Squirrels, Degenerates of Punk, Key of Caustic, Goon Platoon at The Jungle
November 17, 2023 (Friday) Tribute night to your favorite goth & post-punk bands: Staring At the Sea performing The Cure and Gretchen & the Banshees performing Siouxsie & the Banshees at The Midway
November 17 & 18, 2023 (Friday & Saturday) Letters To Cleo and Gigolo Aunts at The Paradise Tickets
November 18, 2023 (Saturday) The Fast Tracks, Hammered Saint, The Spackles, Sex Zombies - a 3PM Matinee at The Midway
November 18, 2023 (Saturday) Color Killer, Rockin' Bob PunkBand, Super Beef, Solipsis at the Middle East - Matinee show starts at Noon!!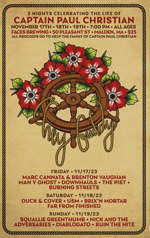 November 19, 2023 (Sunday) The third night (the other two nights are sold out) celebrating the life of Paul Christian and benefitting his family with Squallie Greenthumb, Nick and the Adversaries, Diablogato, Ruin the Night - There will be lots of surprises, raffles, etc! at Faces Brewing - FB event page
November 24, 2023 (Friday) Bootleg Dan presents- Kurt Baker Acoustic, Brad Marino, Kris Rodgers, Drew Eckmann Band at Geno's Portland, ME
November 25, 2023 (Fri, Sat, Sun) Blood Lightning, Kind, Casket Rats, Lipsmear at The Middle east Up
November 25, 2023 (Saturday) Girl With A Hawk, Cold Expectations at The Divine Theater Holyoke, MA
November 27, 2023 (Monday) Dark Rain, Authentic Dissent, Rawstrum, Gavriloprincip at The Midway
December 1, 2 & 3 2023 (Saturday) Triple B Records presents The FINAL America's Hardcore Fest with Negative Approach, Slapshot, Mindforce, Gridiron, Fury, Shipwreck, Spy, COA, Restraining Order, Buried Alive, Adrienne, Best Wishes, C4, Combust, Missing Link, Wild Side, Wreckage, Vantage Point, and more TBA.
December 2, 2023 (Saturday) The Hammer Party, Black Helicopter, Spiller, George James T Maze at The Midway
December 2, 2023 (Saturday) Buffalo Tom at The Paradise
December 2, 2023 (Saturday) Hammered Saint at Parkside Lounge NYC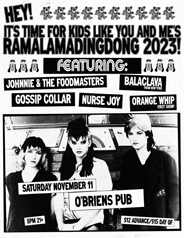 December 3, 2023 (Sunday) The Chelsea Curve, State of the Union, DJ Sherman at The Worthen Attic
December 8, 2023 (Friday) Huck 2, Gretchen Shae and The Middle Eight and Key of Caustic at Koto Underground, Salem
December 8, 2023 (Friday) Girl With A Hawk CD Release Party, Cold Expectations, USM, at The Burren
December 9, 2023 (Saturday) Connor Storms, Fire King, Crow Follow at The Square Root
December 10, 2023 (Sunday) Back Porch Carousel rocks The Plough & Stars for the holiday season - 4PM show - FB page.
December 10, 2023 (Sunday) Mad Painter, Church Puppets, Galaxy Cake at The Worthen Attic
December 15, 2023 (Friday) Sheer Terror, Nothing But Enemies, American War Machine, ICU, Rejekts, Clearance at The Middle east Up
December 15, 2023 (Friday) The Dogmatics at The Parkside Lounge NYC
December 17, 2023 (Sunday) Slimedog's Drag Puppet Punk Xmas Show (with poetry & free pizza)! Featuring... Kermit's Finger, Grimly Pleased, The Jacklights, Charmed & Strange, The Instamatics, plus poetry from Jake Tringali! FB page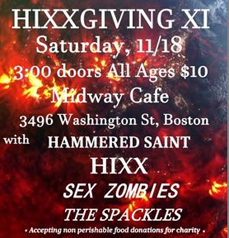 December 17, 2023 (Sunday) Stars Like Ours, The Magic City, Roxy And The Crisis at The Jungle
January 11, 2023 (Thursday) Punk Rock Karaoke with members of (Bad Religion, Circle Jerks The Dickies, Pennywise, Goldfinger) Pick a song,they give you the lyrics.They call your name and voila! you are the singer in a punk rock band backed by the finest hand picked side men.Simple...there will be a sign up sheet at venue - The Middle East Down. We went to one in 2015 and it was loads of fun!!
January 26, 2023 (Friday) Hooligan Holiday Night 1 - Suited and Booted with DJ Boss Hooligan, Stress The White Boy, DJ Ruben Doc Marten Soundsystem
January 27, 2023 (Saturday) Hooligan Holiday Night 2 - The Templars, Battle Ruins, Merauder, Violent Way, Powerhouse at The Paradise
CONTACT US AT....misslynbgn@yahoo.com Send us your gig listings, your anything else you've got!! You want your CD reviewed?? Contact us for that too.
---
---