The BGN News Archive
November 8, 2021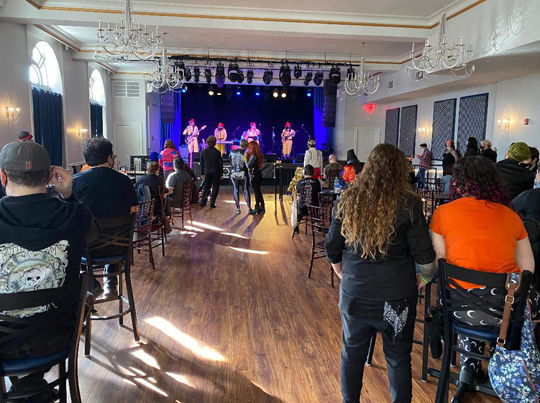 Halloween at the Crystal Ballroom
Photo:Captain Easychord
To those of you on Facebook, you know that Captain Easychord is all over town hitting gigs. We are taking advantage of that and adding him to our troop here at The BGN.
Last week he was at two Halloween shows. One was The Chrystal Ballroom, the new venue in the Somerville Theater; the other was at The Jungle.
Captain Easychord was impressed by the elegance of the Crystal Ballroom as he took in the Devo tribute band Deva. At the Jungle there was Wired for Nirvana, Gretchen (Shae) and the Banshees and Spinal Max. To see all the photos and the write up hit the photo link below.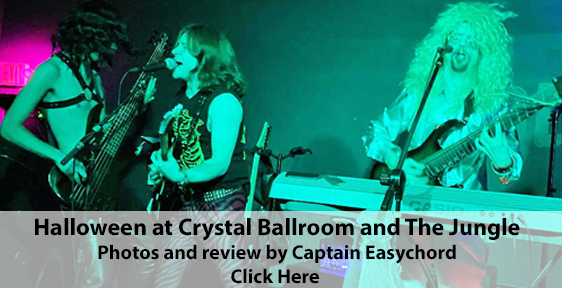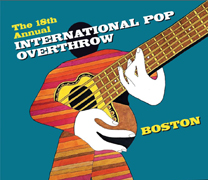 The International Pop Overthrow will happen in Boston this year and at a new location. It's November 18-20 at the Flying Embers Brewery located at 152 Hampden St, Boston, MA 02119.
On the 18th will be Richie Parsons, Corin Ashley and Key of Caustic (who just played the French Club last week). The 19th features Peppermint Kicks and Glowbox. The 20th has Kid Gulliver, Kris Rodgers and 1.4.5. The full schedule is here International Pop Overthrow Dave Bash has just recently reactivated the IPO. More news of the IPO at their website
This show announcement took us by surprise – Razors in the Night at Sonia on Saturday, January 22. They also have resurrected Tijuana Sweetheart (originally known as Vagiant) for the show. Sky Tigers and Nothing But Enemies round out the bill. That's a great show!! Facebook event page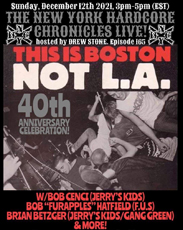 The New York Hardcore Chronicles will do a live video show on Sunday, December 12 from 3 to 5pm, celebrating the 40th Anniversary of the album This Is Boston Not L.A. Guests will include Bob Cenci (Jerrys Kids), Bob "Furapples" Hatfield (F.U.'s), Brian Betzger (Gang Green / Jerry's Kids) and it's hosted by Drew Stone.
The NYC Hardcore Chronicles can be seen on their YouTube channel The Chronicles Facebook page is here
The Colman Burns-Takki And Linnea Sturdy Memorial Benefit Show is coming up on on Saturday, November 27 at the C Note in Hull . Both Colman and Linnea passed away this past April. The object is to remember them as well as raise money for the charities their families have set up for them. Bands performing at the moment are: Jonee Earthquake Band, Meaghan Casey, Far Above the Ground, Dogs in The Woods, HardWired and The Beach Crawlers The Facebook event page
SHORT CUTS......
It's the WMBR Fund Raiser Week until Saturday November 13. Their Late Risers Club has been the main punk radio show since 1977. WMBR and for your convenience here is the Fund Raising page.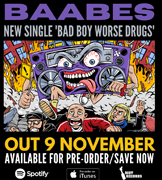 The Baabes new single, "Bad Boy Worse Drugs" will be available on all the streaming services on Tuesday, November 9. You can get a thirty second preview of it HERE.
Kraftwerk's 3D Tour comes to Boston's Wang Theatre on Sat June 11, 2022. Tickets here
Jay Allen and the Archcriminals were back in Woolly Mammoth on Saturday (11/6) recording their next album.
Rebuilder has a track, "Mavis Beacon (Burning The Bridges Of Hillsborough County)", on a fund raising sampler titled GRACE. GRACE is also the name of the charity that helps to find shelter for the homeless. There is also a Samiam demo from 1995 on the album. You can get more info and order here
Letters to Cleo play the Paradise on Friday, November 20. Tickets
VIDEOS......
The New England Ska Summit Documentary featuring Bim Scala Bim has been completed and can be viewed here It's $9.00 to view. They filmed a live Ska show at Once. Now that Once is gone, that is even more historical.
View the trailer above.
Wire Lines did a set as Morrissey at O'Brien's as a Halloween special thing on October 30. We think they did a great job. We are judging by this video above.
Last week we talked about the book Where the Wild Gigs Were from Hozac Records. They have some interesting projects lately. You can check them out on their web site
Their latest record release is the soundtrack to a movie called Down the Shore (aka Beach House) done in 1982. It's a cheesy low budget affair with teens on the beach, in this case New Jersey's Ocean City. There are lots of drunken guys and bikini bodies. One party scene has "Ca Plane Pour Moi" playing. Then there's the soundtrack that is of interest. It's all power pop with a nod to surf music from Adam Roth and His Band of Men. The music is comparable to the other 80s power pop groups of the era.
You can see the movie, it's the video above. And you can hear the soundtrack by hitting the link below. This is a cool find.
This week we get Chapter Five of Unnatural Axe's Tommy White's Zoom documentary. In this episode we learn of the unique Zoom language of Ubbi-Dubbi.
---
NEW MUSIC/CDs......
Glowbox has a new 10 song album out. Glowbox is an unabashed full blown power pop band. Seems like a million years since we had a power pop album like this come out of Boston, but it's probably just been since the last Glowbox album!!
The bass playing is melodic, bouncy and busy and is in the perfect place in the mix. The voices are spot on and exemplary of the genre. Like everything good these days, this was recorded at Woolly Mammoth with David Minehan.
We especially like "Test of Time", "The Pessimist" and the opener "Screaming At the Sky". The chorus on "Don't Give Up on Me" just makes us melt. We're going to direct you to that song for a taste of the album.
The Shang Hi Los new song is "Plymouth Rock". It seems like it's about growing up a rebel in Plymouth. If it isn't it should be. We love the single photo of Plymouth Rock with graffiti on it. (There was a graffiti spree there in 2020).
The song has a rough feeling to it which works big time. Jen's vocal captures the feel of the lyrics in places like "we were young and didn't belong." Rather than a flash solo, Dan lets some well-placed and timed notes do the job. It's a memorable move.
We feel bad for the Shang Hi Los, of all the groups they had the worst timing with Covid. They should have been out and riding the success of the amazing "Sway Little Player". Not to worry, in the end it's obvious with "Plymouth Rock" and their other material that they are no one trick pony.
Stop Calling Me Frank has a new three song EP out. They just have one song, "Hard Drivin' Man", pre-released at the moment, but that one has Keith Streng and Peter Zaremba on it. Streng is credited as playing 'Super fuzz guitar' and sure enough you can hear a fat sustaining buzz beefing up the base of the song. It gives the group a different sound. We love it.
The song is a typical SCMF steamroller that crushes everything in its path till it stops.
Crow Follow's new song "Copper Flowers" is on Bandcamp. They mine their signature smoky low sound on this tune that seems to have an environmental message. Like all Crow Follow material it has a mysterious element that pulls you in.
And so it begins – Christmas records. Red on Red leads the pack this year with their 5-cut Keep the Home Fires Burning. They have a mix of old and new. The new songs start with a Stupidity original "Reindeer Twist". It featuring Fleshtones guitarist Keith Streng. It has a Christmas sound without being hokey.
Linnea Herzog sexed up Christmas last year with "Everything's Closed on Christmas (Except My Legs)". This year she extends her blasphemy to Hanukkah with "All Eight Nights". There seems to be much more to "latke's dripping cream" and "the donuts sweet and sticky" than just food as she inquires. "Can you last all eight nights?" over and over. It's a measure of how strong Linnea is as a song writer that with just one guitar she is able to bring the song home and make that "Can you last" phrase lodge in your head.
Cold Expectations wrote a song with the intention of trying to capture the feeling of the time after the emotional end of the year (Christmas) and the start of the new one (New Year's Day). We think they succeeded with "Coat of Snow". We like how it symbolically slows and crawls along at the end. The final words just barely coming out, "We only hold what we know, We only know what we hold, Coat of Snow, not alone". There's an emotional nugget in every song by this group.
The tunes from last year are that was a wonderful collaboration "An Irishman for Christmas" by Berk and Lehane and "Angels We Have Heard On High" done in an upbeat country style with steel guitar fills by Justine and the Black Threads – that's the only way we want to hear that song from now on.
We are suckers for a punk song that's about the Ramones! That's what we got with "(She Sings Like) Joey Ramone" from Rum Bar's group The Pulsebeats. The song speeds along with momentum to spare and the chorus has a nice sing-along lilt to it. This is the leading song from an upcoming album titled Lookin' Out.
The Stigmatics have their song "Drama Queen" on a compilation called I'm Losing All My Dreams: Independent Music Against Child Poverty. Groups from all around the world contributed tracks for the charity effort. There are 53 songs in the collection.
Dinosaur Jr have a new live album out. Emptiness at the Sinclair, was ... recorded at the Sinclair ... but without an audience, hence the title. They play "Just Like Heaven", "Freak Scene", and the new song "I Ran Away". We like how you can hear very clearly what Mascis is doing with his guitar…not just the playing but the tones as he switches between pedals. The whole album is on Spotify.
More about this at the NME website
Blood Lightning is a new metal super group, the members should be familiar. The band is made up of members of previous groups like: GOZU, Worshipper, Sam Black Church, We're All Gonna Die, Cult 45, Black Thai, The Men and others. There's some more info in this Vanyaland article
Meanwhile get your daily dose of metal with their new song "The Dying Starts".
---
Here's some good shows coming up .....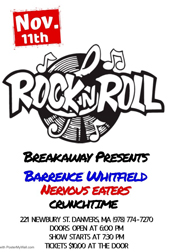 November 11 (Thursday) Barrence Whitfield, Nervous Eaters, Crunchtime at The Breakaway in Danvers FB page.
November 12 (Friday) Carissa Johnson, Pillbook at Sonia
November 13 (Saturday) Hixxgiving X with Black Clouds, Hixx, Black 13 and Zagnutt - The Midway 3pm Matinee shows - there'll be free food and they are accepting food donations for local charities.
November 13 (Saturday) Field Day (x-Dag Nasty), Moving Targets, Lenny Lashley's Gang of One at the Middle East Up TIX!!
November 13 (Saturday) Muck & the Mires, The Dogmatics, Stop Calling Me Frank at The Porch is Medford FB page.
November 13 (Saturday) Unnatural Axe, Silver Synthetic, Kathy Snax, The Swettes, Johnnie and the Foodmasters at O'Brien's FB page.
November 13 (Saturday) Tsunami of Sound, U-ey at the Buoy at The Square Root
November 13 (Saturday) The Gypsy Moths and The New Frustrations at the New World in Plymouth.
November 14 (Sunday) Thrust Club, Phantom Handshakes, Bad Larrys, Sorry, Ma! at O'Brien's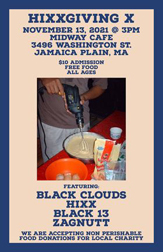 November 19 (Friday) Murderer's Row First Show In The Boston Area in 15 Plus Years at The C Note in Hull. Also on the bill Worm, Working Poor USA, Punk Band (Rockin' Bob's) and Dead Low (ex Revilers, Fast times, Led to the grave) FB page.

November 19 (Friday) Weakened Friends Record Release Day #1 at O'Brien's - also on the bill Mint Green, The Color and Sound. FB page

November 19 (Friday) Oh The Humanity, Losers Circle, KCUF at Thirsty First in Lowell. FB page.

November 19 (Friday) Joan Jet & the Blackhearts will be at the Chevalier Theatre in Medford Square. Tickets.

November 19 (Friday) Letters to Cleo are at the Paradise. Tickets here

November 20 (Saturday) Lurid Purple Flower, Verdegree, Motel Black, Shrink Ray at The Jungle

November 20 (Saturday) Weakened Friends Record Release Day #2 at O'Brien's - also on the bill Rebuilder and Old Soul. FB page.

November 20 (Saturday) Randy Black & The Heathcroppers are at The Plough & Stars.

November 21 (Sunday) A very special edition of The Mess Around - it's Asa Brebner's birthday and a ton of special guests will be performing: Mach Bell, Robin Lane, Larry Newman, Linda Viens, Randy Black, Frank Rowe, Ralph Fatello, Garret Vandermolen, George Hall, Trick Wallace, Richie Parsons, John Keegan ... and of course Tom Baker and Jay Allen and Justine Covault with Johnny Sciascia and Jimmy Scoppa.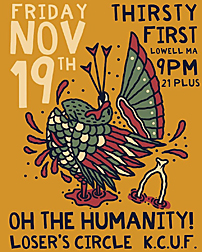 November 21 (Sunday) KCUF (record release) with On The Cinder, CE Skidmore and The Damn Fine Band , Bad Ideas USA - 3PM matinee at The Midway.
November 27 (Saturday) Jason Bennett & the Resistance, The Damaged, The Hagglers, & Chris Skel at The Middle East
November 27 (Saturday) Mad Painter at the Middle East (Corner) 9:30PM
November 27 (Saturday) The Colman Burns-Takki And Linnea Sturdy Memorial Benefit Show at the C Note in Hull . Featuring Jonee Earthquake Band, Meaghan Casey, Far Above the Ground, Dogs in The Woods, HardWired and The Beach Crawlers The Facebook event page
November 27 (Saturday) Dinosaur Jr. at the House of Blues on Saturday Nov 27. Tix
November 30 (Tuesday) The Labor Pains, Disqualifier, Tensor, Bad Sandy, The Lost Boys at The Midway. FB page
December 3 (Friday) Kurt Baker, The Fatal Flaw, Dutch Tulips at The Jungle
December 3 (Friday) Planet Mercury, Super Pink and Chris Walton at Club Bohemia
December 4 (Saturday) The Imposers, Witches Tears, Jerry's Got Jokes, Blame It on Whitman, Beyond Agitation - 3PM Matinee Show at The Midway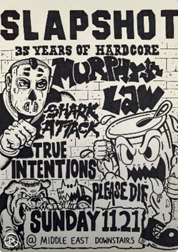 December 4 (Saturday) Hunter, Melt, Faith and GingerIbex at Club Bohemia
December 5 (Sunday) Benefit for Pine St. Inn with Lenny Lashley's Gang of One, Jesse Ahern, Wicked Whiskey - 3PM Matinee Show at The Midway
December 10 (Friday) Live Skull w/ Thalia Zedek Band at the Midway - night show
December 11 (Saturday) The Hi-End, Watts, Freeloader - Middle East Up - starts at 12:30PM!!
December 11 (Saturday) Kids Like You & Me Christmas Special featuring Johnnie & The Foodmasters at Club Bohemia
December 18 (Saturday) Koto's Killer Kristmas Party with Marianne Toilet and the Runs, Fog Wizard, Dust Prophet at Koto Salem.
January 22 (Saturday) Razors in the Night, Tijuana Sweetheart (originally known as Vagiant), Sky Tigers and Nothing But Enemies at Sonia Facebook event page
March 13, 2022 (Tuesday) Reigning Sound at the Sinclair Tickets: https://www.axs.com/events/402182/reigning-sound-tickets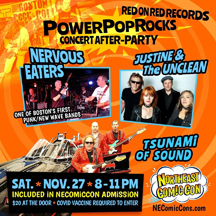 March 20, 2022 (Sunday) Henry Rollins at The Wilbur for his Good To See You tour. Tickets here https://thewilbur.com/artist/henry-rollins/
March 22, 2022 (Sunday) Henry Rollins: Good To See You 2022 at the Met in Pawtucket, RI FB page
March 31, 2022 (Thursday) The Parquet Courts are at the Royale. Tickets are here
April 22, 2022 (Thursday) Circle Jerks at the Paradise
CONTACT US AT....misslynbgn@yahoo.com Send us your gig listings, your anything else ya got!! You want your CD reviewed?? Contact us for that too.
---
---