The BGN News Archive
November 15, 2021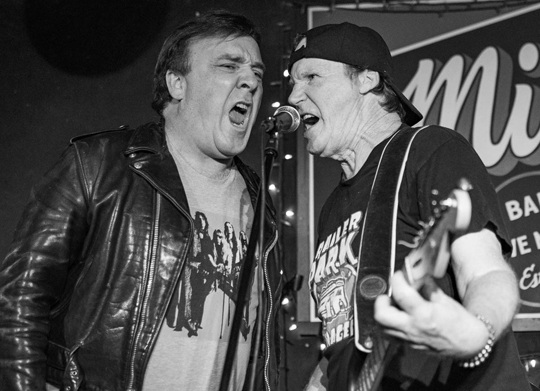 Hacksaw Q. Hixx and Jeb Hixx
Photo:John Keegan

This week John Keegan got to the Midway for the legendary Hixxgiving. For those that don't know Hixx are southern trailer park royalty yet are from right around here.

From John:
The Hixx family skulked out of their cabin in the woods yesterday and found their way to the Midway Cafe. The logistics of things were a little strange both Black Clouds from New Jersey and locals Zagnutt couldn't do the gig. That left Black 13 and Hixx and a last-minute guest spot by duo Phantom Ocean to carry the afternoon.

Black 13 lay down a heavy, occasionally moody, update of 70s hard rock with some strong Sabbath roots in the gene pool. They boast rock-solid riffs, strong vocals, crunchy guitar solos that end before they hit NWOBHM territory, and a welcomely animated rhythm section. They have a decent CD out there and a handful of upcoming NY shows. Check 'em out for a dose of heavy. You can find them on Spotify.



Black 13
Photo:John Keegan




Hixx
Photo:John Keegan
This was the 10th Hicksgiving Anniversary Show. They put out a modest spread of munchies and collected non-perishables donations. It was the first gig for the new rhythm section of Willie Hixxson on bass and G. Otis Hixx on drums. Hixx waste no time flashing their list of long-inbred, deep south, swamp impurities. Jeb stalks the monitors and howls at the moon, Dusty Hixx manages to drip in a bit of twisted romance. They pull a couple of their cousins from the audiencefor a couple choruses.
Hixx don't mine their sense of Southern Gothic from Faulkner, they dig it up from Stephen King's pet cemetery. Just don't run out of gas at the end of that long dirt road out by the Hixx cabin and outhouse! But if you do, and you see Jeb and Dusty out walking among the bald cypress and water tupelo trees, don't hide in the shed with the power tools.
---
Bill Whelan, Bullet LaVolta's bass player died last week (11/1). The band posted this on their Instagram page:
"Bill was an intense, sensitive person, incredibly smart, he loved his family, rock and roll, and, fortunately for us all, Bullet Lavolta. Bill had many struggles over the past decade, and so we hope that he is at peace now. The band would not have been the same without him, if it would have existed at all. If you choose, give a listen to the song Swandive in his honor and enjoy his nimble bass parts. Our thoughts are with his wife, kids, family and all who knew and loved Bill." RIP Bill!!
People never get enough Blondie. We noticed that there are two prominent Blondie murals that made the news.
One is in the English town of Altrincham (near Manchester). You can read about it on the TodayNews UK site The other is in NYC and done by none other than Shepard Faire, it's across the street from the old CBGB's location in the Bowery.
You can see the English one revels in the face whereas Fairey acknowledges that "Blondie is a group", as the advertisement used to say, and shows a ticket stub and the group. Fairey's mural was done to celebrate the 40th Anniversary of the first Blondie album. Here's a page on the NYC mural
---
VIDEOS......
With the video of "Bad Boy Worse Drugs" Baabes finally translate their dangerous out-of-control live performance to a recorded form. The song is not only bass heavy, it may only need that banging bass, along with the vocal, to make a powerful song. The attitude and delivery of Johnny Brain Box's vocal is beyond compare. No one is doing anything near that out there.
And he's singing into work light like Dean Stockwell in Blue Velvet to ramp up the disturbing factor. This is exciting all over!!
Stop Calling Me Frank have a new video to go along with their latest release "Hard Lovin' Man". The twist on this vid is that they have old clips of the band intersperse with new footage from the Midway. Since Keith Streng of the Fleshtones is on the song they have some Fleshtones shots included too.
Red on Red's Stupidity (from Sweden) has been busy this year. Their song "Waking Up the Band" tells the story of how they kept things together. The video is warm and cozy scene of the band getting woken up and rushing to rock which is symbolically what they did in real life. Just like the Wizard of Oz the video goes from black and white to color when the band starts to play. This band has logged 7 songs in Little Steven's Underground Garage Coolest Song of the World. We love that Red on Red signed this group.
Actor|Observer has a new song/video titled "White Mare".
It's a very stark black and white stage setting. It's a live show but it's done so well that it seems like a studio. There are obviously a few cameras and the lighting is expert.
The song begins low and soft. This is Actor|Observer so you know it's not going to stay that way but they don't rush. They take three minutes to dig in and make the lyrics build. When they do slam in, it's a great release of energy.
This video captures the emotional wallop that we've seen them accomplish live time and time again. That's no small feat.
We're up to Chapter Six of Unnatural Axe's Tommy White's Zoom documentary. This week Tom talks about Fannie Doolee but he doesn't reveal all. On a bill with Unnatural Axe one night, Linda Bean Pardee announced from the stage that on the way to the show she had been playing "Dirty Fannee-Doolee".
John Lydon appeared on the Masked Singer this week as The Jester. He said he did it because it would please his wife Nora, who has Alzheimer's. He first sings "Schools Out" by Alice Cooper. Knowing who it is beforehand, it's easy to peg him. His second song was the old folk standard "Man of Constant Sorrow". Videos of both above.
This article on Yahoo Entertainment goes over the whole thing. It also has a short interview with Lydon about the show and the situation with his wife. Read it here.
Fred Armisen of SNL did a 5 minute bit on Jimmy Fallon where he illustrated the different phases of guitar playing that run through punk. He does a good job, but you have to put up with Fallon, who is annoying.
There's a new Jack White song and video titled "Taking Me Back" It can be seen on YouTube: Watch it here!
---
RADIO......
Brian Young played the whole ASA: I Am Not Gone Vol 2 tribute album on Crash Course for the Ravers (Saturday 1 to 4pm on WMFO) on 11/6.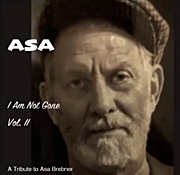 Like Volume 1 it's a well recorded effort. Amazing, consider all the different artists. The consistency also has to do with Asa's song writing that holds up all the way through
Jonathan Paley does "Jack's On Drugs" which was one of Asa's favorite songs. We can't remember the last time Paley Brother Jonathan recorded a song?
Here we also get to hear the magnificent voice of Scott Baerenwald singing "Trapped Inside a Teardrop". The Reddy Teddy bassist is way under recorded as a singer.
It's been too long hearing some new from Fireking's Tony Kaczynski. Here he does his thing with "You Won't Know Me".
John Felice sings with a group called The Bad Ideas on the song "Pain and Doubt".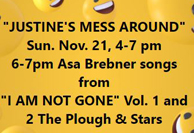 Other highlights are:George Hall guitar playing on "Idle Hands", Justine's Black Threads' rockabilly 'Go Downtown" and Corolla DeVille's take on "New Love".
That's just from one listen. There's a lot to digest on the album's 21 tracks!!
And the next Mess Around: Salute to Boston Rock at The Plough & Stars on Sunday Nov. 21st is all about the Volume 2 Asa Tribute!! More info below in the Gig Listings
Skybar will be playing all of Carissa Johnson's new release Blue Hour this Tuesday 11/16 on WMFO's Rising on Tuesday from 8 to 9 pm.. Carissa will also call in on the show.
---
NEW MUSIC/CDs......
You want to get people's attention? Start your song like the new Michael Kane & the Morning After's song "Tear This World Apart": "I'll begin all these songs with an 'I don't give a fuck start', with an,' I don't give a fuck start'". It helps if you sing it with a gravel voice too.
The rest of the song lives up to the intro. It's a Springsteen sounding rocker that Kane does so well. It sounds radio ready and crowd pleasing.
Kids Like You & Me had their Rama Lama Ding Dong night at O'Brien's with Unnatural Axe on Saturday 11/13. Included on the bill was Silver Synthetics from New Orleans. That made us check out their Bandcamp page .
Their self-titled album starts with the suitably titled "In the Beginning". It's a Velvet Underground rip and they say so in the notes to the album. They say they borrow the "Coney Island Baby breeziness". There are a lot of groups that do this constantly and to us it never gets old, and this group captures a VU as well as anyone.
The rest of the album hits other light poppy influences. It's a pleasant listen.
We keep an ear out for music from Fabcom Records. They had that Juniper album which was a phenomenon a while ago.
Their latest release is The Shebangs' Now! Is When.
When it starts out it seems like a good garage album, but then it opens up to other things. Their base sound is the garage thing which is not code for sloppy. The playing is sharp and mostly simple.
On "Tightrope", the fourth song on side one, they put a pedal effect on the guitar and their sound begins to open up. They put in a glockenspiel imitating lick which adds a lot.
The last song on side one, "I Forgot Myself" has some New Wave attributes. The vocals remind us of the Bangles in spots.
In "Crash" the guitar gets a dissonant squelch and they ride that noise wave for a few minutes.
The recording has punch and you can hear every instrument and voice clearly. You feel like you are in a room with the band. It seems like this should be an easy thing but we know it isn't or every recording would sound like this.
They remind us of Beebe Gallini because of their garage sound and because we wish they were local and able to see in a club.
"Gone" is a good representation of their characteristics, we give that song as a sample below.
The years are whipping by so the 25 to 40 year anniversaries of albums are cropping up and there are special releases to celebrate.
New Adventures in Hi FI is REM's last album with the whole original group. It's the 25th Anniversary for that work which has been expanded and remastered. The song "E-Bow the Letter" that featured Patti Smith got the most attention when this was released. There are alternative takes of the original songs and bonus tracks like "Wichita Lineman". It comes with a 32 page book. The most expensive version comes with a Blu-Ray disc of extras.
It's at Collectors Choice Music and here's a Pitchfork review of the Anniversary edition
It's the 40th Anniversary release for the Pretenders first self-titled album. You get loads of demos and live cuts in addition to the albums. It comes with a large book of text and unpublished photos. It also has a whole live Boston Paradise show included from 1980!
The 40th Anniversary Pretenders album at Collectors Choice Music
There's also a deluxe edition of the second album, Pretenders !! that gets similar treatment. That is here
It's also 40 years for The Replacements original release Sorry Ma, Forgot to take Out the Trash. They went all out for this. There's 100 tracks, 67 of which were unreleased. This has their first demos, their first professionally recorded live show, alternative takes of all cuts, rare photos, and a 12 by 12 hardcover book. All this is going to cost about $68.98. At Collectors Choice Music
---
Here's some good shows coming up .....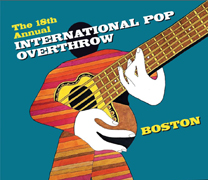 November 18 (Thurs) - 20 (Sun) International Pop Overthrow is this week at Flying Embers Taproom, at 152 Hampden St. Allston. Go to the Facebook Event Page to see who is playing when.
November 19 (Friday) Murderer's Row First Show In The Boston Area in 15 Plus Years at The C Note in Hull. Also on the bill Worm, Working Poor USA, Punk Band (Rockin' Bob's) and Dead Low (ex Revilers, Fast times, Led to the grave) FB page.
November 19 (Friday) Weakened Friends Record Release Day #1 at O'Brien's - also on the bill Mint Green, The Color and Sound. FB page
November 19 (Friday) Oh The Humanity, Losers Circle, KCUF at Thirsty First in Lowell. FB page.
November 19 (Friday) Joan Jet & the Blackhearts will be at the Chevalier Theatre in Medford Square. Tickets.
November 19 (Friday) Letters to Cleo are at the Paradise. Tickets here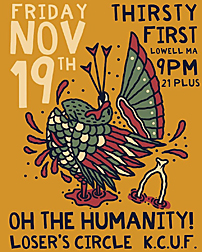 November 20 (Saturday) Lurid Purple Flower, Verdegree, Motel Black, Shrink Ray at The Jungle

November 20 (Saturday) Weakened Friends Record Release Day #2 at O'Brien's - also on the bill Rebuilder and Old Soul. FB page.

November 20 (Saturday) Randy Black & The Heathcroppers are at The Plough & Stars.

November 20 (Saturday) Oh The Humanity, Rays Occult, The Keeper Class, Spillers at Geno's in Portland, ME OTH asks that you be vaxed and masked at their shows!

November 21 (Sunday) A very special edition of The Mess Around -Salute to Boston Rock with a ton of special guests will be performing: Mach Bell, Robin Lane, Larry Newman, Linda Viens, Randy Black, Frank Rowe, Ralph Fatello, Garret Vandermolen, George Hall, Trick Wallace, Richie Parsons, John Keegan ... and of course Tom Baker and Jay Allen and Justine Covault with Johnny Sciascia and Jimmy Scoppa. FB page

November 21 (Sunday) KCUF (record release) with On The Cinder, CE Skidmore and The Damn Fine Band , Bad Ideas USA - 3PM matinee at The Midway.

November 27 (Saturday) Jason Bennett & the Resistance, The Damaged, The Hagglers, & Chris Skel at The Middle East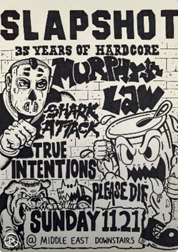 November 27 (Saturday) Mad Painter at the Middle East (Corner) 9:30PM
November 27 (Saturday) The Colman Burns-Takki And Linnea Sturdy Memorial Benefit Show at the C Note in Hull . Featuring Jonee Earthquake Band, Meaghan Casey, Far Above the Ground, Dogs in The Woods, HardWired and The Beach Crawlers The Facebook event page
November 27 (Saturday) Dinosaur Jr. at the House of Blues on Saturday Nov 27. Tix
November 30 (Tuesday) The Labor Pains, Disqualifier, Tensor, Bad Sandy, The Lost Boys at The Midway. FB page
December 3 (Friday) Kurt Baker, The Fatal Flaw, Dutch Tulips at The Jungle
December 3 (Friday) Planet Mercury, Super Pink and Chris Walton at Club Bohemia
December 4 (Saturday) The Imposers, Witches Tears, Jerry's Got Jokes, Blame It on Whitman, Beyond Agitation - 3PM Matinee Show at The Midway
December 4 (Saturday) Hunter, Melt, Faith and GingerIbex at Club Bohemia
December 5 (Sunday) Benefit for Pine St. Inn with Lenny Lashley's Gang of One, Jesse Ahern, Wicked Whiskey - 3PM Matinee Show at The Midway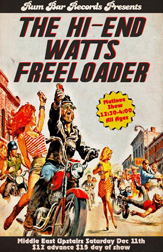 December 10 (Friday) Live Skull w/ Thalia Zedek Band at the Midway - night show
December 11 (Saturday) The Hi-End, Tim McCoy's Rock Quartet, Freeloader - Middle East Up - starts at 12:30PM!! FB page.
December 11 (Saturday) Kids Like You & Me Christmas Special featuring Johnnie & The Foodmasters at Club Bohemia
December 11 (Saturday) A Krampus Xmas Celebration! Special Guest Hostess: Kristen Eck of BumbleBee Radio! and Motel Black, Little Billy Lost, Gretchen Shae & the Middle Eight @ KOTO in Salem, MA!- FB page. *You will need a Vax card or proof of a negative test.
December 11 (Saturday)The Feldons with Tiger Bomb & The Chelsea Curve at Sun Tkiki Studios Portland, ME FB page.
December 12 (Sunday) Thrash 'n Bang Christmas Party/ 10th Anniversary Party with Stop Calling Me Frank!, Baabes, Lewd, Kermit's Finger, The Grommets - At the Midway - Matinee show - 3pm to 7pm. ....and ...FREE pizza! Facebook event page
December 18 (Saturday) Koto's Killer Kristmas Party with Marianne Toilet and the Runs, Fog Wizard, Dust Prophet at Koto Salem.
January 14 (Friday) Hixx, Bunch of Jerks, Highland Air Force at Club Bohemia.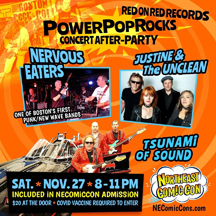 January 15 (Saturday) 11th Annual Joe Zippo Kelley Memorial Show with Blanks77, Brixn'Mortar, The McGunks, PCP & The Knives at Koto Salem - FB page.
January 22 (Saturday) Razors in the Night, Tijuana Sweetheart (originally known as Vagiant), Sky Tigers and Nothing But Enemies at Sonia Facebook event page
March 13, 2022 (Tuesday) Reigning Sound at the Sinclair Tickets: https://www.axs.com/events/402182/reigning-sound-tickets
March 20, 2022 (Sunday) Henry Rollins at The Wilbur for his Good To See You tour. Tickets here https://thewilbur.com/artist/henry-rollins/
March 22, 2022 (Sunday) Henry Rollins: Good To See You 2022 at the Met in Pawtucket, RI FB page
March 31, 2022 (Thursday) The Parquet Courts are at the Royale. Tickets are here
April 22, 2022 (Thursday) Circle Jerks at the Paradise
CONTACT US AT....misslynbgn@yahoo.com Send us your gig listings, your anything else ya got!! You want your CD reviewed?? Contact us for that too.
---
---