The BGN News Archive
December 6, 2021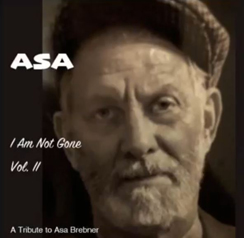 Larry Newman tells us I'm Not Gone Vol II is pressed and is on its way to him now. For a sample of the album listen to "Idol Hands" by George Hall & Friends. Catch the Hall solo at the 1:45 minute mark.
Money raised from the sales go to Asa's family. If you want a copy send $16 for each, or 2 for $25 to: Venmo: Larry-Newman-14, Paypal: deltaljn@netscape.net, or send check or money order to: Larry Newman, 10 Whippoorwill Lane Kittery, ME 03904
If you have been on the scene for a long time you will have read some pieces by journalist Dean Johnson. He died suddenly this week at age 67. He wrote for Sweet Potato, the Globe, the Herald and the Music Museum of New England. At one point he had a talk show on WBZ radio. RIP Dean.
This was a headline that caught our attention: "Germany's farewell parade for Merkel involved a military band playing punk music at her request." it was Nina Hagen's version of "Du hast den Farbfilm vergessen" ("You forgot the color film"). In the article they call the it a "1974 punk-rock anthem." The song has long been interpreted as a criticism of the gray and dreary German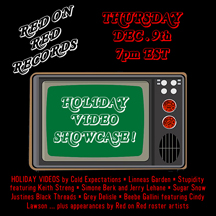 Democratic Republic, where color film was hard to come by. Over the years, one line in particular has remained ingrained in the memory of former East Germans: "No one will believe how beautiful it was here."
You can watch the band perform the song here.
A reminder that Red on Red is having a Online Holiday Show on this Thursday, December 9. They'll have some video premiers and performances from their lineup of artists. They've added Beebe Gallini doing their new Christmas song. The Facebook event page
Next week Brian Young will interview Mad Painter on Crash Course for the Ravers WMFO on Saturday 12/11 from 1 to 4pm.
---
BOOK.....
The Damned 1976-1978 is a new book coming out in January 2022. All four original members of The Damned tell the story of their early years in the book. Those were the exciting years for all of punk and really big for the Damned!! it includes photos by early punk photographer Erica Echenberg The book will be printed in a limited edition of 1000 and signed by all four members. The price is £75 pounds, about $100.00....plus shipping. You can pre- order on Away With Media.
Hozac Records continue to release books of interest to us. They now have pre-ordering for Disturbing the Peace: 415 Records and the Rise of the New Wave. 415 Records was the San Francisco label that released music by Romeo Void, Red Rockers, Translator, Wire Train, Roky Erickson, The Nuns, Pearl Harbor and the Explosions, and two dozen other bands. The book will be released in January 2022.
Order on the Hozac Records website
---
VIDEOS......
We are now up to Chapter 9 in Tommy White's ongoing documentary on Zoom. A viewer video depicting Rage is featured this week.
Red on Red's Stupidity from Sweden have a new album and a new video to go with it. "On the Run" is a garage punk stomper! Stuck in shutdown the band lets those jointed wooden artist mannequins represent the band 'on the run'.
As he usually does, Ron, the Monday DJ on the Late Risers Club, played some great new punk tunes. The first song he played was a fast "Killed By Food" a 1:14 minute old punk style ripper by Surfbort. The title says it all. The video is cartoon colorful. They come down on fast junk food chains, including our local donut chain.
Just as punk was beginning to form there was little mainstream rock to care about. One bright spot was glam and for us Suzi Quatro was the main attractions of that genre. We needed 'Can the Can" and "48 Crash" in 1973. Suzi's still playing and we're happy to see the documentary Suzi Q about her available on DVD now.
In the documentary they interview Deborah Harry, Alice Cooper, Joan Jett, Cherie Currie, Tina Weymouth and many others. There's a trailer/teaser ... and it's a generous 8 minutes long. You'll want to see this!! It's above on the left.
It's streaming on Apple TV ... Amazon ... Google Play ... and other streaming services.
We also came across this other Suzi video interview (see above right)that was done in March of 2021 with Hayley Palmer on the Memory Lane 80's show. . There are some rocking clips in it, one of the Suzi's 60s group The Pleasure Seekers. In the interview Suzi reveals she had Covid, but not a bad case.
and a film worth another mention is Stiv: No Compromise, No Regrets, the Stiv Baters documentary directed by Danny Garcia who also directed Looking For Johnny and other docs. Stiv was finished in 2019. If you haven't seen it yet, you can watch it on Amazon Here's the trailer
How about some Christmas music? Are you in the mood yet? What about two and a half hours of it? That's what you get with the Super Special Christmas Special fromSteve Schnee. We know about it because it has locals The Peppermint Kicks in it. (They are at the 11 minute mark.) Sal Baglio does a solo turn at the 1hour 18 minute mark.
You can see it on YouTube here.
---
PODCASTS.........
Blowing Smoke With Twisted Rico sits down with Brett Milano music critic and author. Brett worked for Rhino records which we didn't know. He had a run with the Boston Globe, Phoenix and now The Herald. Brett has moved around more than we knew, he hasn't just been in Boston all these years.
When asked for the best Boston records Brett put forward Mission Of Burma's later Obliterati album, saying some of their best songs were on that.
Steeve has a bonus episode this week where he rates the 15 studio albums by Queen. You can access that here
---
NEW MUSIC/CDs......

To Screw Cart everything can take on a dark terror. A "Cheese Wheel" can be apocalyptic. Now, it's a foot washing that brings existential dread. "Foot Washer" is their latest single. We think this might be their best yet!! They open up their sound a bit with a Bach-like organ insert, a group harmony background vocal, a different guitar sound, a stop and start section and they end the song with an angelic choir coda. Hey guys, this is epic!

We like it so much we have it on top of our Top Ten Songs this week.

Rum Bar's Beebe Gallini has gifted us two Christmas songs. What we like about these are that they are garage sounding first and Christmassy second. We love Christmas but the music part comes first.

"You Ain't Getting Nothin" sounds like it's right off a Nuggets collection.

Stupidity has got a high profile with us because of their label, Boston's own, Red on Red.

We knew that a new album was coming with the early releases of a few songs: "Waking Up the Band", "Magical Girl" and "Stupid Like Me". Now we have the full album, Waking Up The Band, on Bandcamp

Their sound is solid garage. One advantage they have over others is that they know how to keep interest over the course of an album with good song writing and by tweaking the sound here and there, adding some psych sounds or horns. "No We Don't" does that when the drums play a tick tock beat as the guitarist plucks the strings behind the bridge for a berserk harp tone. That sound stops you short.

The odd beat and the figure played on a 12 string guitar make "Not Your Station" a favorite. That skipping beat in the verses is something that we don't hear anyone else doing out there. It's a real 60s thing. We like how in a slower song like "The Power of Love" they don't let that be an excuse to lower the volume. The band still sounds big and booming. We love the band sound all the way through the album and especially the guitars. On "Darkness is My Friend" the whammed guitar chords are ear candy and the 12 string solo is another treat.

We know that Keith Streng is playing all over the album and we have to think that contributes to what makes this album so strong. There's an intense mania with the singing in "He Stole Your Mind". It sounds like a sixties nugget. We're going to leave you with that below.

Keep Safe Boston has a yearly compilation on Bandcamp with the proceeds going to charity. This year, KSB2021 for DCF Wonderfund, will help foster families through the DCF Wonderland charity.

In the 14 cuts are some familiar groups to us like; Linnea's Garden, The Knock Ups, Motel Black, Mister Vertigo and The Jacklights.

The song by Square Aps turns out to be by Dug McCormack. Gee, try to keep up his incarnations! The song builds up a big head of steam and has a ripping solo.
You can buy it here KSB2021 for DCF Wonderfund.

The False Positives, with ex-Voodoo Doll Dave Harrison, have been releasing singles for a while now and they just dropped another one.

Bye Bye Baby has a 70's power pop feeling to it with nice playing, a snappy arrangement and a punchy recording. It would sound good on an album, time to do it – we say.

We love The Vibrators. We played "Judy Says (Knock You in the Head)" constantly back in the day.

Good news here! They're releasing The Demos 1976-1978. a box set of early Vibrators material. It's pre–album recorded songs. Anything with those years on it – we just buy it immediately. There are songs that made it to the albums and then some that didn't. There are 3 CD's with 48 cuts altogether. The box set comes with a 12 page booklet, rare photos, a button and a guitar pick.

Here's a sample: the demo version of "Automatic Lover" on YouTube You can preorder the CD box here And order the digital version here

The guitarist was 9 years old when the played in 1967. They were the Color Killer's of their day. Sundazed uncovers another garage rarity with The Little Bits - Girl Give Me Love album from the Louisiana group. Up to now only a 45 single from the group existed.

You can get it on the Sundazed website

Sundazed also has a new 17-cut compilation of California garage bands from the sixties titled Gritty '60s Garage & Punk.
One oddity is that there are no cover tunes. Usually in this many groups and songs the cover tunes would be plentiful. There's nothing on the crazy end, like the Sonics. It's all more song oriented and more representative of how groups really sounded like out there. We never heard of any of the groups: Beaver and the Trappers, The Soul Owners, The Pullice, The Second Helping, Rear Exit to name a few.

Beaver and the Trappers actually had Jerry Mathers 'The Beaver' from the TV show in the group.

Available on the Sundazed website
---
Here's some good shows coming up .....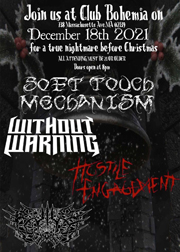 December 9 (Thursday) Red on Red Online Holiday Show - Featuring exclusive video premieres by Cold Expectations, Stupidity featuring Keith Streng, Sugar Snow, Linnea's Garden, and Beebe Gallini featuring Cindy Lawson, plus favorites by Simone Berk and Jerry Lehane, Grey Delisle, and Justine's Black Threads, and appearances by all your roster favorites! FB event page with links etc.
December 9 (Thursday) North by North, Kid Gulliver, Motel Black, Lily Black @ O'Briens
December 10 (Friday) Live Skull w/ Thalia Zedek Band at the Midway - night show
December 10 (Friday) Boston Hassle Benefit Show with HiFi, Scare City, Rusty Mullet, Exit 18 at O'Brien's
December 11 (Saturday) ONCE Somerville & Boynton Yards present: Winter Fest at Boynton Yards - starts at 11AM. FB page for more info.
December 11 (Saturday) The Hi-End, Tim McCoy's Rock Quartet, Freeloader - Middle East Up - starts at 12:30PM!! FB page.
December 11 (Saturday) Toys For Tots Benefit with The Welch Boys, Loser's Circle, Michael Kane & the Morning Afters, Grip Bite at The Midway - 3PM matinee show. FB page.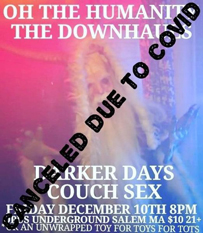 December 11 (Saturday) Kids Like You & Me Christmas Special featuring Johnnie & The Foodmasters at Club Bohemia
December 11 (Saturday) Charmed & Strange, Linnea's Garden, Sapling, Pitstain at The Midway - FB page.
December 11 (Saturday) A Krampus Xmas Celebration! Special Guest Hostess: Kristen Eck of BumbleBee Radio! and Motel Black, Little Billy Lost, Gretchen Shae & the Middle Eight @ KOTO in Salem, MA!- FB page. *You will need a Vax card or proof of a negative test.
December 11 (Saturday)The Feldons with Tiger Bomb & The Chelsea Curve at Sun Tiki Studios Portland, ME FB page.
December 12 (Sunday) Thrash 'n Bang Christmas Party/ 10th Anniversary Party with Stop Calling Me Frank!, Baabes, Lewd, Kermit's Finger, The Grommets - At the Midway - Matinee show - 3pm to 7pm. ....and ...FREE pizza! Facebook event page
December 17 (Friday) The Chelsea Curve Singles Scene Live! Nite #1: with The Chelsea Curve, Gene Dante & The Future Starlets, Britpop Social Club DJs! Early show - 5-8PM at The Jungle. This is the first night of the Chelsea Curve's Jungle residency! FB page
December 17 (Friday) Red on Red Records' Rock n' Soul Holiday Concert - A Benefit for New Beginnings Reentry Services at the Crystal Ballroom at Somerville Theatre -
Featuring your favorite rock bands with celebrity guest singers! like The Dogmatics with Barrence Whitfield, Linnea's Garden with Carissa Johnson, Simone Berk and Jerry Lehane, Gretchen Shae and The Middle Eight, Kid Gulliver with Corin Ashley, Cold Expectations with Adam Sherman & Lauren Parks, The Daylilies with Hugo Burnham - FB page.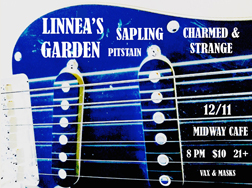 December 17 (Friday) Diablogato, The Devils Twins, Ruin The Nite at Opus Underground / Salem.
December 18 (Saturday) Martin / Morell / Fredette with Crow Follow and Girl With A Hawk at The Midway - 3PM matinee show
December 18 (Saturday) Koto's Killer Kristmas Party with Marianne Toilet and the Runs, Fog Wizard, Dust Prophet at Koto Salem.
December 19 (Sunday) The Holiday Mess Around at The Plough & Stars 3-7PM- with Jen D'Angora (The Dents, The Shang-Hi-Los), Mike Howlett (A Bunch Of Jerks), Stop Calling Me Frank, And a few others as we round out the bill, along with your hosts: Tom Baker, Justine Covault with her Black Threads, and Jay Allen
December 20 (Monday) Camelopard, Rawstrum, Zygote Theory, Headlights at The Jungle - early show 6:30 - 10PM Music at 7PM.
December 22 (Wednesday) Black Beach, Cronies(NYC), Betties, Anxious Wave @ O'Briens
December 26 (Sunday) St Stephens Day Party (Benefit for the Jamaica Plain VA hospital and Jane Doe Inc.) Featuring... The Only Things, State of the Union, The Old Rochelle, Rick Berlin - 3PM matinee show at The Midway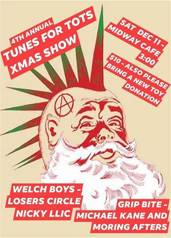 January 1 (Saturday) Randy Black and the Heathcroppers early 4-6PM show!! at The Plough & Stars.
January 2 (Sunday) Number One Babe, Captain Easychord, Faulke Yue at The Jungle Brunch FB page.
January 2 (Sunday) Vanishing Point, Rocket Gods, Sourpunch, The Stigmatics at The Midway for a matinee show starting at 3PM. FB page.
January 7 (Friday) The Chelsea Curve Singles Scene Live! Nite #2: Chelsea Curve, Muck and The Mires and DJ Mike Gioscia X-Night! This is an early show 5-8PM at The Jungle
January 14 (Friday) Hixx, Bunch of Jerks, Highland Air Force at Club Bohemia.
January 15 (Saturday) The Skirts, Crow Follow, Linnea's Garden at The Square Root
January 15 (Saturday) 11th Annual Joe Zippo Kelley Memorial Show with Blanks77, Brix'n'Mortar, The McGunks, PCP & The Knives at Koto Salem - FB page.
January 16 (Sunday) Jerry's Got Jokes, Blame it on Whitman, Witches Tears, Screams of Hockomock, Coma Hole at The Midway - 3PM matinee show. FB page.
January 16 (Sunday) The Mess Around at The Plough & Stars 3-7PM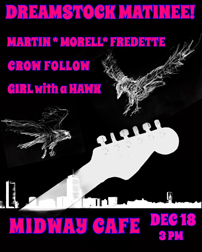 January 18 (Tuesday) Wine Lips & Zip-Tie Handcuffs @ O'Briens
January 22 (Saturday) The Somethin' Somethings, We Own Land, Il Mostro, Watching It Burn at The Midway a matinee show starting at 3PM. FB page
January 22 (Saturday) Razors in the Night, Tijuana Sweetheart (originally known as Vagiant), Sky Tigers and Nothing But Enemies at Sonia Facebook event page
January 22 (Saturday) Kid Gulliver and The Chelsea Curve at The Plough & Stars - 10PM music

January 28 (Friday) The Chelsea Curve Singles Scene Live! Nite #3: Chelsea Curve, The Shang Hi Los and DJ Sherman! This is an early show 5-8PM at The Jungle
February 5 (Saturday) The McGunks, Duck and Cover, Scotty Saints & The True Believers, Presidential Disgrace at The Midway - 3PM matinee show
February 5 (Saturday) The Jacklights at The Square Root.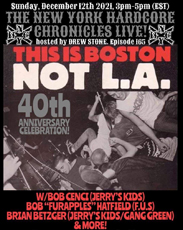 March 20, 2022 (Sunday) Verbal Assault, The FU's, Peace Test, Bullet Proof Backpack, Holy Hands at The Met in Pawtucket, RI - this is the rescheduled show from last September. All tickets will be honored for postponed show or refunds at point of purchase through 11.30.21 - FB page.
March 20, 2022 (Sunday) Henry Rollins at The Wilbur for his Good To See You tour. Tickets here https://thewilbur.com/artist/henry-rollins/
March 22, 2022 (Sunday) Henry Rollins: Good To See You 2022 at the Met in Pawtucket, RI FB page
March 31, 2022 (Thursday) The Parquet Courts are at the Royale. Tickets are here
April 22, 2022 (Thursday) Circle Jerks at the Paradise
CONTACT US AT....misslynbgn@yahoo.com Send us your gig listings, your anything else ya got!! You want your CD reviewed?? Contact us for that too.
---
---