The BGN News Archive
December 12, 2022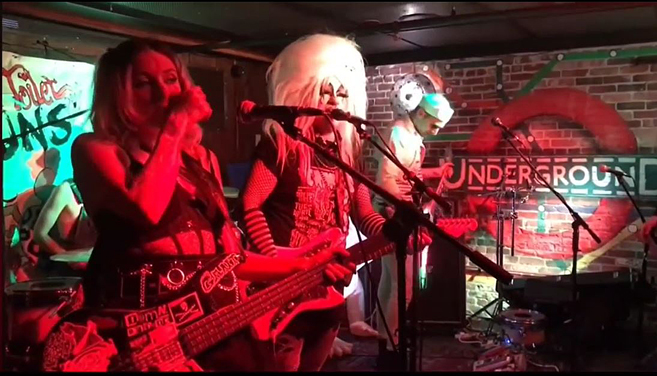 Marianne Toilets & The Runs at Opus Underground
Midweek the news came out that Opus in Salem is closing. Of course that means Opus Underground as well. The club was always dependent on the restaurant at street level. We've reached out to Opus but haven't gotten a reply as yet. Word is they are closing temporarily and reopening under a new concept. The "underground" will be a speakeasy type bar.
One small club closes ….one big venue opens up. The Bowery Boston will run The Stage at Suffolk Downs, a seasonally open venue with a 8,500 capacity. In 1966 it hosted the Beatles with 25,000 fans. No prospective groups were announced. The venue will open in 2023. The Bowery Boston also runs Roadrunner, The Sinclair and Royale.
Here's an article in Vanyaland.... and one in the Boston Globe
---
OK folks- two weeks til Christmas and there is still time to support local and artisan vendors at these Holiday Markets...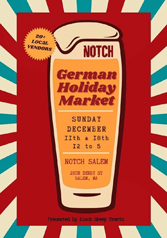 German Holiday Market at Notch Brewery Salem is Sunday, December 18 - Get all the gifts you need for the holiday season and support local small businesses - hosted by Black Sheep Events. Vendors for each date will be different so you'll be able to find everything you need! -Check out the December 11 Vendors-
Kekii Crafts Much Ado About Sewing, Homebody DIY, THANKYOUSEAN, Feeney Clay, Keep Salem Odd, Black Coffiend, White Witch Vintage, The Chaos Factor,
Siren & Saint Vintage, Lisa Page Pottery, Yankee Wood Merchant, The Green Witch. FB page.
The Plymouth Punk Rock Indoor Market is now TWO DAYS for the Holidays. Dec 17 & 18 at Mayflower Brewing Company, Plymouth. 15 vendors on Saturday, 15 different vendors on Sunday: vinyl records, housewares, accessories, handmade jewelry, oddities, vintage goods & clothing.
Weird stuff for weird people. all ages, no cover. Food trucks: Wild Game Sausage Guy on Saturday, Wolf Pizza on Sunday FB event page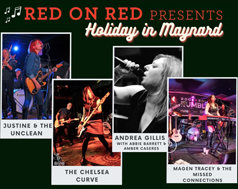 Holiday Mart and Music in Maynard is Dec 17th at Sanctuary 82 Main St Maynard- Doors at 5 Music at 6 with Andea Gillis w/special guests Abbie Barrett and Amber Caseres, The Chelsea Curve, Magen Tracy & The Missed Connections, Justine and The Unclean - vendors: Blue Ribbon BBQ, Frankie's Sweet Shop, WexRex Collectibles, Rick Paige's Atomic Candy Collectibles, Black Crow Productions, Stompbox Sonic (hard-to-find effects pedals and other musical gear) and Haley Wood Textiles- FB page.
Somerville Flea at The Armory is Dec. 18th it's where you'll find two floors and over 30 vendors of vintage and artisan wonders. Shop local and don't worry about supply chains and box stores. Find that perfect gift that you never even knew existed!! FB page
---
VIDEOS......
Punk phenomes The Linda Lindas get in the holiday spirit with "Groovy Christmas." It's a light holiday romp. They seem to have taken their sudden celebrity in stride and are making the most of it.
Morrissey has a new song with video;"Rebels Without Applause." It's a wistful remembrance of the early punk era groups. There's a lot of New York Dolls in the video along with Bowie, The Ramones, Iggy, Patti Smith, X-Ray Spex, Generation X, and the Slits.
Just the random photo of an English punk can now give you that rush of feeling…has it really been 45 years? The music and the culture still go on. Amazing.
---
BOOKs.....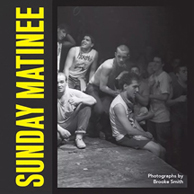 You never know! Actress Brooke Smith was Dr. Erica Hahn on Grey's Anatomy and was the victim in Silence of the Lambs (she was in the pit and asked to, "Put the lotion in the basket."). But ... from 1983 to 1988 she was on the NYC hardcore scene ... with a camera. She was there in the thick of it with the Cro-Mags, Bad Brains, Agnostic Front and Murphy's Law. Deathwish has just published her photo book about the era; Sunday Matinee. "This book, like an intimate family album, documents the day-to-day life of Brooke's friends and acquaintances as they create and embody a community around Hardcore music."
She says about the insight she had on the punk culture: "The thing about it that I still love, that I think is just a huge part of me, is just how authentic everything was. How everybody was doing it for themselves — not to get rich, not to get famous, just absolutely doing their own art for themselves."
Brooke was on the New Your Hardcore Chronicles in November. The video is below. Drew Stone shows a lot of photos on screen so that Brooke can make comments on them.
You can also see a lot of the photos and order the book website Sunday Matinee
---
RADIO.....
Ron on the Late Risers is the place we go to catch some new punk finds. We were rewarded in his first set with Breakup Haircut (good right there) doing "I Don't Want to Be Your Fiend" from the album Punk Dancing for Self Defense.
He followed with three neat old sounding punk songs: Memes with "Monday, I Looked Like Death", The Mudd Club doing "Friday Night On a Monday Morning" and Sloptart with "I Don't Like You.".They are all new which makes you feel good about the health of punk in 2022 and the future.
The rest of the show is mostly all new punk too. Ron ends the show with Chubby and the Gang, a new English punk band, doing "A Christmas Extravaganza." The song doesn't have much of a Christmas vibe to it but it says a lot about the sound of punk in England now. It's loud, just a little noisy and gets melodic at times. It's an interesting sound. Hear it below.
Ron announced that the Late Risers Club shows will be back in the studio again starting sometime in January. They've done an excellent job doing it remotely, it's not a burden on the listening side. The DJ complain it takes much more time to do the show remotely though.
To hear the show go to the WMBR archive page and hit the link for Monday December 5 at 10am.
Skybar had Steev Ricardo of the Blowing Smoke with Twisted Rico on his WMFO Rising Show.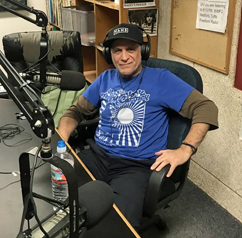 Steev's big gamble was taking a flight to LA and walking into Enigma Records blind ... and he got a job. That started his career with record labels. This show is a good chance to get Steev's story in the record industry and management that he refers to off and on in his podcast. Then when he got disenchanted with the business side of music he turned to the idea of the podcast to use his love and knowledge of music.
Steev and Skybar muse about what the club scene will be like after the older club going generation starts to fade away.
To hear the show go to the WMFO schedule page hit the Rising show at 8pm on Tuesday and then hit the 'archive' button.
We took in Sonic Overload again this week to get a full dose of the hard stuff. It's always satisfying. Al Quint started with Ted Leo's first group Citizen's Arrest doing "Fortress." It does everything it has to in a 1:07. The NYC group whose first run was 1989 to 1991 reformed in 2009 and are playing now and then. Actually they are playing the Middle East this Friday Dec 17.
Al even pays tribute to Christine McVie RIP by playing a cover of "Go Your Own Way" by Liquids. The speed it up and flatten it out a bit as they snarl the lyrics but you can hear the song in there still.
We he wanted to pay tribute to Wilko Johnson and he was able to play Dr. Feelgood itself, not a cover.
You can hear the show at Sonic Overload
---
PODCASTS.........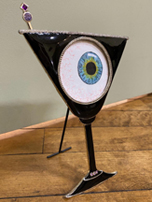 Art by B Face

The Jughead's Basement Podcast has B Face (Chris Barnard) as a guest on their 156th Episode.

Bass player Chris Barnard has been in The Queers, Groovie Ghoulies, The Real Kids, The Mopes, Kepi & Friends, talks to us about Kepi And Pirate Press, Why Never In The Foreground, Improvising And Precision And The Draws Skulls, B Face's Band History with and outsider art more more drawing more!

Chris loves playing bass and never was tempted to lead a group. He does think that being in many bands rather than one for a long time has affected how public attention eludes him.

Chris now does a lot of drawing and he discusses how that developed. It's a two hour conversation and you get a good sense of Chris's easy going personality.
---
NEW MUSIC/CDs......
Moving Targets has released three songs from their next album In the Dust. Their later albums Wires and Humbucker have been a total return to form and more.
They've always had a roaring sound but there's always thinking in the song structures that they drill into. That's even before the meaningful lyrics. The first song illustrates this as it's an instrumental.
The Moving Targets never sounded better and that's saying something! This is dynamite stuff!!
This isn't new (it's from 2017). It's The Young Rochelles' song "I Never Saw the Ramones." We're a sucker for songs about the Ramones. That would be a worthwhile Spotify list…songs about the Ramones.
It's in the pop punk style that is a direct line from the Ramones but skips along lighter than the Ramones did. There's a lot of this out there and it shows the influence of the Ramones.
The self-titled album has 14 songs in 25 minutes – way to go.
Congrats on Wire Lines getting one of their excellent Smith cover of "What Difference Does It Make" on a the compilation album Fire Escape from 75 or Less Records out of Providence, RI. There's also a great punk version of The Blues Magoos' "We Ain't Got Nothing Yet" by Dennis Most.
And it's a FREE download on Bandcamp! It insludes covers of Radiohead, Low, Superdrag, Bob Dylan, Waxahatchee, Blues Magoos, Randy Newman, The Smiths, Badfinger, Joy Division, Tyrannosaurus Rex, Devo, Beatles, John Cale, GG Allin, Anne Murray, Johnny Cash, Kelly Family, Bee Gees, The Weeknd, 10cc, Elliott Smith, The Cure, Mountain, and others.
Performed by Creep Church, Pacing, Wire Lines, Wm Gorman, Patsy Decline, David Tessier All-Star Stars, TriplEEE, Bank of Ireland, Greg Bass, Dennis Most, Mark Cutler, Hope Anchor, Prescott Cronin, Nerve Pill, Damien Purini, The Glare, Allysen Callery, Drunk Robb, Blood Feeder, Along Walk, Droplets, Jodie Treloar Sampson, Matt Fraza Band, Bill Cole, YAWNi.
If you like covers, this is an album to check out!! Here's Fire Escape on 75 or Less Records.
Miracle on Comm Ave is a yearly local punk Christmas compilation that raises money for the charity Child's Play which supports Children's Hospitals, Clinics & Domestic Violence Shelters. Squallie Greenthumb started it and says: "Child's Play is an organization that provides video games and other toys for terminally ill children. I assembled a group of friends I made throughout my 11 years in the Boston music scene to help me raise money for the cause. Please accept this musical offering and help these kids play Mario Kart!"
Miracle on Comm Ave 2022 includes the Sprained Ankles, we haven't heard about them for a while. Their song "Living Dead" is a winner! OK so it isn't a real good seasonal subject but its lots of fun anyway. We love it!
Dug McCormack does "Use It (Human Gravity)." which is about having kindness and then… a nice distorted guitar solo.
Coffin Salesman's "For Belle, Merry Christmas" is a short and delicate song that shows their artistry well.
You can buy the album for just $5 (or more, if you're feeling generous) on their Bandcamp page. You can give directly to and read more about Child's Play on their website.
---
Here's some good shows coming up .....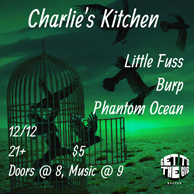 December 12, 2022 (Monday) Phantom Ocean , Little Fuss, Burp at Charlie's Kitchen
December 14, 2022 (Wednesday) Boston Music Awards - FB page. December 15, 2022 (Thursday) Hambone Skinny, Sugar Blood Jinx, Thanks - Notch Brighton @ The Charles River Speedway
December 15, 2022 (Thursday) New Alliance Gallery Presents: Synth-mas! Keep checking the Facebook page for band info etc.
December 15, 2022 (Thursday) Hambone Skinny, Sugar Blood Jinx, Thanks at Notch Brighton
December 16, 2022 (Friday) The Nervous Eaters with Barrence Whitfield and the Savages at the Regent Theatre in Arlington. Facebook event page
December 16, 2022 (Friday) The Lipstick Boys, Duck & Cover, The Downhauls at Koto Salem
December 16, 2022 (Friday) A Very FUNdraising XMAS: featuring rock star heroes of the 90's: Buffalo Tom, Mary Lou Lord, The Bags, members of Fuzzy, Merrie Amsterburg, Scruffy The Cat and more- all playing holiday tunes and some of their infectious 90's hits at the Burren Davis Square, Somerville, MA. Rock the nostalgia, come by, and donate to a great cause https://abortionfunds.org/ - it's sure to be a seasonal treat! FB page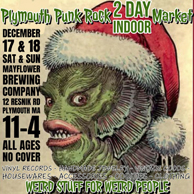 December 17 & 18, 2022 (Saturday & Sunday) Plymouth Punk Rock TWO DAY Indoor Market at Mayflower Brewing Company, Plymouth. 15 vendors on Saturday, 15 different vendors on Sunday: vinyl records, housewares, accessories, handmade jewelry, oddities, vintage goods & clothing.
Weird stuff for weird people. all ages, no cover. Food trucks: Wild Game Sausage Guy on Saturday, Wolf Pizza on Sunday FB event page
December 17, 2022 (Saturday) Hardcore Stadium Holiday Celebration with Infest, Siege, Citizens Arrest, Dropdead, F.U.'s, Shark Attack, Intent To Injure, Tree, Firewalker, Peace Test, The Lousy, Tossed Aside, Sinister Wand, Burning Lord - at the Middle East - All Ages, $35 Advance / $30 Day of Show, 3:00 PM Doors
December 17, 2022 (Saturday) SCMF, Dogmatics, Jittery Jack & Amy Griffin at Faces in Malden FB page. this is an early show Doors are at 6PM.
December 17, 2022 (Saturday) Murdoch, Lonely Leesa & The Lost Cowboys, Gene Dante & The Future Starlets at The Middle East - Upstairs - (Doors: 6:00 pm )
December 17, 2022 (Saturday) The Weisstronauts' 24th annual Holiday Jubilee with guests Faux Menco, Cotton Candy, Hayley Thompson King, and Patrick Bryant at State Park FB page.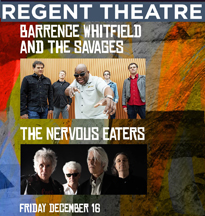 December 17, 2022 (Saturday) Wicked Night Riots Presents; Hidden Figures, Rebuild Rewind, McNilly, The Flood at The Gardner Eagles (71 City Hall Ave, Gardner, MA) Doors 5:30PM - Sound 6PM - FB page. Tickets are $20 .... or $15 with a NEW donation of a winter accessory, all donations of winter accessories will be given to the CASA project of Worcester country, they will be given to children in foster care. That's another reason to go!!
December 17, 2022 (Saturday) Holiday in Maynard with Andrea Gillis, Chelsea Curve, Magen Tracy, Justine & The Unclean at Sanctuary
December 18, 2022 (Sunday) Thrash'n Bang's 47th (!?) Punk Pizza Party on December 18th at the Midway -its a matiniee- 3pm - 7pm and and ya, Free Pizza and Only $5 cover. On the bill are State Of The Union, The Grommets, Kermits Finger, The Jacklights, Charmed & Strange and Jake The Poet (Jake Tringali) between sets! Facebook event page
December 18, 2022 (Sunday) KLYAM Holiday Party!! with The Swettes, (punchy punk we love and need – totally raw and compelling!) Adult Learners, (very new band ft. Kathy Snax on vox/keyboard, Simon on drums, and bassist Joe (of the legendary Tampoffs). Short & sweet garage pop nuggets!), Nice Guys, (noisy rock n roll powers) and of course Johnny & The Foodmasters!!! KLYAM will be DJing too. at State Park in Kendall Square. It's all ages and FREE!!! Starts at 8PM.
December 18, 2022 (Sunday) The Lemonheads are playing a second show the Paradise - Facebook event page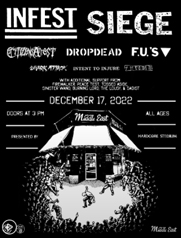 December 19, 2022 (Monday) Already Dead, Scumbari (members of Razors in the night), Ruffian Dick, Goon Platoon at O'Brien's
December 19, 2022 (Monday) Rougorou, Dwelley, Dark Time at Charlie's Kitchen
December 20, 2022 (Tuesday) Threat Level Burgundy, Bad Idea at The Jungle - 6PM show!!
December 22, 2022 (Thursday) The Scrooges and Gretchen & The Bansheess are at Notch Brewery Brighton. Facebook Event page
December 22, 2022 (Thursday) PUNK X-MAS at Alchemy with Gnarnia, The Pourmen, Paraplegics, D.O.P. more TBA - besides all the great local talent, they will have "awesome drink specials for the poor punk budget in mind! its Alchemy's gift to you!" and the cover is only $5! FB page
December 23, 2022 (Friday) Ghosts in the Snow, Miracle Blood, 123 Astronaut, Jake Wasson MD LIVE @ The News Cafe, Pawtucket, RI
December 26, 2022 (Monday) Throw, Psychic Weight, Be Released - Charlie's KItchen
December 29, 2022 (Thursday) K.C.U.F., Baby Bowler, Twelveyes, Long Autumn at O'Brien's
December 31, 2022 (Saturday) New Years Eve Acoustic Matinee show at The Midway with Michael Kane (solo), Chris Myhre, Wicked North and Matt Andersen - 3PM and All Ages. FB page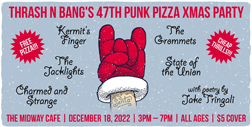 December 31, 2022 (Saturday) NYE Pre-Game Rock Show with Gretchen Shae & The Middle Eight and Sapling at Exhibit 'A' Brewing in Framingham - this is an early 2 hour show - 5-7PM - FB page.
December 31, 2022 (Saturday) New Year's Eve Party with Ray Liriano, The Manglers, Mistakes Were Made & more at The Midway- FB page.
January 6, 2023 (Friday) Leeway, Subzero, Neighborhood Shit, Ache, Sick Minds, Damn Your Eyes at The Middle East Up - All Ages, Cover $20, 8:00 PM Doors - TIX
January 9, 2023 (Monday) Tower Brothers, Battlemode, Ruby Grove at Charlie's Kitchen
January 12, 2023 (Thursday) Jivebomb, B.R.A.T., Fraud, Peace Test, Burning Lord at The Middle east Up
January 14, 2023 (Saturday) The Shang Hi Los, Tiger Bomb, The Thigh Scrapers at Gino's in Portland, ME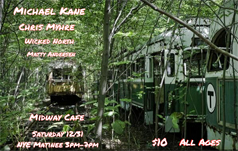 January 15, 2023 (Sunday) Point Blank, WORM, Working Poor, Gone Wrong, Circus Battalion at The Midway for a Matinee (3PM-7PM) All Ages! FB Page
January 16, 2023 (Monday) Husbands, Still Life Sounds, Sustinet, Vivid Bloom at The Silhouette Lounge
January 20, 2023 (Friday) Devil Love (Release Show) with Sidewalk Driver at The Midway Cafe. Facebook page
January 21, 2023 (Saturday) The McGunks, Taken by Vultures, Bad Idea USA, Scotty Saints and the True Believers at The Midway for a Matinee (3PM-7PM) FB Page
January 27, 2023 (Friday) U-Ey at the Buoy, The Ungraded, Ruffian Dick at Faces Brewing Malden - TIX etc
January 28, 2023 (Saturday) Lupo Citta, Daughter of The Vine, Andy California, Shiny Beasts at The Midway - 8PM, FB page.
February 4, 2023 (Saturday) The Freqs, Landowner, Miracle Blood at The Middle East Up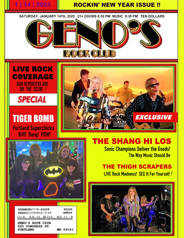 February 24, 2023 (Friday) Goth / Post-Punk Tribute Night with Gretchen & the Banshees perform as Siouxsie & the Banshees and Staring at the Sea as The Cure at The Midway. FB page.
February 24, 2023 (Friday) Triple B Records presents: Gorilla Biscuits, Restraining Order, Wild Side, Vantage Point, Truth Cult, Wreckage - warning tix are $40!! this is a 6 PM show.
March 11, 2023 (Saturday) Grayskull Booking & Hardcore Stadium present Slapshot, Crown of Thornz, Risk, Neighborhood Shit at The Middle East Down
March 31, 2023 (Friday) The Church - The Hypnogogue Album Tour at The Sinclair FB page.
April 20, 2023 (Thursday) Black Flag at the Middle East Down - 2 sets- Set 1 the band perfroms the album My War, Set 2 - Blag Flag classics. $30 TIX here FB page
April 28, 2023 (Friday) Emo Night Karaoke with live backing band & special guest Monica Whitlock at Middle East - Downstairs.
October 11, 2023 (Wednesday) The Mission UK & The Chameleons: Deja Vu Tour 2022 Rescheduled to 2023!!! also on the bill Theatre of Hate
CONTACT US AT....misslynbgn@yahoo.com Send us your gig listings, your anything else you've got!! You want your CD reviewed?? Contact us for that too.
---
---