The BGN News Archive
December 17, 2012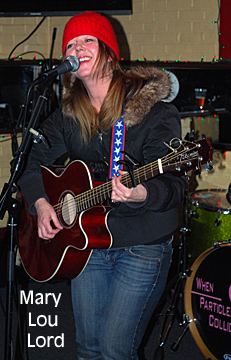 We had to check out Bob Colby's first-in-a-series Thursday Rosebud gig. We walked in on My Own Worst Enemy who were sounding fine. Right off the bat I got that warm Rosebud feeling, a combination of the place and the people, and the audience was loving the band. They ended with The Real Kids' "Do The Boob" which was just too cool. The band has a few Boston punk covers I've heard in the past and they also write songs that are about Boston punk rockers. They do a song about Billy Ruane and Cal Cali said that "Underground Angel" is about the next act tonight: Mary Lou Lord (famous for busking in the subway). "The Kids Don't Care" a scathing screed which is supposed to be about a mean and rude local rocker…wanna quess who?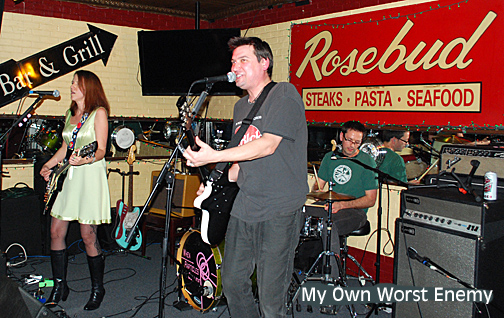 We've seen Mary Lou Lord before (last time was Colby's 60th Birthday Party) but not a whole set. She has a nervous Diane Keaton style on stage which is appealing. She started with "Western Union Desperate" which knocked me out. I love the line "I'm Rimbaud and you're Verlaine." Later she sang The Magnetic Fields' I Don't Want To Get Over You" which has the line, "I could dress in black and read Camus". It's been so long since I've heard songs referencing writers like that. All the songs she picks to sing have a little extra thought in the lyrics.
She played a few songs that she wrote with with Nick Saloman of Bevis Frond. She wove a little magic on stage this night and made the crowd feel they were hearing something special.
A very cozy and warm gig for Bob's first booking.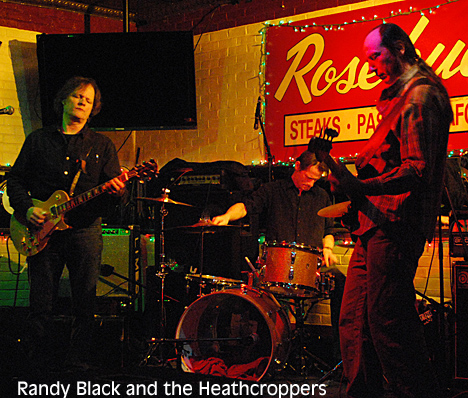 Friday 14th at Rosebud.
There was a buzz created when Randy Black's name cropped up in the concert reports. His band Limbo Race won the Rumble in 1982 and his intense music gained him some dedicated fans. Tonight he was billed as Randy Black and the Heathcroppers. The first line in the first song was, "I have a monkey in me". That was the signal that we would have songs dealing with the inner landscape of the mind. Another clue was a mention of Conrad and Heart of Darkness the touchstone of how to deal with the human psyche in art.
This was an intense set that plumbed the depths of the human condition and was guaranteed to affect your mood and emotions if you were open to it. That's a lot to say, I know, but then again that's what he did back in the day.
On guitar Randy plays comping style chords while playing an open string or two which keeps a feeling of movement but also adds suspension and unresolved tension which is a perfect backdrop for his lyrics and the drama of his songs. The other band members were accomplished players who knew the mission and added much to the moods of the songs. Larry Dersch is on drums and he's been in bands like Birdsongs of the Mezzazoic, The Bentmen and Morphine! Matt Gruenberg is on bass and he hailed from the well known 80's band The Dark. And both worked with Randy on an album in the 90's.
Randy has an expressive singing voice that is never mannered. There was nothing half-baked about this gig. They were well rehearsed and they came with a new set of powerful songs, no dead wood here. One song called "Lover I Can't Get Over" was a highlight as well as one that delineated a neighborhood scene detail by detail. The knock out was his penultimate song called "Sadness" which began, "Sadness comes in waves". The lyrics work on you and in the end he repeats just the word, "Somebody!!" and that has such an emotional punch that I still can feel it two days later. Randy tells us the "Somebody" lament is a new addition to the song that just emerged a couple of rehearsals ago! You don't often see a set as amazing as this. We felt lucky to be there but Randy says he will be gigging around and is actively recording the songs in the set, so opportunities will be around to catch his music.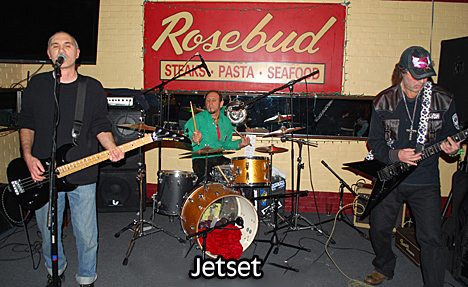 How do you follow that?
Cal Cali's JetSet put in a short set. They did "Child Abuse" one of our favorites. Last time we saw them they did "Just Shut Up" and it reminded me of Flipper, tonight they extended it and it sounded like a Butthole Surfers psychedelic jam.
Earlier they had Andy Pratt play some songs. The first band who we missed was The Thigh Scrapers who have Billy Rath's keyboard player in the band along with Brian the WMFO DJ. So Billy and all the members of The Street Pirates were there to support their compadre. We keep hearing of and seeing Billy Rath because he's living in Scituate now.
The FU's were the final band and they had billed themselves as the FU's for the Holidays. Because of that maybe they began with a cover of "Father Christmas" by the Kinks. Through with that they then kicked into some good fast loud stuff. It felt good. That was one eclectic night!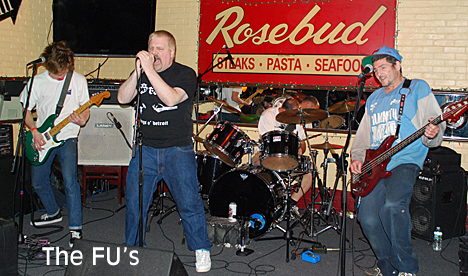 Boston band Crush has called it quits. We had no idea it would end. It seemed like it was going better than ever. The people who run it cited burnout and the increasing resources on the internet as reasons. I can imagine how much time it takes to run a site and entity like theirs especially with limited people. That's one of the reasons we here at the BGN are low key. We do what we can. To us it's more important to just be there than to try to compete with people who have more resources. We did our burning out in the 70's…no more. The idea of information access on the web is also problematic for us. Facebook was a game changer. In the end I feel Facebook is a social site and doesn't fill every need. Also, I don't want to relegate anything to some corporate entity like Zuckerburg's mega-company. The punk way was/is DO IT YOURSELF. So we continue that. The Boston Band Crush good bye statement.
But Amy Prohaska's concert reports will continue…you can get those via email. They are a thing of beauty.
The Sinclair finally opened with Concrete Blonde playing and judging by the Globe story and comments on Facebook the club is a nice venue. Now, we have a club in the middle of Harvard Square a place where parking is a dream within a dream. Ya know what I want? I want a Boston club where I drive into the parking lot (big) and walk into the club. Ya, right.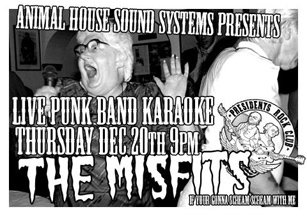 Here's a most brilliant idea!!!: Punk Karaoke.
It happens monthly at The President's Rock Club in Quincy And this Thursday Dec 20th it's even better coz it's Misfits Karaoke night…AND local rockers Jessy Drastic (who we wish would get a new band together!!) and Mark Kennedy will be among the performers…really just too fantastic!!!
This Friday there's a great show that is FREE at Johnny D's its Randi Millman's 17th Annual Holiday and Birthday Bash! There'll be numerous short sets of many local rockers like Andrea Gillis, Jenny Dee, Dave Aaronoff , Corin Ashley, Tsunami Of Sound, John Powhida, and the Dirty Truckers are closing out the night. Now if the world hasn't ended earlier in the day you'll be all set!!
Saturday Dec 22nd there a great night of rockabilly at the Rosebud with Jittery Jack and Leah and Her J-Walkers…
To finish out the year, we have the Mighty Mighty Bosstones doing their 15th annual Hometown Throwdown at The House of Blues on Dec 29, 30 & 31. But this year they have special guests The Dogmatics opening the show on the 29th. And Jerry LeHane tells us: "We will have some special guests playing with us, JG who plays keyboards in the Bosstones and was the 5th Dogmatic from 85-86 will sit in for a song or two." And there should be another special guest joining them on stage for a holiday tune or two as well!! So if you can find a ticket…get on over there!! Also everyone's gonna be at McGreevey's (911 Boylston Street) on the 30th at 4:30 for a Bosstones Meet & Greet!
the new year- here's a good show and a good cause on Saturday January 5th at Brighton Music Hall there's a Benefit for Brenda Wynne featuring Matalon, Raging Teens, Johnny Carvale and the Rolling Pins, Skeleton Beats, Razors in the Night, Cradle to the Grave, OC5, Never Been Caught - tickets are only $12 for all those bands and its to Benefit Brenda who was struck by a van in a hit and run accident in Allston. - get on down there and start the new year out right by doing good for someone else!!
Then at Radio (down) Saturday January 12 -Psycho, Kilslug, Impenitent Thief, and The Burnouts
The Live at The Rat album to CD project is now officially underway on Kickstarter: Peter Rining from QRST's is teaming up with Jim Harold to get the Live at The Rat album on CD!!!! GO HERE to check out the Kickstarter page!! If you like this idea and will most likely want the CD then prepay now by making a pledge on Kickstarter!!
And with the Holidays coming up I want to share this sentiment from Billy Rath's FB page: "I wish you all a very Merry Christmas!!!! If you are sad, not very merry, put on some good old Rock 'n' Roll... It is very good for your soul. And don't just sit there get UP and move your feet, clap your hands... twist the night away and put a smile on your face as you act crazy! - Rock 'n' Roll is good for your soul!"
EMAIL US AT…….misslynbgn@yahoo.com