The BGN News Archive
December 19, 2022
Bad Brains mural by Richard Fairey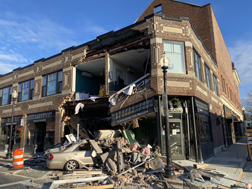 Sunday there was a news story about a car hitting a building on Corinth St in Roslindale. Immediately we think: Square Root in Roslindale. Sure enough it's the same building as the club.
It's two stores down, but the car hit a support beam and the building's structure may be compromised. That's the early thinking.
This is too sad for the hard working people at The Square Root. We know they have so much invested in this club - money, work, and hopes. To have a rock club in Roslindale was such a novelty and it turned out to be a good feeling place.
We can wish that things turn out for the club.
---
Jet Black (Brian John Duffy) the drummer of The Stranglers died on December 6th. He was 84 and had been sick for some time.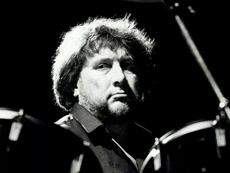 The Stranglers' bassist Jean-Jacques Burnel said, "He was a force of nature. An inspiration. The Stranglers would not have been if it wasn't for him. The most erudite of men. A rebel with many causes." Dave Greenfield the keyboardist died two years ago.
Here's an interesting tidbit: Black was a semi-professional drummer in the late 1950s and early 1960s and was by then a successful businessman in his mid-30s. He owned a fleet of ice cream vans and later an off-license called The Jackpot. In the early days, the Stranglers used one of the vans as a tour bus and his shop as their headquarters.
You can get up to speed with Barrence Whitfield in the excellent WBUR Fuse interview, "Barrence Whitfield — Still Savage After All These Years."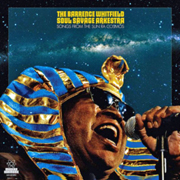 Barrence still works at the Record Exchange in Salem. He says "I'm still there a couple of days a week doing my yeoman's work, schoolin' youngsters that there's not just rap! [laughs] It's always good. I work in a record shop because it gives me an opportunity to educate people about music. There's so much music out there, we're lucky to be in a country that has a lot of roots. The Europeans, they love our music, and here in America we're sometimes jaded because we have so much to draw on, but it's what keeps me going – talking to people about music and listening to it with them,"
Barrence also has Songs From The Sun Ra Cosmos an album of Sun Ra songs released in 2019 about which Barrence says: "Back in the '90s there was a band called the Concussion Ensemble led by Rich Gilbert who had played with Human Sexual Response and the Zulus. My manager at the time wanted me to do some stuff with the band. We did Sun Ra's "Nuclear War" and it was two guitar players, a bass, and five drummers."
He also has a track on the country album Tulare Dust, A Songwriters' Tribute to Merle Haggard (!!!); he is on the compilation of Black country, From Where I Stand and has made two records with folk/country songwriter Tom Russell.
Barrence is responsible for so much music though the years and all of it unique. We'd be poorer without it.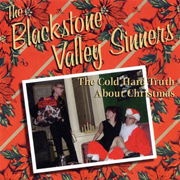 Speaking of country and Rich Gilbert ... he made a Christmas record with The Blackstone Valley Sinners, a country trio with an Alesis HR16 drum machine. Rich tells us "It came out really good, or at least I think so! Anyway, it's finally become available for streaming so here you go, something to help you have a very merry Christmas! The Cold Hard Truth About Christmas."

Theo Greenblatt, who worked for Subway News, has gone on to be a writer. She recently was a finalist in the Cleaver literary magazine's Flash fiction contest with her story . "The Person Falling Here." it has a lot packed into the short form. Read it on the Cleaver website
Siouxsie Sioux will do her first live performance in 10 Years when she will headline the 2023 installment of Latitude Festival in Suffolk, UK. It's a four-day festival in July 2023 in the UK. Her last live performance was 10 years ago for Yoko Ono's Meltdown Festival in 2013. Read more on the Consequence website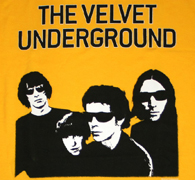 The lasting influence of the Velvet Underground is a gift that keeps giving. In the sixties who thought the group to be so important in the future? Not many. This comes up because of an article in the American Songwriter website.
"Three Songs You Didn't Know Sampled "Walk On The Wild Side." Two are rap/hip hop by Tribe Called Quest and Marky Mark. On the rock side they talk about HAIM and their song "Summer Girl". That whole song is just "Walk On the Wild Side" through a prism when it isn't just quoting it straight up. They gave Lou Reed songwriting credit on it, and really they had to. Here's that song on YouTube
We also would point out "Devil Fox" by Courtney Barrett. The versus in that song are "Rock and Roll" just changed a bit. Courtney even uses the name Jen at the beginning that echoes the Velvet's saying Jenny. Here's the song on YouTube
We hear new local groups that have the gloss of the Velvets sound regularly. One that comes to mind is Dutch Tulips. There are a few songs that move along like a Velvet song. "Tell Me Your Codes" and "Pez Mansion" (below) are two.
One of Boston's punk veterans, Rick Coraccio of Lyres and The Last Ones has a song he wrote just a few years ago titled "Dreams of a Poor Man's Mind" that sounds like the VU and it's a fave of ours. It's on his recently released Anthology.
Iggy Pop just released 'Strung Out Johnny', the second song from the artist's upcoming album Every Loser. The song is about the sad truth of living with a drug addiction, revealing how seemingly innocent experiments turn into something more dangerous – "First time you do it with a friend, second time you do it in a bed, third time you can't get enough and a life gets all fucked up," How true!! Iggy Pop & The Losers are going to be touring in early 2023!!
| | |
| --- | --- |
| | |
Shepard Fairey is at it again...he's replaced his five year old Blondie mural in NYC with a Bad Brains image. He says: "Bad Brains are one of my favorite punk/hardcore groups of all time. I've been a Bad Brains fan for 30-plus years and am lucky to work with them on a few projects, including prints, a clothing collection,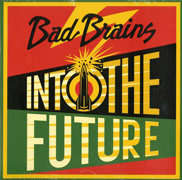 and the cover of their album "Into the Future." Glen E. Friedman shot many great photos of Bad Brains, and his photo of HR at A7 bar in New York City from 1981 is the reference for this poster illustration. It's an incredible honor to create art and to be connected to a band that has provided so much inspiration, energy, and sheer pleasure for me over the years. This poster is signed by Glen, me, and HR! Keep that PMA (Positive Mental Attitude)!"
The new mural is located directly across the street from the former CBGB's location. "All of the photos in the collage were made at CBGB during the holidays in 1981 or 1982," Friedman says. "The Bad Brains annual Xmas matinees became a great thing for all us punks who didn't care or didn't have a place to be during the holidays. We'd all go and congregate there and see some of the best shows of our lives." So it's really fitting that the new mural goes up now.
Punktuation Magazine has a short write up on Paul Anka's reaction to Sid Vicious covering his song "My Way" that he originally wrote for Frank Sinatra. Surprisingly it's very positive: "At the time, Anka recalled questioning whether to grant the license to allow Sid to sing it. But he said he didn't regret agreeing to let Vicious do it his way. "I loved it; I was really flattered and amused by his version," Anka admitted." he also said: "What he did worked as both a goof and a sincere take – which was a pretty amazing accomplishment." Read the article here.
---
VIDEOS......
Drunk Dial Records has this thing – they invite a band into the studio. They ask them to write and record an original song and then record a cover song…and do that while drunk!
The latest release is by the Drakulas from Austin. The group was formed by Mike Wiebe and Rob Marchant of the Riverboat Gamblers and Zach Blair of Rise Against. Their original song and video is "Shame." and the cover tune is "Three Sisters" by Jim Carroll. You can order the seven inch single here
---
RADIO......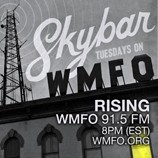 Skybar plays tons of local music during the year so his Top Ten Local Releases is a good indicator of what we were listing to this year. He's doing that Top Ten this Tuesday at 8pm on his Rising show on WMFO 91.5
To hear the show on the online archive, go to the WMFO schedule page hit Rising at 8pm on Tuesday and then hit the 'archive' button.
---
PODCASTS.........
This week on Blowing Smoke with Twisted Rico the guest is Jonathan Anastas of DYS.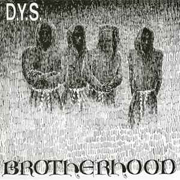 DYS reunited for the Gallery East concert in 2010 and the band stayed together. Now they've been together longer than their initial run.
Jonathan is now in LA. The first rock group he loved was Aerosmith. His high school guidance counselor got him an internship at Newbury Comics where he worked with Aimee Mann. Really!? That can happen?
Anastas has a lot to say about how a group should traverse the record industry today.
He also revealed that the DYS and other hardcore groups listened to metal on road trips and generally that was the genre they liked. Thus all the hardcore groups going 'metal' was a natural development.
Al Quint on Sonic Overload did an intro set of five Stranglers songs in memory of drummer Jet Black RIP.
He also played three Dicks songs in celebration of Gary Floyd's 70th birthday.
Al played a new song "Box My Own Shadow" by Class from Tucson, AZ. It's sharp and rough but very melodic. Hear it below.
Another song "Fear" was by the Salem group PCP and the Knives. They broke up this week. They played raw hardcore. Everything is less than two minutes. "Fear" has a cutting guitar tone that gets your attention. Hear it below. Being from Salem they do an album titled Live From The Witch Trials – just like the Fall and they use the same album cover too!
You can hear the whole show on the Sonic Overload web page
---
NEW MUSIC/CDs......
The best thing we like about the Holiday Season? Obscene anti-Holiday songs. It's Jay Allen to the rescue with "Effin' Dreidel Song."
It's a justifiable reaction to the dreaded "Dreidel Song." There's a cleaned up version but the explicit version is the most satisfying.
It's funny when Jay sings with annoyance "I hate that fucking Dreidel Song, It really fucking sucks." but what drives it over the top is the confirming Oi chants after. This will ring in our heads like Christmas bells the whole season!!
American Thrills, from Connecticut, have released their new album Parted Ways. All the songs have a forward drive and urgency to them. The lyrics get emotional without getting emo.
Three songs that we like are lined up next to each other: "Alive and Well," "Ivy League Swing," and "Blue Collar."
We love the accusatorial lyric "it's all your fault" in the breakup song "Ivy League Swing." It's on our Top Ten Songs
They also have a video of the first song on the album "Sinking"
The revived band Huck 2 from Salem is following through on their drive to record and start gigging.
"Soulsucker" is the first release of some songs recorded at Wooly Mammoth with David Minehan. It's an effective end of the relationship good bye, and good riddance, song.
It's always a treat to see what Jenn Lombari is creating. The latest is a new EP Meet Me At The Bar by her band Sourpunch.
Jenn has played a lot of bars but yu would never think of her as being in a 'bar band,' but that's what the first song "Meet Me At The Bar" sounds like. It's straight guitar rock and captures the feel of a night at the bar. "Ride With Me" is another traditional rocker.
The other three songs have more of Jenn's identifiable style. "Stupid Crush" has Jenn grousing about a stupid crush and it's hilarious. We have that on our Top Ten Songs
"Shivers" breaks the format especially with its 5:30 length. It's a two chord minimalistic love song. The distorted guitar really pounds on those two chords. It takes almost four minutes before a guitar solo rips in to give relief. This is a standout song!!
Here's an article on Sourpunk in the Rhode Island Times
We missed this Kurt Baker Christmas song last year: "Christmas in the Sand" is half a Christmas song and half a beach tune. That works for us. Kurt has a new album coming out next year too.
---
Here's some good shows coming up .....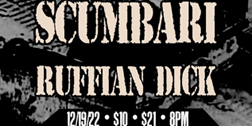 December 19, 2022 (Monday) Already Dead, Scumbari (members of Razors in the Night), Ruffian Dick, Goon Platoon at O'Brien's
December 19, 2022 (Monday) Rougorou, Dwelley, Dark Time at Charlie's Kitchen
December 20, 2022 (Tuesday) Threat Level Burgundy, Bad Idea at The Jungle - 6PM show!!
December 21, 2022 (Wednesday) Nat Freedberg will join Tony and the Savtones at their Wednesday residency at The Porch in Medford. Facebook event page
December 22, 2022 (Thursday) The Scrooges and Gretchen & The Bansheess are at Notch Brewery Brighton. Facebook Event page
December 22, 2022 (Thursday) PUNK X-MAS at Alchemy with Gnarnia, The Pourmen, Paraplegics, D.O.P. more TBA - besides all the great local talent, they will have "awesome drink specials for the poor punk budget in mind! its Alchemy's gift to you!" and the cover is only $5! FB page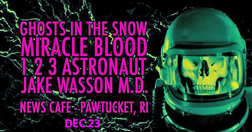 December 23, 2022 (Friday) Ghosts in the Snow, Miracle Blood, 123 Astronaut, Jake Wasson MD LIVE @ The News Cafe, Pawtucket, RI
December 26, 2022 (Monday) Throw, Psychic Weight, Be Released - Charlie's KItchen
December 29, 2022 (Thursday) K.C.U.F., Baby Bowler, Twelveyes, Long Autumn at O'Brien's
December 31, 2022 (Saturday) New Years Eve Acoustic Matinee show at The Midway with Michael Kane (solo), Chris Myhre, Wicked North and Matt Andersen - 3PM and All Ages. FB page
December 31, 2022 (Saturday) NYE Pre-Game Rock Show with Gretchen Shae & The Middle Eight and Sapling at Exhibit 'A' Brewing in Framingham - this is an early 2 hour show - 5-7PM - FB page.
December 31, 2022 (Saturday) New Year's Eve Party with Ray Liriano, The Manglers, Mistakes Were Made & more at The Midway- FB page.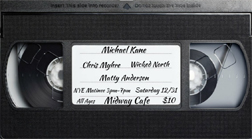 December 31, 2022 (Saturday) New Years Eve with Phantom Ocean, Neglected Witches, Dandelion Pipebomb, Eliminator Eddie, No Detour at The Nashua Garden Nashua NH FB page
December 31, 2022 (Saturday) Muck And The Mires and The Idolizers are at Otto's Shrunken Head in NYC for New Year's Eve. FB page.
January 6, 2023 (Friday) Leeway, Subzero, Neighborhood Shit, Ache, Sick Minds, Damn Your Eyes at The Middle East Up - All Ages, Cover $20, 8:00 PM Doors - TIX
January 9, 2023 (Monday) Tower Brothers, Battlemode, Ruby Grove at Charlie's Kitchen
January 12, 2023 (Thursday) Jivebomb, B.R.A.T., Fraud, Peace Test, Burning Lord at The Middle east Up
January 14, 2023 (Saturday) Hammered Saint, Greg Allen's Fringe Religion, Stop Calling Me Frank, Hilken Mancini for a MIdway Matinee 3PM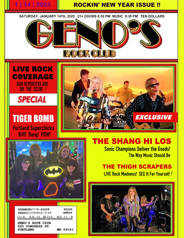 January 14, 2023 (Saturday) The Shang Hi Los, Tiger Bomb, The Thigh Scrapers at Gino's in Portland, ME
January 15, 2023 (Sunday) Point Blank, WORM, Working Poor, Gone Wrong, Circus Battalion at The Midway for a Matinee (3PM-7PM) All Ages! FB Page
January 16, 2023 (Monday) Husbands, Still Life Sounds, Sustinet, Vivid Bloom at The Silhouette Lounge
January 20, 2023 (Friday) Devil Love (Release Show) with Sidewalk Driver at The Midway Cafe. Facebook page
January 21, 2023 (Saturday) The McGunks, Taken by Vultures, Bad Idea USA, Scotty Saints and the True Believers at The Midway for a Matinee (3PM-7PM) FB Page
January 27, 2023 (Friday) U-Ey at the Buoy, The Ungraded, Ruffian Dick at Faces Brewing Malden - TIX etc
January 28, 2023 (Saturday) Lupo Citta, Daughter of The Vine, Andy California, Shiny Beasts at The Midway - 8PM, FB page.
February 2, 2023 (Thursday) Willie Nile and The Nervous Eaters at City Winery Boston - Facebook page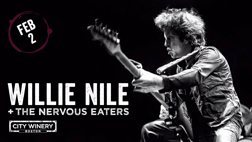 February 4, 2023 (Saturday) The Freqs, Landowner, Miracle Blood at The Middle East Up
February 10, 2023 (Friday) The Shang Hi Los, The Dogmatics, The Chelsea Curve at Faces Brewery Malden. FB page
February 24, 2023 (Friday) Goth / Post-Punk Tribute Night with Gretchen & the Banshees perform as Siouxsie & the Banshees and Staring at the Sea as The Cure at The Midway. FB page.
February 24, 2023 (Friday) Triple B Records presents: Gorilla Biscuits, Restraining Order, Wild Side, Vantage Point, Truth Cult, Wreckage - warning tix are $40!! this is a 6 PM show.
March 11, 2023 (Saturday) Grayskull Booking & Hardcore Stadium present Slapshot, Crown of Thornz, Risk, Neighborhood Shit at The Middle East Down
March 31, 2023 (Friday) The Church - The Hypnogogue Album Tour at The Sinclair FB page.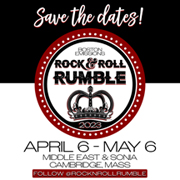 April 20, 2023 (Thursday) Black Flag at the Middle East Down - 2 sets- Set 1 the band perfroms the album My War, Set 2 - Blag Flag classics. $30 TIX here FB page
April 28, 2023 (Friday) Emo Night Karaoke with live backing band & special guest Monica Whitlock at Middle East - Downstairs.
October 11, 2023 (Wednesday) The Mission UK & The Chameleons: Deja Vu Tour 2022 Rescheduled to 2023!!! also on the bill Theatre of Hate
CONTACT US AT....misslynbgn@yahoo.com Send us your gig listings, your anything else you've got!! You want your CD reviewed?? Contact us for that too.
---
---