The BGN News Archive
December 20, 2021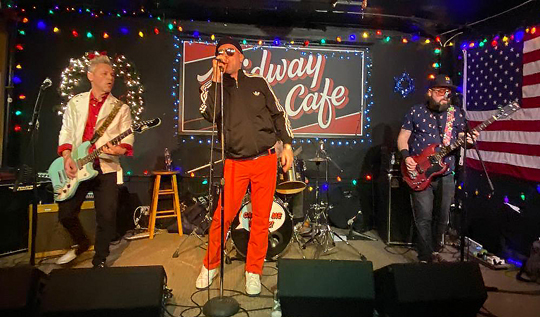 Baabes at the Thrash'n Bang Christmas Party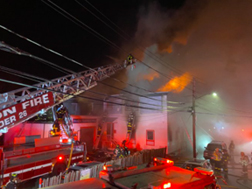 It was a shocker to see the Zippah Studios in Brighton going up in flames on the news on Friday. No one was hurt which was the good news, although two firefighters were taken to the hospital for minor injuries. The whole building, that had a few other art studios in it, was entirely burned. Zippah's owner Brian Charles, also a member of Sheila Devine, was on Channel 5 news. All the instruments that were burned where collected by Brian over many years.
Zippah was not a hobby but how Brian made a living. A GoFundMe page has been set up to help Brian. Zippah was a busy studio. Take a look at their client list
The story as reported by Vanyaland and NECN
We've come to know Zippah especially with Simone Berk's work there doing her solo projects and Kid Gulliver recordings. The one album that shows what Brian and Zippah could do is Simone Berk's group Sugar Snow's Woodface Reimagined, which recreates Crowded House's Woodface. Hear it below…
Captain Easychord was out twice last week. Once at the Middle East Up for Freeloader, The Hi-End and Tim McCoy Rock Quartet. He took in the Thrash'n'Bang Christmas Party with Baabes, Stop Calling Me Frank, The Grommets, The Instamatics and Kermit's Finger.
To read the whole story hit the photo link below.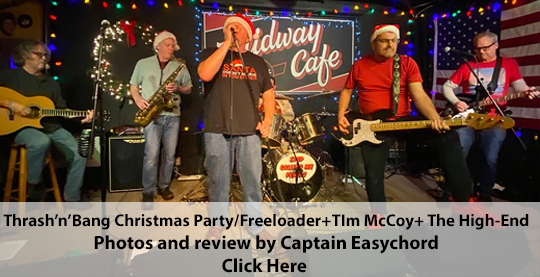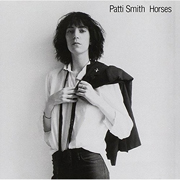 Far Out Magazine has an appreciation of Patti Smith and her first album Horses. There's so much right about Smith, Horses and the timing of it. It was a revolution as the establishment was lying bloated and out of ideas. It's obvious to see what happened in retrospect but to live through those times was the rewarding experience. There was energy and creativity. Everything seemed possible. There was pushback with anger and even violence but nothing could stop the power of punk in its day.
Horses is on Spotify. For those that have Spotify, here it is.
A lot of people are going to flip on this news: Almost the entire 40 year run (1973 – 2013) of the Boston Phoenix is now available online for free. The collection has been at Northeastern University for a few years. 40 years! that's a lot of scanning!! The site Archive.org posted all the material to make it accessible to all. And here it is on Archive.org.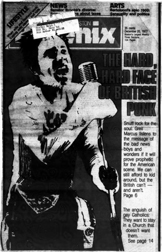 We used notebooks of club listings clipped from the Phoenix to do our very popular (past) Gig Listings pages
As time goes on we'll be able to fill in the gaps we have. Then there's the Cellars by Starlight columns by Jimmy Isaacs. People will be pouring over those. Beyond punk, there is a whole cultural and entertainment goldmine in those issues. We've learned from Brian Coleman and his Buy Me Boston books that even the ads carry a lot of information ... not to mention nostalgia. In the video of NY City Hardcore Chronicles below, Bob Cenci talks about how they found Jerry's Kids members from the Phoenix personals.
We took a fast look at the archives and the scans we saw weren't crystal clear. It was hard to impossible to read the small print in some places. The interface is a bit awkward. You'll need patience to do a lot of research, but it's there.
The story was in the Boston Globe. It's here if you can get by the paywall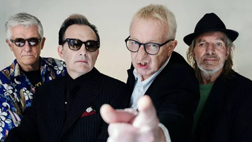 Damn it! The on again off again Damned tour with the original members is off again. England is suffering a big Covid resurgence. They have postponed the tour dates from February to November of 2022. Some details on the Louder than Sound website.
In the US there are sports games that have been cancelled because of Covid outbreaks, SNL broadcast this week without an audience and the Rockettes in NYC have shut down with an outbreak. But concerts and clubs around here are still going on with restrictions.
---
SHORT CUTS.....
Jonathan Demme's Talking Heads concert film Stop Making Sense is being added to the National Film Registry for preservation. The registry says the film is "culturally, historically, or aesthetically significant" and has "enduring importance to American culture." More about the story on the Vulture website
---
VIDEOS......
Here's the best thing this week: the New York Hardcore Chronicles celebrate the 40th Anniversary of This Is Boston Not LA. It was live last Sunday but here it is above on video for your viewing pleasure.
The main part is reminiscing between Drew Stone, the documentary maker and host, Bob Cenci, Brian Betzger of Jerry's Kids and Bob Furrapples from the FU's. They all know each other well and the conversation flows easy.
They talk about the early hardcore scene with shows at the Media Workshop and the Gallery East. That leads up to the release of This Is Boston Not LA and then the leftover songs went to the EP Unsafe At Any Speed.
In new developments Furrapples revealed that a new seven song 12 inch that plays at 45, Death Squad Nostalgia, will be coming from The FU's soon.
Elvis Costello & the Imposters are going to tour Europe. Those dates are listed here
That group includes Pete Thomas and Steve Nieve of the Attractions. You can hear Nieve's identifiable organ sound on the first single "Magnificent" off the upcoming album.
Costello has done the next to impossible by recapturing the sound and attitude of his music of 40 years ago. He's played country and western, jazz, classical and flirted with Burt Bacharach but he can still summon up his classic sound. The Video of "Magnificent" let's the puppets do the work.
We think Screw Cart's latest song "Foot Washer" is their best effort yet. There's another reason to give it a listen – there's now a video. It's a sort of creepy abstract thing. It's something to watch as the lyrics rant about foot washing that gets biblical.
We have it on our Top Ten Songs
In Chapter 11 in Tommy White's of Unnatural Axe Zoom documentary he shows some of the black-out skits inspired by Laugh In and the silent movies.
---
PODCASTS.........
Blowing Smoke With Twisted Rico talks with Darryl Sheppard who is in the stoner rock band KIND and has been in many bands in the past.
The latest KIND album Mental Nudge is on Bandcamp.
---
Radio.......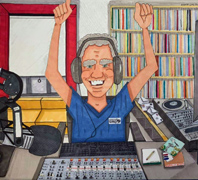 On Tuesday (12/21) Skybar will play his Top Ten local releases of the year. Those are albums not singles.
Skybar makes the good point that streaming on Spotify doesn't help a group...you have to buy the album or merchandise or go to a show to do that. Skybar's Rising show is on WMFO on Tuesday 8 to 9pm.

Here's Skybar's list for the year: The Jacklights - Drift, Hank Wonder - Waylaid, Watts - Shady Rock & Rollers, Carissa Johnson - Blue Hour, Kris Rodgers and the Dirty Gems - Still Dirty, Devil Love - Broken Things, The Shang Hi Los - Kick It Like A Wicked Bad Habit, Brad Marino - Looking For Trouble, John Powhida International Airport - This Phasor Sounds Divine, Gene Dante and The Future Starlets - DLUX.
---
NEW MUSIC/CDs......
Rum Bar is revving up the publicity machine for the Dirty Truckers upcoming album. They now have a three song EP to whet our appetites. The Three Shots EP includes "Turn Your Head Around", "Remember One" and "Feedback".
We love "Turn Your Head Around", the simple scene in a bar sets up a heartbreak scenario and no one plumbs the depth of heartbreak like Baker and the Dirty Truckers. They have the knack of putting you in a mood.
Waiver Wire from Worcester have a new single out. We've liked their muscular yet tuneful punk since we saw them in June of 2019
There's a lot to "Battery Health". There's interesting guitar fills all the way through the tune and a sharp solo. The drummer is a stand out. The vocals are inviting and the lyrics seem straight ahead but we still can't figure out what it's about.
If it wasn't for the Covid this is one of the groups we would have seen live this last year and a half.
Cheep Cassettes are a Seattle group that Rum Bar has added to their roster. Like a lot of Rum Bar groups they evoke seventies rock. The Cheap Cassettes get the 70's down both sonically and feeling wise. It's the way the group sounds and the way the songs are written. There's something about the lilt of the chorus of "Your I's Are Too Close Together" that is just not done now.
For us Bostonian's they have a song titled "Red Line Blues" that name checks the Red Line, the Blue Line and Kenmore Square.
As you get deeper into the album you get a common feeling between the songs that is hard to pinpoint but makes it more than listening to 10 collected cut. This album really stuck out in our stream of listening.
We have lots of favorites off this album. Right now Rum Bar only has two songs to hear free on Bandcamp.
Richie Parsons brought out his Christmas EP from a few years ago for the season on Bandcamp. The songs include "Christmas is Gonna Suck" which isn't a punk rant as you'd suspect but it does have a surprise downer.
There's also an instrumental titled "Good King Janota". Is that traditional?
Laptop Punk Records has an unusual project: Fibulous Fabber and Friends, a children's musical in the spirit of Dr. Suess and Shel Silverstein.
Musicians include: HeWhoCannotBeNamed (The Dwarves), Milo Aukerman (Descendents), Spike Slawson (Me First and the Gimme Gimmes) and Chris Barrows (Pink Lincolns, Chris Barrows band). It's mastered by Chris Von Sneidern, a name that power pop fans will recognize.
Our childhood is the stuff of anthropology and archaeology so it's hard for us to gauge how successful this is, but it's tuneful and has characters like the Tickle Troll and the Gum Goblin and seems like it could appeal to kids.
The Dollyrots are on the Steven Van Zant label Wicked Cool Records. Their new album Down the Rabbit Hole that consists of B sides, covers and rarities.
Here's info on where to get the album. They have a video for the song "Just Like All the Rest"
They also have a half hour Christmas show on December 22 at 5pm. It's here. You have to pay for it, and depending on your donation you can get prizes. Here's the show description: "Let's have Christmas party and sing-along! We'll be playing tracks from the "A Very Dollyrots Christmas" album and maybe a couple surprises! Join us playing acoustic straight from our living room, with our kids and in front of the Christmas tree!"
Right now they have a single posted on Bandcamp titled "One More Sleep". It's a holiday song originally done by Leona Lewis. Listen to that below
J Mascis has two songs out partnering with Kim Gordon of Sonic Youth.
The songs are a messy and loose affair ... and that's the charm. Mascis does the drums himself. Gordon has some distinctive vocals and that focuses things a bit. Mascis has plenty of time to add as much distorted guitar as he wants, and he always wants.
"Abstract Blues" has more song structure. "Slow Boy" has Gordon doing a bit of screaming and the song.
It's an interesting side project but not essential listening for either artist probably.
---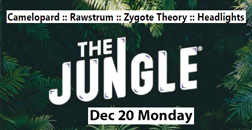 Here's some good shows coming up .....
December 20 (Monday) Camelopard, Rawstrum, Zygote Theory, Headlights at The Jungle - early show 6:30 - 10PM Music at 7PM.
December 22 (Wednesday) Black Beach, Cronies (NYC), Betties, Anxious Wave @ O'Briens
December 26 (Sunday) St Stephens Day Party (Benefit for the Jamaica Plain VA hospital and Jane Doe Inc.) Featuring... The Only Things, State of the Union, The Old Rochelle, Rick Berlin - 3PM matinee show at The Midway
December 30 (Thursday) Rebuilder NYE Night 1 - Rebuilder, Future Teens, Leopard Print Taser, Carissa Johnson at O'Brien's Allston
December 31 (Friday) Rebuilder NYE Night 2 - Rebuilder, Secret Spirit(final show), Perfectly Lethal, Kitner at O'Brien's Allston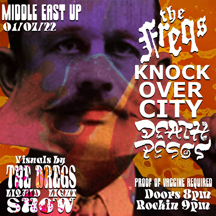 January 1 (Saturday) Randy Black and the Heathcroppers early 4-6PM show!! at The Plough & Stars.
January 2 (Sunday) Number One Babe, Captain Easychord, Faulke Yue at The Jungle Brunch FB page.
January 2 (Sunday) Vanishing Point, Rocket Gods, Sourpunch, The Stigmatics at The Midway for a matinee show starting at 3PM. FB page.
January 7 (Friday) The Chelsea Curve Singles Scene Live! Nite #2: Chelsea Curve, Muck and The Mires and DJ Mike Gioscia X-Night! This is an early show 5-8PM at The Jungle
January 7 (Friday) Death Pesos, the Frogs and Knock Over City at the Midde East Up ….and there's a light show. Facebook event page
January 7 (Friday) A Night of Brass Funk, Reggae/Rocksteady, Rhythm Blues, Ska & Ska/Punk from Wormtown Ska Promotions brings you a night of great music with Sergeant Scagnetti - Aka: Sgt Scag (Ska/Punk), Shape Shifters (Ska, Reggae, Rocksteady), Shokazoba (Brass/Funk), The Simulators (Ska, Ska/Punk) and U-ey at The Buoy (Rocking Rhythm Blues) at Electric Haze - 26 Millbury St Worcester. FB page for more info and tix.

January 14 (Friday) Hixx, Bunch of Jerks, Highland Air Force at Club Bohemia.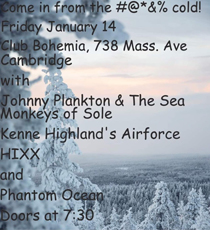 January 15 (Saturday) Mallcops, Baabes, Gretchen Shae & the Middle Eight, Wired For Sound at O'Brien's Allston
January 15 (Saturday) The Skirts, Crow Follow, Linnea's Garden at The Square Root
January 15 (Saturday) 11th Annual Joe Zippo Kelley Memorial Show with Blanks77, Brix'n'Mortar, The McGunks, PCP & The Knives at Koto Salem - FB page.
January 16 (Sunday) Jerry's Got Jokes, Blame it on Whitman, Witches Tears, Screams of Hockomock, Coma Hole at The Midway - 3PM matinee show. FB page.
January 16 (Sunday) The Mess Around at The Plough & Stars 3-7PM
January 18 (Tuesday) Wine Lips & Zip-Tie Handcuffs @ O'Briens
January 22 (Saturday) The Somethin' Somethings, We Own Land, Il Mostro, Watching It Burn at The Midway a matinee show starting at 3PM. FB page
January 22 (Saturday) Razors in the Night, Tijuana Sweetheart (originally known as Vagiant), Sky Tigers and Nothing But Enemies at Sonia Facebook event page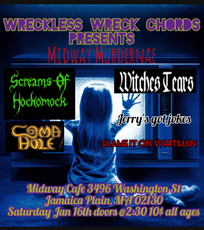 January 22 (Saturday) Lurid Purple Flowers, Verdegree, Motel Black, Elsa Kennedy at The Juingle Union Sq somerville
January 22 (Saturday) Kid Gulliver and The Chelsea Curve at The Plough & Stars - 10PM music
January 24 (Monday) Twelveyes with special guests Pigeon Man, Couch Sex, and No Gumption, at The Jungle in Somerville, MA. This is a FREE show, donations accepted.
January 28 (Friday) The Chelsea Curve Singles Scene Live! Nite #3: Chelsea Curve, The Shang Hi Los and DJ Sherman! This is an early show 5-8PM at The Jungle
February 5 (Saturday) The McGunks, Duck and Cover, Scotty Saints & The True Believers, Presidential Disgrace at The Midway - 3PM matinee show
February 5 (Saturday) The Jacklights at The Square Root.
February 19 (Saturday) The Nervous Eaters and Girl With a Hawk at the Burren. Facebook event page
February 19 (Saturday) Minibeast with The Royal Arctic Institute & Spall at Tiki Sun Studios Portland, ME. FB page.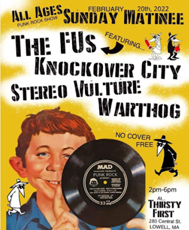 February 20, 2022 (Sunday) - Sunday Matinee with The FU's, Knockover City, Stereo Vulture, Warthog - 2-6PM - at Thirsty First in Lowell.
February 22, 2022 (Tuesday) JoJo Richman is at the Wilber Theater. FB event page
March 20, 2022 (Sunday) Verbal Assault, The FU's, Peace Test, Bullet Proof Backpack, Holy Hands at The Met in Pawtucket, RI - this is the rescheduled show from last September. All tickets will be honored for postponed show or refunds at point of purchase through 11.30.21 - FB page.
March 20, 2022 (Sunday) Henry Rollins at The Wilbur for his Good To See You tour. Tickets here https://thewilbur.com/artist/henry-rollins/
March 22, 2022 (Sunday) Henry Rollins: Good To See You 2022 at the Met in Pawtucket, RI FB page
March 31, 2022 (Thursday) The Parquet Courts are at the Royale. Tickets are here
April 22, 2022 (Thursday) Circle Jerks at the Paradise
May 24, 2022 (Tuesday) Reverend Horton Heat, The Koffin Kats, Sasquatch & The Sickabillys at Alchemy in Providence, RI. FB page.
CONTACT US AT....misslynbgn@yahoo.com Send us your gig listings, your anything else ya got!! You want your CD reviewed?? Contact us for that too.
---
---