Jaime Talia Interview
January 2021
Pleasant Village Records and Collectibles,
191 Pleasant St 2nd floor Marblehead MA
What type of music will folks find here? Eclectic, narrow focused, everything but the kitchen sink?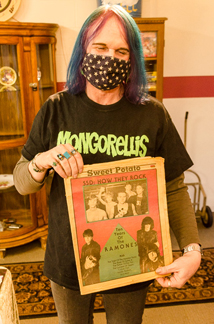 All types of music including punk, new wave, indie, alternative, classic rock, heavy metal, 60's psyche, oldies, doo wop, soul, funk, R&B, blues, reggae, ska, country, rockabilly, jazz, electronic, moog, experimental music, instrumental guitar, surf, easy listening, exotica, international, folk, classical.
Inventory is constantly growing I put out about 100 new titles a week so if you don't find something when you're here come back and hopefully you will the next time.
You also sell collectables here.
Yes! Pleasant Village Records and Collectibles isn't your ordinary record store there's lots more than just vinyl records. There's also CDs, cassette tapes.
But there's also DVDs, VHS, video games fanzines, magazines, books comic books, posters, T-shirts, stereo equipment, jewelry, watches, collectible toys, vintage clothing and nifty 50s stuff.
When did you start collecting other things?
I started collecting records when I was 15. And toys mostly sci-fi stuff, robots and tin space toys in the early 90's. Got into the antique business in 1997 when I started selling at flea markets.
You worked at a record store previously right?
Yeah, In Boston I would rummage through all the used record stores on a regular basis: In Your Ear, Looney Tunes, Second Coming, Planet, Nuggets, Cheapos and others.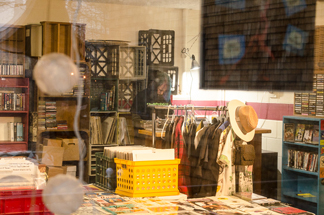 All the owners knew me and one day I overheard the owner of Mystery Train Records in Harvard Square say he was looking for a manager. I was out of work at the time and said I was interested. He said "when can you start? I said "Tomorrow!"
I worked there for seven years from 90 to 97. At that time I was thinking about opening a store of my own but rents were so expensive and CDs were taking over and eBay just started and many stores were closing and just selling online instead
How did you end up here in Pleasant Village? What attracted you to the space?
In 1997 I moved to the North Shore and started going to fleamarket's buying and selling and picking up lots of records hoping to someday open a store. I gave up looking thinking I'll never find an affordable space and I just stumbled across this location in Marblehead that I could afford. I felt it had potential being near to Salem with a big music scene and trendy people.
Perfect timing too! Because records have made a huge come back. The younger generation have discovered that vinyl is better sounding and more fun to own than a CD or a digital download I have had quite a few parents come in with their kids saying they just bought them a record player and they need some new records to listen to.
What was your introduction to music?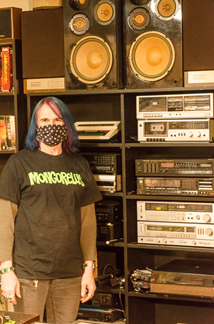 I grew up in a musical household my mother played, and taught, violin and I played clarinet saxophone, keyboards and harmonica. My parents had a small collection of about 100 records mostly classical and opera. But amongst them there were a few Beatles records including Yellow Submarine, Magical Mystery Tour and Sergeant Pepper. Those albums introduced me to rock 'n roll.
Wow so you ARE a musician! Have you ever been in a band?
Not really, only in High School. I was in a couple bands but never played out or recorded anything.
How come you never join a band?
I didn't have the time.
What was the first band you ever saw live?
My sister took me to my first concert to see Yes in 1980 and turned me onto this band called Queen. Then I wanted to hear more so I got myself a record player. I started going to record stores and buying classic rock and 60s music.
How did you find out about punk?
A friend of mine introduced me to this band called the Ramones and others like Elvis Costello, Talking Heads and The Sex Pistols. Then another friend introduced me to this band called The Damned and another friend turned me onto a band called The Stranglers. This just opened up a whole new world of music to me!!
What was the first punk record you ever bought?
The first punk record I ever bought was the Angry Samoans Back from Samoa then I started to buy any punk record that looked interesting.
You are a devout and active local music fan…how did that start?
I moved to Boston in 1984 to go to Wentworth Institute of Technology. There I discovered The Rat in Kenmore Square. One day while skateboarding there were some punks in front of The Rat and they started talking to me and invited me to their loft on Causeway Street and I started going to many shows with them at The Rat and The Channel and the Middle East, TT the Bears The Paradise and other venues. Back then I would record the shows on a cassette recorder nowadays I video tape the shows I go to on my iPhone
What was your first record you bought? And do you still have it?
I think it was Aerosmith Toys in the Attic. And yes I still have it!!
What are your thoughts about how the music scene will re-open once the pandemic is over and we are vaccinated?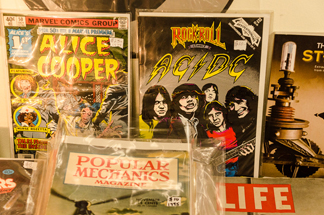 I think it'll bounce back in time new venues will open. Masks might be required or a positive vaccination card, temperature checks or both and probably limited number of people and they'll have to ventilate better and clean more thoroughly. And more outdoor events I'm sure will happen too.
Salem, and the north shore, have a very lively scene. Once this vaccine kicks in do you think we'll be seeing some in-store performances at your place - the Von Traps perhaps?
Hopefully when it's safe to congregate again I may have some small in-store live performances by local bands and a silent 8mm movie night.
So stop and by and check out the Northshore's newest record store. Support local small businesses.
Thanks hope to see ya !!
Now for some lists...........
What are you top 5 or 10 albums of all times?
I hate trying to answer this question too many to pick from Top one hundred might be easier, Lol
Can you give us your top 5 of 10 favorite local bands?
Again I hate answering this one because there's too many and I feel I insult others by leaving them out, it's hard to narrows it down to 10 but I'll try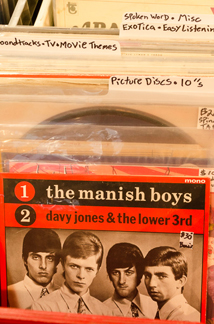 The Freeze
Showcase Showdown
La Peste
The Girls
Unnatural Axe
The Proletariat
The Real kids
DMZ
Hulabaloo
Cheater Slicks
The Bags
Bullet Lavolta
Last stand
Well there's 13, But there's so many more!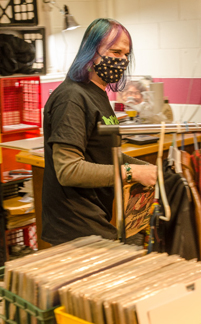 Any favorite music related books/movies etc
Well, for movies: Suburbia
Dogs in space
Rock n Roll High school
The Punk Singer Kathleen Hanna
Pussy Riot-A Punk Prayer
The Decline of Western Civilization
American Hardcore
Hated-GG Allin…
and Again there's many more
For books - I'm not much of a reader I mostly just look at the pictures I can't remember the books I have .. Except Man Enough to be a Woman autobiography of Wayne-Jayne County!!
STORE INFO:
Facebook Page: https://www.facebook.com/Pleasantvillagerecs/
Current Hours: Sat 11-6pm - Sunday-noon-6pm - Mon, Thur, Fri 1-6pm - Tue & Wed-closed
$$$$: Cash and paypal accepted