The Punk Gourmet
O'Sullivan's in Cambridge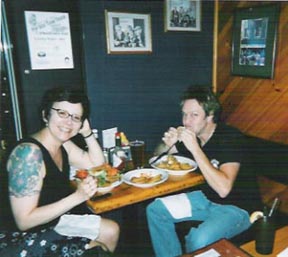 So I get a message from Jimmy Birmingham (formerly of The Real Kids); "Hey Miss Lyn, I just read your review of Bukowski's. I'm hungry! Let's go out eat!" "OK." I say, "Where do you wanna go?" "Let's go to Sully's!!" he answers.
He comes by and whisks me off to O'Sullivan's, 282 Beacon Street, Somerville. It's between Inman and Porter Squares.
"Their burgers are monsters! They're like giant meatballs on a bun. They don't' squish 'em down, they leave 'em round, and they take 20 minutes to cook!" Hmmm, makes me wonder if there'll be any veggies for me to eat. "But don't' get the fries with the burger. They're a potato cut in, like, 6 wedges. It's like eating a baked potato with a burger. Just doesn't go."
We get there and luckily it is NOT a game night and not a weekend night so it isn't too crowded. Our waitress tells us that on those nights it is packed. I have witnessed it too; my second visit was on a Saturday night. It WAS absolutely packed with a waiting line outside. You see there seems to be a Sully's burger cult. Understandably so, if you're into meat O' Sullivan's is the place to be. They do it well and they do it right!
The menu says "Don't let the neon lights and plain surroundings fool you, there is burger magic happiness at O'Sullivan's." They call 'em "Burgers to knock your socks off."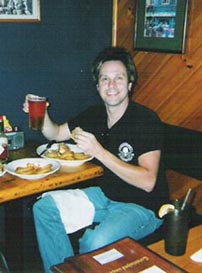 So I figure you get it by now….it's ALL about the burgers…it's all about MEAT.
Folks, this place is a MEAT palace. The burgers are sirloin, not your run-of-the-mill butt, nose and mystery gland ground beef. Mr. O'Sullivan, yes there really is one, goes shopping every morning for the day's victuals. So everything is fresh.
There are THIRTY ONE kinds of burgers including The Boursin, The Burrito, The Chinatown, The Black'n'Blue, Paddy O'Melt, The Mama (sliced tomato & mozzarella) and The Papa (same but with manly bacon!), The North Ender and The Cape Codder (avocado & Swiss…I don't' know what makes that a Cape Codder but anyway…) Jimmy gets The Blackjack, a Cajun burger.
There's also lots of other kinds of meat too: thick steaks, chicken, pork chops, tuna…all grilled. There was a veggie burger but I opted for the Grilled Veggie Platter and some onion rings to eat while waiting for Jimmy's 20-minute burger.
The Onion Rings were made with REAL onion rings and thick yummy batter. Jimmy's Blackjack burger looks small to me but "That's coz it's 2 inches thick, not flat", he explains. OK.
The Veggie Platter was huge! It's grilled onions, peppers, zucchini and tomatoes on a bed of iceberg lettuce, topped with grated carrots. Very good! But as fellow vegetarian Kiki Vegas said on my second visit: "It skeeves me coz I'm sure it's cooked on the very same grilled with all that meat." Yeah, it probably is, but I ate it anyway! It was delicious and it's actually enough for two meals! If you want the veggie plate bring mints with ya coz there's lots of onions!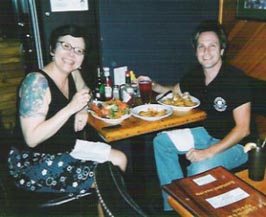 On my second visit I noticed a lot of people with this giant glass of what looked like Guinness with cream on top…I finally figured out it was The O Sullivan's Root Beer Float…it's a wonderful concoction of Olde Tyme Root Beer Liqueur, fresh(!) vanilla ice cream, seltzer water and whipped cream. WOW! It BIG, as is everything at O'Sullivan's, and it's cheap, just $3.95!! You must try it!
O'Sullivan's has been around since 1991 and definitely has a very loyal following. It is a small place with mostly group seating. Lots of neon beer signs, TV's to watch sports on…and it's loud and close but it's friendly with a very relaxed, neighborhood atmosphere. The prices are very reasonable and the portions are very generous.
If you go you'll need a car to get there since it's between Inman and Porter and is not on a bus route. But don't let that stop ya coz it's well worth a try!! You can call for times and directions: 617 492-7773.
---
home | interviews | photos | features |BGN issue list | reviews
links | contact us
Copyright © 2004 Paul Lovell. All rights reserved.