The Reddy Teddy Interview 7/2004
The principals in this email interview are:

John Morse - Vocals
Ted von Rosenvinge - Bass
Joe Marino - Drummer
Jeff Lock - Guitarist
The band has supplied a great history of the band
Click for History of Reddy Teddy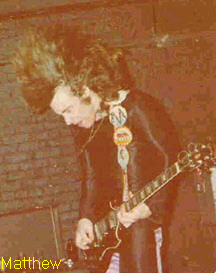 BGN-What/who precipitated this idea of a Reddy Teddy Reunion?
Ted - In 1990 a couple of years after Matt passed away, John, Joe and I got together to plan a CD but never got it rolling, due to busy lives. In late 2001, I contacted the family (his two brothers and two sisters) to discuss and get their "blessing" to move forward with the idea and found that they were enthusiastically in favor of it. John and I began what turned out to be a three year journey of collecting tapes, digitally archiving them at Erik Lindgren's Sounds Interesting Studio in Middleboro, MA and finally mastering a retrospective double CD of Reddy Teddy/Matt MacKenzie songs. The process has been fun and a lot of hard work. The reunion gig grew naturally out of the band working together during this period and together with the work Chuck White is doing with the Boston Rock n' Roll Museum. Joe Marino has been our inspirational leader for the gig.
BGN-What makes 2004 the time to do it?
Ted - We are all alive and kicking and overdue with this unfinished business. Also, we were trying to get the CD out around Matt's 50th (2002), but that's passed too. How does a 25th or 30th anniversary sound? Perhaps it took us a while just to put a little distance between the loss and action. Message to Matt:We are finally doing it!
BGN- I understand you are doing this with the involvement of the MacKenzie family. Tell us about that.
Ted - Matt's older brothers Mike and Mal joined us in the studio with a boxful of Matt's tapes for the archiving and all four siblings have been "with us" and very supportive during the whole process. They are all great people. Matt was the middle child and he was very much loved by his siblings, family and friends.
BGN-There's a lot a talent in this version of RT. I'm sure you're practicing a lot for this gig. Is that it? Will there be more gigs?
ALL - Thank you for the kind words. Why not more?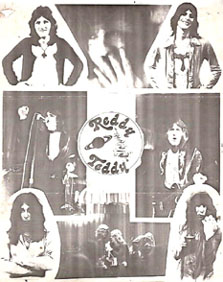 BGN-What recorded material of Reddy Teddy exists?
John Morse- There are studio recordings from Mercury - NY (demo in 72 and album in 74) Intermedia - Boston, Aengus - Framingham, Northern - Maynard, and the Record Plant - NY. The single was a remix done at Aengus from the (unreleased) Mercury album. In addition there are some live recordings from The Rat and other venues. All-in-all there are decent versions of about 40 songs.
BGN-You were in a weird place as punk came in and were lumped in with it. But you were much more traditional, more glam rock or something, pre-punk….still Reddy Teddy was one of the biggest draws in 77-78. What are your thoughts on that?
John - Based on feedback I got back then & in the years following - I would, humbly,attribute it to our collective stage presence & reputation as an exciting live band, developed over the years. Remember, we had been playing in and around Boston since 72. I don't think it really mattered to the fans what category we did or didn't fall in to, we knew how to put on a exciting show.
BGN- What do you think of the album after all these years?
Joe-The production was weak and it didn't capture the excitement of our 'live' sound
BGN- I'm surprised how WHO sounding it is. What do you think of that?
Joe- Not surprising at all - Matthew revered Townsend, and this is reflected in his songwriting.
BGN-You never got another record out…how come?
ALL -Six years is a long time - we ran out of steam.
BGN-In those early days you were active during the most interesting of the punk and pre-punk days….in 1971…what was it like? ...where were you playing?….what songs….covers?
Ted - in the early days we played a lot of early Rolling Stones R and B covers (Route 66, Mona, Down the Road Apiece, It's All Over Now, It's Not Easy, etc.), Bowie's "Suffragette City", "I'd Rather Go to Jail" by Mitch Ryder, TRex, early Who, Stooges (No Fun, Search and Destroy), Moby Grape mixed with the Matt's songs. We even did some obscure stuff like Captain Beefheart's "Grow Fins" and "Clik Clak". We played local colleges, private schools, Kenmore Square Clubs, high schools, town halls and in December 1972 at the Mercer Arts Center in NYC when we did the demo for Mercury.
BGN-In 1974 you put out GOO GOO Eyes, what were your thoughts of getting a record contract or having a record out?
John-We were in our early twenties and it was very exciting. Goo Goo Eyes & Novelty Shoes on Flexible records. It got a fair amount of aiplay on BCN & WBZFM and definitely helped get the name out as well as some gigs
Joe-It all seemed like a dream…your record on the radio as you drove around town, very heady stuff and we wanted more.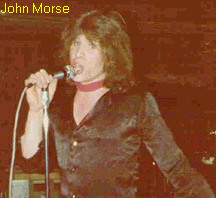 BGN-Was there much response 70-74?…enough to keep you going?
John-Absolutely, we were constantly busy.
BGN-When PUNK kicked in 1978 could you feel the difference? How did it effect your getting gigs? And Making money?
Joe: We loved the whole punk genre and joined forces and kept going. We were never music elitists. Matt loved it all and drank it all in and synthesized it into his songwriting.
BGN- As you come out to play now, you look around and see that the style of playing is changed? What do you think of what Punk has become?
Joe-It's all music……..gotta love a good melody no matter what.
BGN-What's your current favorites out there, musically?
Joe- I always listen and find great stuff all over. How about The Bellamy's? Luke, cool drummer and percussionist extraordinaire, Aaron, bass and top producer/engineer and Joe "Pepe", bass and esoteric philosopher. These guys are great, I love 'em.
BGN-DO you realize that people don't remember Reddy Teddy outside of us devotees??
John- Not surprising - it was 25-30 years ago.
Joe: Is it just alzhiemers? Then who are all the people coming to the Paradise reunion gig on July 14?
BGN-John, you're the one member of RT who has been there the whole time……
John-TRUE
BGN-I think a lot of people out there would like to know what are you doing now.
John - Still living in the area - raising a family - working in corporate at Tweeter Home Inc.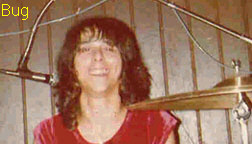 BGN-How much singing have you done through the years. In other bands?
John- Jeff and I were in a couple of bands together; The Features & The Stealers, in the late 70's and early 80's - doing both originals and covers and playing clubs & colleges. Ted was also in the last lineup of The Stealers. And mid 90's Jeff, Joe and I were in cover band, 'Route 66', doing parties, charity gigs, etc.
BGN-Your voice,John. How do we describe it?
Joe-John's voice is testosterone honey gravel and Matthew loved it and wrote for it.
BGN-Jeff Lock, its' been 27 years but I'm still upset you left the Atlantics.
Jeff-Thanks for still being upset. Playing in The Atlantics was a wonderful experience. We were young, we were good and I'll always remember it that way.
BGN-Fill us in on the last 27 years.
Jeff- The last 27 years....I continued to play music in various original and cover bands. As John meniotned we were in a band called the Features, with Boby Bear on drums. We opened for Robin Lane at Suffolk. Then we had The Stealers, including Ted in one version. I had at least three versions of UXB, one released a single and one released a two-song tape.
My last original band was Free Society. We released an eight-song tape. Some cover bands over the years were with John and Joe; many gigs were charity or fund raising shows. I was part of a duo that played all over Northern New England. I also worked with my friend Erik Lindgren on some projects.
BGN-Are you doing anything keep Matthews sound and tone?
Jeff- Matthew's own sound and tone is very personal. I am trying to be true to the spirit of the band, the music and Matthew as well as myself. It is great working with everyone in the Reddy Teddy. I thought they were a great band when I was in The Atlantics and always looked forward to our shows with them.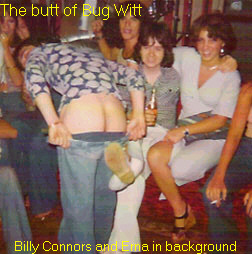 Joe -I speak for all of us when I say that we were very lucky to get Jeff Lock to agree to do this gig. He has had the hardest part in learning all our material and especially Matthew's parts. He is a pro's pro, an all around great person and friend, which is the way we have always worked. Friends first….and last. It's always been fun.
BGN- Kilsyth Manor was the Reddy Teddy house where all the band members lived and/or hung out together.. It was was legendary. We could sure tell some stories, how 'bout you guys?
ALL - What happened at Kilsyth stays at Kilsyth.
BGN- Whew! OK. Any stories/memories of Matthew to share will our viewers and us?
Ted - One thing that stands out during the first days of the band - Matt made us all feel like we could do anything. He was the real natural talent - but he elevated the game of those around him. Even after I left the band in 1973, he remained a loyal friend and I continued to admire his talents and be a big fan of Reddy Teddy.
Several years later, after the band broke up, during 1978 and 1979 I spent a fair amount of time with Matt as a soon to be single guy going through a divorce. He was always a great comfort with his sense of humor and upbeat spirit.
We would go down to the Winchester High School track together to burn off our mutual anxieties before we went out for the evening beer run. Matt would dutifully accompany me around once and then calmly sit down and smoke a cigarette while he watched me do the additional laps. We did some cassette recordings in his house with me on piano and Matt playing thru a pignose amp and singing.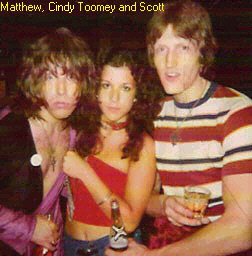 In the early 80's he gave me his most battered and probably most storied SG which I am having restored to playable condition as we speak. It became a bit of a parts guitar and backup for another more fortunate SG. It had been broken several times on stage and put back together by Wurlitzer's. This guitar was actually used in a manner to live up to the term "ax".
By the spring of 1980, Matt returned from working in New York, with Richard Lloyd, with a four song solo demo in hand, done at Bearsville studios in upstate New York. Except for drums and bass he played all the guitars, vocals and harmonies. Girl Watching, Here By My Side, Too Late and Affairs of the Heart were done in a couple of days during February 1980 and were never released. Girl Watching and Here By My Side are gems which only a few of us have been able to enjoy until now.
Joe- Matt was my friend to the end. I loved him and miss him badly. Matt and I laughed about everything and always found something funny in every situation. He was soooooo special. There are lots of Matthew stories and most are true. A toast………."to Matt, genius, friend, singer/songwriter, bandmate, thanks" How do we sound kid? Love, Joe, Ted, John, Scott, Bug and Jeff.
Our 1977 interview with Matthew MacKenzie - click here
---
home | interviews | photos | features |BGN issue list | reviews
links | contact us
Copyright © 2004 Paul Lovell. All rights reserved.