Rock & Roll Rumble Finals
Chelsea Curve, One Fall, Ruin The Night, Eddie Japan
Sonia, Cambridge, MA
Saturday, May 6, 2023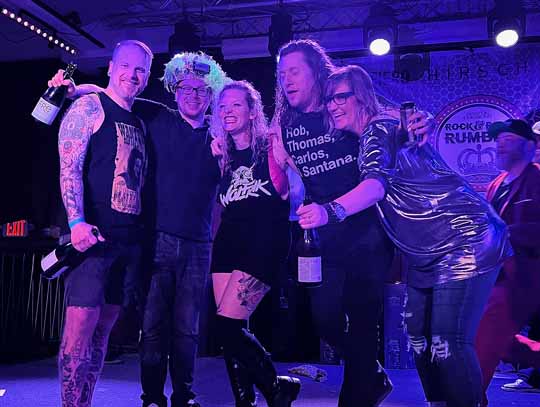 Rock & Roll Rumble Winners - One Fall
Well, there's a first time for everything, and for me, it was attending the long-running Rock and Roll Rumble finals put together by Boston Emissions. My attitude was always admittedly jaded as many of the past winners of the Rumble haven't gone any further in their careers and/or disbanded. Certainly the contest aspect always was rather biased and bogus, with politics sometimes getting in the way. But I suppose with the reassuring reemergence of local rock, rising from the ashes of Covid and post-Covid closures that continue to plague the scene, such reservations have dissolved and this event is much more a celebration of some of the most vital and exciting local live acts all bringing their A game to the stage tonight.
Anngelle Wood, our fearless leader of Boston Emissions, emceed wonderfully, and also put a raffle together to help raise funds.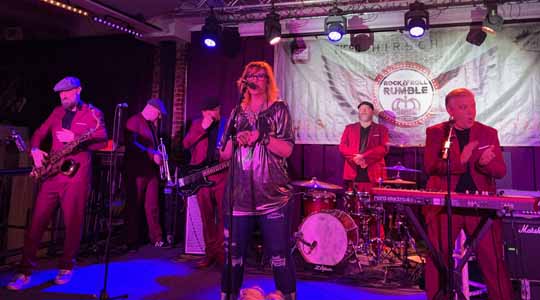 Ruin the Night with Anngelle Wood
The first act on was a soul/r&b inflected indie rock band Ruin the Night. Replete with horn and sax player, and some fine duds (they half-kiddingly bill themselves as Boston's ultimate Dad-bod band), they brought their brash, feel good style and verve out playing material from their new Sound the Alarm release (on Rum Bar records) and they certainly didn't ruin anybody's night!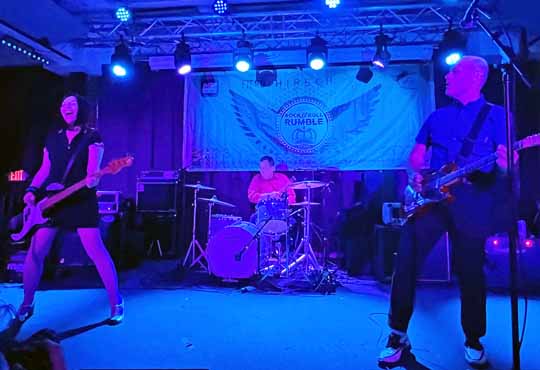 Chelsea Curve
Next up was Chelsea Curve, one of the biggest contenders thanks to relentless gigging (including a tour of England), super-tight, high energy songs and sharp promotional tactics (their "singles" shows showcasing a new song a gig). This trio of mod-rockers was firing on all pistons, with bassist/front woman Linda Pardee absolutely beaming with genuine excitement and drinking up the moment! Playing material on their excellent All the Things release (on Red on Red records), they also debuted new 'single' "How Can I Resist You" (to be released the following Tuesday) on stage and resistance was absolutely futile!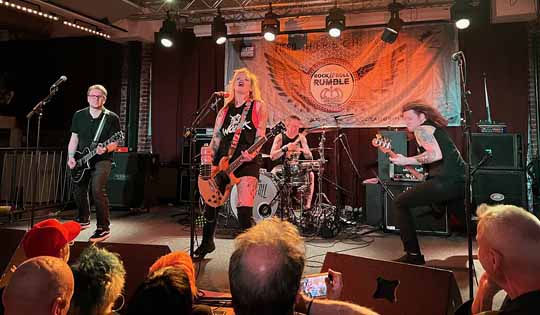 One Fall
Going from mod to melodic hard rock was third act One Fall. They hail from Salem, MA and though they seemed a tad mainstream old school rock sounding at times, they delivered enough edge, ferociousness and flamboyance to warrant the respect from the more underground oriented acts. Their originals like "Slingshot" and "Rats Abandon Ship" certainly packed a massive wallop and front woman/guitarist Helen McWilliams proved a formidable, charismatic presence. They ended their set with a hard driving, brisk rendition of Bruce Springsteen's "Born to Run", a feat not for the feint of heart!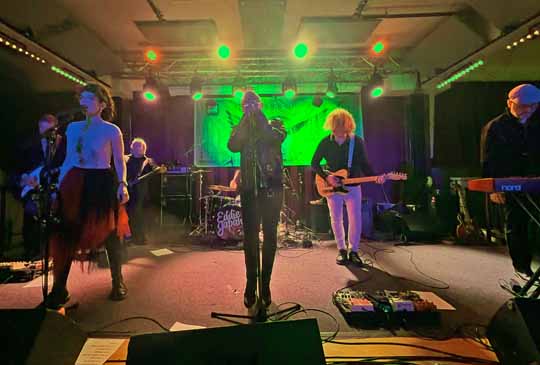 Eddie Japan
Last, and certainly not least, was a surprise appearance of Eddie Japan. These veteran winners of the Rumble bill themselves as cinematic rock and blasted through a set of their epics.
After the performances, with much deliberation from the judges, One Fall took the crown home! For Ruin the Night and Chelsea Curve, it's on to the next gig!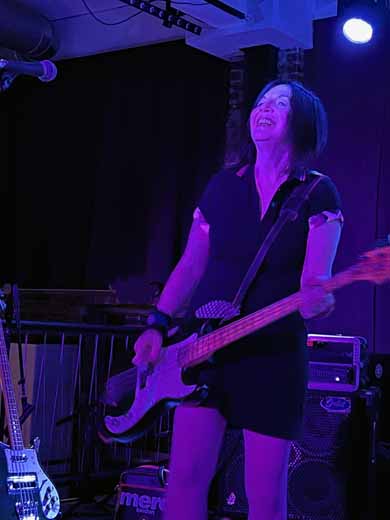 Linda Bean Pardee - Chelsea Curve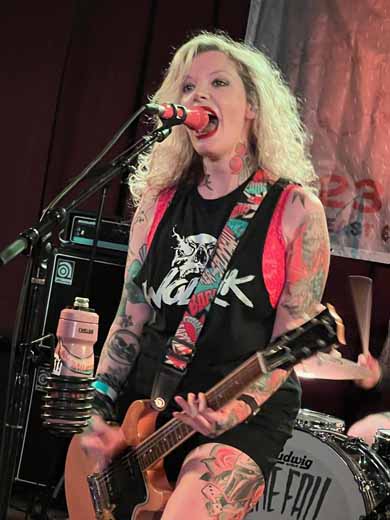 Helen McWilliams - One Fall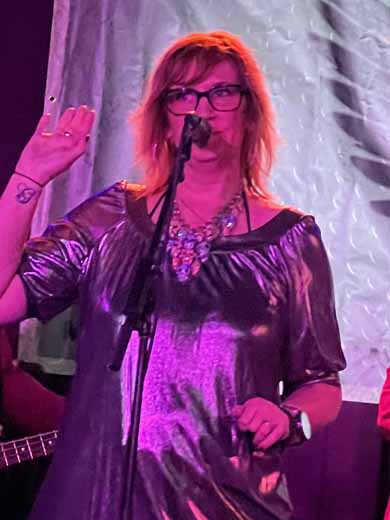 Anngelle Wood