Tiger Bomb, Glider, Fleshtones
The Magic Room, Norwood, MA
Saturday August 20, 2022
Chelsea Curve, Muck & The Mires, The Woggles
The Porch, Norwood, MA
Friday September 2, 2022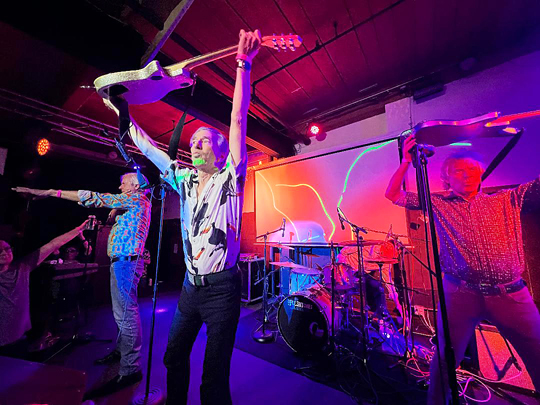 Fleshtones at the Magic Room
The heatwave may have ended and summer fading, but rock has really been heating up as of late. I got to see two legendary garage rockers blow the roof off the stage in two new venues. Both put on high energy shows with much stage shenanigans and audience baiting.

Magic Room, in the otherwise out of the way suburb of Norwood (where Boch Motors is located), is a sizable place, decked out with circus clowns, ghosts, and spooky, mysterious esoterica, that has been putting on some decent bills post-Covid.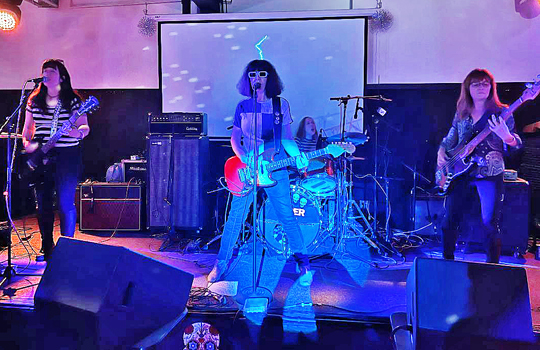 Tiger Bomb at the Magic Room
Openers Tiger Bomb (all female garage-rockers from Portland, ME) and GLiDER (all male garage-rockers from Boston, with yours truly on synth/keys!) got the party started, ably setting the tenor for the Fleshtones' set.
And what a beautiful noise these grizzled veterans made! Man, they put performers nearly half their ages to utter shame with their manic stage moves, enticing the crowd to emulate the spastic jumps and waving arms! Front man/guitarist Peter Zaremba and guitarist/keyboardist Keith Streng, charter members of the band, bring the spirit of those long gone NYC garage/punk days at CBGBs and Max's Kansas City (where the Fleshtones cut their collective teeth) as if they never disappeared.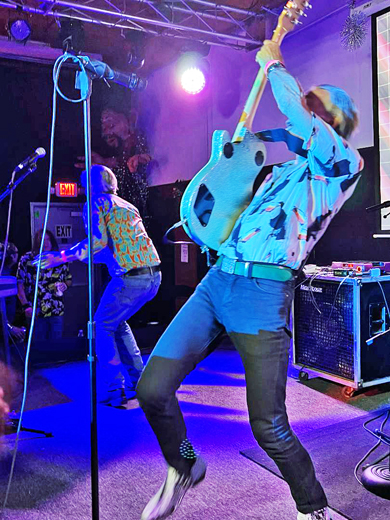 Fleshtones at the Magic Room
Relative newcomers Bill Milhizer (on bass) and Ken Fox (on drums) provided a solid rhythm section amid the club's projector displays of psychedelic fractal figures and lightning bolts as a backdrop adding to the excitement.
They whipped up their classics "American Beat" and "The Girl from Baltimore" and have a swagger and a slight obsession with Cramps-style B-grade horror in their recent song "Face of the Screaming Werewolf" which befits the Magic Room's decor. They are still a force to be reckoned with and their releases on Yep Rock records are worth picking up!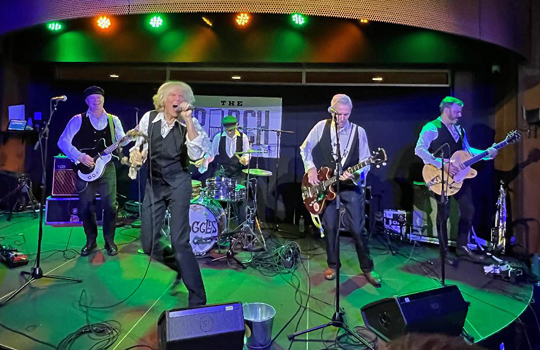 Woogles at The Porch
Two weeks later I had the privilege of seeing another legendary garage/punk practitioners, Atlanta's mighty combo The Woggles. Of all places, they were booked at one of the newer venues, The Parlor Southern Fare and Juke Joint in Medford, right off Rte. 16. This unlikely Southern BBQ restaurant is now hosting some cool rock billings!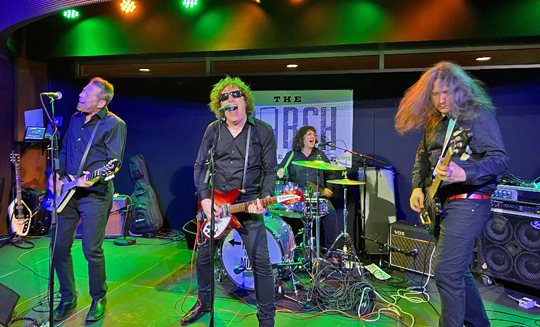 Muck and the Mires at The Porch

Opening was two of Boston's hardest gigging and exciting live bands The Chelsea Curve and Muck & the Mires.

The Chelsea Curve tore through their original mod-rock songs (with a cool cover) and Muck & The Mires just keeps dazzling with their solid garage rock chops and dynamic stage moves.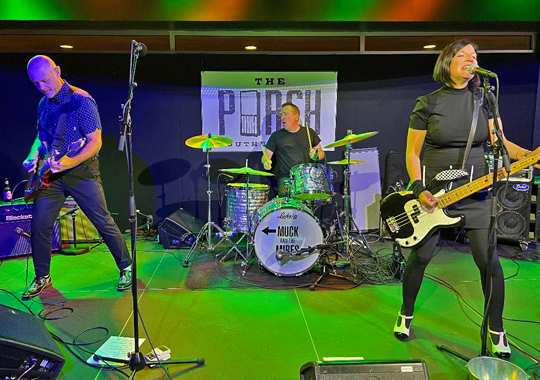 The Chelsea Curve at The Porch
Then The Woggles proceeded to show that their many years of riding the highs and lows of rock hasn't diminished these guys by even one iota of their power. In fact, they're more raucous than ever!
Their manic front man "The Professor" Mighty Manfred was swaggering, prowling, standing on the bar table, swinging the mic stand and mingling with the masses while slaying through their nuggets like "Got a Heat On," "Nothing More to Say" and "Please Leave My Mind."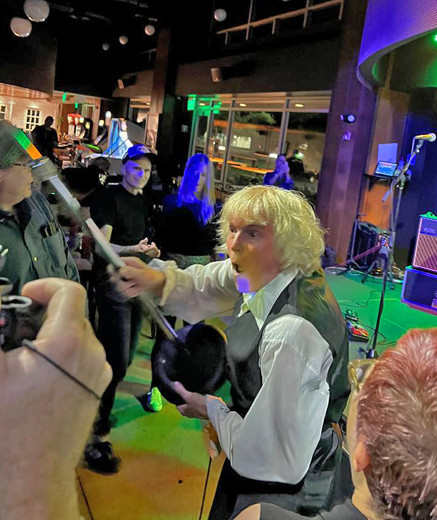 Woogles at The Porch
Guitarist/sax player Shane Pringle (who also writhed on the floor with his reed at one point!), guitarist Graham Day, bassist Buzz Hagstrom and drummer Dan Eletxro dazzled us with their high energy and spot-on '60s garage drive. Tonight couldn't have gotten Labor Day weekend off to a better start!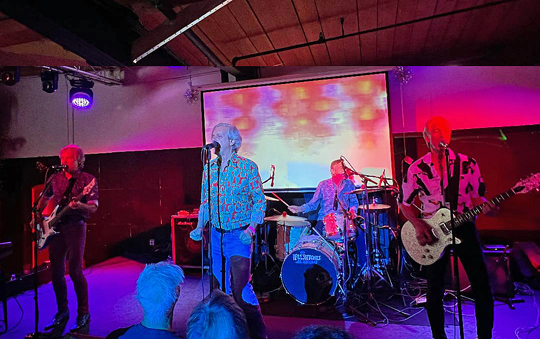 Fleshtones at the Magic Room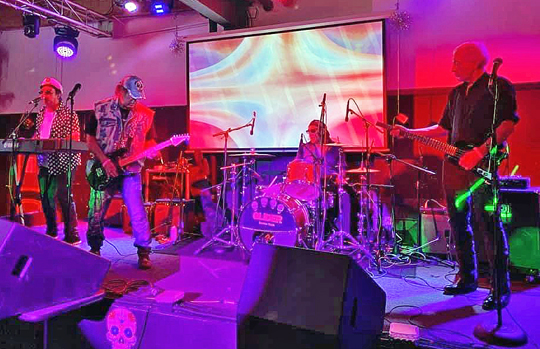 GLiDER at the Magic Room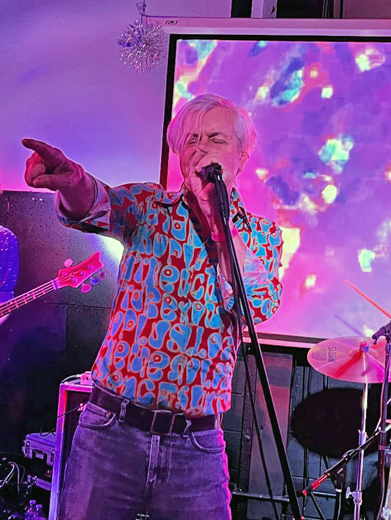 Peter Zaremba - Fleshtones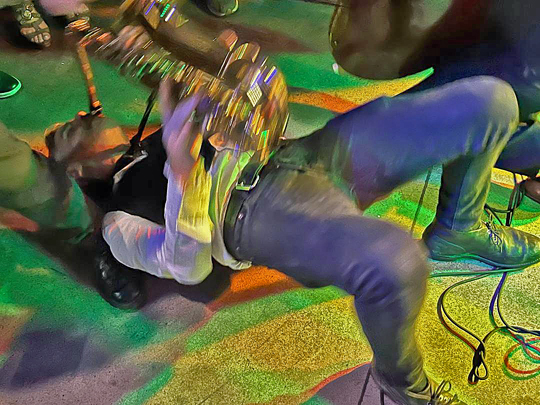 Shane Pringle - The Woggles