12th Annual Joe Zippo Memorial Show
The Promised End, The Outsiders, The USM, The Press, Razors in the Night
Sammy's Patio, Revere, MA
January 14, 2023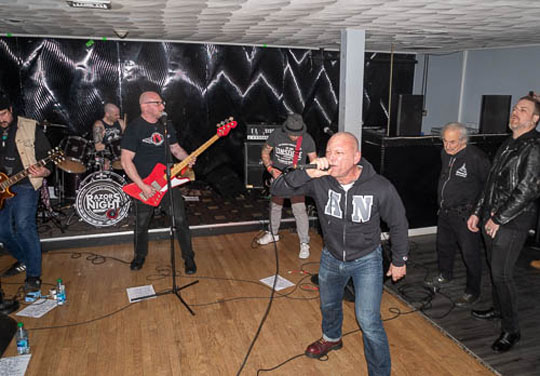 Razors in the Night
Joe Riot Osborne, the guitarist for Razors in the Night seemed to be the man behind the curtain for the 12th Annual Joe Zippo Memorial Show. He and, I suspect, a double handful of minions put together a kick-ass, punked-up, Oi-inspired smoker to raise funds for the Joe Zippo Memorial.
Sammy's Patio was an excellent spot for the show, they dig punk (and metal), they spin strong drinks, they have solid sound and Sammy's is an old school joint on an old school beach. I can't wait to catch some summer shows there. It looked like there were 100 plus black leathers and sweatshirts in attendance - good for the benefit. Alas, excellent food and drinks at Valsos around the corner from Sammy's caused me to miss The Promised End and The Outsiders.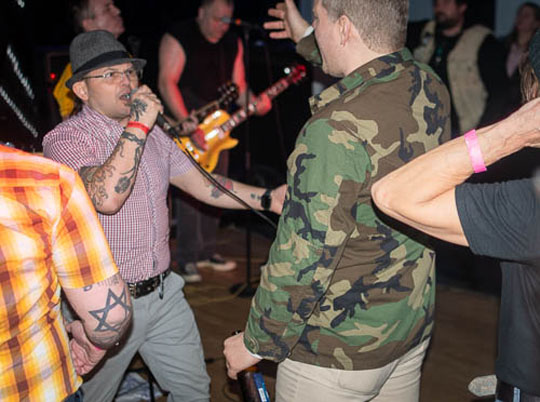 The USM
USM leader and long-time local punk Rocco Antonelli told me that he has spent a number of years in South Africa - where he said the punk scene was very strong - and that it had been years since USM played. You couldn't tell that from their set. Antonelli and Bob McGunk (of the McGunks) on lead guitar kept the riffage tight and catchy. The drummer was loony like Moon. He kept loose-limbed, blitzkrieg time, and you couldn't help but keep one eye on him. You could hear the singalong chants, hoisted beers, a bit of ska, and catchy punk songwriting chops on display big time.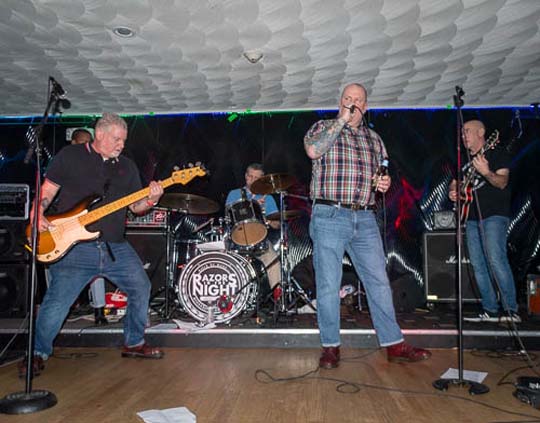 The Press
The Press has been around since 1984 and has been active again since 2017. Other than shows this past Friday night and this show, they hadn't played a gig in approximately ten years! Once again, the band showed little signs of rust and lived up to expectations. Hints of mid-period Clash with a healthy dose of ska and reggae add a dose of funk to their Oi punk. They use one of the late-set reggae numbers to squeeze out a fantastic, skankin', proper guitar solo - all the better for giving it room to breathe. A relatively new number, "Face in the Crowd" catches everyone's attention.

Razors in the Night - the scrum.
Razors in the Night shove the rockometer into the red. Lead singer Troy Schoeller hits the floor like a ripped and tatted Tasmanian Devil, clamps his choppers onto the crowd, whips them into a frenzy, and pulls them into a scrum. Razors are well-oiled and pumped up with high test. You can try to stand back but you can't escape the energy bouncing off the walls. Need to clean your clock? Catch Razors in the Night's next show.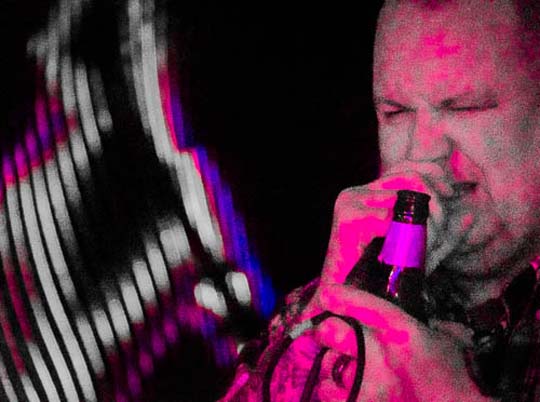 Scott Lyons - The Press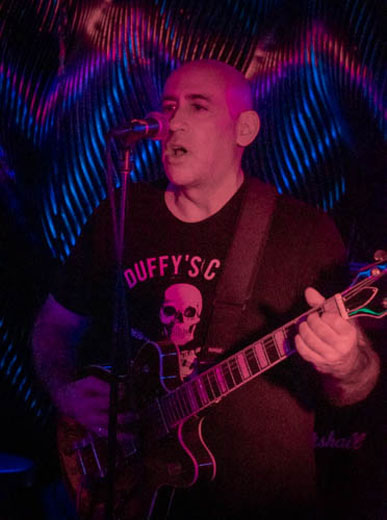 The Press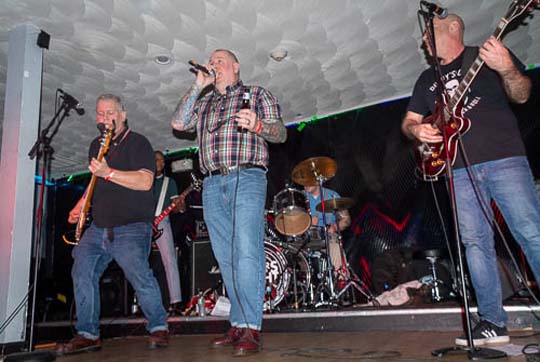 The Press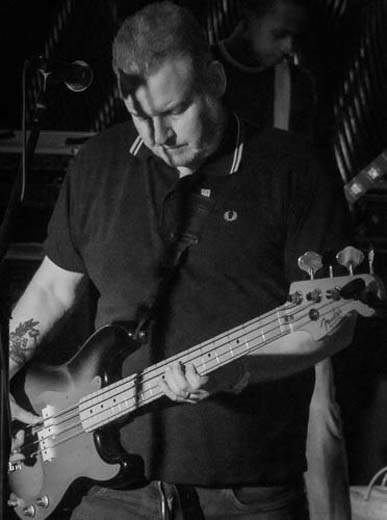 The Press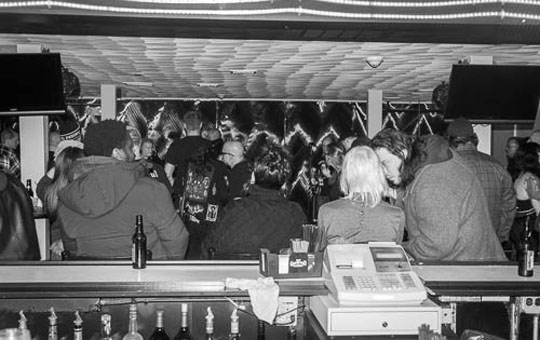 Sammy's Patio Crowd