Swans
Columbus Theater, Providence, RI
February 18, 2015
Review and photos by John Keegan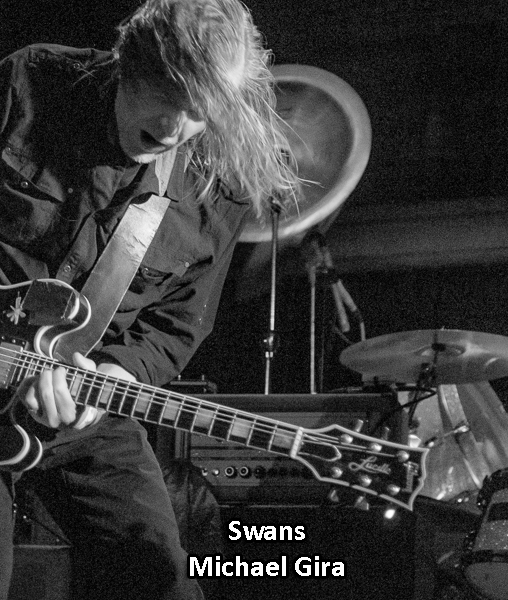 The kid said that "Swans never disappoint". If this show is any indication, he got it right. The songs of the Swans are monolithic. Graphed, their fractal patterns form a repeating histogram. Six songs. Six, three dimensional rectangles. A regression line moves through each and all from lower left to upper right, 0 to 11 on the Y and Z axis.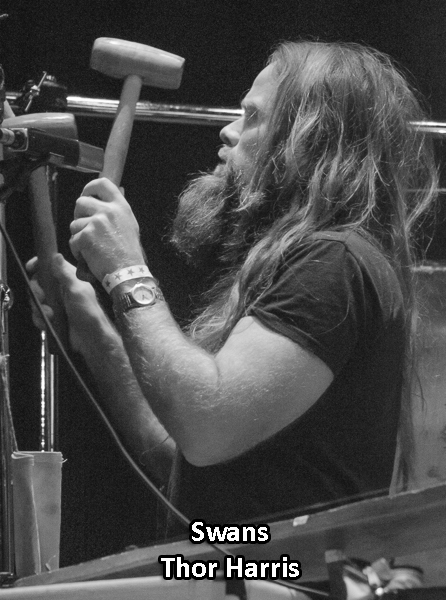 Thor Harris starts the walk on by tuning up his gong. The patterns ripple and shift, whisper and roil. Drummer Phil Puleo stands at his kit and whirls the sizzle of his cymbals into and out of the vibrations of the gong. Christoph Hahn annoys the pedal steel's strings. Norman Westberg's guitar punctuates time with color, squiggles and short perseverations. Chris Pravdica's low end is immense - you feel it in your teeth.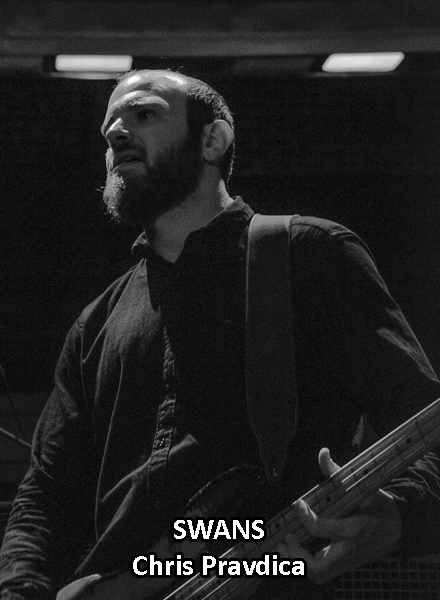 The individual instruments meld into soaring, looping rhythms. Incidental pastoral moments of less volume and less harsh vocals surge into post rock catharsis. Thor Harris' percussion contributions on hammered tubular bells, twisted dulcimer and roaring trombone are clear and substantial in the din. Michael Gira grand marshals the Cloud of Unknowing swirl with his rhythm guitar and almost lilting vocal. He cues the changes with a nod, a mute count off or a jab of his Les Paul. The songs' arcing sectional improvisations don't sweat the move from A to B. Finally, at C, a huge bass riff collects the congregants. Thor layers in an electric violin. Gira orchestrates a squall of crescendo - everyone at cross purposes - held together by the gargantuan bass line, the ranting vocal and Gira's omniscient third eye.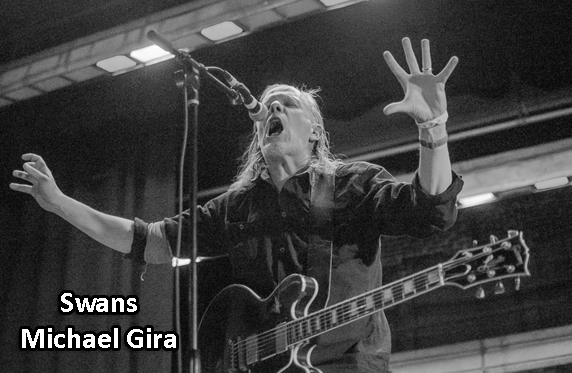 Gira had called the crowd to his revival tent out behind the abattoir. He insisted they come forward to the pulpit. The woozy steel patterns establish Just a Little Boy (for Chester Barnett). Its wayward spikes and Gira's incantatory talk sing draw the stragglers through the tent flap. Come to communion. Put this on your tongue. Breathe. Turn out the lights. Ride the sound. Take the blue bus. I Forget grinds to a cymbal heavy conclusion.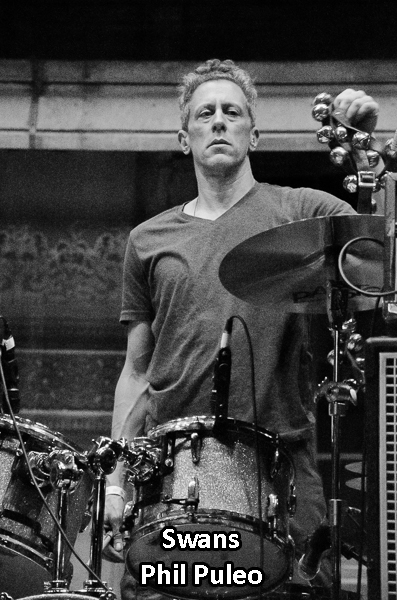 Gira bleats out his lyrics at the heart of a cyclone of sound. His eyelids flicker. His guitar hangs limp from his shoulder. His arms flap slowly. His hands flicker in the half-light. He reaches into a box full of agitated, venomous music snakes. He pulls them from the box and holds them up for adoration. They slither along his arms and neck and slip into and out of his eyes.