Jon Langford
Atwood's, Cambridge, MA
February 27, 2017
Night Demon & Anvil
Great Scott, Allston, MA
March 2, 2017
Club Linehan A Go Go,
Greg Allen's Fringe Religion,
Tsunami of Sound
The C Note, Hull, MA
March 3, 2017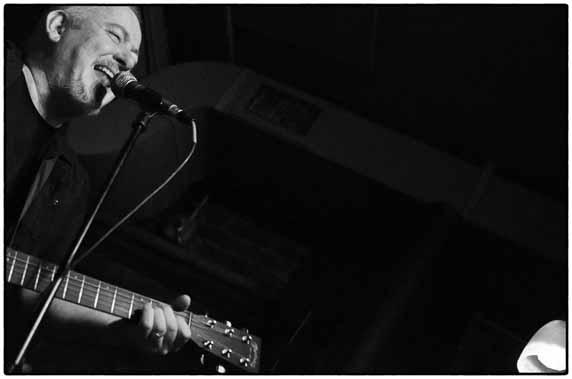 Jon Langford

Jon Langford of Mekons, Porn Orchard, The Waco Brothers, and Three Johns' fame dropped into Atwoods for an acoustic retrospective of his copious output. His straight forward guitar work propels the songs. The solo format puts the focus on his always interesting lyrics. He a Welsh troubadour - witty, engaging and insightful.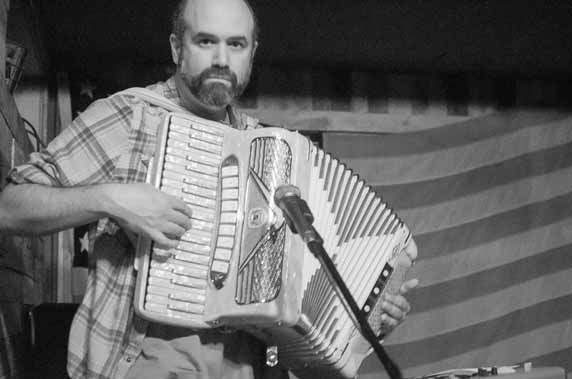 Josh Kantor
He moves between populist rabble rousing and personal politics, from historical balladry to the myth of rock'n roll and on to more recent absurdities. His stories about the meaning and writing of songs are a riot. The full house crowd is instantly in his thrall. Josh Kantor - the man responsible for the tidbits of cool tunes you hear pop up at Fenway - joins Langford on keys and accordion to fill out the sound and solos for the second set.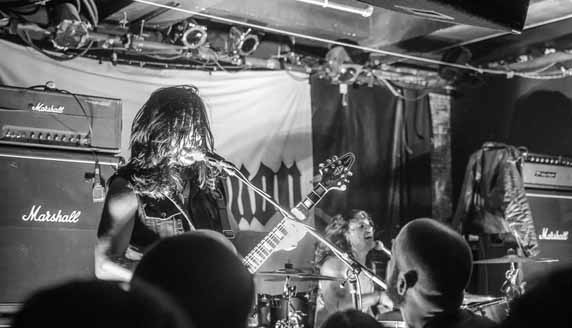 Night Demon
I walk into Great Scott just as Night Demon crush a new tune. The Ventura, California boys wear there NWOBHM on their denim sleeves. Dusty Squires keeps the drums clean and quick on a single kick. Armand John Anthony's riffs crunch and his shot, hot solos make all the right noises. Jarvis Leatherby's vocals won't shatter glass but they celebrate the Heavy Metal Heat and some damn catchy Full Speed Ahead doom and gloom. They even drag out bit of taped thunder storm and a thrift store, bar band second cousin twice removed Eddie.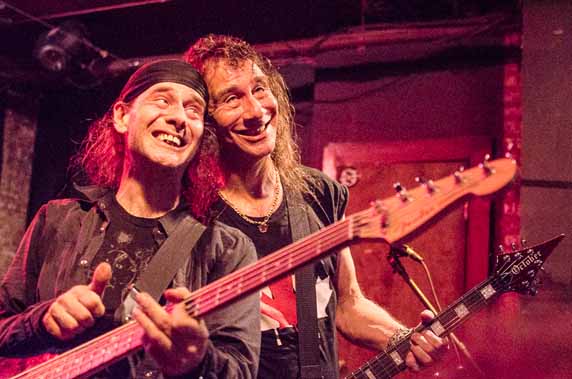 Anvil
The can't win for losing boys in Anvil proved once again that, like Rodney Dangerfield, they deserve way more respect. Newish bassist Cliff Robertson can play big or busy with a clean low end theory. He's got a goofball rubber face and makes it clear and contagious that there ain't no place he'd rather be. Lips told a few good stories - one in which Lemmy told them they "played good but there's too much hard stuff".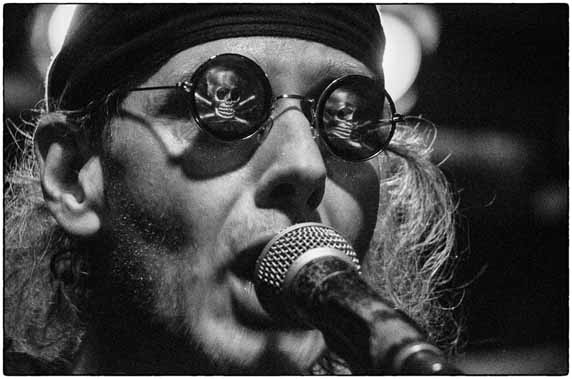 Chris Robertson - Anvil
These three guys don't lumber along. Most of the tunes hurtle through a respectable, but story of their life less than full room of hyper lurching leather. Drummer Robb Reiner double kicks his way into metal heaven and manages to keep most people from hitting the can during the Swing Time drum solo. March of the Crabs, Winged Assassin, This is Thirteen, Daggers and Rum - the only tune from the decent new disk Anvil is Anvil - Die for a Lie takes the piss out of organized religion and the anthemic Metal on Metal keep heads bangin'.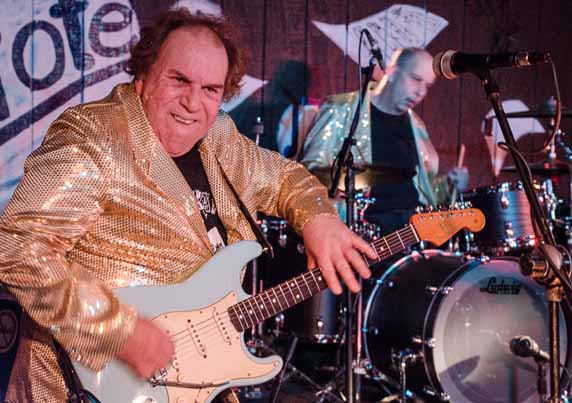 Tsunami of Sound
Friday night and it's way cold down by the seaside in Hull. Tsunami of Sound have the Willys and the boards but outside the temp doesn't favor the perfect wave. It's a different story inside the C Note. Tsunami's precision riffage and tiki fire pots raise the temperature at the ghost of the old amusement park. I can feel the sand under my feet. The sun is shining. Mr. Moto is a carney.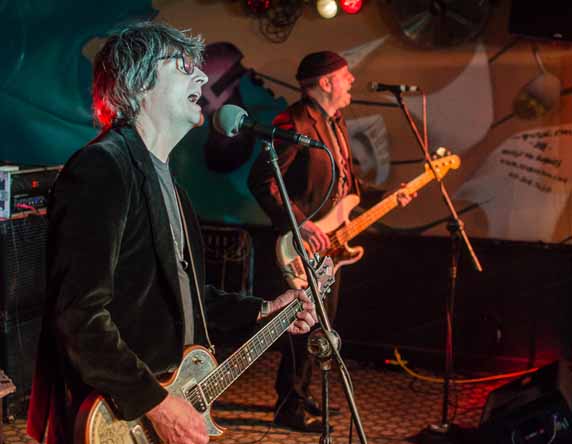 Greg Allen's Fringe Religion
Please turn to page 59 in your hymnals...
Greg Allen's Fringe Religion has had some changes in the flock. They're down to three apostles. The reformation puts the focus on Allen's Ninety-five theses pop punk musings and guitar playing. No need to throw this out with the gnostic bibles, the word is still strong.
The first five commandments to come out of Allen's white strat laid down the praise for the rock. It was bass player Greg Steinbaugh's first mass and he and drummer Jeff Bandli looked good in robes and kept the choir right in line.

Conflict of interest laws keep me from saying much about Club Linehan A Go Go so I'll leave that to the Kenne. At the end of it all, Mike Weddle kept a rotating assortment of CLAGGites and Fringettes up for a short, impromptu jam. A bit of messy fun with Tobacco Road, some Kinks, and a Two Headed Dog thrown into the blender. I could stand to see bands do a bit more of it.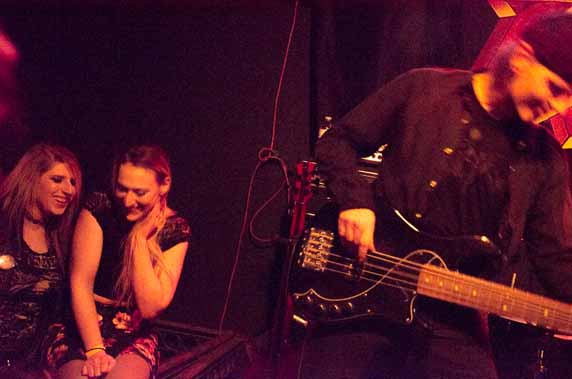 Anvil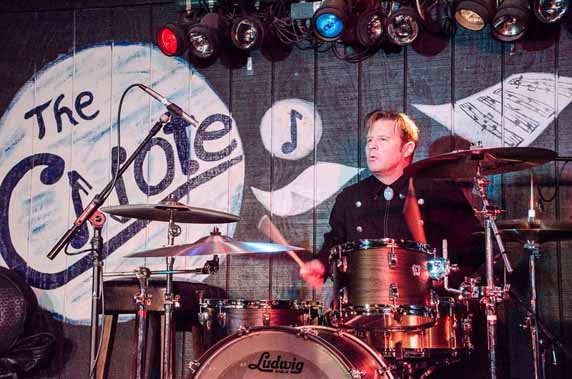 Jeff Brandli - Greg Allen's Fringe Religion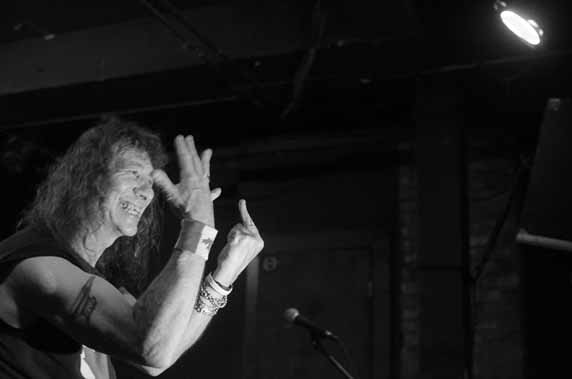 Lips - Anvil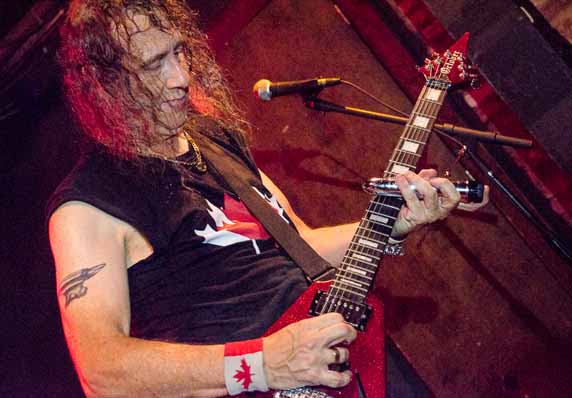 Lips with, ahem...slide.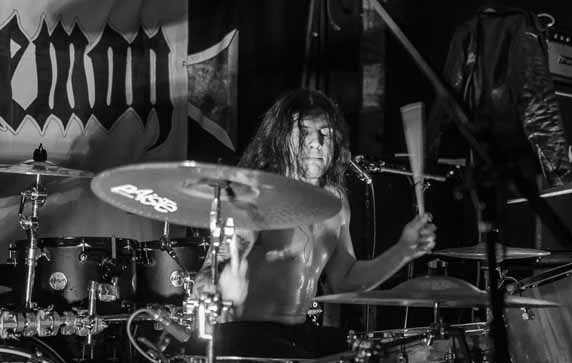 Night Demon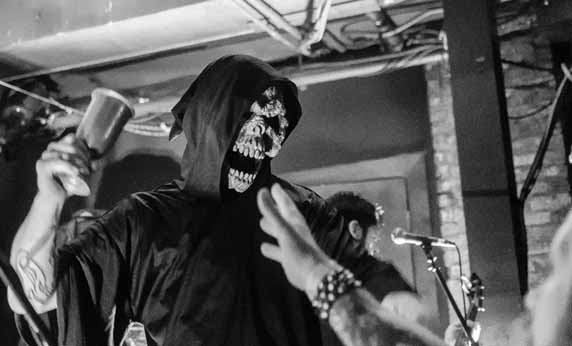 Night Demon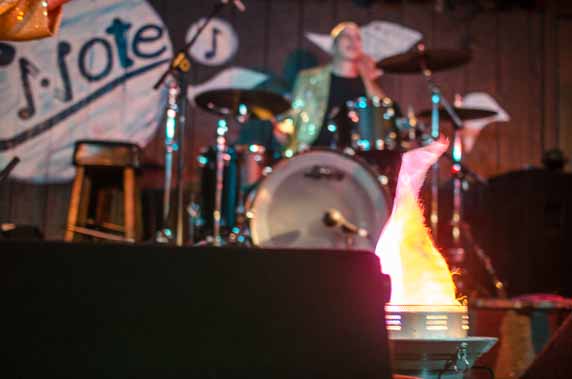 Rick Sanger - Tsunami of Sound