Fedavees, Prefab Messiahs
The Barbazons (Fagettes), Secret Lover
ME Up, 03/19/15
Pop Gun, Fireking, The Thigh Scrapers
Church, 03/20/15
The Above, Watts, The Dents, Muck and the Mires
Midway, 03/21/15
Review and photos by John Keegan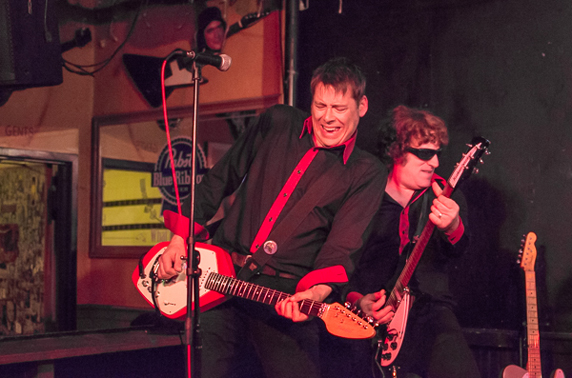 Muck and the Mires
Ra Ra Rock bands
Have you any thrills
Yes sir, yes sir
Three nights full
One for the psychsters
And one for the punks
And one for the popsters
Who shake it to the thump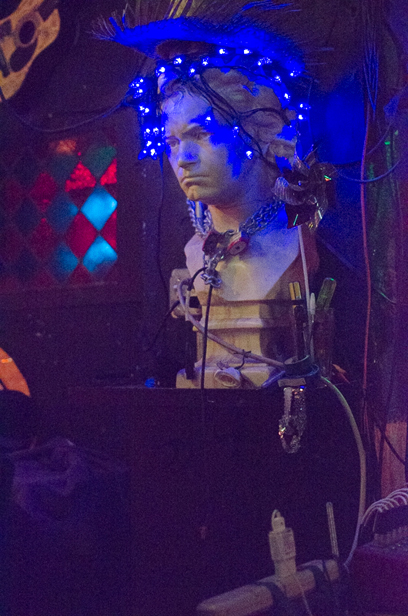 Midway
03/19/15
The ME Up is just about full. The light show folks rough up the Mac, twist images and dip shit in plates of boiling oil. They create an atmosphere. To paraphrase the Fedavees lead singer their sound is basically psych with chorus and a bit of pop thrown in. Sounds about right. A little Dave Brock in the vocals. Flanges, echo and delay. No synths, no whizzes no pings. Good start to a Thursday night.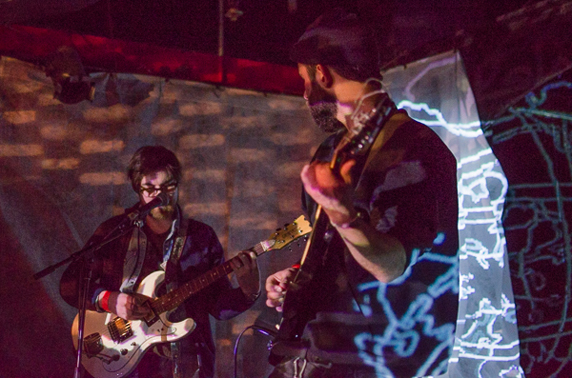 Fedavees
The Barbazons (formerly Fagettes – see their FB page for that story) drop the psych quotient and hit the crowd with a dance inducing double drum kit, big chorus, early eighties party hardy nod and wink. His and her vocals and a real stand up drummer push the beat. There are twin guitars and a one-off bit of saxophone. A little party hear, a little party there. Fun, Fun, Fun.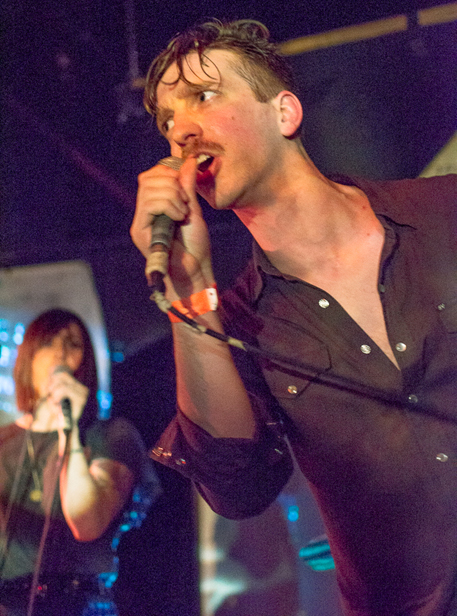 The Barbazons
Prefab Messiahs bring back the lysergic. They do a couple of quick hits and then play through their new Keep Your Stupid Dreams Alive EP. Live, it psych rocks hard. They kick off with the ragafied SsydarthuR. Weirdoz Everywhere turns up the temperature with its big riff and self-referential chorus. They bash through Kris Thompson's great bass line, space rockin' paean College Radio . The place is swirling and that's just side one.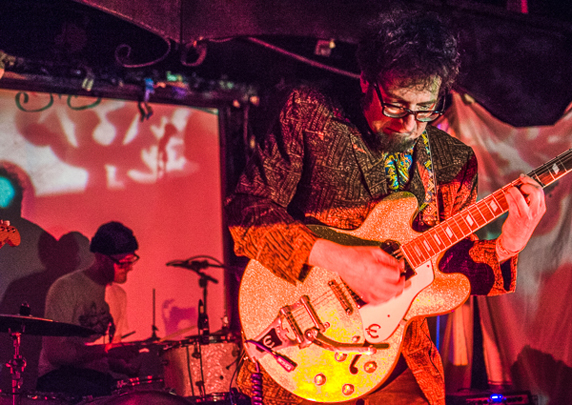 Prefab Messiahs

Secret Lover wrap it up. They're an interesting crew with a wildly effusive lead singer in Sally Horowitz . She notes that she doesn't have the greatest rhythm but that she tries. In the end, she and the band sync up their chanteuse Indy and win you over to her dervish ways – especially with add-on encore tune Rubber .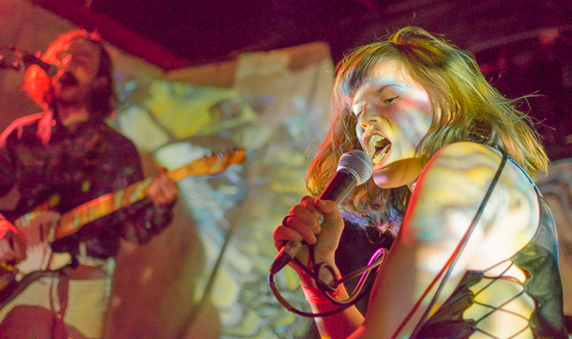 Secret Lover
03/20/15 Church.
The crowd is a tad small. Maybe it's a case of overblown snow paranoia. This is New England folks. Anyway, missed Andy Pratt and Jon Powhida's Regional (solo) Airport . Pop Gun are a crunchy trio tonight. Jim Melanson kicks up some sand on his recently refurbished blue Telecaster. Harry Zarkades barks out the lyrics and bass lines of the hard rockin' tunes from the band's fine American Soul disk. Drummer Greg Walsh keeps rough-shod discipline and adds solid backing vocals.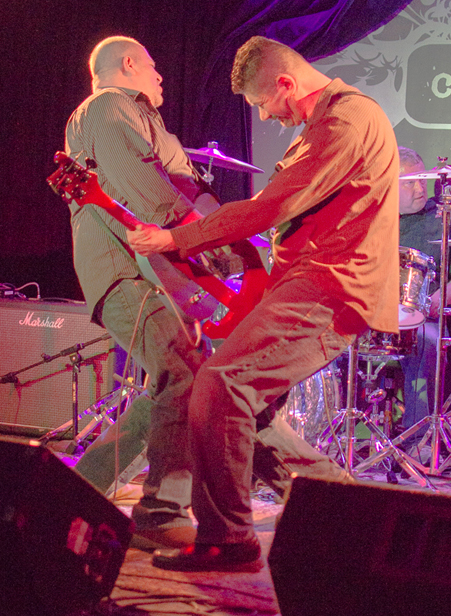 Pop Gun
Fireking impress. They keep the solos to a tight minimum and focus on the tunes. Maybe it's the t shirt but there is a bit of that glammy Bolan warble in Tony Kaczynski's vocal when he goes for the cheap seats. They slow things down for a couple of numbers and the change up highlights the bands pop smart lyrics. Smitt E. Smitty , in a dapper maroon fez and drum stick, has the look and the beat. They have a new disk, Double Trouble , just out.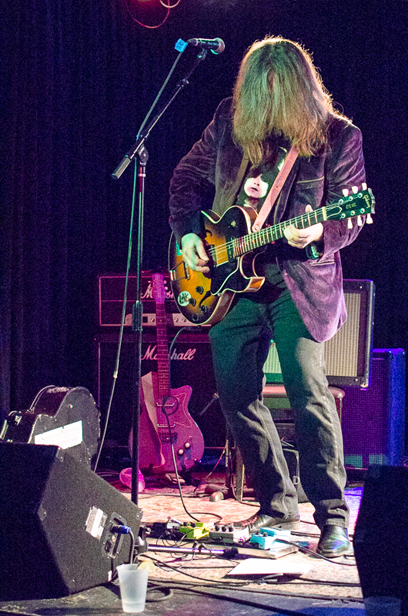 Fireking
The Thigh Scrapers sound great - dirty and dollsy. The double kick is big in Church's small vestibule. The cover selections are decent. Singer Brian Young looked cool in cowboy but he picked an off night Johnny Thunders to emulate.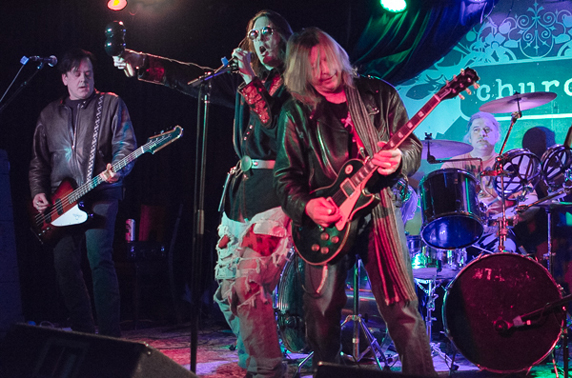 Thigh Scrappers
03/21/15 Midway
The Above . Pissah Beatlesque with hot songs, sweat harmonies and a killer rhythm section. Watts. Air guitar inducing hard rock pissah. The Dents . Take one more spin with the wicked pissah pop punk rockin' riot grls. Muck and the Mires. So pissah that people did the crazy dance all night long. Plus the pissah perspicacity laid out elsewhere by Senor Blowfish.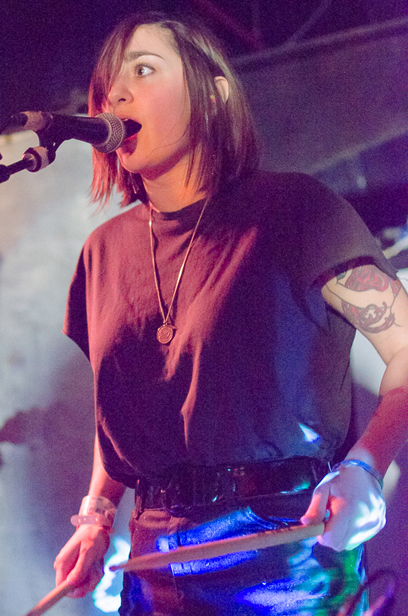 The Barbazons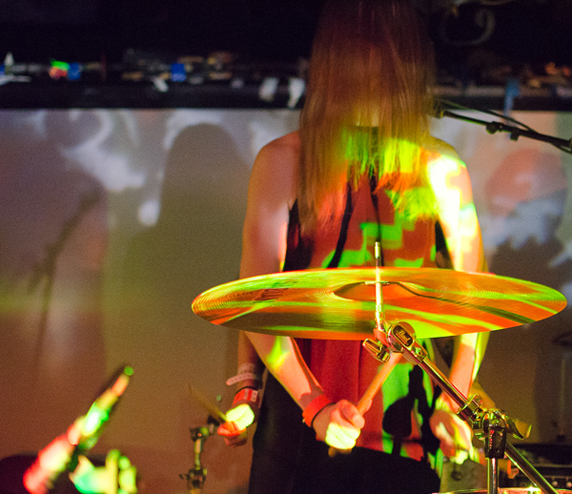 The Barbazons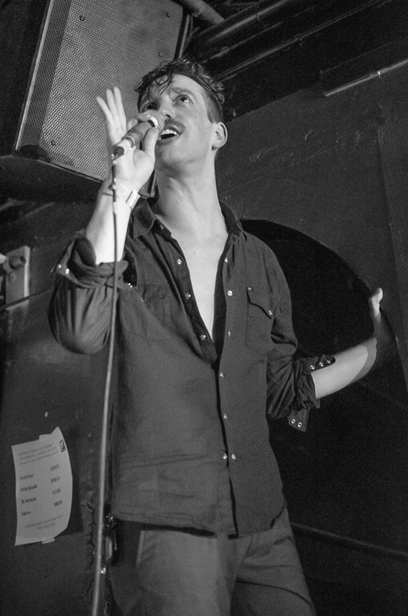 The Barbazons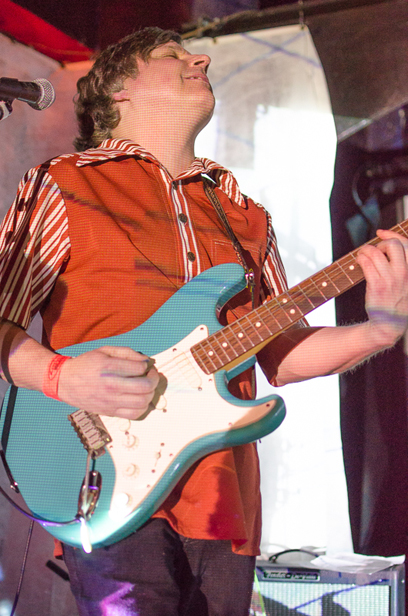 Prefab Messiahs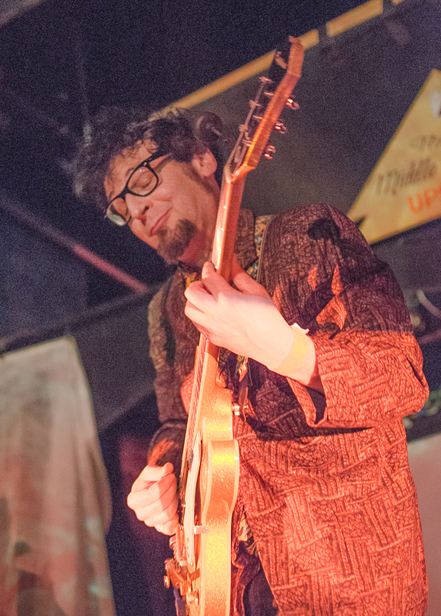 Prefab Messiahs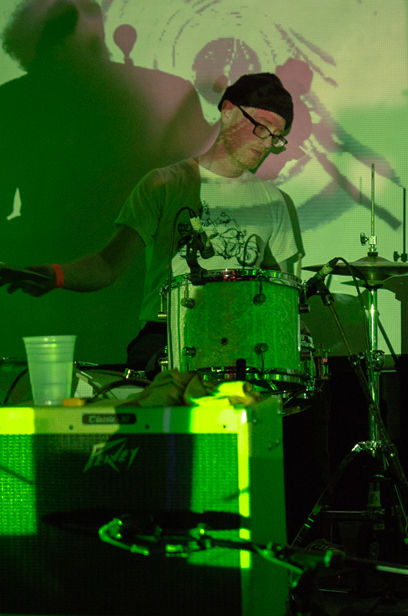 Prefab Messiahs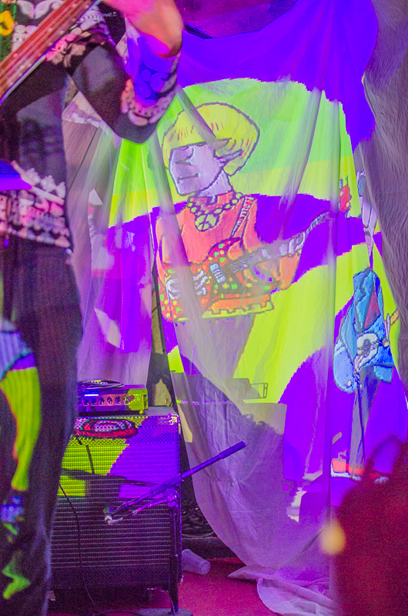 Prefab Messiahs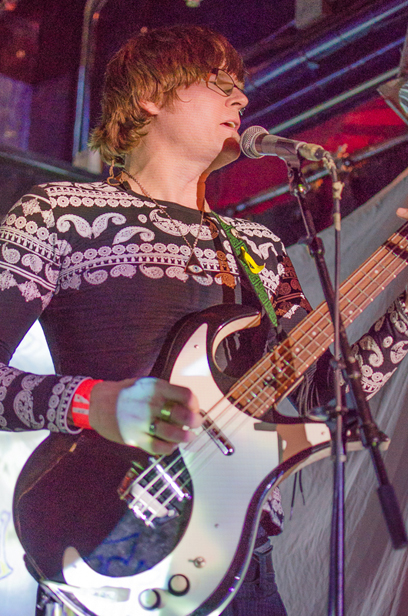 Prefab Messiahs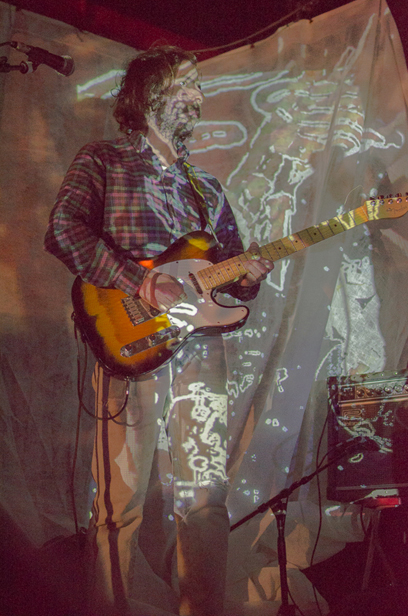 Secret Lover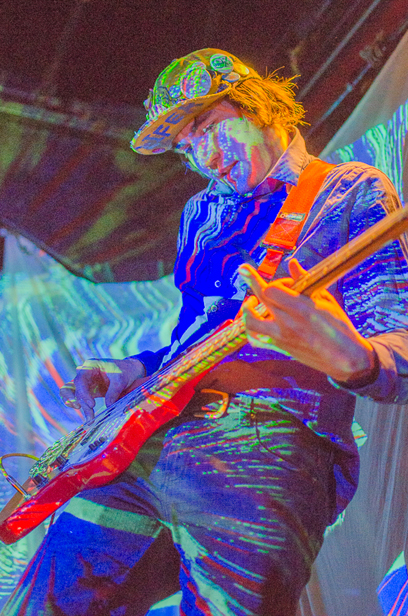 Secret Lover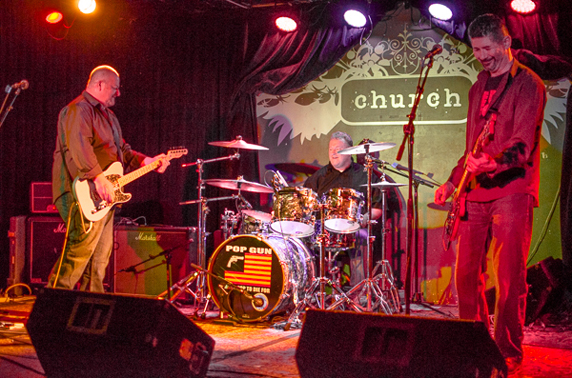 Pop Gun
Pop Gun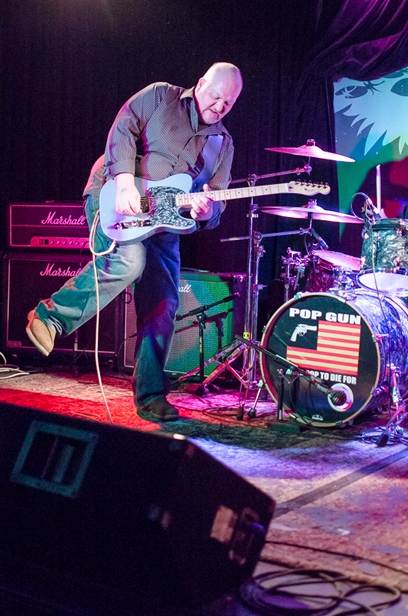 Pop Gun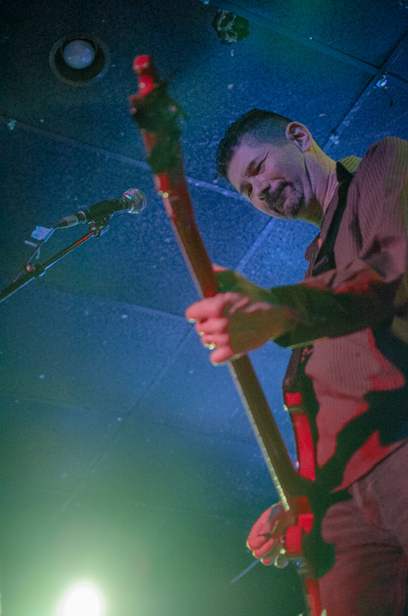 Pop Gun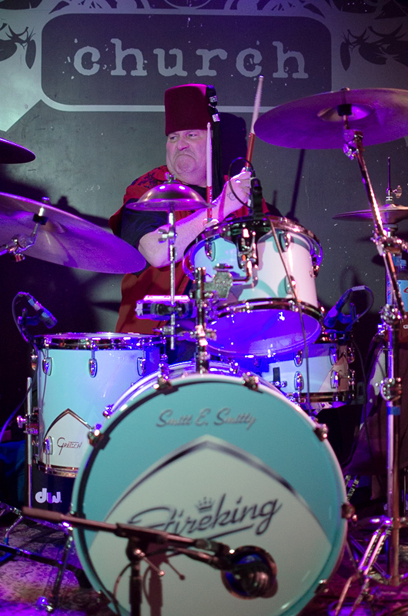 Fireking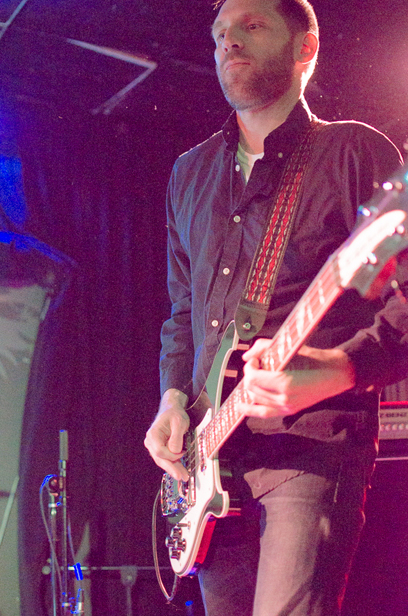 Fireking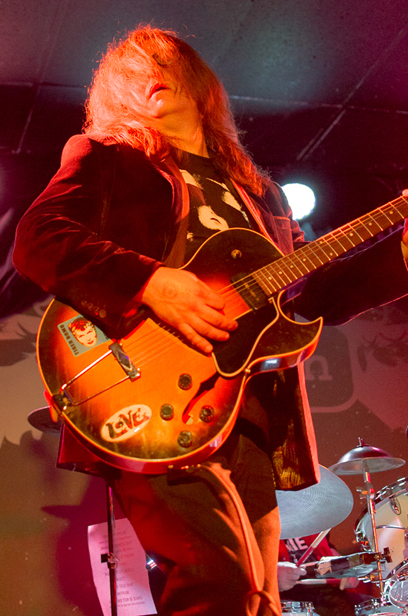 Fireking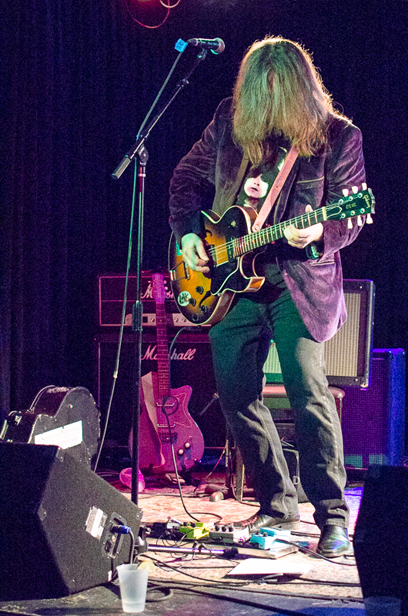 Fireking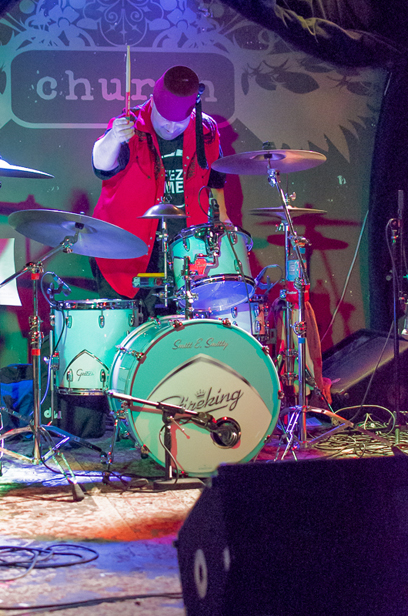 Fireking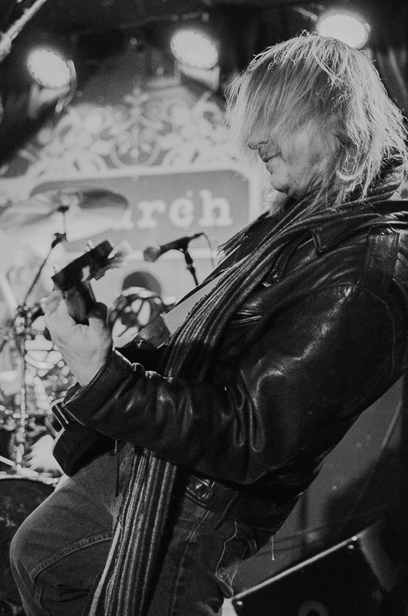 Thigh Scrappers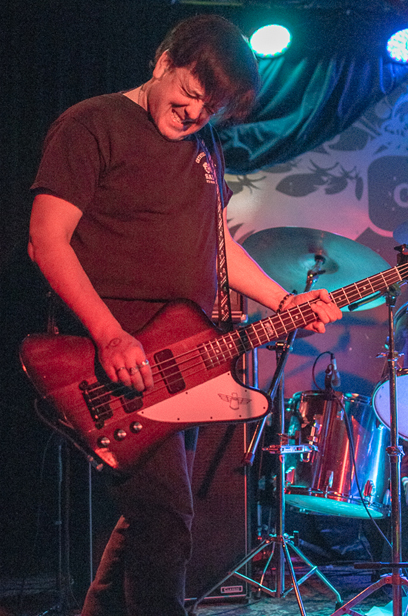 Thigh Scrappers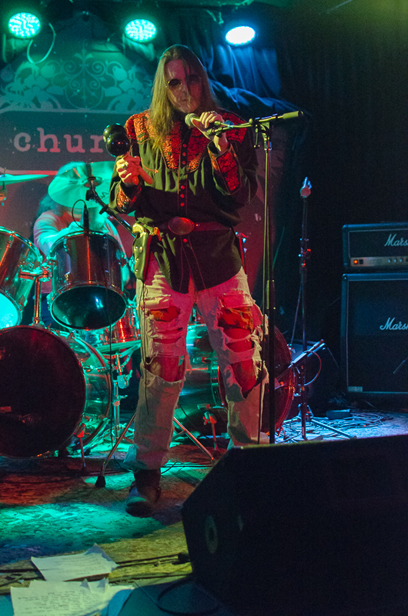 Thigh Scrappers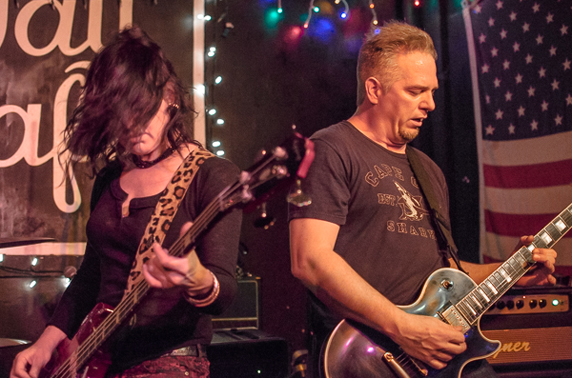 Dents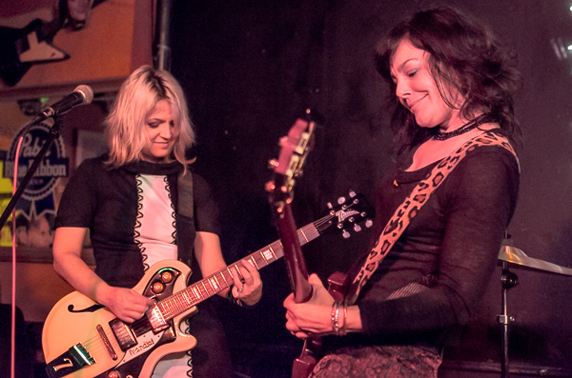 Dents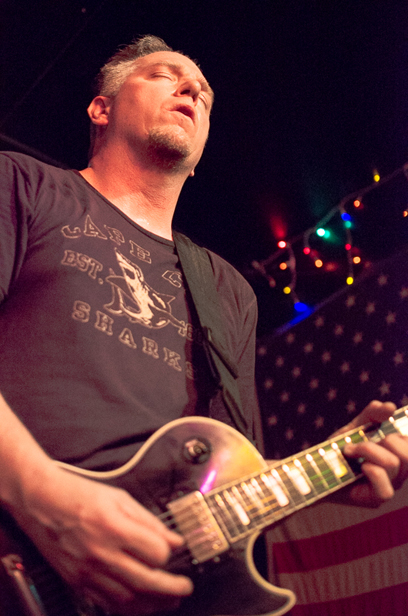 The Dents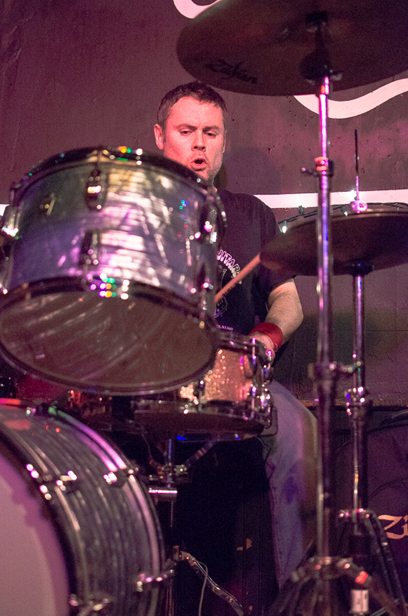 The Dents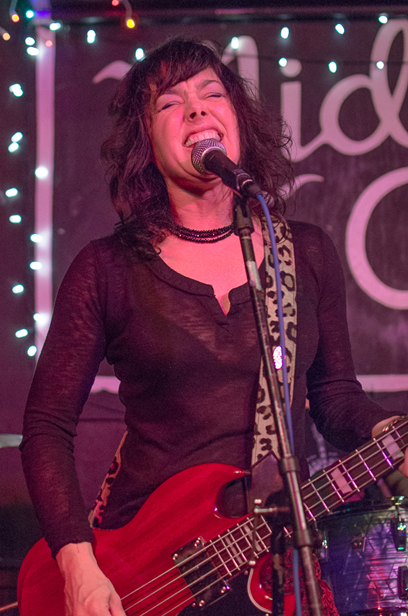 The Dents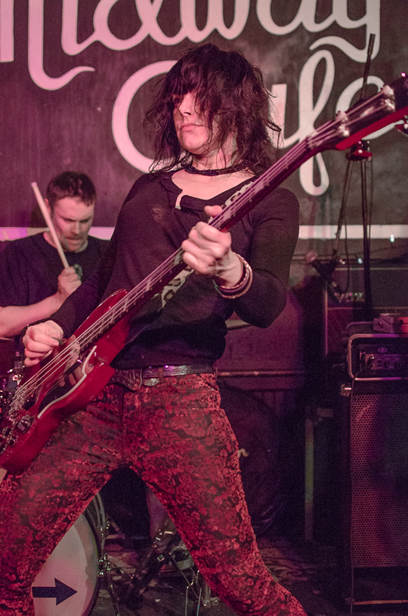 The Dents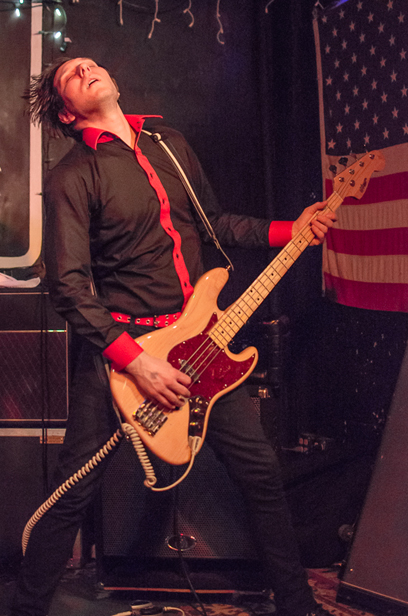 Muck and the Mires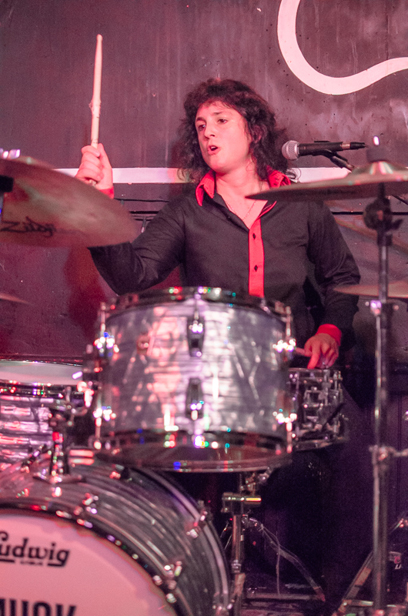 Muck and the Mires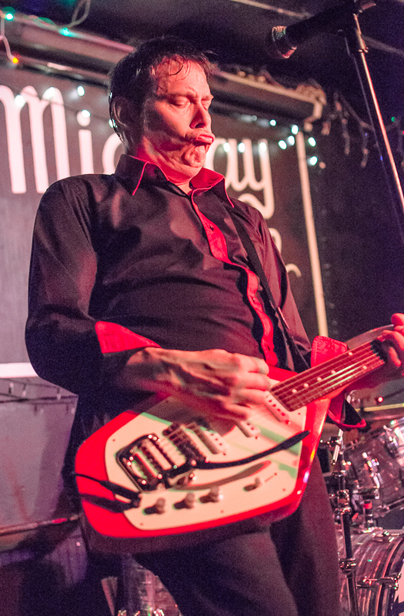 Muck and the Mires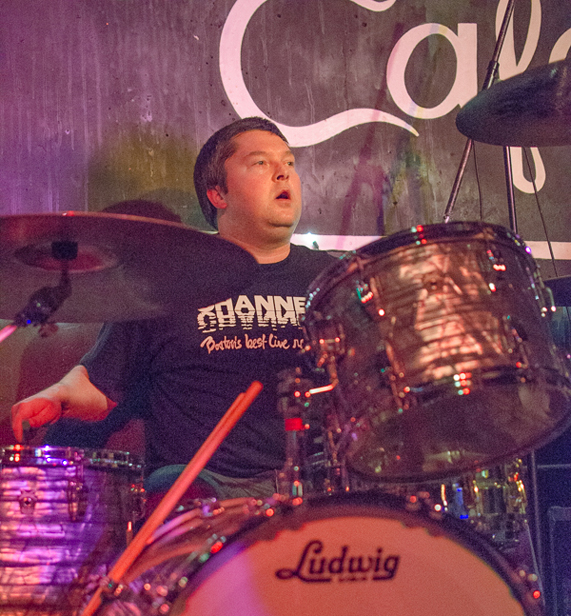 Watts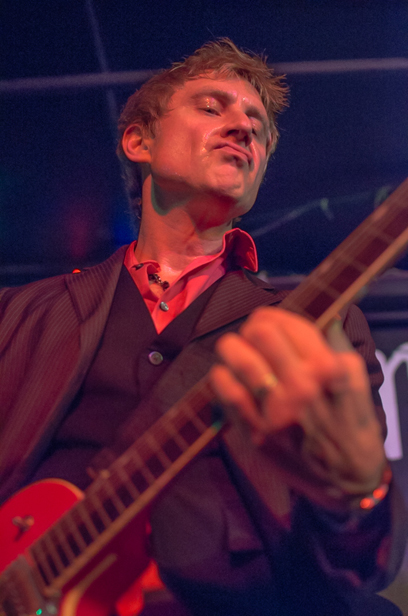 Watts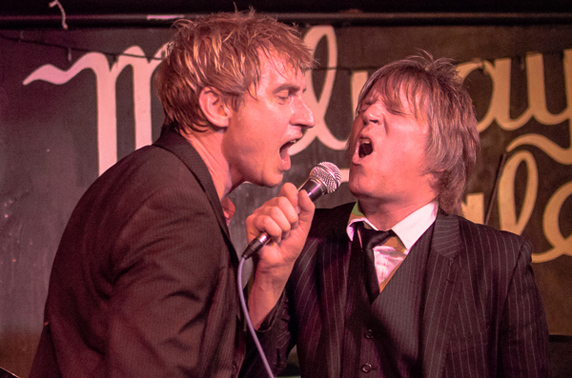 Watts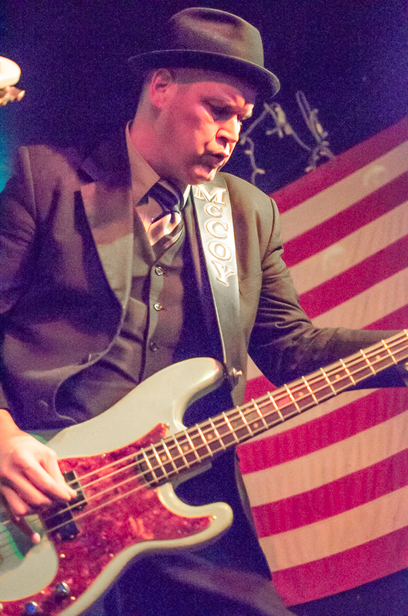 Watts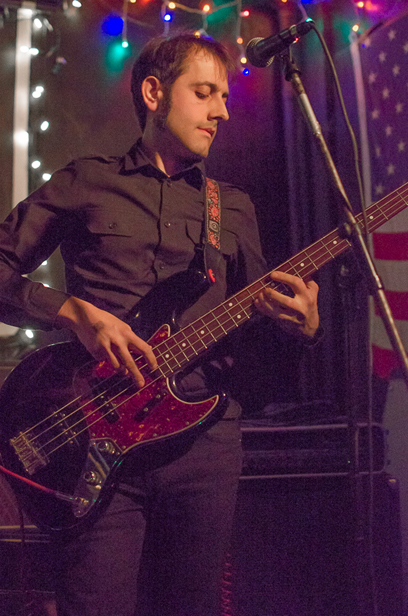 The Above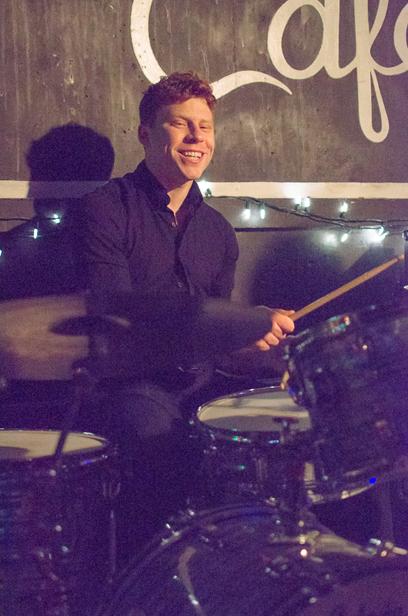 The Above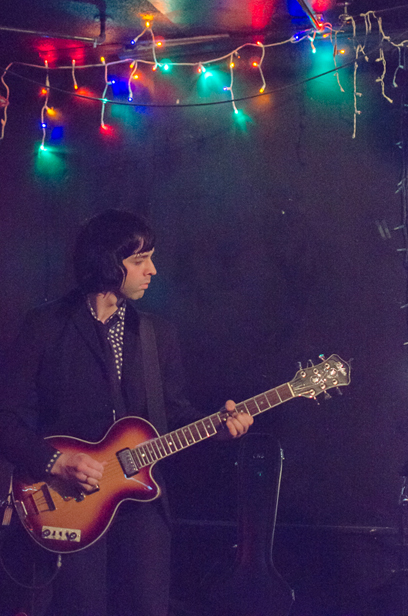 The Above