Eileen Rose and The Legendary Rich Gilbert,
Robyn Hitchcock, Jon Langford and Friends
Lowell Town and Country Festival
April 2022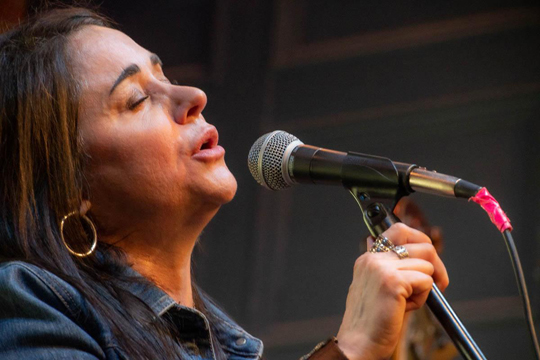 Eileen Rose
Like a lot of other things, the Lowell Town and Country Fest was rolling out a post-covid reboot. Saturday put up an eclectic bill. Eileen Rose brought her Nashville, now by way of Maine, country thang. She had plenty of opportunities to show off her vocal chops including a pretty spin on Linda Ronstadt's version of Mike Nesmith's "Different Drum." Having one of the best guitarists Boston has ever produced by your side can't hurt - Rich Gilbert slid from six-string to Pedal Steel. He even got an opportunity to tease the crowd with some Zulu moves.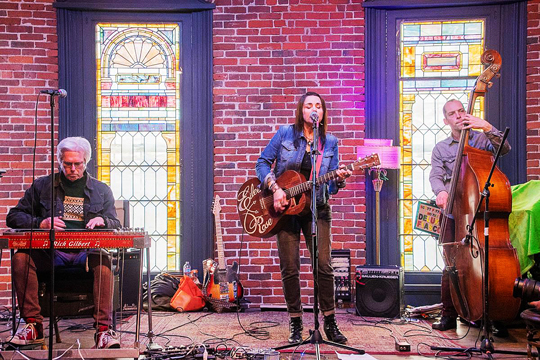 Eileen Rose and The Legendary Rich Gilbert Band
Today they play in Mill # 5. It's a funky old building with a mix of stores, Etsy craft joints, a used record store, and cafes. It's worth a walkthrough next time you're in town to pay tribute to Kerouac. Rich and Eileen Rose play regularly in the Freeport, ME area. They will cleanse your pallet and please your country soul. One more reason to hit the fantastic southeast coast of Maine.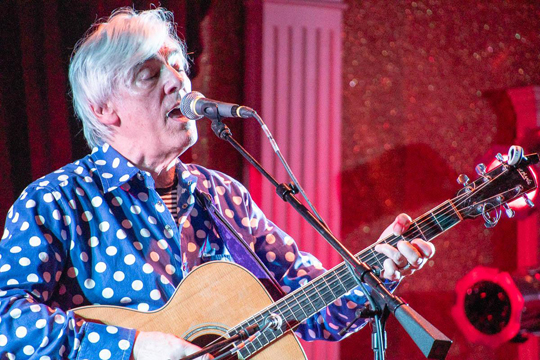 Robyn Hitchcock
Robyn Hitchcock plays solo in a Greek Restaurant. It's set up a little like City Winery with less wood and more old-school funkiness. Hitchcock is like your eccentric, charming, English neighbor who always wears a blue polka dot silk shirt and may or may not talk to animals. The line between his whimsical stage patter and his songs is thin, they bubble up from the same source. The generous set includes "Balloon Man", "When You're in Love With a Beautiful Woman", "Tarantula", "Queen Elvis", and "I Often Dream of Trains."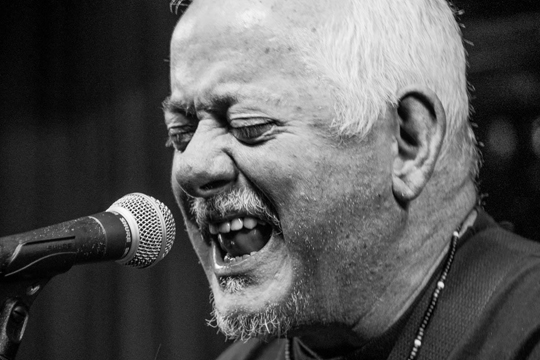 Jon Langford
Jon Langford and Friends - Jean Cook on killer violin and vocals and Fenway organ man Josh Kantor kick it all up a notch. Langford is a Welshman with the mines and docks of his childhood in his blood. He carried on about Drone Operators, support for unions, Millionaires, and Rock Stars. Josh gave us some game-time organ riffs while Langford changed a string on his black acoustic guitar. Cook's violin asserted itself all night long. Lanford, as always, is the irrepressible ringleader.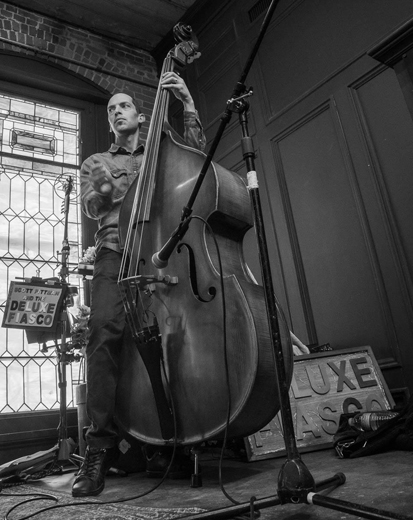 Bass player of Eileen Rose and The Legendary Rich Gilbert Band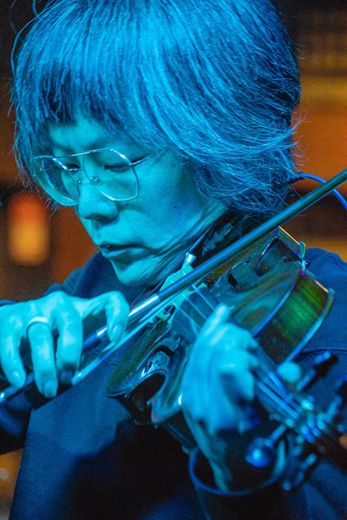 Jean Cook - Jon Landford and Friends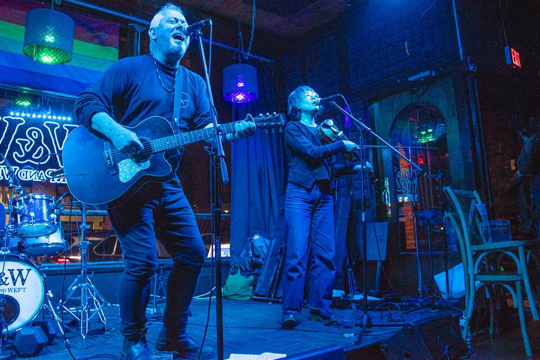 Jon Langford and Jean Cook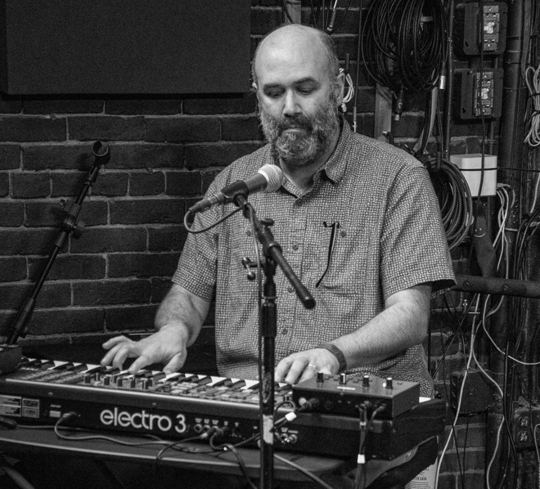 Josh Kantor - Jon Langford and Friends

Mill #55 Staircase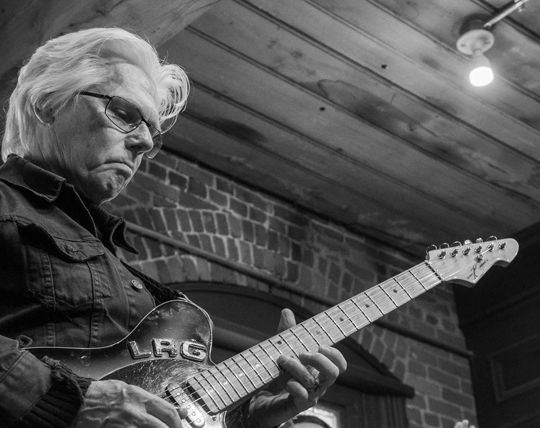 Rich Gilbert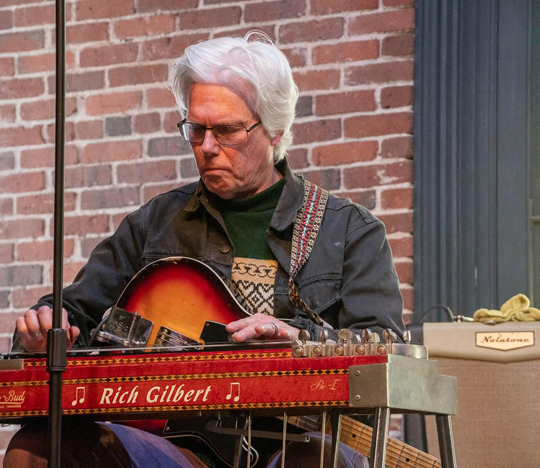 Rich Gilbert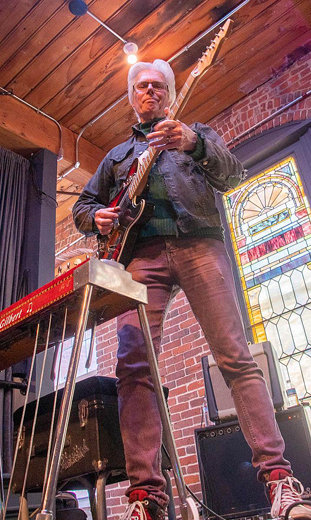 Rich Gilbert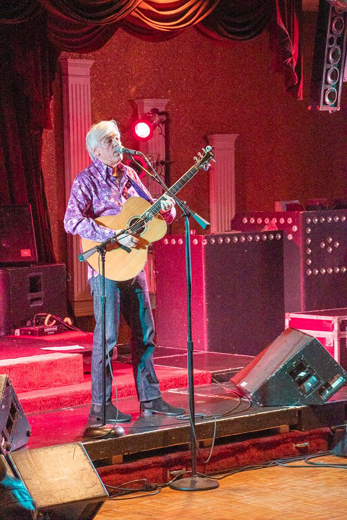 Robyn Hitchcock