Loose Salute, The Bee's Knees, Moose and the Mudbugs
Review and photos by John Keegan
Ralphs, Worcester, April 26, 2014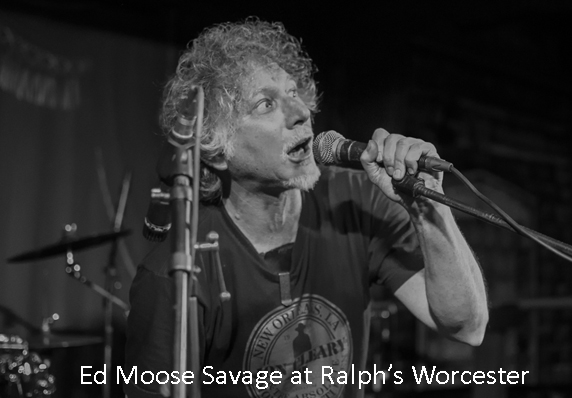 A word or two about Ralphs. What a place. The stage seems to have been swiped from a vaudeville back lot. The sound is clean and loud. The drinks are cheap. The décor in the main room is the best of eye candy. A little like the great (late?) Magic Room on a funky low art bender rather than high on art. Ralph's is located in the pock-marked parking lot of some industrial park wasteland. It has an attached diner and they pipe tunes to the outside. If it was in Somerville it would be almost famous. Well worth a road trip on a Saturday night.
Oh, the bands… Loose Salute is a Monkey's tribute ban with a serious Mike Nesmith fixation. No goofy skits, no dopey hats, plenty of deep cuts and a couple hits. The band is crisp and tight. Guitarist Tom Yates takes his sweet, economical, country-tinged solos on a Telecaster with a prosthetic whammy bar. Loose leader Mick Lawless serenades us with a punked up Steppin' Stone, a Hendrixized, Sweet Young Thing, the vocabulary testing, Nesmeth penned, Propinquity and he closed things out with the Goffin/King pop gem suburban commentary sing along, Pleasant Valley Sunday. Now who could complain about that?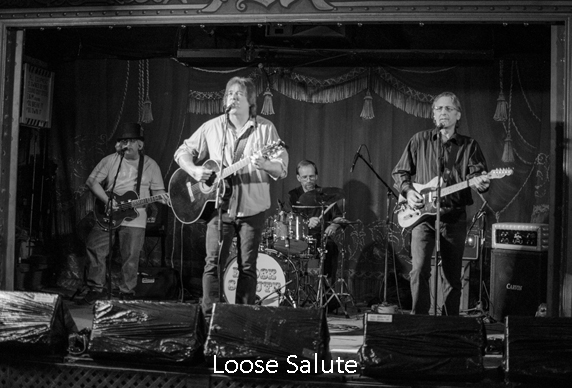 I didn't catch a lot of the Bee's Knee's set. What I did catch was a pleasant, occasionally toe-tapping float down river 92.5 with solid playing and fine gang vocals. I don't want to come across all un-American, but I'm nearing my fill of Americana.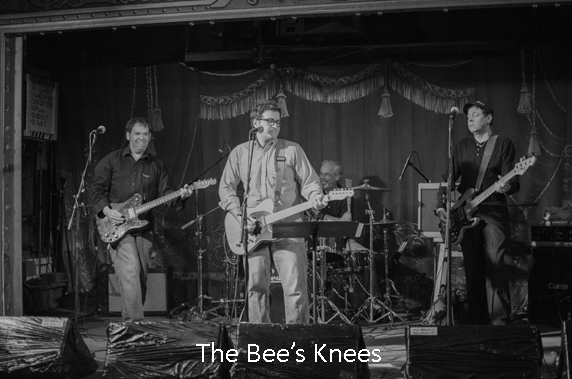 It is always a pleasure to see Moose and the Mudbugs crawl up out of the primordial ooze to click their little claws. Head crustacean, Ed Moose Savage - hair all Einstein on acid and eyes a poppin' - was in a fine fettle. He is the Coltrane of kazoo; the Stan Getz of the Jew's harp; the home grown Ginsberg of howled, beat crazy lyrics. He helped us understand why he can't sleep at night. He played to our sympathies on the number one in Malden, electric homage to stalwart iceberg lettuce, he spoke a little French, and he dragged a groovalicious Barry and the Remains 1966 cover of the gem Diddy Wah Diddy out of his garage. He saved his and the band's most transcendent moments for two longer numbers from his Siamese Triplets days.
Land of People was a psych slow burn fueled by Ken Kaiser's guitar histrionics. Prez had a phaser, it was set to stun, and he was going to use it. The repetitive final riff, kicked to the ground by Mick Lawless' bass and Andy Caplan's drums built to an air punching crescendo, stopped for breath, a drum stick click and a pulverizing, final, DA DA DAT. (Seventh player award to the sound man). The end came in Combat. The story of a vet with PTSD wandering through a hellish day in Allston and flashing forward and back into his churning wartime memories. The music swirled. It ran and fell with Moose's psychotic channeling. The end came with Ed crumpled on the ground covered in shards of guitar chords, smashing cymbals, exploding bass, squealing and bellowing baritone saxophone, bells, whistles and screams.
A night at Ralph's in Worcester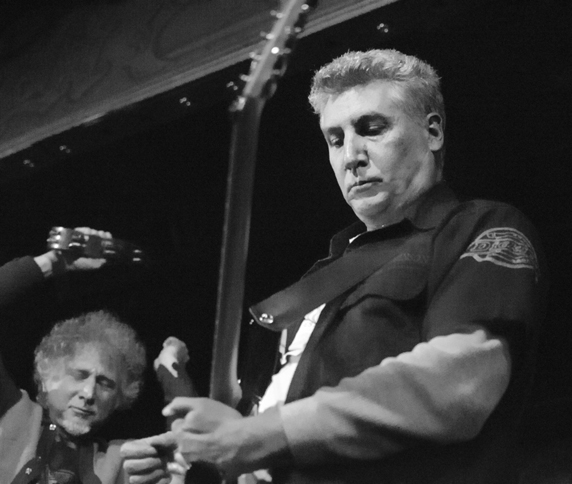 Ed Moose Savage and Kenny Kaiser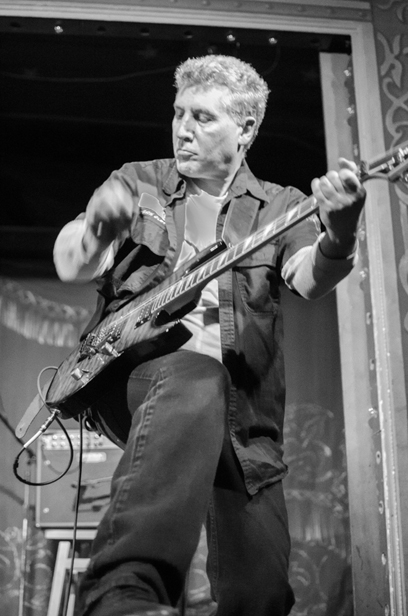 Kenny Kaiser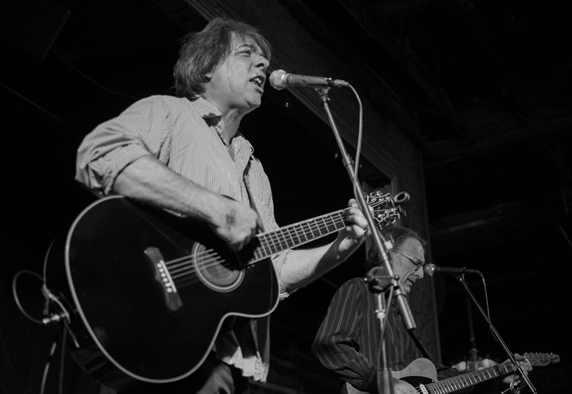 Loose Salute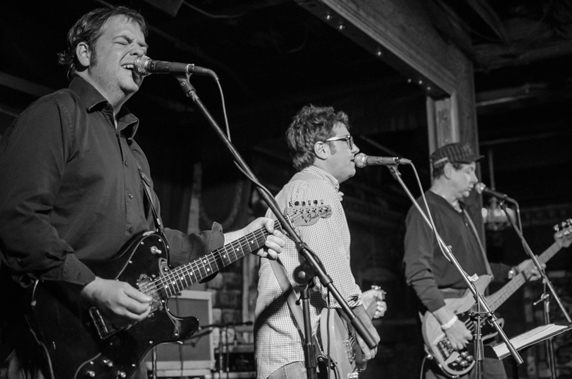 Bee's Knees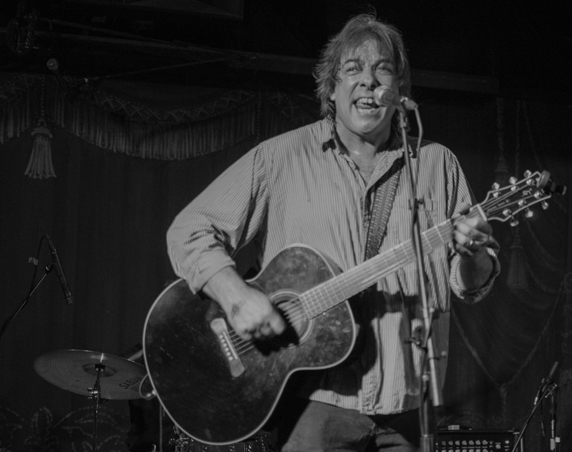 Loose Salute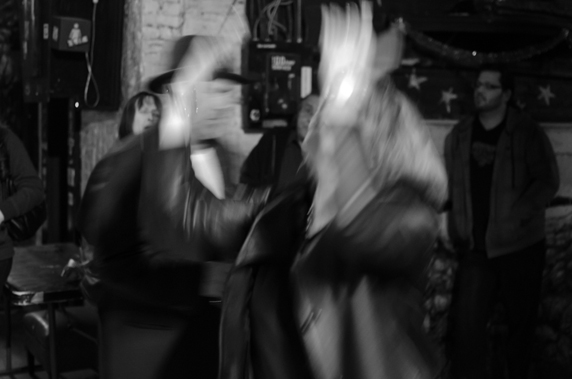 ---
home | interviews | photos | features |BGN issue list | reviews
links | contact us
Copyright © 2014 John Keegan. All rights reserved.