How To Be a Rock Critic
Jackie Liebergott Black Box Theatre
Emerson/Paramount Center
May 18 - 21
The room looks vaguely familiar. If you're of a certain age, you've spent time in this room. There's a crappy, past its prime, off-ochre couch draped with crochet brown, avocado green and yellow afghans. There's a mismatched chair. The room falls between 3 and 4 on the hoarder image scale. The stereo is cheap and abused. Trout Mask Replica, Switched on Bach, Diamond Dogs, Metal Machine Music and the Clash are among the numerous records strewn across the floor and tables. Sabbath is playing as we take our seats. The Black Box Theatre at the Paramount holds about 100 people.
Erik Jensen takes the stage as Lester Bangs in the one man show How To Be a Rock Critic, directed by his wife, Jessica Blank. We meet Bangs as he shambles on stage. He's searching for Van Morrison's Astral Weeks, an album – along with Iggy and the Stooges and the Clash's first - that he hopes prove that true, real, rock 'n roll can save your soul – and, hopefully, his. He on a first name basis with a self-medication regimen of booze, pills and cough medicine to facilitate this ascension.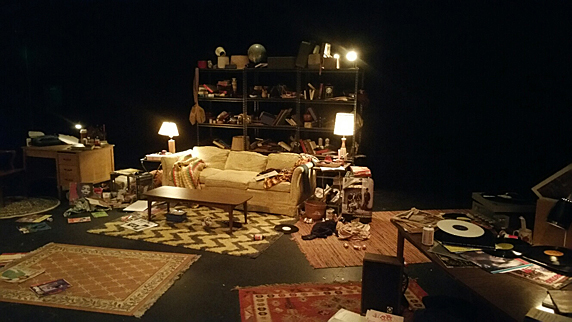 Jensen's physicality, lurches or skitters between dissipated and manic. He has no problem filling Bang's ratty sneakers and worn Thin Lizzy shirt. His performance catches you up on his exhilarating manic jag. If you're a rocker the questions at the core of the play resonate. Is there a limit to the real or imagined weight our music icons can carry for us? Is there a qualitative or moral difference between taking from the music and giving back - making something, anything? What is the role of the critic? What happens at the nexus of the individual, the consumer, the business and the performer - what is dominant, submissive, is it real? Can rock be transformative?
How To Be A Rock Critic captures the hyper reality of a great rock moment. It knows the fire the music creates inside the initiated, the flashing fireflies of emotion, and the nostalgia for holding something that is, by its very nature, always receding into the past. Two scenes in particular wrap these symbiotic elements in an illuminating shock of violence that bring both Bangs and the audience up appalled and short. So, whether you're interested in spending a little time inside Bangs iconic - and perhaps unraveling - rock mind, or you want to spend a couple of hours thinking about the psycho-social and historical implications of rock in the seventies and early 80's, or, you just want to catch a little rock dramedy with a great soundtrack, Eric Jensen's personification of Bangs in How To Be A Rock Critic is well worth your seventy-five minutes without intermission.