Acid Mother's Temple
Review and photos by John Keegan
Middle East Up, May 23, 2014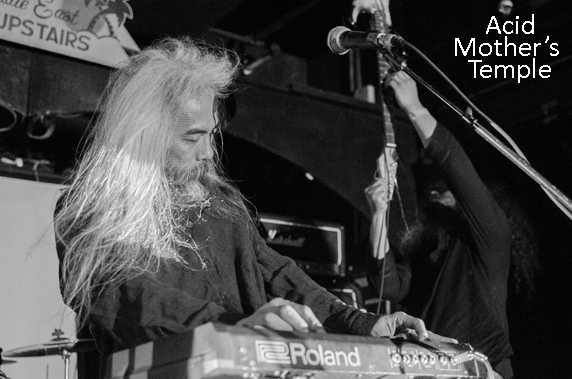 She had missed her moment. The vintage cocktail craze had passed. She was slinging booze in a Central Square rock dive not the trendy South End. Lately, the young bartender heard voices. They whispered about her destiny and of how every drunk in the world would know her name. Forget the PBR's and Gansett 16's. Do it now. Do it now. So she mixed and tasted, tasted and mixed as the voices grew louder and began to insist. And then it was done.
She called it, Acid Mother's Temple
2 parts Camerana Reposado Tequila
1 part Pink Lady Lemonade
Sweat from a loosely defined Japanese commune (try Super 88 or on line)
1 jigger Psilocybin Tea
1 oz. of heavy metal
1 pinch cosmic debris bitters
Oscillate briskly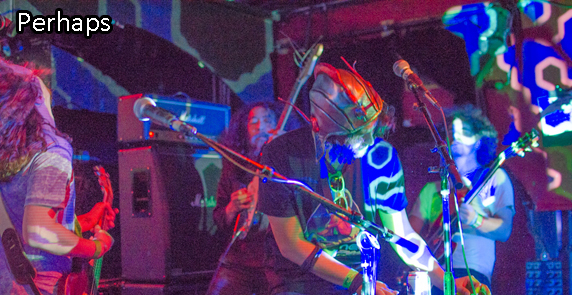 Holy Schlmoly. Acid Mother's Temple just flew in from Alpha Centauri. The Middle East Up is packing a crowd. Second bill, Perhaps, are finishing their set with AMT's Kawabata Makoto sitting in on guitar. They are pre-heating the acetylcholine in the crowd's pulsating synapses. Acid Mother's Temple is melting on the tips of their tongues. Memory pulls back a first AMT show at some short-lived performance space in JP. Sometime member Cotton Casino crawled around her synth in a punk black version of the Ziggy cover shot outfit and the band fried minds on a stageless floor. Later, at another ME Up AMT show, an old pal tested the local mycology and tripped his celestial brains out all around that throbbing little room. The band is touring behind their new four song Astrorgasm from the Inner Space disc. Four titles on a slab - well Toto, it's a pretty good bet that we are not in Garageland anymore. AMT are studying sunspots from the astral plan. 10, 9, 8, 7, 6, 5.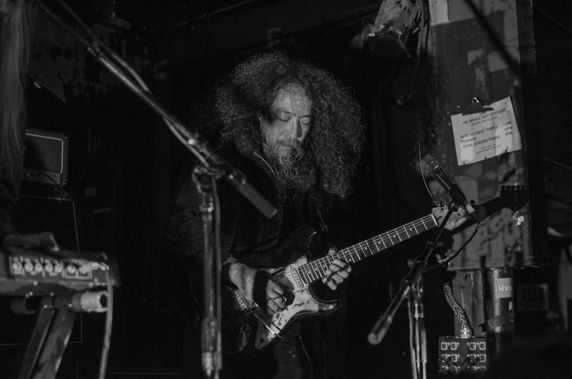 The plasma spew from Higashi Hiroshi's synth catches fire. The random particles being wrenched from Makoto's battered guitar accelerate to light speed. The other members of AMT, on bass, second guitar and crazy ass dddrmmmz, toss in the kitchen sinks. When it all collides, solar flares ripple across the room in waves. The radiation confuses our collective third eye, it singes our ears and it blisters our primal brain stem. The colors and sounds wax, wane and explode. AMT ease into the centerpiece of the set - the sinuous melodic opening riff of Pink Lady Lemonade. There is no hurry. It's midnight and the crowd has nowhere it wants to go. The syncopated riff cycles round and around, pushing and pulling, building up and falling off and building again until it liquefies and detonates.
Rocket # 9 to the planets to the planets
Rocket # 9 go to Venus go to Mars
Somewhere out there in outer space, Sun Ra is smiling. The volume accelerates up to 11. This is the sound of incubating galaxies. Our heads can dance about architecture on Uranus. No twee Floyd. Just a soundtrack for general relativity and E = MC 2. All that AMT destroy they make new again.
I like that new bartender with the crazy eye. Her new drink is out of this world. Does anyone remember where we parked the shuttle? Can anybody pilot this thing?
Acid Mother's Temple/Perhaps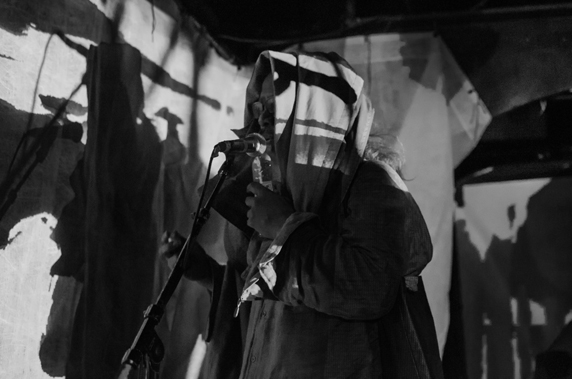 Acid Mother's Temple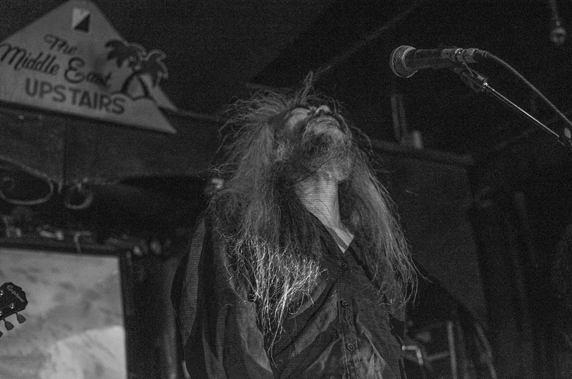 Acid Mother's Temple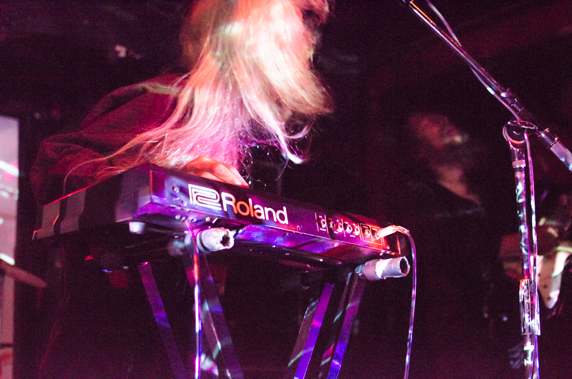 Acid Mother's Temple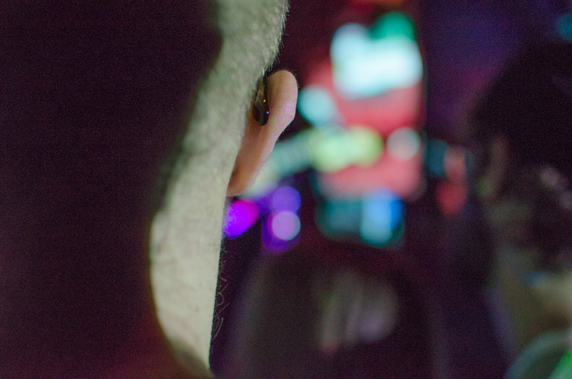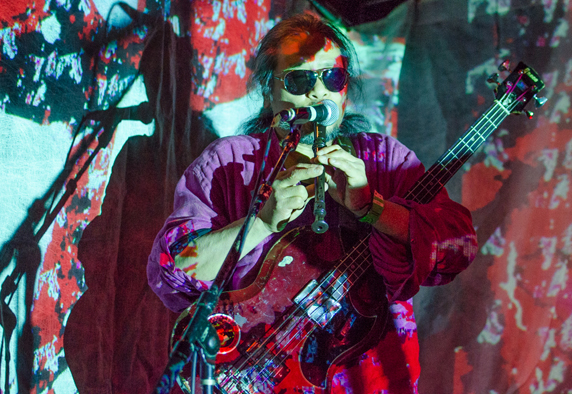 Acid Mother's Temple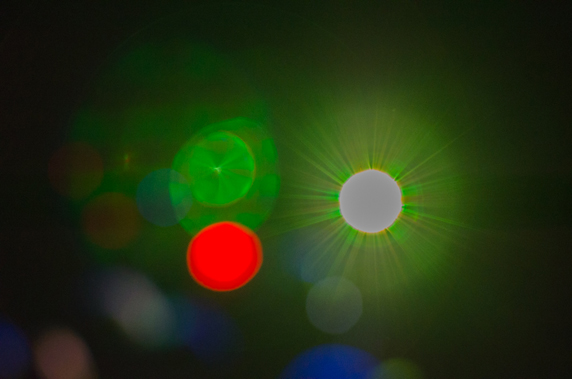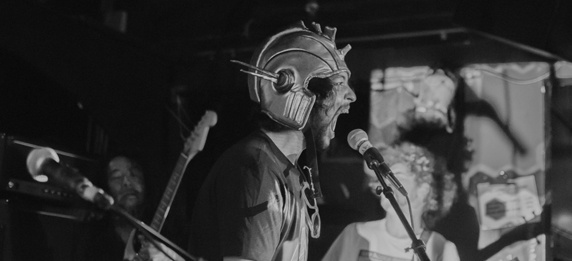 Perhaps
---
home | interviews | photos | features |BGN issue list | reviews
links | contact us
Copyright © 2014 John Keegan. All rights reserved.