Vacation, Goin' Mobile
with The Mekons, Slayer, Chandler Travis Philharmonette, The Figgs,
Sidewalk Driver and Jenny Dee and The Deelinquents

July 2015
Review and photos by John Keegan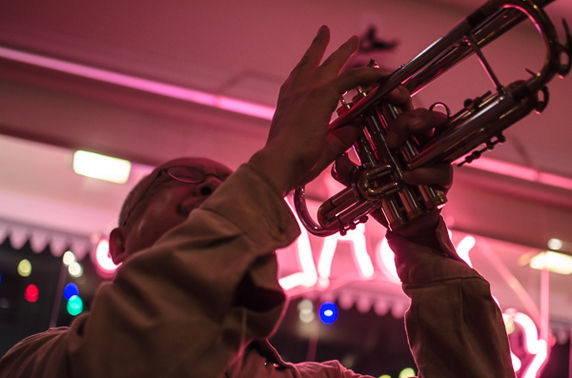 Keiichi Hashimoto - Chandler Travis Philharmonette
Ah, vacation. No work, no shows, no camera, no writing. No shit. Not quite. It's all about place and the weather.
Vacation begins in scenic Portsmouth, NH with a walk through the Prescott Park gardens, dinner at Block Six at 3S and then the Mekons. The hot gin and pear cocktail at Block Six is spicy and complex. The arancini with red rice and mozzarella is rich and difficult to share. The locally sourced meals lean toward nouvelle serving sizes - don't skip the apps. The medium rare skirt steak with a light chive butter well, just think about it.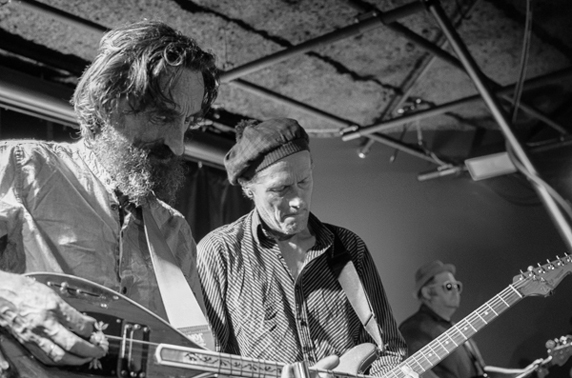 Lu Edmonds and Tom Greenhalgh - Mekons
The Mekons seem a tad road weary. Langford rasps that it is the penultimate show of the tour. They hit the stage with Memphis, Egypt. It takes a few tunes for their usually synergistic connection to kick in. But when they do, Lu Edmunds rocks that three string gourd (saz) like it was a rejected fender prototype. The big harmonies lift the room. Rico Bell bends and stretches that beautiful wheezing squeeze box. Jon Langford sports a pithy pith helmet and rouses the rabble. Tom Greenhalgh brings the gravitas but doesn't force us to choose between the whip and the feather. Sally Timms rolls her eyes, improvises on the madcap banter and sings like a dusky angel. The Mekons never let you down.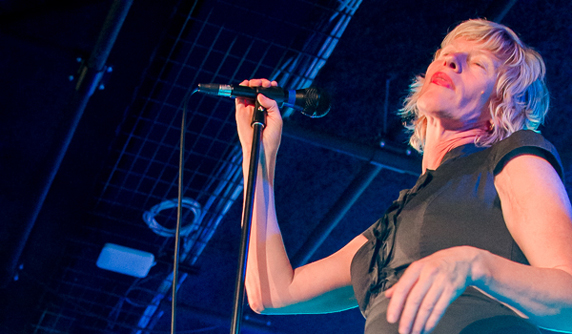 Sally Timms
The next night its Mayhem Fest. Blowfish and Miss Lyn are gagging. Suffice to say that for my money, Slayer, now that Gary Holt has found a sound to complement Kerry King and replace the irreplaceable Jeff Hanneman, are still one of the best live bands in the land. (Raise those devil horns and bang heads here). All hail TT's!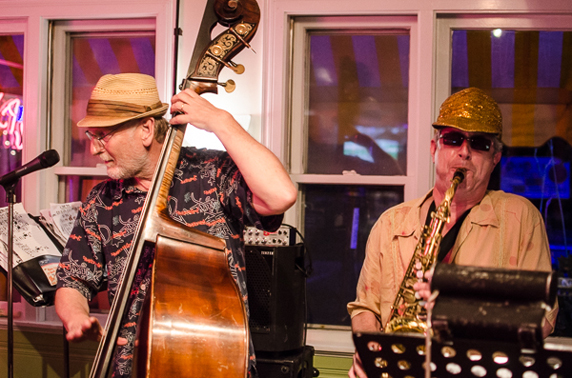 John Clark, Ken Field - Chandler Travis Philharmonette
On to Wellfleet for the week. On Thursday night Chandler Travis Philharmonette do a regular gig at Bubala's in P town. No Rikky, no drums. These guys are all over the place in the best ways possible. They hit bad, old white guy, cheesy keyboard patch "hippity hop", they jump on some ESP label, just this side of out, kick ass group skronk, they break your heart with a country crooner, Ken Field demands attention whenever he plays that funky alto, they pay their respect to the French Toast Man. Berke McKelvey on tenor, keys, clarinet and rabbit ears keeps everyone in line, hears everything and rips off a searing clarinet solo that blows everyone away. Keiichi Hashimoto is back in the fold on multiple trumpet variations and percussion. His high notes punctuate the rising runs of Field and McKelvey with perfect timing and tone. Fred Boak, valet to the stars, sweetens the vocals. John Clark holds down the bottom end on standup bass. Chandler T. is an iconoclast. He's tricky, sneaky insightful and not seriously serious. Pay attention to the man behind the curtain. In a just world there would be a statue of him in a bathrobe made of ice cream at the Sagamore Bridge.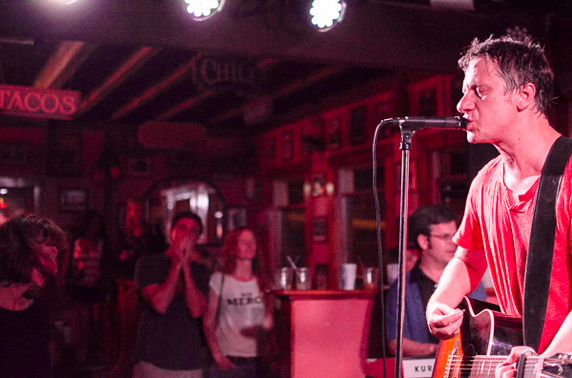 Mike Gent - Figgs
Back to the rock world we luck out with the Beachcomber's Friday / Saturday line up. Friday it is the pop rock maestros The Figgs. Mike Gent notes that it has been ten years since they last played the Beachcomber and they seem intent on making up for the omission. The sun baked crowd is ready to go. The band rips through two sets of infectious power pop. They have a fine new disk - Other Planes of Here - and they don't short change it. They toss in some tasty covers, switch instruments so that Pete Hayes can get out from behind the kit and tear up a couple of screamers. Pete Donnelly gives bass solos a good name. Rikky Bates a former CTP regular - looking lovely in a leopard skintight mini, torn fishnets and teeter inducing fm pumps - guests on the Who's classic Can't Explain. The alternating vocals, Gent's economical, rollicking guitar solos and the endless list of great tunes leave the vacation crowd dripping.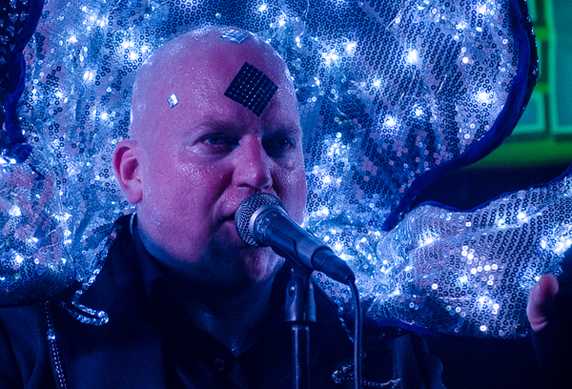 Tad McKitterick - Sidewalk Driver
Saturday night brings another trip down to Calhoun Hollow. The Beachcomber is the last exit before France. The last time I saw Sidewalk Driver they were glamming it up at the Sinclair. Lead driver, Tad McKitterick, had the vision, look and panache to hold that big stage down. It was cool to see him and his cohorts get down and sweaty at Cape Cod's quintessential beach-party dive bar. Everyone shimmied on the heat waves. With look over there costume changes, mad hooks, great guitars, big choruses and a ripped take on Bowie's Moonage Day Dream, Sidewalk Driver made quick friends with the well lubricated flip flop and sunburn crowd.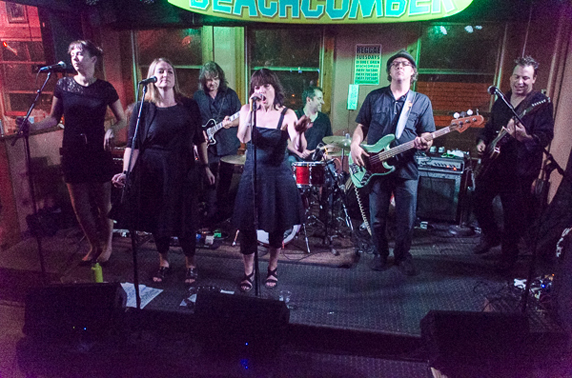 Jenny Dee and the Deelinquents
Jenny Dee and the Deelinquents kept things hopping. That three gal girl group vocal line, keys and twin guitar attack filled the stage and the room. They had a party mix of originals and classic covers in their pocket. The best of which was a blistering run through of Nick Guilder's appropriately named Hot Child in the City. Front to back great weather, food and tuneage, now that's a vacation.
Jon Langford and Rico Bell - Mekons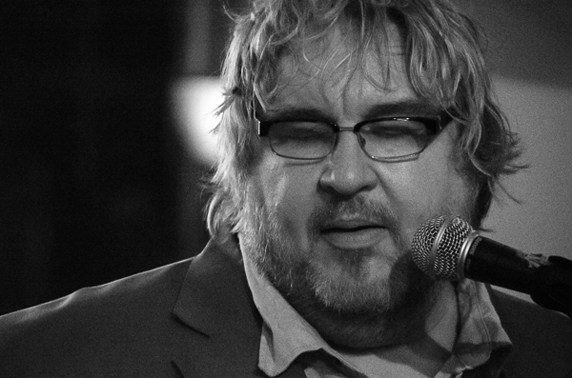 Fred Boak valet and vocals - CTP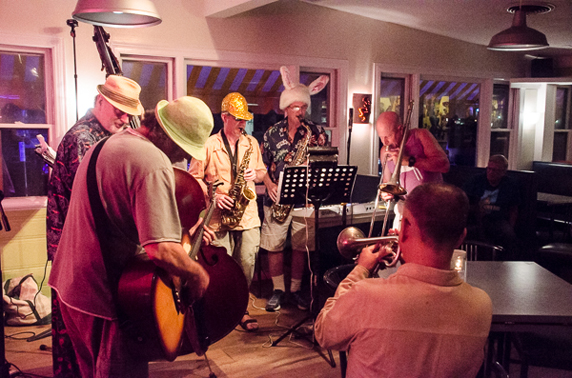 Chandler Travis Philharmonette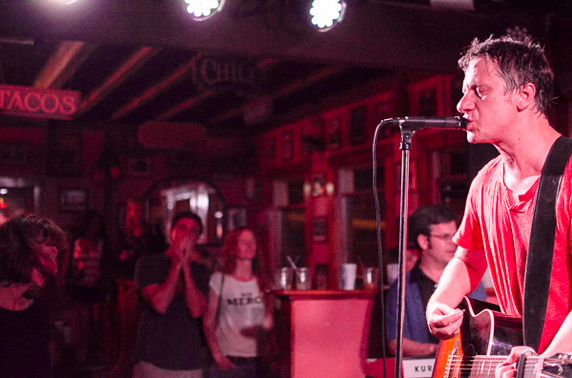 Mike Gent - Figgs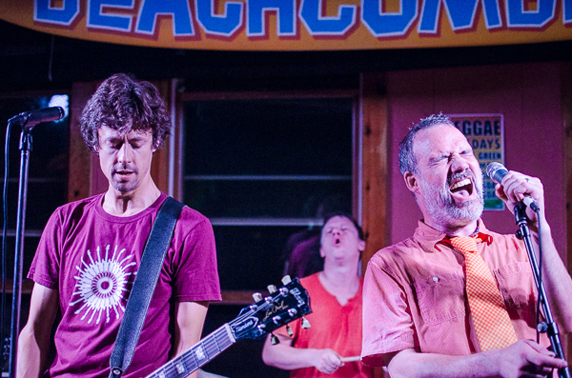 Pete Donnelly, Mike Gent, Pete Hayes - "Twisted" Figgs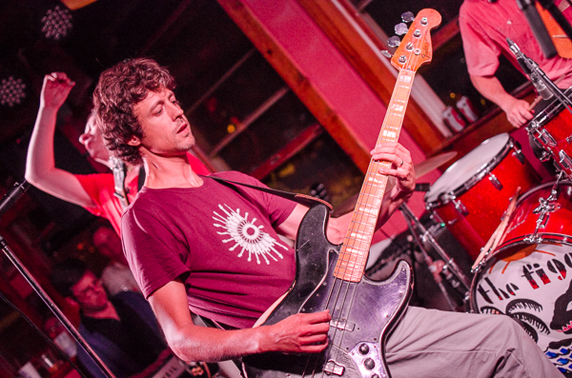 The Figgs
Jared Egan - Sidewalk Driver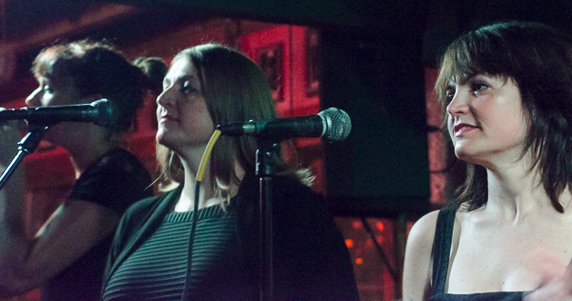 Abbie Barrett, Beka D'Angora, Jenny Dee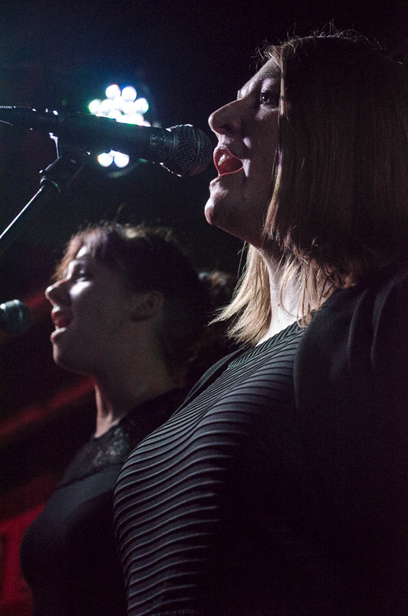 Abbbie Barrett, Beka D'Angora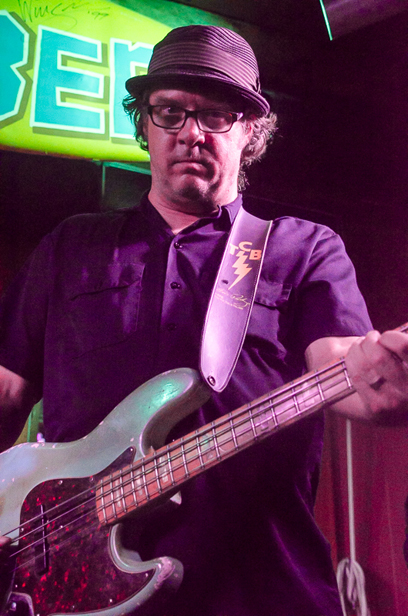 Ed Valauskas -Jenny Dee