Nashville Pussy
Review and photos by John Keegan
The Sinclair, July 28, 2014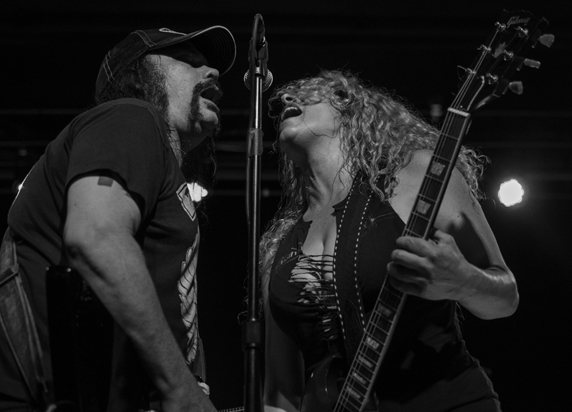 Your granny's favorite southern sleazeball trailer park trash party band is at the Sinclair. That there is a couple of notches up from their usual establishments. Hope they don't go putting on airs. Nosireesirbob, this ain't no genteel pecan pie. This is pig on a hook twisting over a fire pit rock 'n roll. How many ripped howls about booze, drugs, poontang and guns can one band hurl up? Plenty. And you will ask for more please.
Nashville Pussy is the bastard love child of guitar and vocalist Blaine Cartwright and his most excellent guitar slinging wife, Ruyter Suys. The big stage at Sinclair gives them a chance to play rock stars. The sound is loud, clear and dirty. It is especially kind to relatively new bass player Bonnie Buitrago. She lurches spastically forward and back, in basic black and a red brassiere, and you feel every note when she whacks the crap out of those four thick strings. Drummer Jeremy Thompson is an unflappable mountain man out of the Charlie Watts School. He's not showy. He never plays too much or too little. He is always right there. He keeps the big beat in sync with Buitrago. Suys deserves her reputation as one of the finer guitarists in the land. She rips out short nasty solo after short nasty solo. She accents the notes with her face and body. Her curly q blond locks fly with her around the stage. She cools down with a shot of Jack and then shares a spit spray with the crowd. Cartwright sounds like Lemmy if he gargled. He's the circus carney. He has crazy eyes and a moustache that drips off his chin. He harangues you until you step into the tent. He does a possessed mongrel variation of some backwoods clog dance. He wants you to sign some dog-eared contract in sweat and blood. When Suys and Cartwright latch on to a riff they tear it apart with love and affection.
This crew wants your baby girl to join the circus. They want your first born son. They're unrepentant in their stylized bad intent. They extoll the virtues of a low life well lived. The want you to Keep on Fucking. They want you on the Wrong Side of a Gun. They are So High They Have to Look Down to See the Sky. They have Snake Eyes. Their strategic plan is to Up the Dosage and then Go to Hell.
So, save up your meth shed profits. Call your cousins Jethro and Ellie May. Head on down to the 4H Fair the next time the Nashville Pussy circus is in town.
---
home | interviews | photos | features |BGN issue list | reviews
links | contact us
Copyright © 2014 John Keegan. All rights reserved.