Frank Rowe's Birthday Bash
Unnatural Slacks, Classic Ruins,
Kenne Highland's Airforce, Link Brothers
The Midway, JP, MA
Sept 12, 2021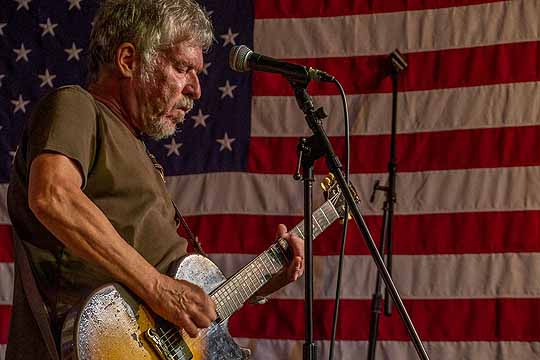 Frank Rowe
Between Frank Rowe's 70th birthday party this past Sunday at the Midway matinee, the Zulus, and the upcoming BGN sponsored Willie, Eaters, Barrence gigs, some of our most revered local heroes have come around to take well deserved September victory laps. The Midway was a little over half full. Dylan was at the door checking vaccinations cards. Lenny was behind the bar slinging my favorite Herradura and tonic with a pinch of salt. Other than the masks, things seemed almost all right with the world.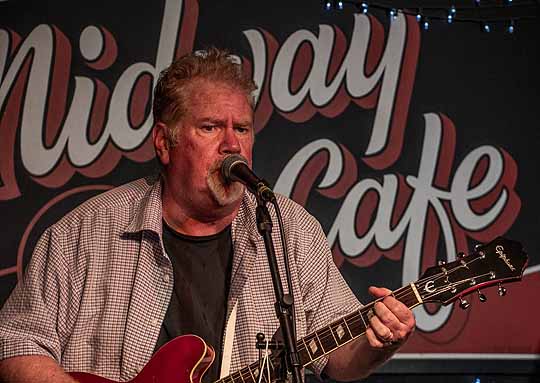 Richie Parsons
Richie Parsons and the "Unnatural Slacks" kicked off the festivities. The tone was more Sunday afternoon at 4 than Saturday night at midnight. They resurrect The Gremies' "No Surfin' in Dorchester Bay", and Richie's recent solo stuff including "Winter's Dream", "Love Letter", and "When You're Dancing". They also hit Axe songs "Shopping for a Friend", "Summertime", and "Three-chord Rock". Finally, they throw on "Your Eyes" and "Animal Gray" from Band 19 for good measure. The opening band position is somewhat incongruous for a guy with a history of squishing PBR tallboys on his head but it's a good rocking, adult entertainment retrospective nonetheless.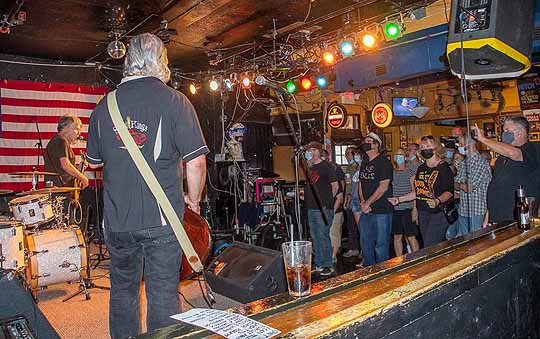 Classic Ruins
Who says that time will change you? The birthday boy Frank Rowe and his Classic Ruins step right up to remind us that they still "Can't Spell Romance". Given the occasion, Frank has earned every nuance of his grizzled gizzard and chopped guitar riffage. Over on the left, Mr. Biancucci manages operations with an imperious nod or a tilt of his big bass. In the middle, Dave Kowalchek always seems to enjoy himself as he feeds coal to the engine to keep the train on fast track time. They rifled the baggage car for Labatt's, Rocco's Wake, the Billy Borgioli penned "Forget About It", "Cheap Champagne", "Geraldine"," NyQuil Stinger", "1 + 1", and the, now watch what you wish for, "Heart Attack". Do your bit for a birthday present and grab the relatively new Forget About It disk on Rum Rar.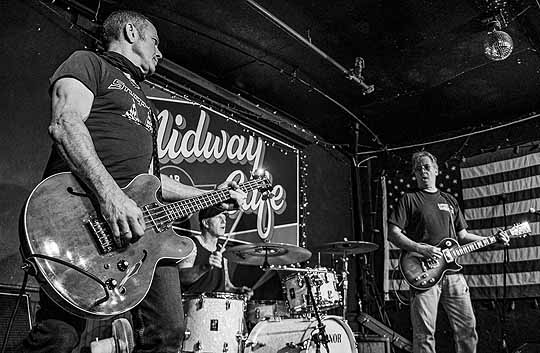 Link Brothers
The surprise gift on the presents table was Steve Aquino's resurrection of a 30-year-old Link Wray tribute band he had done with his brother. It was great to hear Aquino kick his guitar around. Chris Cah handled the bass muscle and Dave from the Classic Ruins did sweat-inducing double duty with the Link Brothers. From "Rawhide" to "Slinky", from "Comanchero" to "Jack the Ripper" they laid out the instrumental Surf and Rockabilly snarl and sizzle. It was like having a singing telegram arrived at the birthday party and having it turn out to be really, really good.
Kenne Highland's Air Force Band
Kenne Highlands' new Air Force Band closes out the bash. Someone must have shoved some electrodes up Kenny's ass and hit the high voltage switch. The big boy's spitting out new tunes faster than you can say D B G. He kicks it off with an oldie "Be More Flamboyant" - advice he has no problem taking. Larry Newman and Al Hendry keep things from flying off the stage on bass and drums. Fast or slow the thing roars like an airplane engine. Al Schmel's guitar tone howls. Captain Easychord rips the light fantastic on keys. Your's truly gets to Steve Mackay to the limit of his lung capacity on horns. Kenne burns and pillages his way through the rock riff Bible's Apocrypha. They run down new tunes "Trickfucked Again" and the read 'em and weep "Dead Boston Clubs" before they jump to Asa Brebner's "I'm In Love" from the Larry Newman curated first Asa retrospective disc. The Airforce takes a shot at cod reggae with "Insult to Injury" and then rip through a few more newbies including "Pizza Delivery Moves", the psyched-up "Reincarnation", and "Arguing with Ghosts". It was a not too shabby production for their second gig.

HBD Frank!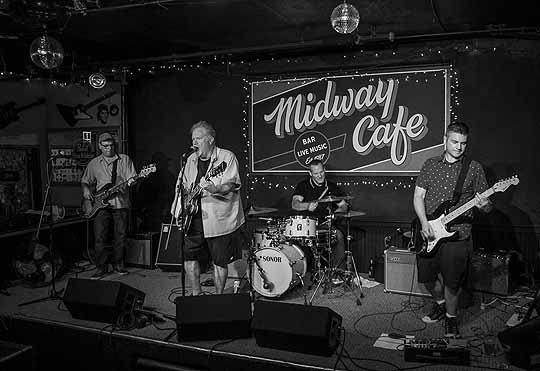 Unnatural Slacks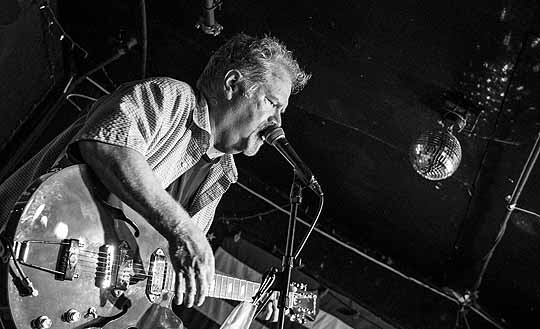 Richie Parsons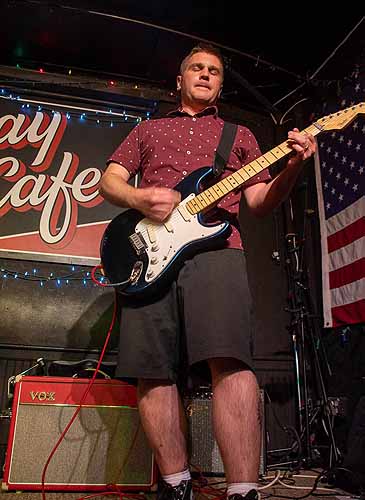 Doug - Unnatural Slacks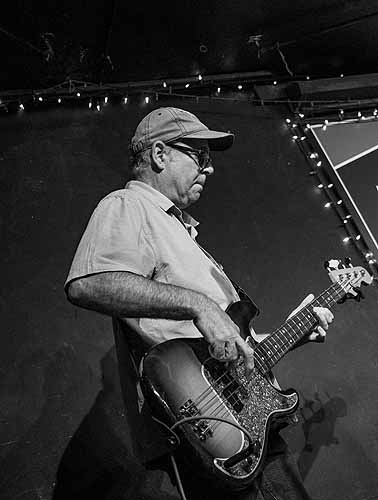 Ed Reimer - Unnatural Slacks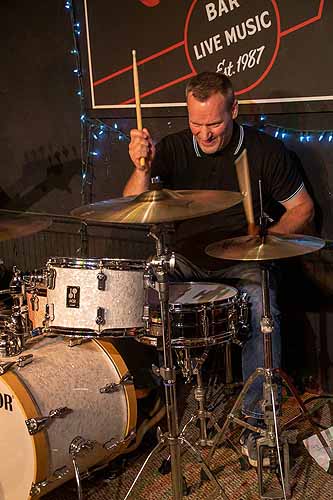 Jack Clark - Unnatural Slacks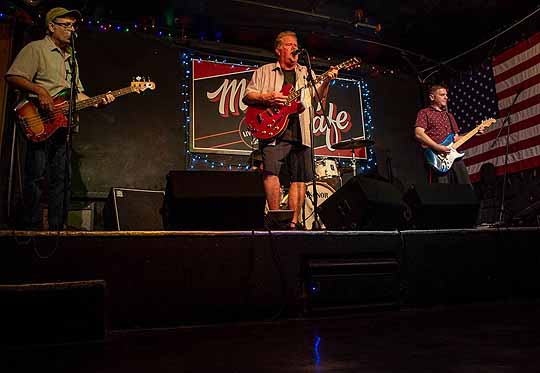 Unnatural Slacks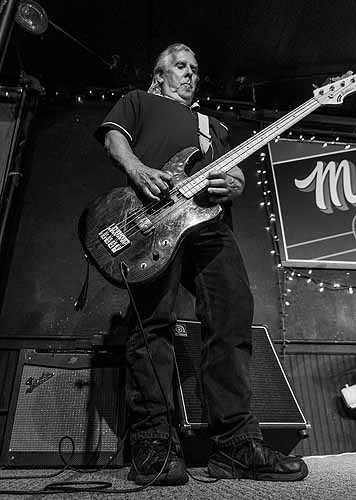 Carl Biancucci - Classic Ruins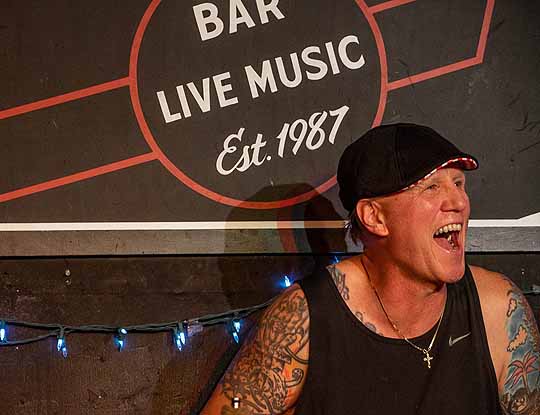 Dave Kowalchek - Classic Ruins/Link Brothers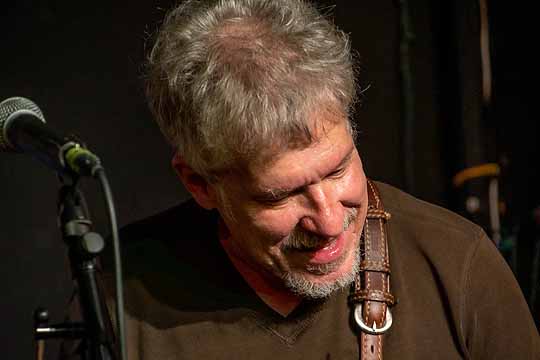 Frank Rowe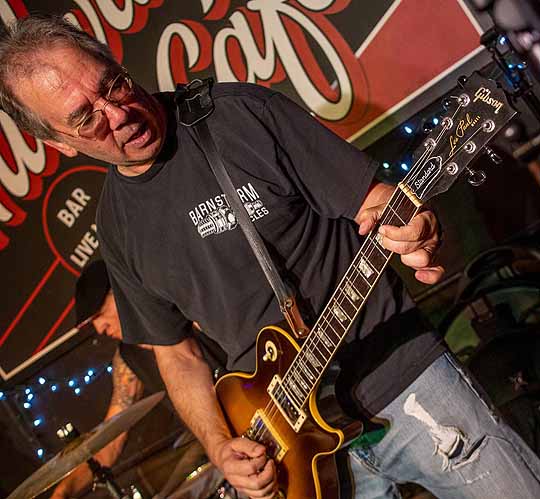 Steve Aquino - Link Brothers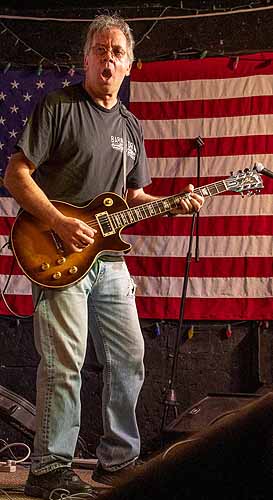 Steve Aquino - Link Brothers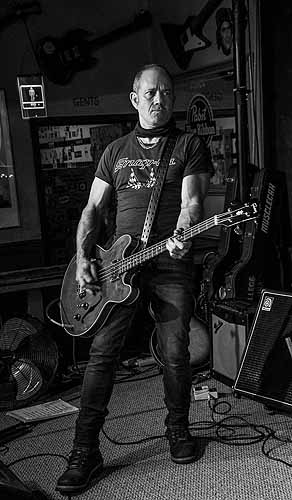 Chris Cah - Link Brothers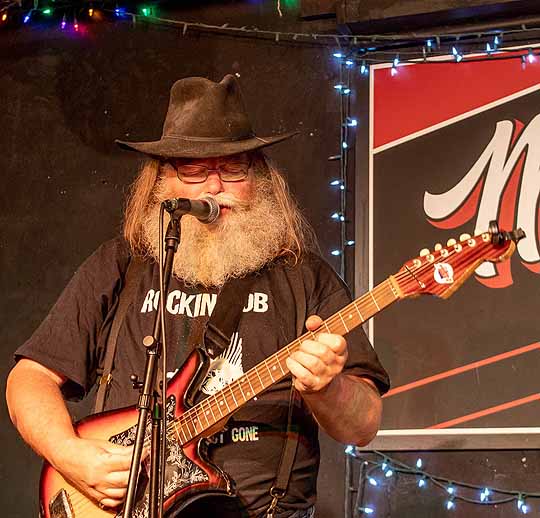 Kenne Highland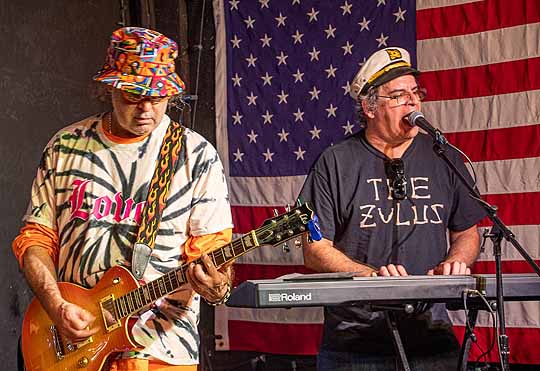 Al Schmel and Captain Easychord - Air Force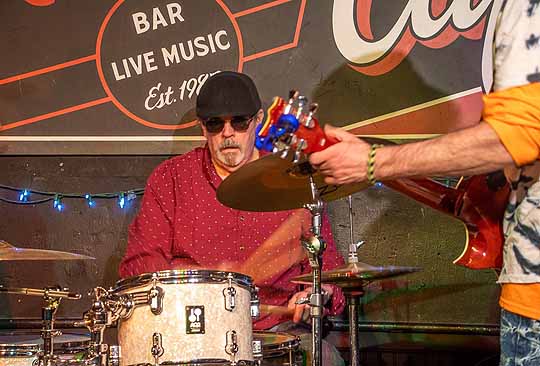 Al Hendry - Kenne Highlands Air Force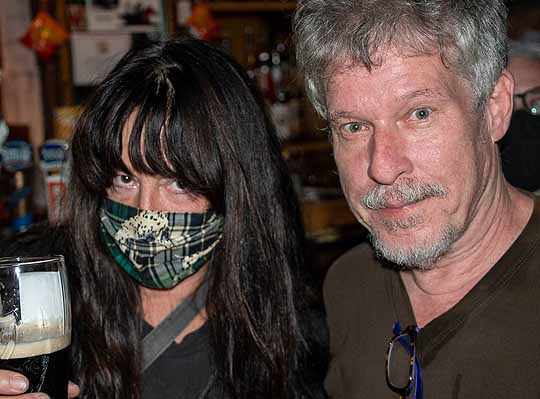 Sandra Stella DeMaris and Frank Rowe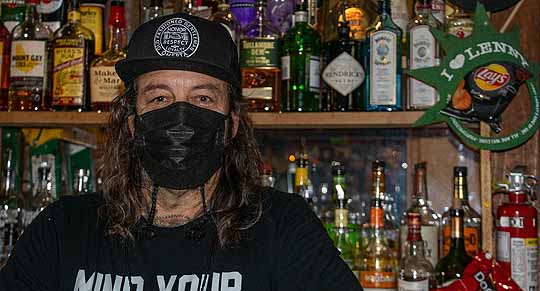 Lenny Lashley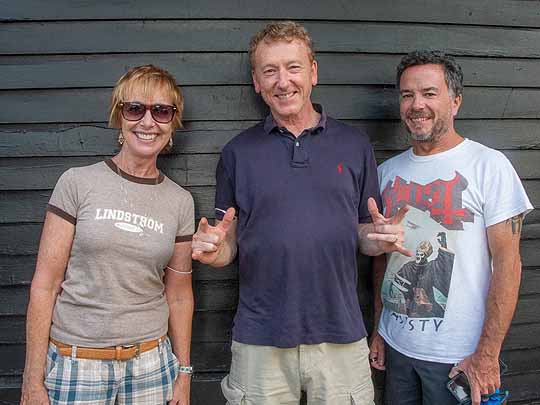 Joanie Lindstrom, Rob and Cozzy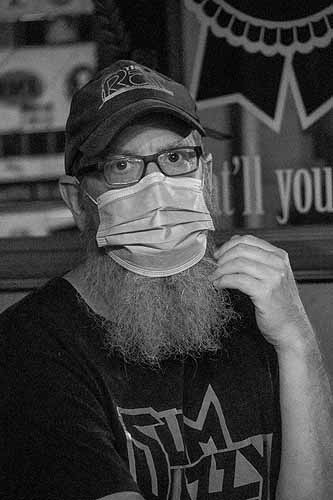 Eric Law