Boston Hassle

7 Quick Questons with Dan Shea

November 5, 2017

1. When was hassle born?

Boston Hassle was born as an entity in 2011 when Sam Potrykus and I officially decided to join forces in our show booking, newspaper making, and website running endeavors.

2. What's your elevator speech?

I don't tend to get these opportunities and even if I did we're not going to necessarily make any one rich through our efforts so perhaps that isn't really pertinent, BUT if I find myself in such a situation I'd go with something like: Might you be interested in helping to make sure that the most exciting music & art in the Boston area finds the support it needs to continue to flourish forevermore???

3. you guys are all over the place. For those who don't know - where and what can they find?

We are a 501(c)(3) non-profit called BRAIN Arts Organization. BRAIN has 5 major projects: the Boston Hassle website, Boston Hassle shows (and fests), the Boston Compass newspaper, the Black Market bi-monthly artisan/record/flea market, and our very much in process initiative to open our own performance & creative community space (announcements coming soon!). www.bostonhassle.com, is our daily updated site featuring an art/film/music events calendar and regular writing about creative endeavors pertinent to the Boston/ New England area. www.brain-arts.org is our non-profit's website featuring updates on the org's many projects, initiatives, and fundraisers. Our Boston Compass newspaper is published monthly, is nearing its 100th issue, and can be found at hundreds of locations throughout the greater Boston area and beyond. 4. Your big annual bash comes up next weekend. Tell us about Hassle Fest 9.

Annually it's our biggest event. It's wild, thought provoking artists from here and wherever being brought together once a year to celebrate the underground of American music and art, and beyond.

5. Having attend for the past few years I can vouch for the fantastic, eclectic range of talent. Tell us about a few under the radar bands we really have to hear.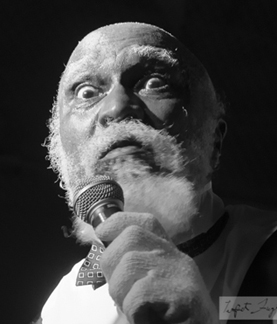 Ono

Viki is coming in from Detroit. She put out an amazing album on Midwich Records last year and has been part of the American electronic noise underground for nearly 20 years, having put out records on Load Records and the like going back to the early 00s. I cannot wait to see what she brings to the table as I haven't seen her play since I was in my early 20s. Ono, from Chicago, played Hassle Fest a few years back for the first time and play again this year. They bring a funk laden, experimental gospel approach which sounds like little else I've ever heard. Moving and fronted by this wild poet of a man, Travis... they blew me away last time. Hoping for the same to happen again. Sunburned Hand of the Man, mostly a western MA contingent now, but they were born in Boston 20 years ago. Free rock etc. of the highest order. Underground famous for sure, I'm not sure many people know of their Boston connection, or even of their existence... but here we are, able to give them a stage to celebrate this milestone, and I hope they are feeling the situation and just go ahead and BLOW US ALL AWAY!!!!!! 6. I've always been impressed with your stage management. There are a lot of bands. How will you be setting up at Once?

Thanks man!!! It may be the single most important part of making this thing go off considering we're dealing with so many goddamn bands each day! We'll be utilizing two stages, bouncing back and forth between the two all day, with little or no downtime between sets, keeping a continuous flow of awesome sounds coming for the audience.

7. Anything you want to add?

Thanks for caring!! Check out our websites! And remember we're a non-profit, if you care to donate here's the place: https://bostonhassle.com/support/. And look out for our 3rd Annual Telethon @ SCATV in March, and announcements coming very soon about the new space we're opening!!!!