Cal Cali Band and Tsunami of Sound
Sally O'Brien's 11/7/14
Review and photos by John Keegan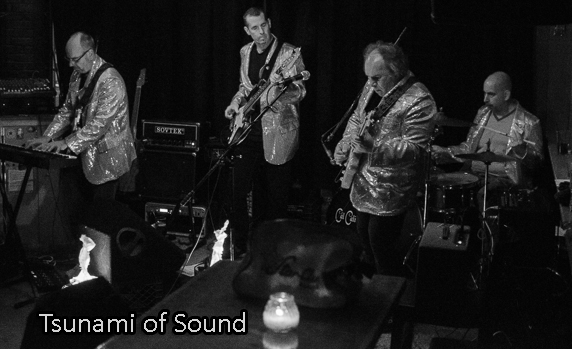 Friday Night. Hassle Fest. Sold Out. Jennie D. and the Deelinquents . Sold Out. And there are still viable options. That's a healthy music scene. Whata town. Sally O's has a decent crowd . The Cal Cali band is setting up. Tonight they are hitting on all three cylinders. They take a playful, divergent approach to tune selection. They pluck Lou's I Can't Stand It from his eponymous, post-Velvets solo album. They crowd flips a few hips with the Holland, Dozier, Holland early Motown hit Heatwave . Vocals and panache by Yukiko Fuji . The band original, Sex Beat clatters along on the strength of DJ Al's stuttering psych guitar and Cal Cali's vocal. Rumor has it that Cali has started his annual southern migration. If that's the case, he hit the road on a high note.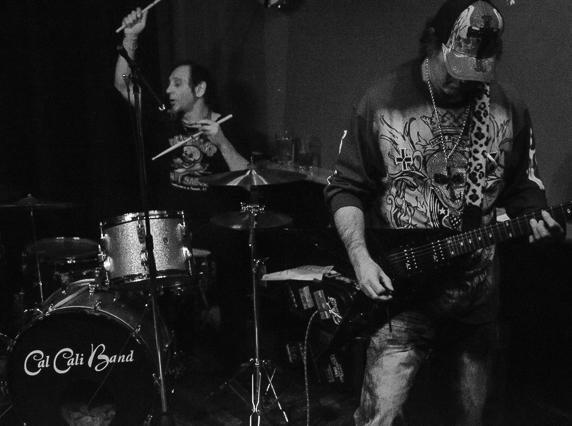 Tsunami of Sound hit the stage in gold sequined smoking jackets. They have some funky fake fire flame pots. The go-go gals have the night off. Spread some sand, grab a board, catch a wave. These guys are out of the Dick Dale School of Surf. No Beach Boy harmonies out by the Willys Wagon. Just electric guitars twangy and staccato, a dash of acoustic and an occasional organ flurry. The focus is on the sound and the arrangements. The mix is very good. Loud, but not plug inducing.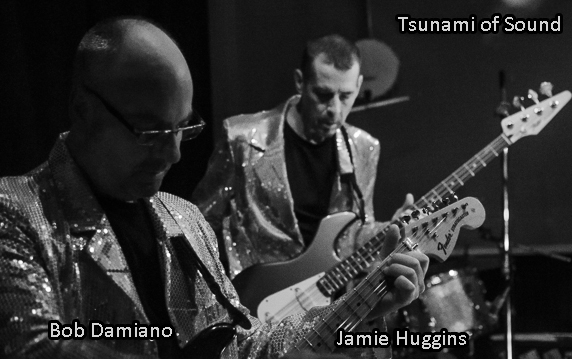 Dave Esposito's guitar handles most of the quick pick melody and lead lines. The melodies proceed with that somehow immediately recognizable surf logic and tone. They sound like soundtracks to a thematic but endless variety of spaghetti western movie shorts filmed on some imaginary beach in Somerville, California. Bob Damiano handles the second guitar parts. He lays out the big defining whammy bar vibrato and brings a contrasting pushy garage feel to his melody lines and solos. Tsunami play a mix of surf classics, deep cuts and originals.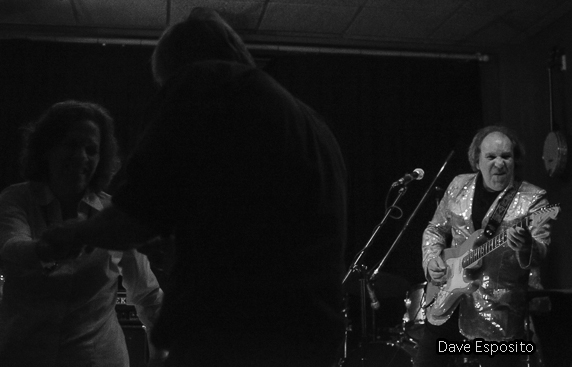 The classics all seem vaguely familiar and are a rollicking blast. The originals are especially interesting. These guys are sneaky subtle. They ride the dynamic wave. Rick Sanger's drums and Jamie Huggins' bass shimmer in these sections. They kick and slip behind the unison riffs. The drum fills are propulsive and tight. Both bass and drums push the dynamics forward and occasionally drop through the floor to pull them back. The arrangements are often intricate and the band interplay rides sweetly through the middle of the pipeline.
So, at the next bonfire, after the co-ed beach volley ball game, shake the sand out of your trunks and bikini's, loosen up your freestyle strokes and do The Swim with Tsunami of Sound.