Hassle Fest 7 Day Three
Brighton Music Hall
November 7, 2015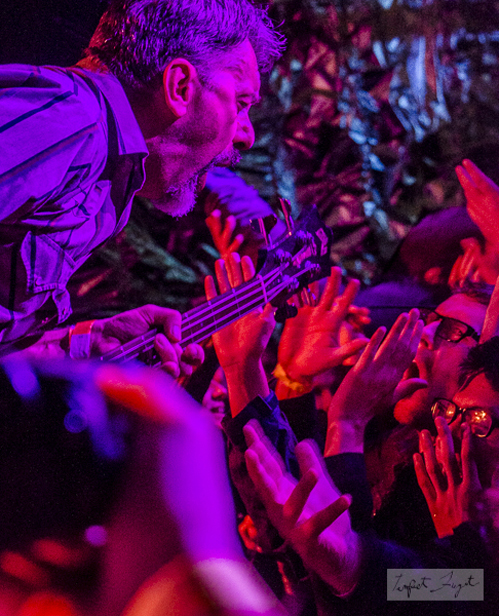 Bruno DeSmartass - Flipper
The organizers behind Hassle Fest, Boston Hassle and Brain Art, are on a mission. Their goal is to open an all ages, all-inclusive music and art performance space in the Boston area. Given the past year of club closing news, the Hassle crew may finally be in the right place at the right time.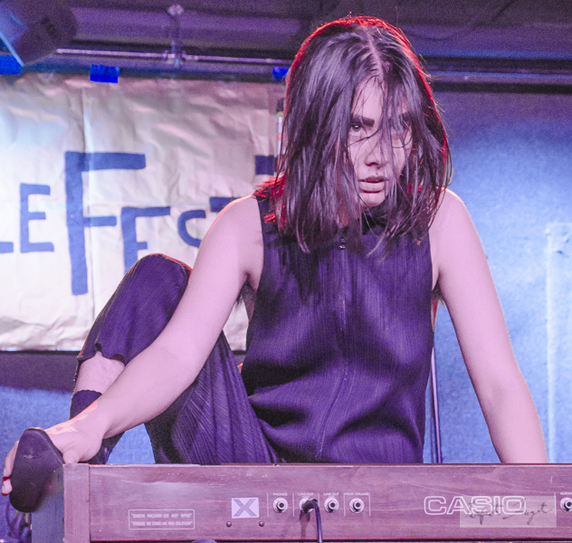 Anna Nasty
Hassle Day Three cut a shapeshifting curlicue swath across musical age, sex, race and style. I got in for Olivia Neutron-John's cubist Casio deconstructions and electronically pushed whisper and howl vocals. Anna Nasty has the clothing sense of a Factory girl circa 66 and the angular moves of a dancer who knows exactly where all her body parts are in space and time. She sent her elbow out on recognizance. Her foot, leg, hip and fingers chase down the sound. She laid down simple and insistent casiotones, impressed with a couple of right hand - and foot - solos, carried off the long forms and pulled a captivating, one-off side slip into ¾ time.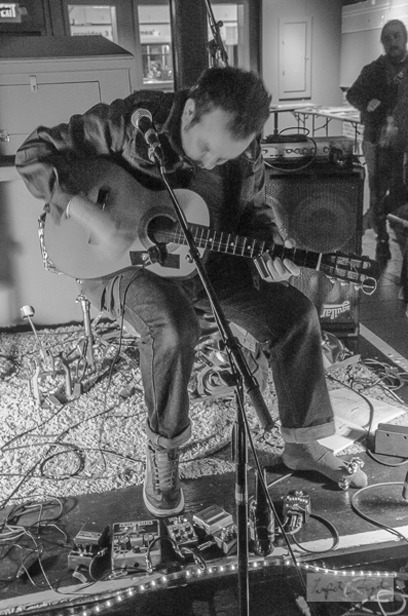 Dan Melchior
These festivals have brought about a refinement of stage management. The small second stage gives time for main stage resets and creates an intimate space that is perfect for some of the solo performers and even for one band (-1) that could have easily commandeered the big stage. Dan Melchior is first up over there. He plays an acoustic through a batch of boxes. His vocals are distorted and he's playing steady jingle bells on his left foot. It's vaguely blues, quite a change up from Olivia Neutron-John and a few runs through a stereo might increase my enjoyment.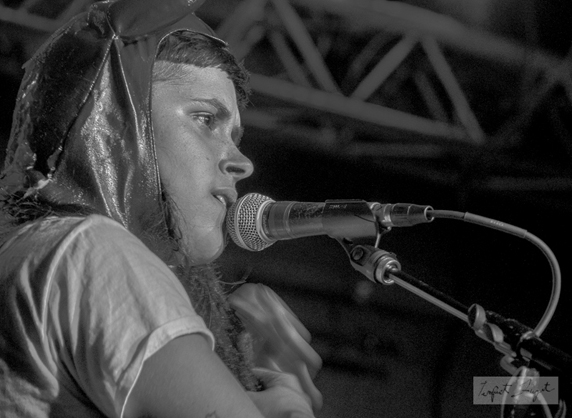 Palberta
Back on the mainstage the three gals from Palberta hit some angular, hurky jerky, singsong trio rock. The three players rotate through the instruments. They form similar trios that subtly change with the personalities of the shifting lead player. They laugh and wink as they do the adorable dance.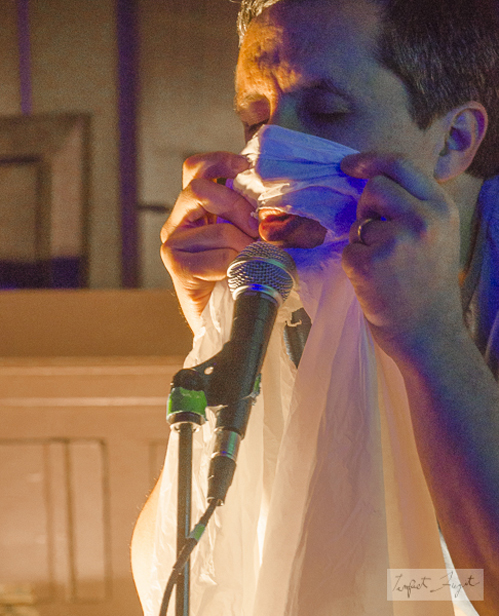 Ben Hersey
Comedian Ben Hersey seems vaguely familiar. Like I knew him in high school. The accent, the ticked out vocal cadence. The non sequitur arc of his stories. It was like a favorite crazy buddy decided to be a performance artist. I laugh my ass off. Imagine if that could really happen. You have a big laugh and your ass falls off. Anyway…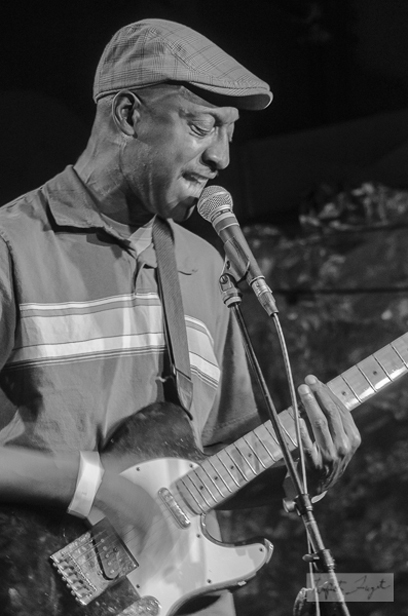 Lamont Thomas - Obnox
Obnox punk rap and roll. Leader Lamont Thomas has a flexible and way digable vocal tone whether rhyming, rockin and crooning like low end Bowie. His guitar is equally supple, from groove to skronk to dash rip rock, from Hendrix to Hazel, to Sharrock to Dr. Know. The drums sound frenetic and fantastic. The place is starting to twitch.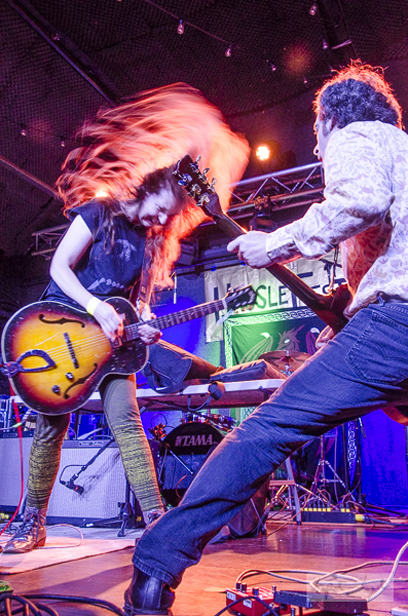 Heathen Shame
Local luminaries Kate Bigger and Wayne Rogers from Major Stars bring out the Heathen Shame. Kate wastes no time establishing the psych way to hell when she abuses the shit out of her guitar with a PBR tall. The trumpet squeals and bleats. Rogers shows no mercy to his instrument. Sulu, go to warp.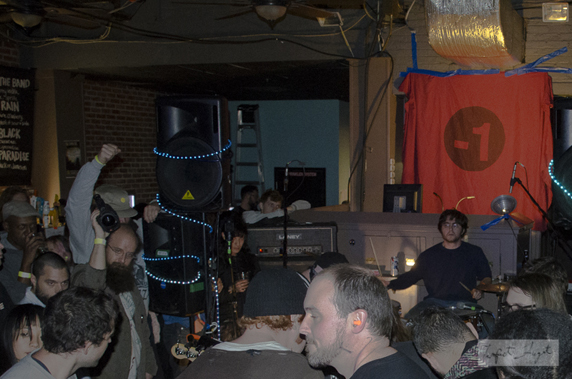 -1
The lead singer of the Negative One use the small stage to get personal with the audience. They blast through a raging set of hardcore spleen purification. The floor stage suits them and the mosh. They would have easily held their own on the big stage.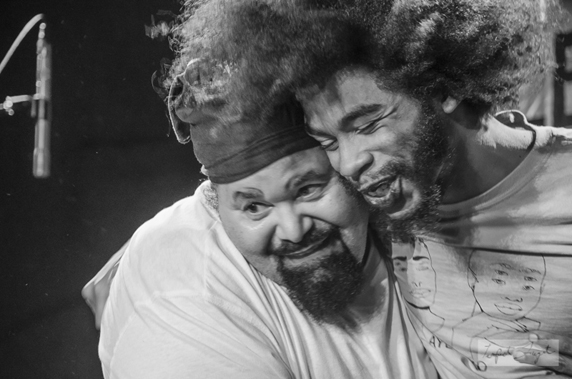 Ono
Ono cut their teeth back in 1980. They build a fractured collage of gospel, performance art, keys and knob twisted guitar shards. Leader Travis walks the wire between groove and god, one minute swinging the next bug eyed incantatory. Very cool shit spun around an even slower passion play version of Lou Reed's Heroin.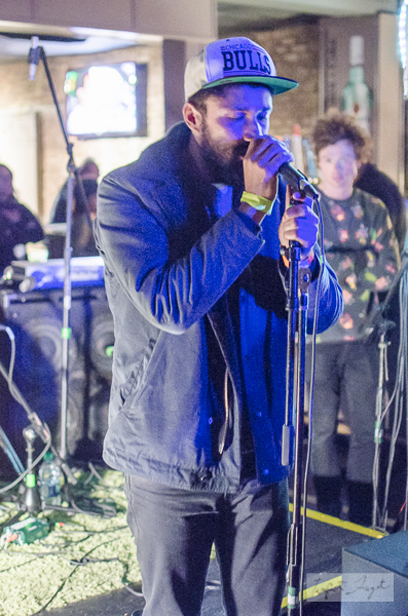 Serengeti
Serengeti kept the dance beats moving and the flow going. He had a habit of abruptly ending tunes and moving on to a new one. Tick, schtick, hard to tell, a bit annoying but the hips kept moving.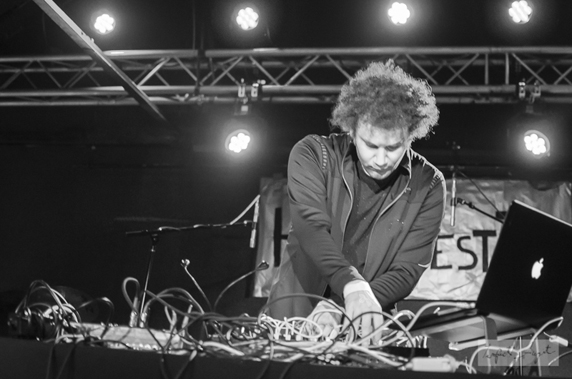 Tyondai Braxton
Tyondai Braxton is the son of one of my favorite free jazz dudes, Anthony Braxton. He part of those Battles boys. Tonight the solo knobs and wires don't hit my sweet spot and I head out for some fresh air.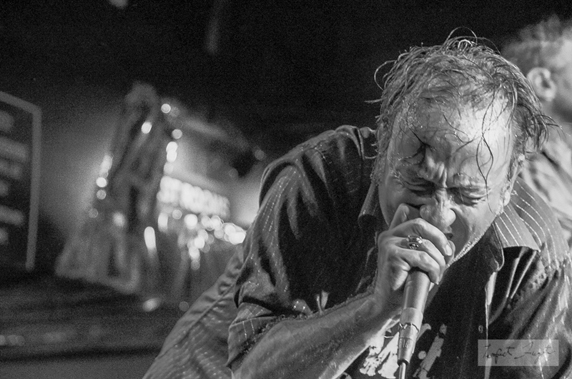 David Yow
Flipper with David Yow on vocals headline. Everything is a little too well lit - including, by the end, Yow. Turn down the lights. Flipper should only come out at night. They hit the highlights, Ha Ha Ha, Ever, Way of the World, Sacrifice, Life and Sex Bomb. The crowd at the stage is diggin' it. They bark along with Yow. He rides the crowd and flails and flounces pretty good for a guy who's not brand new. Given the tension raising antics of the undercard, Flipper throw off a blast of straight-up old school guitar nash release.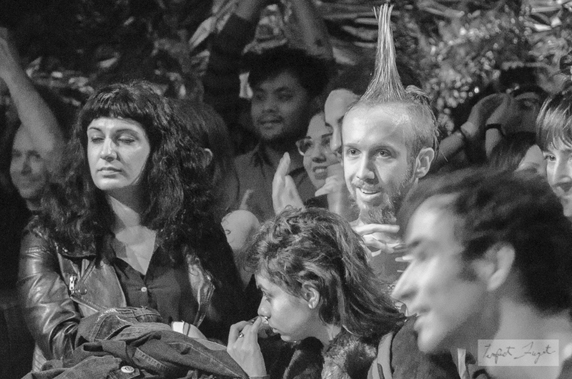 Hassle Fest 7
This may or may not be your music. It doesn't really matter. The Hassle crowd is fighting the good fight to move the music forward to wherever the hell it's going next. They do it with a sense of mission, adventure and humor. If day three of this year's Hassle Fest is any indication, bet on the underdog to cover the spread.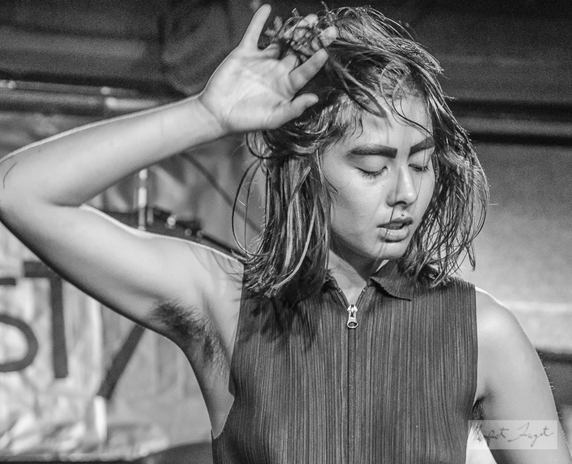 Anna Nasty - Olivia Neutron-John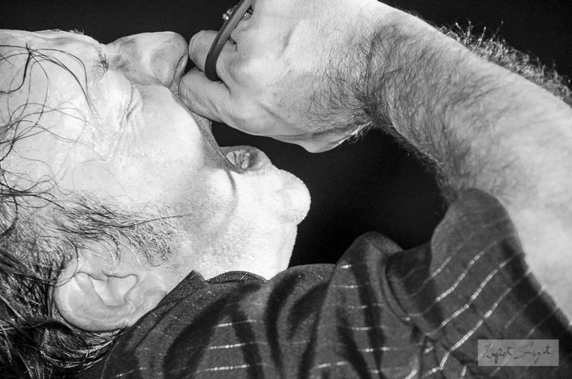 David Yow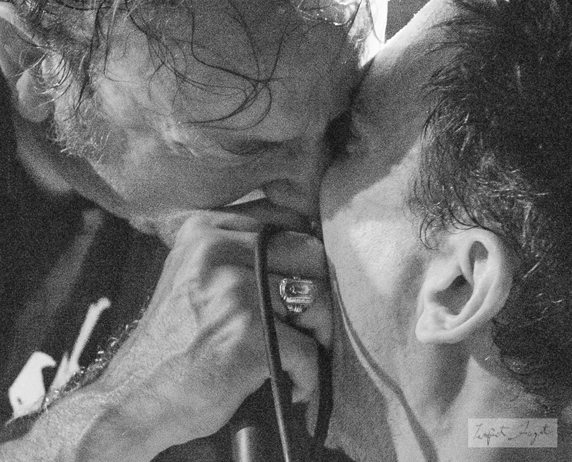 David Yow - Flipper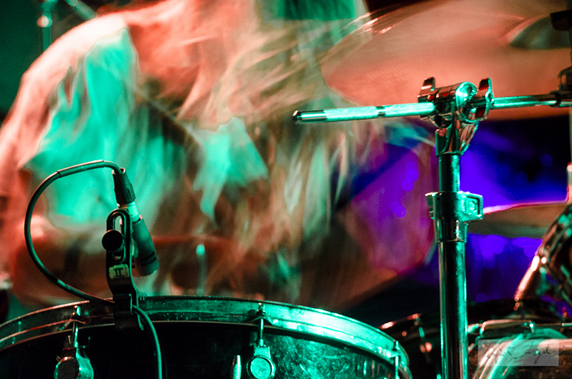 Drummer - Obnox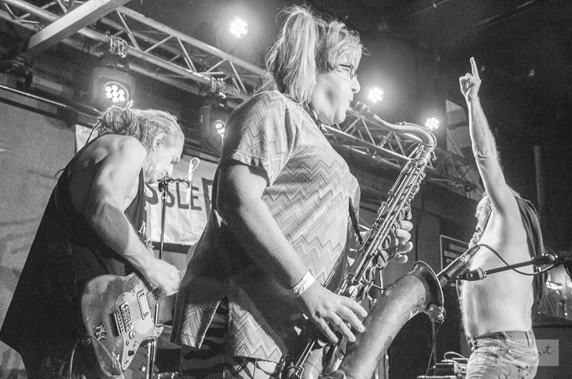 Flipper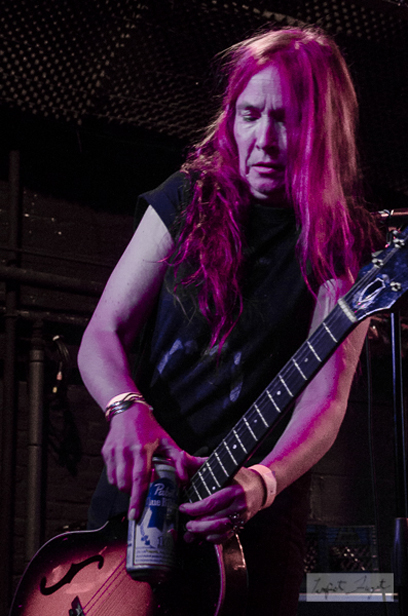 Kate Bigger - Heathen Shame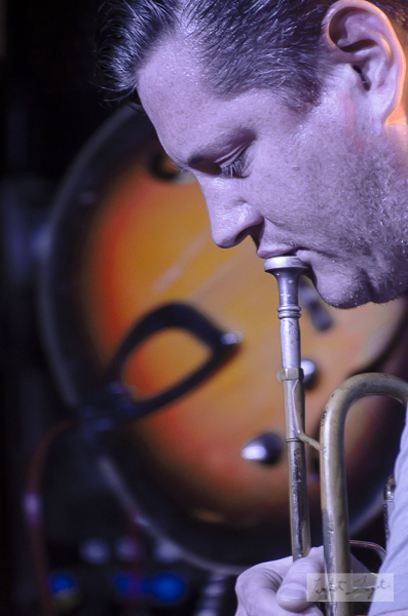 Kelly - Heathen Shame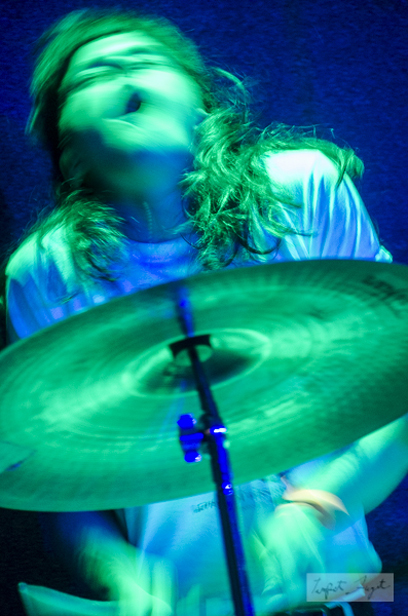 Palberta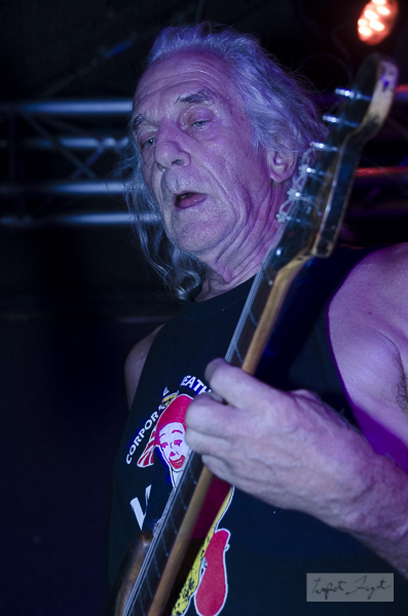 Ted Falcon - Flipper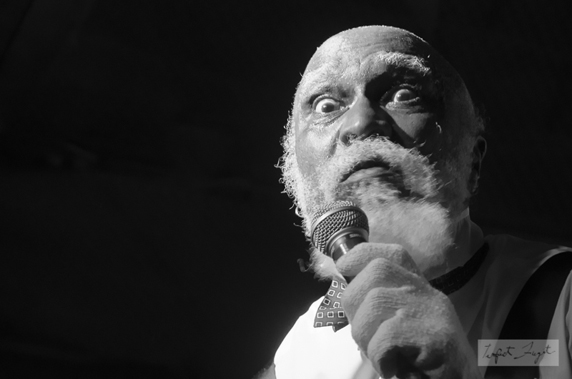 Travis - Ono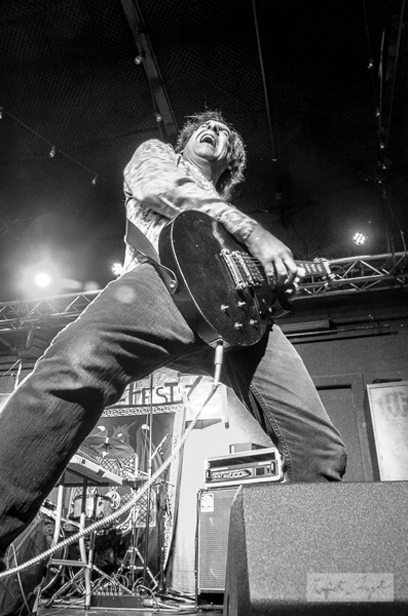 Wayne Rogers - Heathen Shame