Let's Go to The Rat
Brattle Theater Nov 16, 2014
Review by John Keegan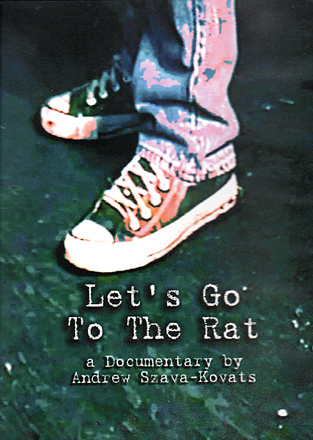 A low budget, labor of love, film project by a guy with limited connections about a local, passion pit cultural icon like The Rat is a prima facie no-win proposition. The first few questions of the premier's post screening Q and A bore this out. Each started with cantankerously toned "Whys…" They put director Andrew Szava-Kovats on his heels for a moment but he recovered.
Let's Go to The Rat is, perhaps unavoidably, flawed. Ironically, it is undermined by the exact DIY esthetic that it seeks to celebrate. Szava-Kovats isn't Ken Burns. He wasn't working with a PBS level budget or a big grant from the National Endowment for the Arts. Let's Go to The Rat is not a high tech production. For example, Szava-Kovats' choice to repeatedly superimpose the talking head interviews over performance videos quickly wears thin. The folks who receive extensive interview time - musicians Dave Minehan, Rick Berlin, Willie Alexander, music zinesters Bob Colby, Eric Van and employees like Linda Viens - provide interesting "I was there" context and color. BGN's own Blowfish distinguishes himself by tying the threads of the primeval Rat story together. He adds insightful comments on the evolution of early punk and its relationship to the then unmet needs of a nascent punk music consumer.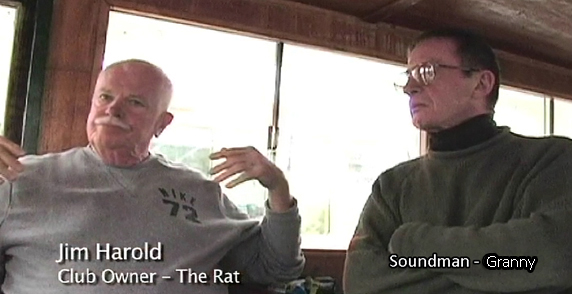 The archival footage that is used catches the feel of the room and is a hoot to watch and listen to. It does, however, leave you jonesing for performance video representing a much broader slice of bands and time frames. Nothing from the seventies? Nothing, as one audience member lamented, from the clubs hardcore shows in the 90's? More than one potentially interesting avenue lead to dead ends. For example, The FSU (Fuck Shit Up/Friends Stand United), a straight edge, hardcore associated, Boston-based, FBI categorized gang is briefly mentioned but left unexplained and unexplored. The ruddy faced raconteur and man behind the red velvet curtain of the story, Jim Harold, conspicuously absent.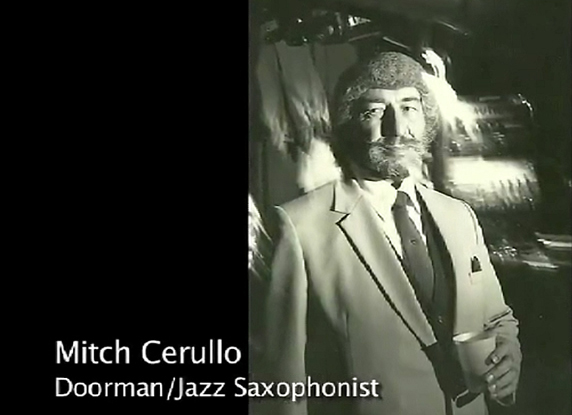 Szava-Kovats defended his efforts. He claimed that he reached out to hundreds of people. He got responses from a small percentage of that group. He got active participation from a fraction of the smaller group. It took Szava-Kovats four years to complete the film. He spent 15K of his own money. He states exasperatedly, and somewhat wearily, that he did the best he could with what he had. He deserves a respectful nod for having the balls to wrestle with the beast.
If you remember Mitch the doorman, the stairway down to the club, the bathrooms, or any of the multitude of great local and or early shows by future stars, you will want to see Let's Go to the Rat. If you hung out at the club or were a Rat insider, you will likely find yourself frequently mouthing "Why…", or "WTF", but you will still find things to like. Yes, Let's Go to The Rat is flawed. Maybe WGBH can get Ken Burns to go to town on this. Until then, Let's Go to The Rat is what we have.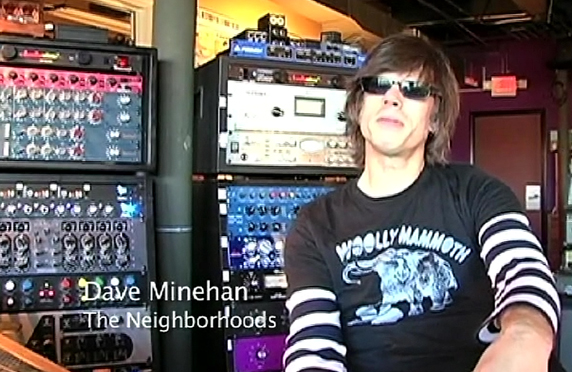 That said, Let's Go to The Rat is an affectionate and sincere attempt to pay tribute to a local dive bar that, as Minehan notes, captured the local Zeitgeist of a defining period in rock. The Rat meant different things to different people at different times. The club's significance waxed and waned with time. It probably never exceeded the cachet it enjoyed from the mid-seventies thru the mid-eighties. But, whenever your affaire de coeur with The Rat occurred, and for however long it lasted, it likely imprinted a graffiti smeared impression on your musical sensibilities. Let's Go to The Rat gives you a modest, but enjoyable look at why and how.