Thalia Zedek Band, Live Skull
The Midway
December 11, 2021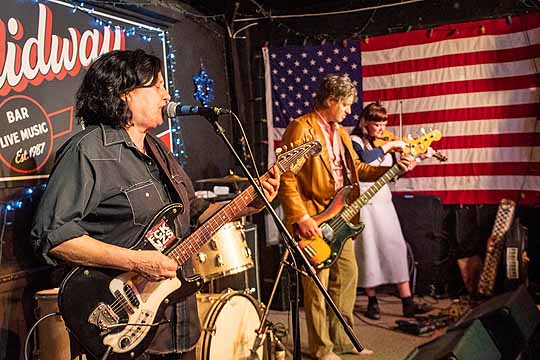 Thalia Zedek Band
I've been jonesing for something rough around the edges. The Thalia Zedek Band and her former band buddy's Live Skull attack from opposite sides and slammed me in the middle this past Friday night. The room was three-quarters full and the crowd was lively. Judging from attire, there were a few unsuspecting holdovers from the weekly Dead Night show.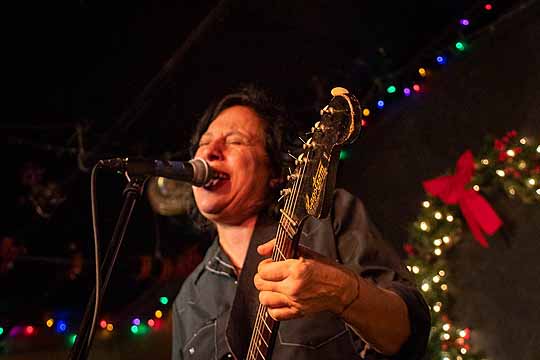 Thalia Zedek
Zedek's band stuck almost entirely to their excellent new disc, Perfect Vision. Zedek is looking at the world and not liking what she sees. The recording and the show start with the one-two punch of Cranes, with its deceptive lilt and a simple, repeated guitar line that pulls you in like the undertow at Hampton Beach. Then they drop into a waltz time metaphor about how we unleash a swarm of angry hornets and how we are at a loss on how to deal them. The record feels more fragile and melancholy. It has a few more stringed instruments in its arsenal.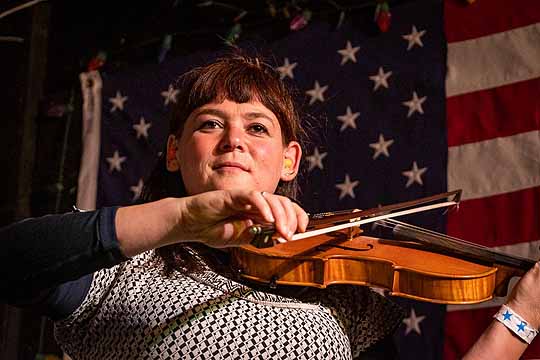 Kaethe Hostetter - Thalia Zedek Band
On stage, the songs have more bark and bite. Gavin McCarthy on ferocious drums and Winston Braman on ringing bass provide the bark. Thalia's guitar and emotive rasp provide the bite. Kaethe Hostetter's violin and a few pedal buttons that she keeps up her sleeve, does most of the heavy solo lifting. She has a rich tone that slides easily between gentle and kick-ass. She uses the pedals discreetly to add small bursts of delay and reverb on the crescendos to thicken a sound. Most of the songs start low and slow, but you can feel the pent-up energy as they progress and the band builds intensity. These songs never scream but you feel the power. Grab the disc in your favorite format. Read the lyrics a couple times while listening and then play it in the dark. Don't go to this disk to feed your love of garage, power pop or noise. Don't go see the band to get your dance on. Go to both for a hint of light in the darkness. Go to both to be pulled in. Go for the undertow.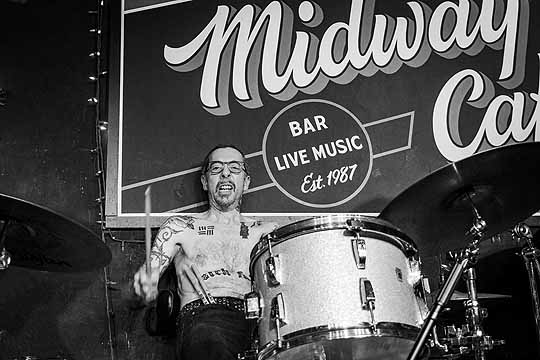 Richard Hutchins - Live Skull
Live Skull called it quits somewhere around 1990 after a fourish year association with Zedek as lead singer. During that time they moved from dive bars to opening stadium gigs for the likes of Jane's Addiction. The band's two founding members, Mark C. and Richard Hutchins decided to take a later day swing at Live Skull in 2019 when they released Saturday Night Massacre.
They recruited some fresh blood in the form of Hannah Morehead on bass and and Dave Hollinghurst on second guitar and vocals. When I smoke spoke with Mark C. before the show, in addition to telling me the story of how they met Talia and how she joined the band, he mentioned that they've been playing with different people over the last few years and when they struck on Morehead and Hollinghurst it was clear to all that the fit was there.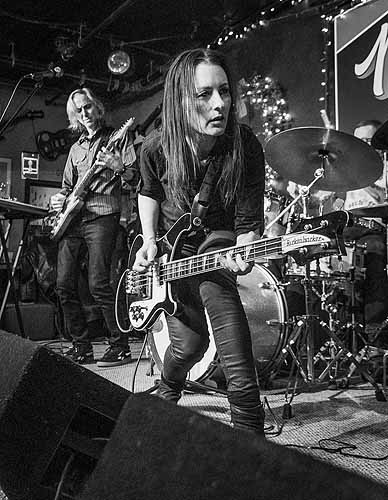 Mark C. and Hannah Morehead - Live Skull
Most of the tunes come from 2019's Saturday Night Massacre. It's quickly apparent that the band has jettisoned some of its noise affection and gone in for clarity over clamor, structure over splatter and angular rhythm over roar. That said, LS still brings the rock. Mark C. handles the lion's share of the vocals. He plays a somewhat detatched omniscient narrator as he assails society's most recent, but never ending, folly. His leads are short, clean and tight and mirror the spider like motion of his thin fingers. Hollinghurst on second guitar drives the rhythm, thick, fast, and hard on every song. Morehead prowls the stage and locks into the groove on her big Rickenbacker. Richard Hutchins, the other original Live Skull member, lives up to his sick fuck stomach tattoo with an endless battery of monster fills. From just released tunes like Day One of the Experiment to the rejiggered '86 post punk kick of Debbie's Headache, Live Skull churn up some catchy, rough around the edges heady noise.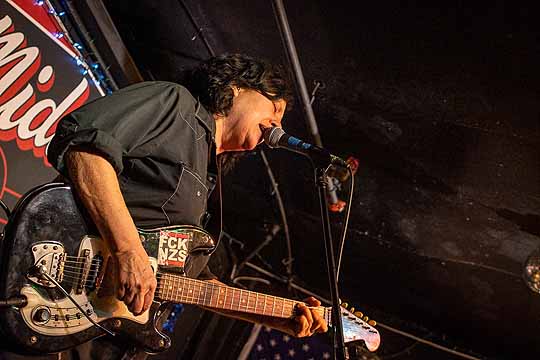 Thalia Zedek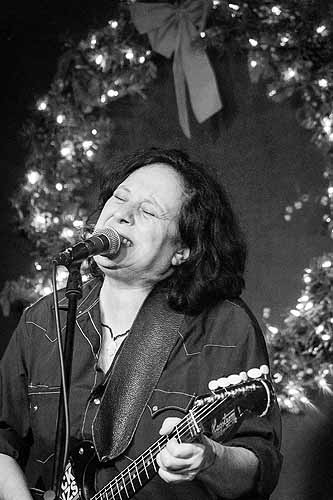 Thalia Zedek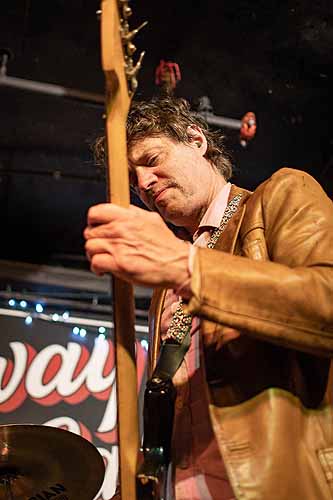 Winston Braman - Thalia Zedek Band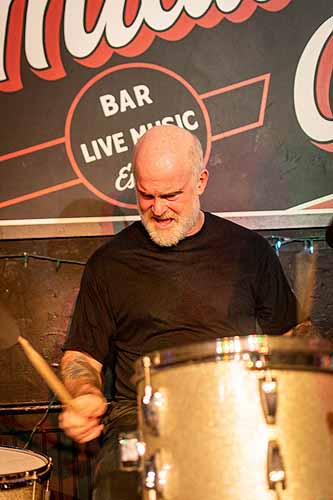 Gavin McCarthy - Thalia Zedek Band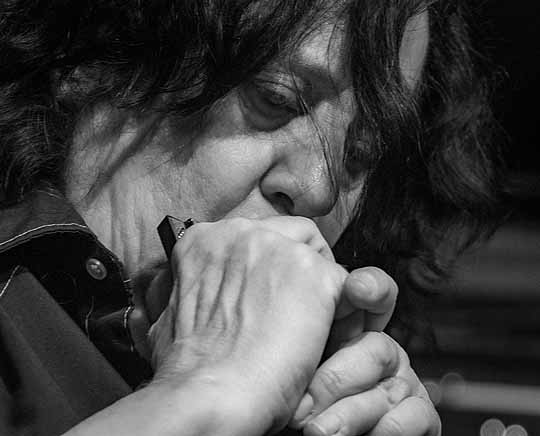 Thalia plays with Live Skull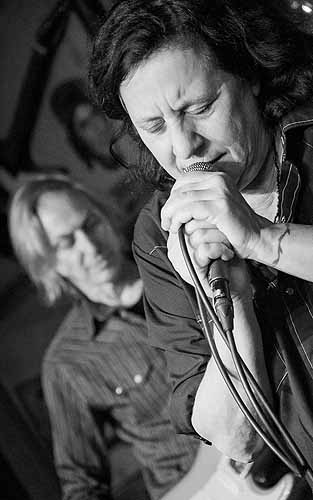 Thalia plays with Live Skull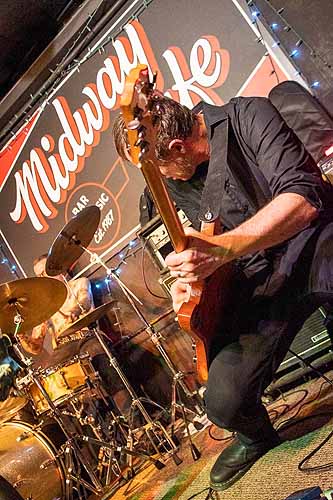 Dave Hollinghurst - Live Skull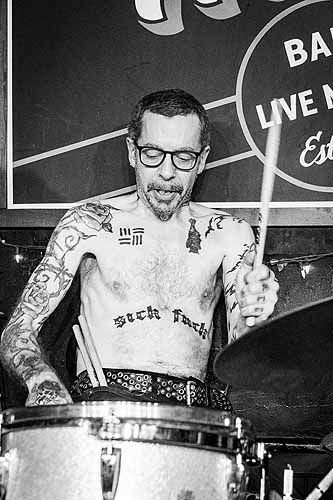 Richard Hutchins - Live Skull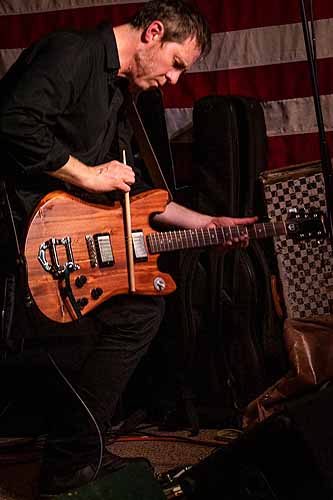 Dave Hollinghurst - Live Skull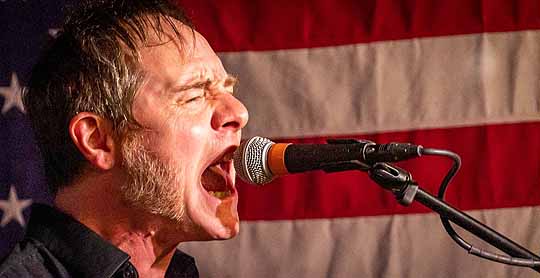 Dave Hollinghurst - Live Skull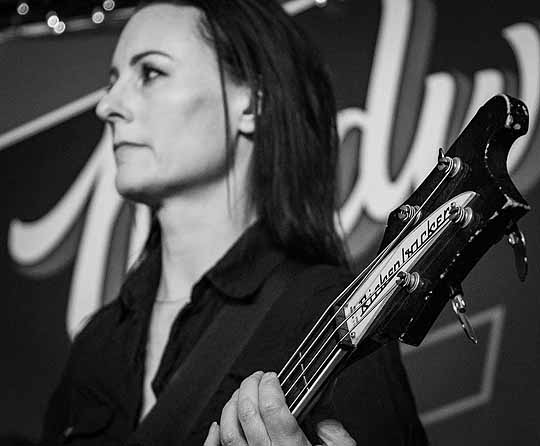 Hannah Morehead - Live Skull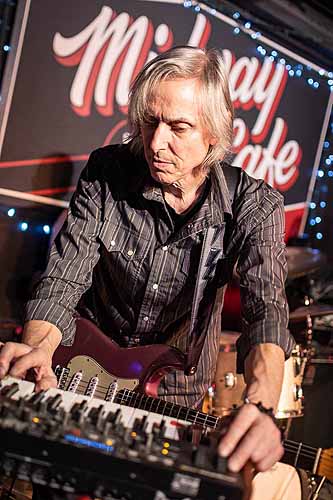 Mark C. - Live Skull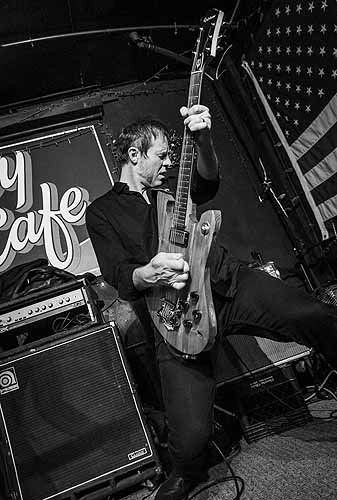 Dave Hollinghurst - Live Skull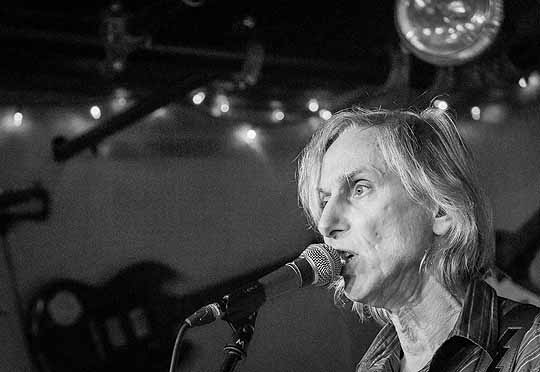 Mark C. - Live Skull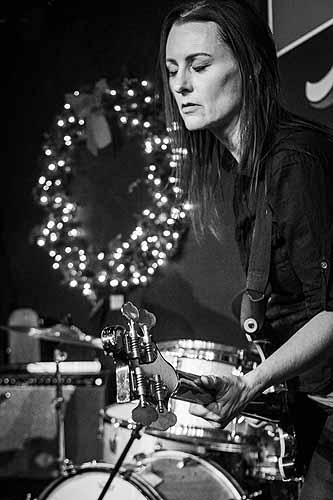 Hannah Morehead - Live Skull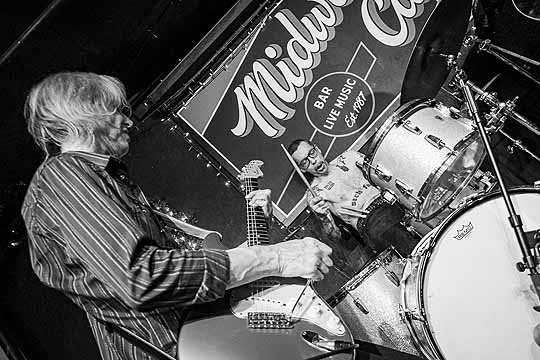 Live Skull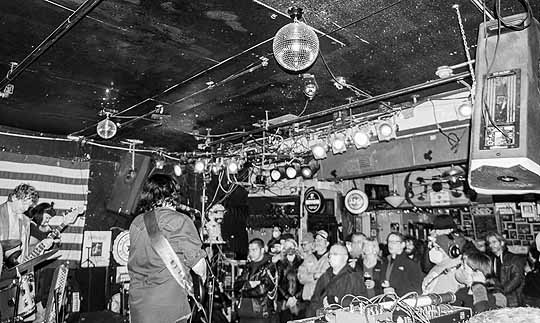 Solid Midway crowd