Scene Of the Crime
Tons of bands-Twenty minute sets
The Return To The Scene of The Crime CD Release Party at TT The Bear's was a night PACKED with bands!! The CD has 25 bands recorded in 24 hours at Lonesome Paws Studios and on this night (Saturday August 30th) there were at least 10 bands playing. On the CD ya got: Party Fight, The Downbeat 5, The Dents, To Hell You Ride, Lenny & The Piss Poor Boys, Rat Fink, The Jabbers, The USM, Los Filthys, Sugabomb, Locket Love, Awakening Stick, Supachick, White Trash Deluxe, Meat Depressed, The Gobshites, Musclecah, The Numbskulls, Necrowafers, Brainless Wonders, Bender X, SBGB, The Pity Whores, Big Bolt Deluxe and Black Fag.
It's a really great sampler of some cool New England bands. It is available through Good Cop Bad Cop Records PO Box 653 Foxboro, MA 02035 or you can go to MeatDepressed.com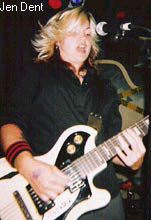 We got there around 10PM and had already missed a couple bands…each band, except The Jabbers and The Queers, played 20 minute sets…we walked in on The Dents blasting through Another Miserable Day after that I can't remember in what order the bands I saw played coz there were so many.
This I know…Supachick got on the stage and the guys were just staring slack-jawed….Supachick herself was wearing a black leather bra and some super low rise black underwear under a camouflage jumpsuit that was unzipped WAY down to the crotch…Photo One...Photo Two...did anyone hear the songs I wonder???…they are a little suburban metal sounding and did Boyfriend Bootcamp…their cut on the CD.
Sugabomb did one of their best sets I've seen and their Cable Guy song stuck in my head for the rest of the week!! Not to be outdone Vicki was wearing a see-through tank top over a see through bra…all the guys were like drooling and staring, it was funny and yeah she looked awesome as did Sandy, the bass player, but she wasn't wearing anything see-through!!

Sugabomb


The Ugly Americans were a "new" band since The USM broke up these guys played instead since they are USM without Rocco (personnel line up I mean) . So The Ugly Americans is John, Mike Photo Mike and Bob and they sound more straight ahead punk as opposed to the pop-y brit inspired USM, I liked 'em!!!
Party Fight really rocked, short fast songs, very punk with Wimpy Rutherford on drums...Photo of Party Fight.
Get a bunch of Boston bands together and what are the chances that Matt Burns is not drumming at some point? Zero. Tonight he plays in his Awakening Stick line up. Some wild wha-wha guitar here. Photo One...Photo Two.
There was one fast song by Lenny and the Piss Poor Boys Photo Two

Jabber's Photos...1... 2... 3

Then The Jabbers were up and I don't get this: it seemed like half the audience left….WHAT'S UP WITH THAT??? The Jabbers are sounding really tight and powerful these days (in fact they are recording a new CD and touring a lot in the near future!). The brave souls that did stay to watch them got a great show, yeah there's the memory of GG and the serious mosh pit action but it's not that different than lots of other bands. And believe me, with all respect to GG, they are having a go at it on their own now as the NEW Jabbers let's say you really should check them out next time they are in town instead of wimping out and leaving!! Wimpy, who is most definitely NOT a wimp, kept jumping off the stage out and singing the songs in the pit and getting thrown around…a very respectable move if you ask me!! This guy gets into it!! The band as whole delivered an awesome set.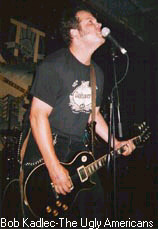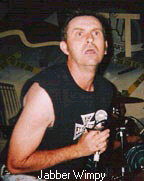 The Queers Photo One...Photo Two were last for the night and though The Queers aren't actually on the CD, Black Fag is. Joe Queer was a little miffed we hear since the stage was covered with puddles of beer from the previous band but they delivered a really great set of Clash kinda stuff. It was a great way to end a great night. Be sure to check out the MeatDepressed.com to buy the CD!! NOTE: The CD says to go to www.goodcopbadcoprecords.com but at the time of my writing this the site was under construction still so when you read this....try both!!!
---
home | interviews | photos | features |BGN issue list | reviews
links | contact us
Copyright © 2003 Paul Lovell. All rights reserved.