Simon Ritt / Dirty Water
March 20, 2018
BGN- You're not originally from Boston. Where are you from?
SR- I was born In Ottawa, Canada…the coldest national capital city on the planet which probably tells you all you really need to know about me. For reasons lost to me we left there and moved around a bit living at various times In Barbados, Baltimore and eventually Central Florida where I spent my teenage years mostly trying to score and play hard rock drums. That's where I met budding guitarist Joe Mazzari and we made our first feeble attempts at putting bands together literally in his folks garage.
BGN- Tell us your history that got you here.
SR- On very short notice I moved to Boston or more accurately Lynn, July 03, 1980 to replace the drum throne recently vacated by Bobby Morin In The Daughters, a band started by Joe Mazzari who had split Florida and moved here the previous year. My first gig with The Daughters was one week later at The Main Act on the Lynnway where the open air flea market Is now.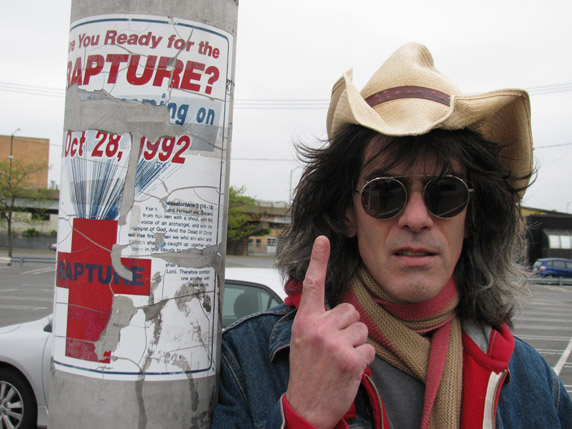 The Daughters would record a single for Varulven Records. Through a combination of incredible good luck and very hard work we forged a relationship with Johnny Thunders. After The Daughters morphed into Two Saints we released 'Are You Living', an unreleased Johnny Thunders song, the only artists ever to do so in Johnny's lifetime.
For a while in the late 1980's I also played with Unattached during their golden period. An album for Throbbing Lobster, the number one local song on WBCN for three weeks running, winning our first night in the WBCN Rumble and selling Alice Cooper 'Trash', the song that would become the title track for only the most successful album of his entire career. A real band of morons who didn't realize how good they had It!
Over the last couple of decades I have had the pleasure of co-fronting The Darlings together with my partner the exquisite Kelly Knapp originally from Livonia, Michigan also hometown of Boston Bruin Tory Krug. The Darlings have been nominated for two Boston Music Awards and won one. We also won the nationwide Jim Beam Country Music Talent Search held at The Wildhorse Saloon in Nashville, TN. Over the years The Darlings have opened for some of the best in the business Including Jim Lauderdale, Lucinda Williams, The Real Kids, Junior Brown, The Nervous Eaters and Tom Petty.
BGN- When did you get the idea to make the video? What motivated you to do it?
SR- Initially I wasn't at all thinking of a video. I was motivated by the observation that I've never heard any local Boston bands perform 'Dirty Water', the greatest city song in all of Rock & Roll. In fact back In the 1980's playing 'Dirty Water' in a Boston club would have been just about the most un-hip thing a band could do.
When I realized that then I felt I had no choice but to record it. And as great a song as 'Dirty Water' is it is imperfect. For some reason lost to history there is only half a harmonica solo on the original version and then two bars of nothing which has always vexed me. I was initially motivated by the desire to see that harmonica solo to the end, as by anything else.
Initially I was thinking of just pressing a few CD's for laughs to give out to the local radio stations in our area………sooner or later every DJ can use a thirteen minute song when they need to take a break. But it was soon obvious that it was a video waiting to be made.
BGN - Was there a point where you knew it was going to be long?
SR- And I knew I wanted to make it long, as long as it could be before the joke got too old.
BGN - Did the list of names dictate the length of the video/song or vice versa?
SR- The names of band's definitely dictated the songs and the video's length.
BGN- How long did it take you to complete the entire project?
SR- That process from beginning to end probably took two years.
BGN- You visually and verbally name check so many people and bands! It's incredible. Did you sit down and make a list and keep adding to it?
SR- Naming all the bands at the end was real spontaneous. But as soon as I thought of it I knew I was on to something. Coming up with the bands was really a stream of consciousness process over the course of several 'writing' sessions with a little bit of tweaking and editing here and there.
BGN- Where did you record it and video it?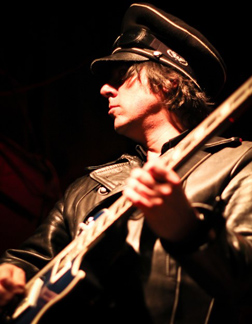 Tony Savorino

SR- I recorded it along with Tony Savarino on guitar, and The Darlings' Norman Hartley on drums, Ed Riemer on bass and Kelly Knapp on backing vocals. Ed and I produced it at The Barn, his private studio In Canton, MA ,where It all was recorded.
My video partner was film maker Red Wood. Her and I had worked on a previous, mostly experimental video a couple of years earlier. Mostly I accumulated the images and Red synched them up with the music and lyrics. An excruciating experience that took us hours and hours.

BGN- We know you got a lot of the images from the BGN (and that's great!) but where else did you go for images?

SR- I've always been a bit of a pack rat and some of the images were from my own archives. But the vast majority were found on line. It was quite a process but eventually we found some kind of image for just about every band except for The Blaro's, James Brown Junior (a real performer….he sang at Willie Loco's 50th. Birthday show @ The Rat.) and The Rain.

BGN -Who's idea was the double sunglasses? That makes me laugh.

SR- The second pair of sunglasses was my Idea and a completely spontaneous one………I tried on one pair, then the other, then hey…..I know what I'll do.

BGN- Why is Nick Cave in there?

SR- I considered Nick Cave's epic 'I'm On Fire' as a sort of the musical template for 'Dirty Water' & If you're familiar with the tune you'll understand why. Sixteen amazing non-stop minutes of crazy lyrics and intense energy. Which is why as a nod & a tribute I included his image as well as 'The Hyman Busting Zulu's', a line from 'I'm On Fire' which worked nicely together with my own reference to The Zulu's.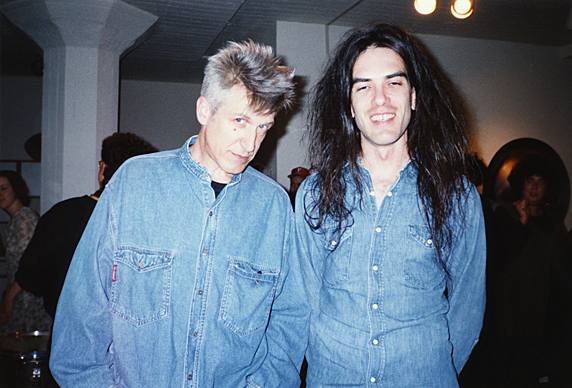 Willie Loco and Simon
BGN - Anybody you missed that you would like to add now?
SR- Now that the song and video is done I have regretted in retrospect not including a couple of acts I should have. And I regret getting 2 Million BC's name wrong, It's NOT 10 Million, but by the time I was made aware of my error it was too late to change it. I've since run into their old singer Anthony and everything is cool, he loved the video error and all.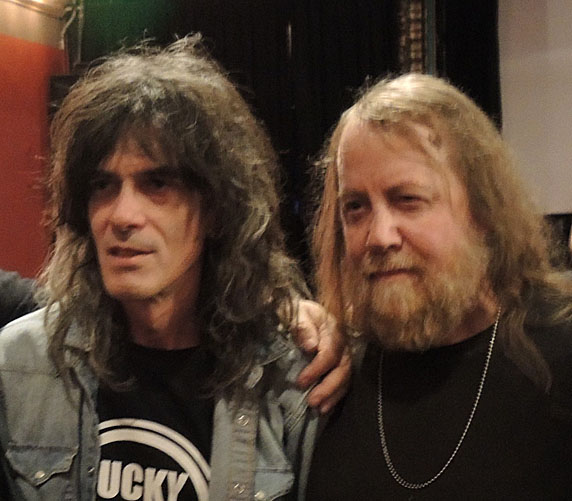 Simon and Billy Borgioli
Mostly what I regret is the people I Included In the song but who passed away before the video hit youtube. The great John Lincoln Wright, Billy Borgiolli, Charlie Chesterman, Daryl Frazier my predecessor in the Unattached and especially my good friend Howard Cook at who's urging I Included Aerosmith.
I have heard a bit of…'oh you should have Included these guy's'….or 'what about those guy's' and my reply is that I welcome (or challenge) anyone out there to record their own version and include all the bands they may think I overlooked.
BGN - Your fixation mirrors our fixation. Why do we spend so much time and energy into, not just music, but a music scene?
SR- Humans are by nature a tribal animal and for many of us music is our tribe. Being musicians and part of a musical scene is our Identity. Once it was your ethnicity or national origin that mattered, now it's what bands did you play with and what clubs did you play in. I think that's why not just music, but a larger communal music scene, fixates us and consumes so much of our energy and waking hours.
BGN - You finish with the DAWGS. That's a group that didn't get as well known as others but that locals love. Can you explain their attributes/attraction to those that don't know them?
SR- In July 1980 just days after arriving in Boston my new bandmates in The Daughters took me into Boston to check out The Rat, a club we had heard of even In Central Florida. What I had not heard of before was the band that held the long time Monday night residency there, The Dawgs. I was hooked right away. A real blue collar, meat and potato's band with a great rhythm section, a smoking lead guitarist and in Phil Haynen, a profoundly prolific songwriter with a gravelly, one of a kind, rock and roll voice that made Rod Stewart sound like kindergarten.
The Dawgs were only marginally popular with the kids but among their peers they are still considered one of the best bands ever to come out of the greater Boston area. Ask Asa Brebner, David Minehan, Frank Rowe…..they'll all tell you the same thing, that The Dawgs were the law!
I naturally gravitate to the underdog no pun intended. I mention them last because they were the first Boston band I fell In love with after moving here and I wanted to save that place of distinction for them. They are the exclamation point at the end of the song so to speak. BGN - How does this intersect with your regular music? Is it apart as it's own project or will it have an influence on what you do in the future?

And in a vague way I consider 'Dirty Water' a sort of exclamation point or at least a punctuation mark on my personal local musical history as well.

I wanted to do something totally distinct from The Darlings with Dirty Water which I think I managed to pull off pretty well considering most of them actually play on the song and it was recorded at Ed Riemer's, The Darlings' bassists, studio.

BGN - Now that we are talking to you - what are your current projects?

SR- Currently I am preparing to perform Johnny Thunders' classic So Alone album in it's entirety at The Lizard Lounge on May 22. So Alone is Johnny's singular masterpiece and this year marks the 40th. Anniversary of it's release. Joining me will be Tony Savarino and The Savtones, former members of The Daughters Joe Mazzari and Bill Doherty, Kim and Kelly of The Bristols, Ajda Snyder from Black Fortress Of Opium and a few other special guests to be named soon.
As you know in recent years I have had the pleasure of contributing to some Johnny Thunders documentary's, books and CD re-Issues. Well I am done talking about Johnny, now I'm ready to play and sing some Johnny. We're all really excited about the event, I don't believe even Johnny ever performed So Alone live from first song to last.
Here's a list of the bands Simon checks off in his video.....
NEIGHBORHOODS

CLASSIC RUINS

REAL KIDS TAXI BOYS BRISTOLS UNATTACHED

WILLIE * Loco' ALEXANDER ..LOOKING LIKE A BIMBO

BARRENCE WHTFLD &THE SAVAGES

BETSY NICHOLS &THE FRTTRS

CHRIS TOPPAVINSKY BATHING BEAUTIES

LINDA VIENS-LINDA PRICE

CHILDREN OF PARADISE

VALDEZ THE SINNER

THE BLUES OUTLET

BLUE RUIN JAMES MONTGOMERY

THE NERVOUS EATERS

THE ORGAN DONORS

THE PHANTOMS

STRANGLEHOLD

MR. CURT & MR. BUTCH

Ms. JORDAN VALENTINE

THE JONESES

WHEELERS & DEALERS

MICKY BLISS ORGAN COMBO PETER WUBA GUBA

MISSION OF BURMA

ROBIN LANE-ROBIN RIGHT

ASA BREBNER OUTTA' SIGHT

THE MODERN LOVERS 'OUT BY THE STOP & SHOP'

THE BAGS

THE RUDDS

THE NEATS

LAPESTE

G.G.ALLIN- Now He's Better Off Dead

THE BROOKLYNS

THE RAINDOGS

THE RAIN

THE CAVE DOGS

THE GARAGE DOGS

THE DOGMATICS

'COME ON EVERYBODY'

ARTYARD & ALL OF THE NOISE

JOHN LINCOLN WRIGHT AND THE SOUR MASH BOYS

THE TURBINES

MOOSE &THE MUDBUGS

MUCK &THE MIRES

MARKY MUSSEL & THE CLAMS

WEISTTRONAUGHTS

KEN E. HIGHLAND

BOSTON GROUPIE NEWS

VATICAN SEX KITTENS

REDDY TEDDY

MATTHEW MCKENZIE

CHARLIE MCKENZIE

AEROSMITH - RAY DAVIES CALLS THEM 'HARRY SMITH'

CHANDLER TRAVIS

THE CASUAL INCREDIBLES

THE DAUGHTERS

SORRY JOE MAZZARI

TONY SAVARINO

BLACK FORTRESS OF OPIUM

TEA IN CHINA

THE SOULS GENTLEMEN

THE TITANICS

JOHN BUTCHER AXIS

LIZZY BORDEN &THE AXES

UNATURAL AXES

FUTURE DADS

THE VISIGOTHS

GARVEY J

Lou MIAMI

THE ILLYREANS

THE BLACKJACKS

THE QUEERS

THE TEARS

PREACHER JACK 'As CRAZY As A HEART ATTACK'

DIRTY TRUCKERS

THE STOMPERS

THE OPERATORS

VIVA Los METALLICOS

Los TEXICANOS

Los DEL FUEGOS

COUNT VIGLIONE

BRIAN VIGLIONE

XANNA DON'T

THE STRANGEMEN

GANGREEN

SHAKE THE FAITH

THE PRIME MOVERS

MORPHINE

TREAT HER RIGHT

THE GREAT ATOMIC POWER

THE COOTS

THE GONE BOYS

THE 360's

THE ZULUS

THE HYMEN BUSTING ZULUS

SCRUFFY THE CAT

GOOD OLD CHARLIE CHESTERMAN

I'M PRO PROTAGONIST

BERLIN AIRLIFT

THE HOLLYWOOD INDIANS

THE BEACHMASTERS

THE BOWEEVILS

THE VARMINTS

HEARTS ON FIRE

THE SILVER LINING

THE MASTER BLASTER

THE BLARO'S

TRICK WALLACE

FACE TO FACE

HAPPY THE CLOWN

WOODEN LEG

THE BLOOD ORANGES

THUNDERTRAIN

TEN (actually TWO) MILLION B.C. THE SLAVES

THE BLANKET PARTY

JAMES BROWN JUNIOR

DENNIS BRENNAN

SHEILA DEVINE

LUCKY FIFTY SEVEN

SALEM SIXTY SIX

BAND NINETEEN

THE DARLINGS

AND I MEAN THE REAL DARLINGS....

RUBBER RODEO

THE JET SET

BARRY &THE REMAINS

THE BENTMEN

THE FIGHTING COCKS

THE FAMILY JEWELS

THE FAST EASY WOMEN

D-A-W-G AND S.....

THAT SPELLS THE DAWGS I SAVED THE LAST FOR THE BEST

THAT'S THE SOUND OF OUR TOWN