Smitt E. Smitty Interview

August 2020

Ther BGN got in touch with Smitt E Smitty to talk about the upcoming "The Virtual Video Atomic Fez Fundraiser for Once in Somerville!" on Saturday September 26, @ 8PM. The event includes a seemingly never ending list of bands you want to see! We also got some history on Smitty, his bands and what he is doing now and planning for the future. Smitt E Smitty is not one to sit around idle, that's for sure. He has a lot going on!!

BGN: How are you doing with this non-interactive shut down?

Smitt E: Man Oh Man, it has been rough. We had two major events canceled due to this horrible virus. We were supposed to do "The Boston All-Star Rock FEZ-tival at Once in Somerville on 6/20/2020, AND "The Detroit All-Star Rock FEZ-tival" in Detroit on 8/01/2020. The Detroit event was going to coincide with a special limited vinyl release of a band I played in back in 1980 called L-Seven, on Third Man Records (Jack White's label). The limited vinyl edition did get released at the end of July, but no live event to celebrate it. And...by the way...You can get the special limited edition at: thirdmanstore.com/l-seven

BGN: Many are finding it hard to get motivated in this new situation. Do you have that problem?

Smitt E: We are so very lucky. Motivation is not a problem. Smitt E. Smitty & The Feztones are currently recording our second release at New Alliance Audio. Little Billy Lost is writing brand new songs that we hope to record before the end of the year. We also have "The Virtual Video Atomic Fez Fundraiser for ONCE" coming up on Saturday, September 26, 2020. *(More on that shortly.)

BGN: Your posters for shows have been eye catching from the beginning. You are a graphic artist by trade?

Smitt E: Yes. Graphic art and animated videos are how we pay the bills. I was always on the art path from day one. It just so happens I began playing drums in neighborhood garage bands back in the 60's too. I remember when I was in high school, my guidance counselor would say to me, "Michael, by what your art teachers have told me, you are clearly very good at art, but don't you think you should have a backup plan just in case that doesn't work out?" I would give anything to go back in time so I could reply, "Yes, I do have a backup plan. Playing drums in a rock and roll band!"

BGN: It seemed like one day we didn't know you and the next day everyone knew you. Did you show up in Boston at some point all of a sudden?

Smitt E: I moved to Boston in 1985, from Detroit. I was playing drums in Figures On A Beach. Shortly after we arrived, we got signed to Sire Records. It appeared like we showed up in Boston and just magically got signed. The truth is, we were talking to Sire long before we came here. True fact: Seymour Stein called us on the payphone at The Rat during our sound check, to ask us if we wanted to be on his record label. It doesn't get much more Boston Rock than that. I've been playing in bands the entire time I've lived here in Boston. When I decided to do my own music in Smitt E. Smitty a little over two years ago, things just began to really take shape. Playing drums in Little Billy Lost is the cherry on top. What a beautiful blessing that has been, and continues to be.

BGN: You are originally from Detroit and have your rock and roll years there first there? What would you say is the difference between the Detroit scene and the Boston Scene?

Smitt E: So let me first talk about what Boston and Detroit have in common. GREAT local musicians, artists, and bands! Some of the best in the world. Passion for music abounds. Now let me illustrate the difference between the two cities with a short story about Detroit. I was playing a show at a very popular Detroit rock venue about four years ago. At precisely 1:59 AM, the owner of the venue came on stage to announce "last call." The owner…1:59 AM. The patrons of the establishment had until approximately 2:30 AM to finish their drinks and begin to leave. They had to vacate the outside area and parking lot by 3AM. Unless a food truck pops up. Then you can hangout until about 4 AM. *(Everyone else is hanging out at Coney Island downtown.)

BGN: Smitt E Smitty & the Feztones are recording a second album at New Alliance Audio in Somerville? Anything you can reveal about that? Song titles? Cover songs?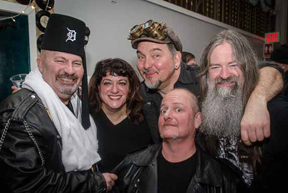 The Feztones
Photo: John Keegan

Smitt E: We've been a band for a little over two years. In that short span of time we've performed mostly originals with at least a couple of covers in every set. This recording session at New Alliance Audio for the next two weeks, is the first time we will have ALL the members of the band on the record. We are very excited to say the least. The second release will be self titled. Smitt E. Smitty & The Feztones. 10 songs. The cover art? Yeah, we know what we're doing for it, but don't you want to be surprised? Not top secret, but it will be more fun for everyone to see it for the first time when it comes out. Probably in 2021.

BGN: What about the recording process with distancing? Is that hard?

Smitt E: Yes, that is a challenge. We all got tested, (negative as of this post), social distancing in full effect, everyone wears a mask (except when singing), and we only have individual band members come in separately to record their parts. The one exception is when we have JoEllen and Linda come in to sing. We will space the recording microphones at opposite ends of the recording room. BTW, everyone had to learn their parts at home. Rehearsals with nine band members during a pandemic? Not happening. We're professional. We got this.

BGN: This is actually an occasion to talk about the "Virtual Video Atomic Fez Fundraiser for Once in Somerville". Like all the shows you do, you bump it up by having 14 acts? Will all these acts be on the Once stage? And perform in sequence? Or are some going to be filmed before hand? Or will it be via Zoom?

Smitt E: "The Virtual Video Atomic Fez Fundraiser for Once in Somerville!" YEAH! So after postponing our event at Once two times, we just decided a virtual video showcase was the best route. I'm a video guy, so it made perfect sense. We'll have crazy fun with it and help raise much needed funds for a truly wonderful venue and all the beautiful people that work there. We are so very happy to do this.

All the bands are responsible for their music video submission. We will edit all the performances together in one final piece. We will then do a time released video on YouTube and Facebook on Saturday, September 26, @ 8PM. (URL links for the video to come.) Once's "GoFundMe" page is at www.gofundme.com/f/support-for-once-somerville ). Once's Venmo link is venmo @oncesomerville.

We are so very honored and fortunate to have Angie C. (100.7 WZLX) and Dave Dow (The Worst Talk Show) to be our hosts for this event. To say these guys are the BEST is the understatement of the universe.

BGN: Who are Hammer and Snake?

Smitt E: Hammer and Snake! Love this band. They were brought to our attention by Bridget Duggan. Giving a new band a platform to perform is one of the things I love most about putting events like this together. We are very exciting to include them. Simply, tune in and discover them. Well worth it.

BGN: Emily Doran from The Gala is going to do a solo? Or how gona do that? Same with Gene Dante? Just him doing a solo?

Smitt E: There is an answer to that question. Not top secret, but tune in and find out!

BGN: Is this the first thing you have organized since the covid shutdown? Does this signal that you will be doing more like this?

Smitt E: Smitt E. Smitty & The Feztones did a "Quarantine Cover" of David Bowie's "Rebel Rebel" to help raise awareness and donations to Boston's Rosie's Place. Their mission is to provide a safe and nurturing environment that helps poor and homeless women maintain their dignity, seek opportunity and find security in their lives. (www.rosiesplace.com)

This "Virtual Video Atomic Fez Fundraiser for Once" is the first of this kind for us. We would love to do more. Let's first raise much needed funds for Once with this event. Maybe we can do one of these for all our cherished local venues.


#SaveOurStages
www.saveourstages.com