BOSTON GROUPIE NEWS
home | interviews | photos | features |BGN issue list | reviews
links | contact us
Sonny Vincent with Rocket From The Crypt at WMBR's Clueless Clubhouse 3/22

Sonny Vincent's new album which just came out has got air play on WMBR's rock shows right from the get go. The Good The Bad The Ugly is one of the best albums of 2003 so far.
Sonny has a long history much of which is recorded on police blotters. He's been out there from 1976. Check it all out at his site...The Sonny Vincent Site. The Rocket From The Crypt are a great punk group I assume you know about them but if you don't go tho their site ...the Rocket From The Crypt site.
When Tim Kelly of the Late Riser's Club ( and the BGN's TOP TEN SONGS list ) saw that he was going to play the Middle East with Rocket From The Crypt he immediately tried to get them to play on the air. It wasn't going well.
First they said , "NO".
Come at any time and we'll record you, they said, "NO".
We'll supply all the equipment, they said, "NO"
We'll supply beer, they said, "How many songs can we play?"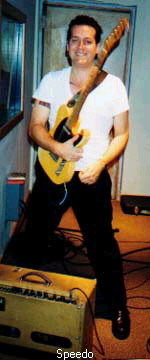 The Spitzz,The Touch-Me-Theres and the Tampoffs supplied the equipment. Just hearing the roar of their sound through the studio glass I wondered if they could get that energy through the mikes, but they did. The Rocket From the Crypt guys were fans of Sonny's earlier recordings of the Testors, which has also been released now. They offered to be Sonny's backing band if he wanted to tour. They are perfect together. RFTC' s raw sound with Sonny's songs and voice are a great match.
Nancy of the Clueless Clubhouse (Saturday 4 -6 PM) is a brassy redhead from New Jersey. She has a great personality and has such a big voice that the microphone seems redundant. After Sonny/RFTC played Nancy gave them a good cross examination. Sonny Vincent looks great and has a real presence. Speedo from RFTC is real down to earth and his opinions on Punk are very perceptive and well stated. I found myself nodding in approval at his insights.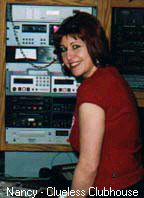 Nancy's personality made the scene a real party. I loved hearing live music without the smoke and late hours of a club. Tim Kelly rebroadcast the session on his LRC show on Wednesday 3/16 so I got to hear it again over the air and it sounded just great. Here's hoping that Sonny Vincent's album gets lots of airplay and comes to play around more often.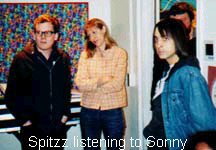 Here's some more pictures ;
In studio ...... interview.
Playing live....... Sonny
Playing live.............RFTC
Setting everything up....Tim and Nancy
home | interviews | photos | features |BGN issue list | reviews
links | contact us
Copyright © 2003 Paul Lovell. All rights reserved.