Tinkers .
By Paul Harding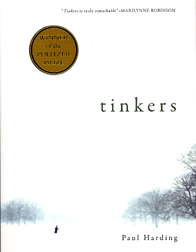 The buzz on this book was that it was written by a Boston Punk (he was in Cold Water Flat). That got my attention. Harding has also taught writing at Harvard and the University of Iowa and that is more to the point because this is some serious writing.
The material is austere and stark. The cover is a clue here. This is the winter landscape of the mind. Harding is trying to get to the nub of what we are when there is nothing left in life and then life itself begins to ebb. This is not the feel good book of the year.
Time and time again the focus becomes the intersection of man and nature. This theme contrasts with our constant-in-touch technology driven lifestyle and can be a welcome wake up for us.
It's a short book that looks deep into mans existential battle.
It's a Pulitzer Prize winner so you really don't need me to tell you it's worth the read but be in the right frame of mind to take this in.
Clubland.
By Dave Morrison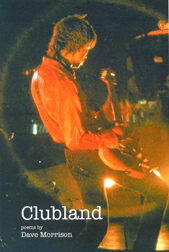 I had hopes for this. A book of poetry focused on the rock and roll lifestyle -- this could go either way. As it turns out, it's right on the mark. Dave has the right voice for this look at Clubland.
It seems like Dave has remembered everything from his days in the Trademarks and put it to good use here. He never missteps in his wistful yet frank look at the bars, motels, managers, band members and girl friends that make up the world of Boston Citgo sign-Bunratty's-hit Storrow Drive to get there rock.
He captures the moments with friends and lovers, bar veterans, music fans with fidelity. Time and time again the poems brought me to a place or feeling that was so familiar. Mysterious Gift has a point that reminds me of the way I feel in the middle of a great show:
"And just like that point when a plane leaves the ground
she's no longer thinking, watching, aware
she's swimming alone in a womb of sound
she's simultaneously there and not there."
Dave says in the afterward that he was trying to use this material first as a book but I like the way these scenes play out in short form like the piece called Come On. The short lines describe a scene that sticks in the mind in a way I think a prose version wouldn't. One stanza goes :
"But a Saturday night should not be missed
these moments just don't last that long
she smiled and grabbed him by his wrist
"come on" she said "I love this song!""
In Walking Home there is an image that the whole city could appreciate:
"The morning traffic jams up Storrow Drive.
like thoroughbreds bunched up along the rail"
There is more structure in the poems this time around but this is light material: it's like a pop song not a symphony. Morrison can be trusted to not waste your time; every poem is worth the read. It's a perfect book for late night with a drink and a good gift for someone on the scene.
We now have a poetry book that comes from Boston rock; how cool is that?
Get it here - http://clublandpoems.wordpress.com/
Web site - http://www.dave--morrison.com/
The Band CRIME - Punk77 Revisited .
By James Stark
This is one of those books that just makes me so jealous because I wish a similar thing was done for one of our Boston old school punk bands.
Crime was one of the earliest LA punk bands. We're talking 1976. Here in Boston we knew them because they got an early 45 out - Hot Wire My Heart - and they had a LOOK. That photo on the 45 sleeve said they were outrageous and the music backed it up. Crime was also lucky because the photographer that took that picture was good and took many pictures of them that helped spread their reputation.
This is a book of those pictures. They capture that early punk feel of the band in posed pictures and in performance. The text is terse but does the job. You get a story of the band and some posters also. It's all good. It's a 7x10 inch book on glossy paper.
So, this is the thing - where's Boston's version of this? I don't know if a photographer of quality had a connection to one of the early bands and could do this. What about Phil'n'Phlash? Where's his book? He must have stuff piled up somewhere.
This successful photo book shows us where Boston comes up short.
Pistonhead.
By Thomas A Hauck

sweet.
By Dave Morrison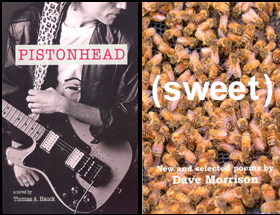 Two more Boston ex-rockers have put out books.
Thomas A. Hauck was the bass player of the Atlantics whose members have turned out to be a fruitful bunch.
Pistonhead is in the young adult genre. The main character is a musician in a band whose success level is about the same as that attained by the Atlantics. The character also has a day job in a software assembly line. Both scenarios ring true and one assumes Hauck brings his experiences to the story.
One scene brings an ex-girlfriend to the apartment, as she begins to flirt, it comes out that her new boyfriend is waiting in the car outside: real scummy and you know that sort of thing happens all the time in those circles. There is also a funny sex scene and a character dealing with drugs.
I can't say I'm an expert on young adult books but the elements make a good mix and Hauck keeps them from being too graphic. It's a story that would appeal to a young rocker.
Get at Amazon.com
Dave Morrison was in the underappreciated Trademarks and True Blue. I'd love to see a CD of that material…hint, hint, suggestion.
Dave has become a focused writer and has put many stories on line. He also has material about his band days that include scenes in Cantone's. With his latest effort: sweet, we have a book of poetry…now don't stop reading! I know poetry is not a big thing for many people; of course that's what Dave is up against here. I'm here to tell you that sweet is a good read.
None of this is too long or ponderous or technically complicated. There are over 50 easy to digest poems from the perspective of a onetime Boston rocker. His sensibilities and concerns are very appealing to me and I assume to some of you.
He writes about drinking, women, the struggle with the writer's muse, along with the subject of life itself. He has clever lines, clear images and observations that capture you for that one moment that marks a good poem.
I enjoyed all of sweet.
Dave Morrison web site.
Dead on the Internet.
By Johnny Barnes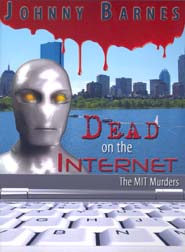 This is the 3rd installment in the Jack Kelly series by Barnes (review of the first two below) with this one, the character and series have been fully established. I looked forward to this as I do a new mystery by Sue Grafton or Philip Craig (to spotlight another local writer). I also wanted to hear the new wisecracks from the main character Jack Kelly.
This book is longer than the previous ones and the extra length is used to establish character and detail in the plot. Much time is spent on bringing the villain to life and that helps to give the story more weight than the two previous ones.
In some spots the writing is very vivid and a few scenes, including the opening one, you can imagine on TV or in a movie. Indeed, at this point it seems like someone could grab this series and run with it a la Spencer For Hire.
One of the attractions of these stories is the Boston locale. In this book it's MIT and environs that frame the action. The Miracle of Science restaurant and Central Square show up a few times. Discoveries at the MIT Artificial Intelligence lab fuel the plot.
There are so many books and movies about violent murderers I would think it would be hard to find a novel way for them to act but Barnes comes up with a few real surprises and he notches up the gross factor a few times and it works. His final hostage scene will stick with me for a long time.
Sweat: The Story of The Fleshtones, America's Garage Band.
By Joe Bonomo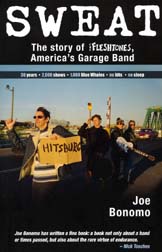 This is a well researched, well written book on the career of the Fleshtones. Their start in Queens, NY, their recording history, their touring, their striving for big time rock glory just beyond their reach is all here. This is a must read for all Fleshtones' fans. Now, if you're not a die hard Fleshtones' fan there is still a few reasons why you might be interested in reading these 388 pages.
The early days in the Queens, NY 'band house' make you wish you were there and then the story quickly goes to the NYC scene. Arriving after the first wave of punk they have a slightly outsider view of the scene. This is covered with plenty of interviews from the band members, Hilly Crystal, and Dictator Andy Shernoff . They also describe the dance (disco/gay) club scene a world I didn't know. In this first 1/3 of the book which was the most interesting for me they give Boston a big compliment (It's on page 94 if you go looking.). Peter Zaremba calls Boston the Hidden Rock and Roll Capital of the World and name checks for DMZ, Lyres and The Real Kids are all through the book.
Bonomo does a great job in describing a botched Fleshtones' recording session, going back and forth between band members and the producer (Paul Wexler) in a Rashomon-like attempt at the truth. There's no answer of course but it illustrates how the entanglement of peoples shortcomings and perceptions cause misunderstanding and ultimately, in the rock and roll world, bad recordings.
You get stories and good quotes from the main players like: Richard Gottehrer, Steve Albini, Dave Faulkner of the Hoodoo Gurus, Marty Thau of Red Star, and Miriam Linna.
The last half of the book relates the inevitable drug and drinking problems and how they short circuit the band's success. By the time you finish you have a good picture of what a career mid-level rock band goes through just to play the music they love. Many of the bands we love here at the BGN are in this situation so that story resonates.
I'm actually jealous of this well done band bio because I wish someone would do something similar for a Boston band, lucky Fleshtones.
Link to the publisher's web site...Continuum Books
Gentlemanly Repose.
By Michael Ruffino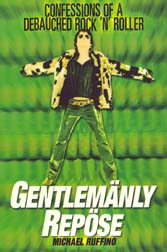 This is one of the funniest books on rock ever. Ruffino was the bass player of the Unband from western Mass that managed to get some high profile arena gigs with Dio and Anthrax. He writes this history of the band and it's antics in a pseudo sophisticated style like he's P.G. Wodehouse's Jeeves looking dispassionately at the hoi polloi. This elevated tone next to the lowlife goings on makes for a comic masterpiece.
He has his own language. Morning becomes "unforgivably ante meridian" or "ass o'clock". Hungry is a "nutritional black hole". Los Angeles is the 'City of Fights'. There is a hysterical scene at the Rat but again that's just one in a book full of funny scenes. It's half real and half drunken remembrance wrapped in colorful verbiage.
I saw Ruffino in another band, Old Money, and his act was basically trying to keep vertical for an hour all the while dealing with a plague of zipper problems, all very amusing and the music was good. He's one talented guy.
This book is actually from 2004 but I find it slipped past most people. Google the title and you can find it for sale around the web. Very much worth it.
Taqwacores.
By Michael Muhammad Knight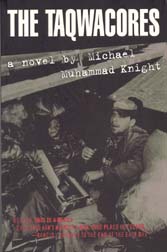 This is a fictional story of Muslim punks in Buffalo who are inspired by a movement of Muslim hardcore punks from California called taqwacore. The twist is that it has inspired real life Muslim groups to form; this has been written about in Newsweek and elsewhere. Wikipedia has the story and some links to follow up on...Wikipedia link.
The concepts here are more important than the literature. The underlying story is of teenagers coming to grips with life, but that becomes trivial next to the issues being raised about Islam. You're knee deep in Arabic phrases from the beginning and are shown the customs and tenants of Islam as seen through these Buffalo punks. It's all extremely interesting.
Knight puts Islam through some outrageous paces. He never flinches from out and out blasphemy. Considering the sensitivity of Islamic issues it comes across as courageous to write this book and almost feels dangerous to read it. If a cartoon on one hand and a few lines in Rushdie' s book on the other caused so much trouble the only reason this hasn't generated a fatwa is because it's not on the radar yet.
I got this book through Alternative Tentacles (Link to Alternative Tentacles) you should too and support the independent press.
Easter Rising.
By Michael Patrick MacDonald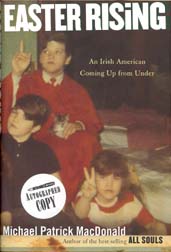 In his memoir of growing up in South Boston MacDonald readily and repeatedly refers to his fellow city residents as violent parochial racists. MacDonald now resides in Brooklyn, NY. Hi oh!
The first 100 pages see Michael on the Boston punk scene and that's very interesting for us here. Starting in 1979 he spends all his time at gigs at The Rat, Thayer Street, The Bradford Hotel, and The Channel. He has some stories involving Rita Ratt and Springa. All ring true as do his observations of the scene and its people types. Skipping school and unencumbered by a job he spent a LOT of time on the scene. He snuck into a lot of shows because he was underage, penniless and had a brother who was doorman at the Rat.
After being a 24 hour party boy in NYC, he has a mental breakdown and then goes to UMASS to study…wait for it…Irish History. Way to bring the coals to Newcastle, Michael.
The last third of the book is about his trips to…all together now…Ireland.
His family history which is the center of his story is a soul crushing litany of tragedies.
All Bostonians will want to read this for its depiction of the Southie mentality as Patrick presents it. Boston rock fans, especially those who were around from about 1979 to 1983, will get a big kick out of those first 100 pages.
Laurel Canyon: The Inside Story of Rock and Roll's Legendary Neighborhood.
By Michael Walker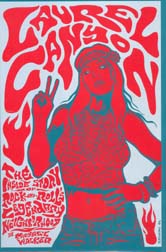 Being part of the Boston Punk scene was an exciting experience and makes me interested in the dynamics of other scenes. The main elements of a scene as I see it are - time, place, creativity and commerce. Here, Walker looks at those aspects in California's Laurel Canyon.
The special thing about Laurel Canyon is the topography. The ultra steep hill with winding roads makes for small houses in a dense neighborhood. Then it ends abruptly in the flat Sunset Boulevard. It's as if the creations of the artists roll down the hill and into the Whiskey A Go-Go, The Rainbow, The Troubadour etc..
The main musicians talked about: Joni Mitchell, John Mayal, The Mamas and Papas, Carole King, The Eagles, Frank Zappa, Crosby, Stills, Nash, and Young, The Turtles and groupie Pamela Des Barres.
The book is most satisfying in the first half where the Canyon is the main subject after that the focus goes to the music scene at the foot of the canyon and even though that is of note it has been told in other places.
The musicians of Laurel Canyon are the ones we hated when punk started. Walker tells the story of their decline fuelled by drug abuse. I loved that section but I'm not a nice person.
It's an easy read if you have the interest.
Rock Tease:The Golden Era of Rock T-Shirts.
By Erica Easley and Ed Chalfa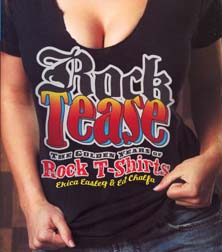 I never thought this could be a subject for a book but here it is.
The book is light on text and heavy on pictures, although I found the text more interesting than the pictures. There are very short profiles of Richard Hell, Wayne Kramer, Mark Arm and Arturo Vega.
It's hard to think of a time when there weren't rock shirts but they started in the late sixties during the psychedelic era. The first big rock t-shirt printer was Phil Graham.
The authors go into the changes in t-shirts styles and motifs. They all seem very subtle to me and don't make for a dramatic showcase. The t-shirts are photographed on mannequins which is a lost opportunity. It would be a lot more fun to see the Skynyrd shirt on a mullethead or the Stray Cat shirt on a rockabilly babe.
There are plentiful pictures of the shirts illustrating all eras of rock and roll which will be a big kick to the t-shirt fan. I might be more blase about the shirts having been exposed to them so much.
Rolling Stone just had an article on the huge resurgence of vintage rock T-shirts recreations. They are now selling in Target and Wal-Mart and giving classic rock acts a substantial chunk of money.
That proves there is an audience for this book, which would make this a good buy for them or a good present.
Trash! The Complete New York Dolls.
By Kris Needs and Dick Porter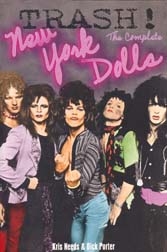 You might expect that a Dolls book would be a sleazy expose. It turns out not to be true and that would be redundant anyway. What they have done here is make sure they have covered all the Dolls history and present the sleaze and facts in a straight forward manner. The writing is filled with snappy concise sentences that nail the point every time.
This book would not convert a new fan, you need the records for that, what it does is give the full arc of their career, and quite a story it is. Drugs play a big part - surprise. Jane County shows up a lot and deserves a book all her own.
The story goes into the early punk years and brings in the usual subjects: Malcolm McLaren, Nancy Spungen, Sex Pistols, et al.
The main Dolls story ends half way through the book and then it's mainly the Johnny Thunders' story which is full of ups and downs, and uppers and downers.
The final two chapters tell about the unexpected group reunion and album. It's like a fairy tale and very inspiring, even more so because the authors have told the story without adornment or false cheerleading.
This is recommended for all those who want the Dolls/Johnny Thunders history and especially those that are not familiar with the orgins of early NYC punk and punk in general. .
Dead Men Talk/Sleep When I'm Dead.
by Johnny Barnes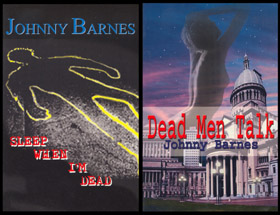 The Johnny Barnes Group was a hard working outfit in the seventies and early eighties playing clubs with regularity. They had an early single Street Rail Blues and later some LP's. Now Johnny has resurfaced with some new CD's and these books.
These both feature the same detective, Jack Kelly, a joke cracking Bostonian. The stories are packed with local color and plenty of laughs. I defy you to read this next to someone and not try some of the jokes on them.
These are just made for Boston punk rockers. References to Boston rock clubs abound with some characters sporting the names of local rockers.
Lots of action happens in the Fort Point area. Johnny used to live there and helped to book The Channel which was there on Necco Street.
The books are enjoyable light reading that are the perfect beach read or rainy day book.
Johnny has a website at www.johnnybarnes.com. I took a day trip to Bev's Books in Rochester, MA. to get the books. You can also find them on amazon.com or barnes&noble.com or his website.
Salad Days
By Charles Romalotti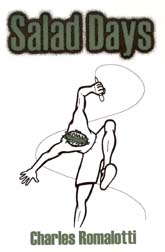 It took a long time to get to this, a fictional account of a punk life that has worthy writing. Off hand I can't think of another book that does this. This is a story of Frank who lives out a life with the values he finds inherent in the Hardcore scene. This is a big chore especially since he lives in Kansas. Frank is uncompromising and as such makes a good focus for the story. The way people act around him illuminate their values and give you the side stories.
I got the biggest kick out of reading the actions of people who live on the scene. You know like us. Their lives revolve around the music and the scene. Other parts of their lives suffer because the music takes up most of the time and energy they have.
The book is over 300 pages and never flags at all. It's not James Joyce but Romalotti does a good job. Many books like this can be just so embarrassing as they pander to the audience. Romalotti has a valid voice that discribes the hardcore lifestyle with authority.
The way I see it is that there is no where else to get this sort of book at the moment. Romalotti has done a real service to the punk community. I enjoyed it from front to back.
Available online at a good price here....Link to Layman Books
Vinyl Junkie.
By Brett Milano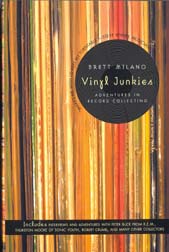 I'm so close to this I never realized it could be a book. Milano was right though, what a weird bunch record collectors are.
I have thousands of LP's and 45's but I always claim I just want the music not a specific piece of vinyl. I stand by that but I have to say collecting vinyl is fun the way CD's never are, never mind shoving the digital info into an MP3. The 12 inch glossy canvas that was an LP lent itself to wonderful presentations that had a visceral whomp. Well, there I go, waxing poetically over vinyl.
What Brett has done is to tell the stories of different types of record collectors their peculiarities, their dream searches and the like. He gives a few psychological explanations for their actions but it's just the crazy stories that you want to hear. The goings on with Monoman and Pat McGrath are a high point.
In the end Milano has covered the subject and put it to rest. You know if you want this. I would suggest that if you are interested to get it soon. I think the book is becoming collectable itself. The irony.
Chronicles.
by Bob Dylan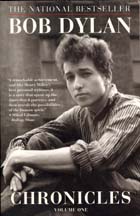 The information you want comes in bits and pieces but Dylan is an entertaining writer, and if you believe him, he has a great memory.
He seems to be a big reader and mentions many authors. That is important because it would be clues to where those amazing lyrics came from. He has an interest in the French Romantic writers like Villion and Baudelaire which was expected but also Thucydides, Sophocles, Pericles, Balzac, Milton and many more.
He comes back to the point several times on how he looks at the world and the news in an objective way and gets ideas. Obvious maybe but it's nice to hear him admit it.
He delves into his early formative years in folk in detail and that is very satisfying.
Dylan relates that his songwriting breakthrough came by dissecting the song Pirate Jenny a Brecht/Weill song from the Threepenny Opera. That was unexpected, but there it is.
It's not mind blowing just revealing but for Dylan fans only.