Granite Girls and the River Women.
To get: Surf or Die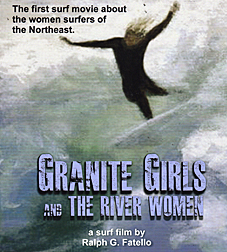 Ralph Fatello releases a DVD every year or two. We have five reviewed below. His latest one called Granite Girls and the River Women is one of his best. It spotlights women who brave the often frigid surf (minus 19 wind chill in one case). Almost all surfing is in wetsuits. Ralph says that in Northern New England surfing, Rhode Island is the tropics.
There are plenty of surf shots and they look fantastic. The camera equipment is getting better or the shooting expertise is. Still photos or in-water shots mix with the long shots to break things up. The music marries with the action editing.
The subject of women surfers gives this film a poignant focus. They don't dwell on the exclusionary behavior of male surfers now or in the past. They come across as positive, self-possessed and self-motivating athletes who are going to surf one way or the other.
The story of each individual women spiral out to their families and the surfing community and that gives depth to the project which makes it different from a Sunday watching surf contests on TV. These women exude a natural love of surfing that is an antidote to contest mania coverage. They participate in community events like Surfing with Smiles that gets autistic children into the water and the Wounded Warriors Project that does the same for veterans.
There's a section showing how many surfing families there are. We think of surfing as a solo endeavor but this film shows that's not the case in the North Shore surfing community.
Ralph keeps a fast pace going. There's more talk than usual but he never lets it get long because…there's always surfing to show. But there's still enough that you get to see the personalities of some like Becca Speak, Nohea Nichols, Julie Jakoboski, Hanna Vokey and Erika Nardone
We're all about music so we zeroed in on "She Stands Alone" a live cut by The Nor'easters (Ralph's group after Vinny) that was worthy of release. The opening and closing songs are sung by Victoria. She captures the cool girl-group vocals (in French) on top of a surf music backing. It's produced and recorded by Andy Paley and has his touch. A great discovery for Paley fans. (It's at CD Baby) The Darlings get a song there too.
There's real warmth in this whole film that contrasts to those cold New Hampshire winter waters. The women talk of the support they get now and it would be ridiculous if they didn't, the surfing they show here is fantastic.
Sound good? Want to see it? Send a $20.00 money order to ADLANTIC, 3 Marston Way, Hampton, NH 03842 It's also available at New Hampshire surf shops
Chet's Last Call.
A Story of Redemption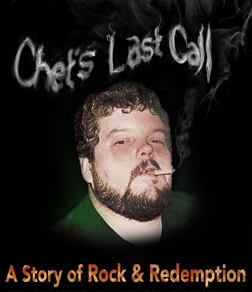 Watching this doc, you go in thinking it's just about Chet (Richard Rooney) and the influence he had, and it is, but it's so much more. Ted and Dan Vitale have done such a good job that they've captured the whole 80's underground rock scene, and the whole tenor of Boston Punk that's been there from the beginning, along with Chet's story.
But let's talk about Chet. He got his first experience in a bar at Jumbo's and was known for the firm "Last call for alcohol" that marked the end of the night. The film shows how he made his niche with Chet's Last Call and had influence with just the right intention and some luck.
The mafia presence in the bar on the first floor kept the police and inspectors of all kinds away from the club, until they didn't. When that situation changed Chet's Last Call truly got its last call. Chet fell into drug problems, dug himself out and then become a drug counsellor for many years and helped countless others. He's a hero just on that count alone.
The interview sections are short and sweet. They are alternated with musical interludes. After a while the interviews start to reinforce each other and soon reveal a higher level. Over and over you hear, "Chet gave us our first chance". You can see where all the musicians were living the same life and dreams and were supporting each other. Xanna Don't tells how her big hairdo made Kenne Highland say, "You should sing Patsy Cline songs". The light bulb went on and that's what she did. A few relate that they met their future spouses at Chet's.
The time period here is mid and late eighties, when the indie scene was big. Medium size labels were picking up likely subjects and boosting them into the limelight. Even though The Pixies played Chet's the acts that played the club were under the radar for the most part.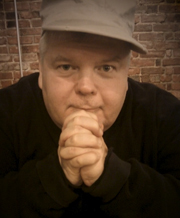 The scene, as well as the club, was grittier; the music was more freewheeling and out there. Many talk about the danger of walking those North End streets at night. Many also mention how it was a little scary going into the club. Your casual indie rocker is not frequenting a place like that; it was the dedicated and the adventurous. But really inside it was friendly and just another club. Chet made it right; he seemed low key but went after any trouble like a pit bull. Chet's personality was the personality of the club. It's amazing how a person can do that.
Ted and Dan Vitale didn't have a ton of material but got the story told…… they've shaped the material with more craft than we're used to with music documentaries. The way they manipulate photos is creative and well done.
There's actually a whole other film there that should be shown; that would be the performances of the bands at the 2016 fundraisers at Once that are also in the film. They give snippets of the performances, but it leaves you hungry for more Dogmatics, more Dogzilla, more Xanna Don't etc. We hope maybe a DVD release would include all those.
Boston punk rockers care a lot about their favorite music bars and it's fortunate that two of them, the Vitale brothers, had the inclination and know how to make this film. it's Chet's story, Chet's Last Call's story, the bands' stories and a love letter to Boston rock in the 1980's.
The High School That Rocked!.
On VIMEO on Demand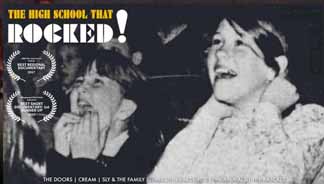 This is a documentary about some of the luckiest high school rock fans ever. The Staples High School of Westport, CT had legendary rock acts from 1966 to 1969 because of some go-getter students. After they got one booking the others followed.
The acts were: The Doors, The Beau Brummels, The Rascals, The Yardbirds, The Animals, The Remains, Buddy Miles, Cream, Sly and the Family Stone and Chain Reaction. Chain Reaction? That was the group with lead singer Steven Tyler.
The documentary is 25 minutes long. It is mostly interviews with the students who were there, now adults and some continued in the music industry. Also there are many photos taken by some of the students and some via newspaper reports. The photos show that when the Yardbirds played they had both Beck and Page playing; again how lucky can you get?
Some of the people who did this were also involved in the Remains documentary called America's Lost Band. The Remains music is used in the soundtrack.
The whole thing is endearing. It brings back the spirt of 60s rock before things got dark.
It's available on VIMEO on Demand which is an easy way to get movies like this.
A 24 hour rent is only $2.50. Well worth it.
Women Who Rocked Boston
Documentary by Andrew Szava-Kovats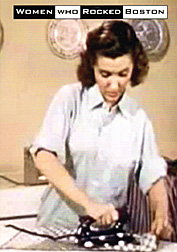 This is the follow up to Andrew's Let's Go To the Rat documentary. There are revolving dialogs with about 12 women.
There is a pre-punk Lilith who were out there with almost no precedent. The clips from them show a group who could really play.
It's cool to see Melodye Buskin who was in Phobia and later Lou Miami. She was always striking visually as well as aurally. Also with Lou Miami as drummer was Laurel Blanchard (also in Lilith and later James Straight and the Wide Stance) who has the best story about being ignored because of gender. She's in a room packed with male drummers who will not even acknowledge her existence.
We see Jane Hudson's interview viewed from an ultramodern streamlined TV set; great idea. Jane and the Rentals still stick out as unique. I would say they "followed their own drummer" but they didn't have a drummer.
The only non-musician is our own Miss Lyn of the Boston Groupie News who tells her tale that at some point develops into this web site, right here. Carmen Wiseman also began as a fanzine editor with Misscarage and has stories about that as well as her bass playing in The Girls.
Linda Viens of Witch Doctor and Kingdom of Love gives the most articulate and analytic interview. Suzie Kerr-Wright gives an insight into the antics of the Swinging Erudites who had a close call with actual success as did Girls Night Out and Tennie Komar. Tennie has some stories you might expect about sex and success in a male dominated business. There's no getting around it, women had to deal with the male expectations and their sense of entitlement and you get those stories.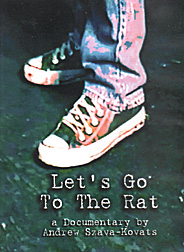 There are also some music clips from The Bristols, Jen Trynin, Girl on Top, Ramela Ruby Russel, Tracy Bonham and Juliana Hatfield. I loved the period music video by Tennie Komar.
Andrew lets everyone have their say. It's a service to get these stories and to see these women reviewing the Boston music history they made. This is also a book that has some extra material including the board game CLUBLAND that was in the Boston Groupie News #29 back in 1982.
And don't forget Let's Go to the Rat which is available also on Amazon and check out Andrew's website which has more info. Everyone talked about doing a movie on the Rat for decades but Andrew did it. There's a lot of David Minehan in it and Jimmy Harold of course. The Boston Groupie News has its say. John Keegan gives a review from a viewing at the Brattle St Theater.
Review by Blowfish
DeA.D. Alive .
Misfits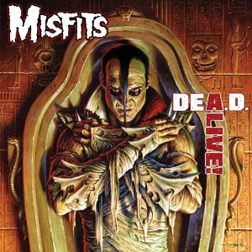 Reviewed by Zach Foster
For the first time in 15 years the resurrected Misfits have released a live album. Two things make DeA.D. Alive different from its predecessor (Evillive II): first, that this record is their first live album not to feature any songs from the Danzig era, and second, this is the Misfits' first live album (and third album overall) to be self-produced and released on their own record label, Misfits Records. Whether people love or hate the new Misfits, the fact that their albums are now self-produced, self-recorded, and self-published (and their concerts self-booked) makes them a part of the DIY punk community.
The song features 14 tracks from the Michale Graves era and the current era, with vocalist Dez Cadena (formerly of Black Flag) performing all the songs. This is actually surprising since Jerry Only usually takes the lead with vocals for live performances, but he may have let Cadena take the lead for the official recordings as Cadena is a better vocalist. It was a good choice as Cadena's more versatile vocal range shows up better against the background noise that comes with live recordings. (To the credit of the sound engineers the background noise is totally eliminated from most of the tracks.)
The first seven tracks are songs from the 2011 Devil's Rain album. Just like the studio album, this live album opens with "The Devil's Rain" and moves on to Vivid Red. At the risk of sounding bold, the live performances of "Vivid Red," "Land of the Dead," "Curse of the Mummy's Hand," and "Dark Shadows" sound better than the studio recordings.
Six of the tracks are from the American Psycho and Famous Monsters albums from the Michale Graves years. While the live performance of "American Psycho" is way too fast to sound good, the renditions of "Dig Up Her Bones" and "Scream" are adequate. Let it be understood that no one has a voice like Graves, and the way Cadena holds his own on "Helena" and "Saturday Night" should command respect. However, before "Saturday Night" (used as the closing song for the album and most Misfits live shows) comes the crowning jewel of this live album: a solid punk rock cover of "Science Fiction Double Feature" from Rocky Horror Picture Show which the author of this review listened to 900 times on repeat. This song alone is worth spending a measly $10 for the album.
All in all DeA.D. Alive shows a good effort by the Misfits to entertain fans with good sci-fi and horror punk rock music. Anyone who can get over the petty politics of the Danzig/new Misfits rivalry is sure to enjoy this long overdue live album from the band that defined horror punk and, though it may lack most of the original members, its current lineup includes veterans of punk rock who carved their own niche in the industry and command respect on their own.
UNBA UNBA .
HSR LIVE 1982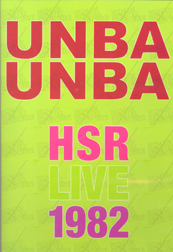 Have we learned the lesson yet, you have to wait to get the good stuff? Here again 30 years later we get a wonderful gift of a full Human Sexual Response set.
Today we can still appreciate the qualities that made them unique: four singers, energetic stage shows, theatricality, strong songs and rocking music.
This DVD captures a 1982 show at Streets (that forgotten club) with 14 songs. Outside of the second song there are no effects just straight forward shooting by multiple cameras - quality stuff. You get to see them sweat right to the pores on the face at some points. The editing is top notch giving each song interesting visuals every second and a smooth flow to the whole set and we know that took mucho work by producer/editor Jan Crocker. I can just imagine the time it takes.
The energy on stage never flags. You don't just get one front man but four dancing furiously adding to the excitement. The three instruments add more complexity and chaos than you would have thought possible. Sometimes it seems like Rich Gilbert must be playing a cyclone with a pickup with the amount of sound coming out of him. During Pinecones he bounces a beer bottle on the strings and in Pound he plays the whole song strumming behind the bridge making it sound like a buzz saw on piano strings.
One of their most distinct features is Larry Bangor's voice. It quavers and shakes with his patented vibrato and tone. Through the years when you hear it on the radio you always have that happy thought - ah, a HSR song. None of the songs have pedestrian lyrics. The singers always seem like they want to sing you a story or give you a hot rumor. Sexual tension inhabits much of the material, it all a little arty and playful.
Pound is a highlight. It works up to a repetitive chant of "pound" that puts you in a hypnotic hold. UNBA has that hypnotic quality too. Land of the Glass Pinecones and What Does Sex Mean to You haven't faded a bit. Jackie Onassis is not in the live set but the record version is used as background for a show of posters. The extra is a commentary track by the group which is hard to hear and follow sometimes but does have some worthy stories.
If you are a fan you need this.
Not a Photograph.
The Mission of Burma Story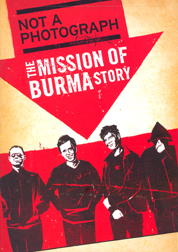 It looks like after it's all over the group with the highest profile and biggest influence from the early Boston punk era will be Mission of Burma. That has taken a while to see, but there it is.
This DVD goes over their history which is not complicated by group standards but does have the drama of the early break up and Roger Miller's ear problem.
They come over as a nice bunch of guys. You get the most personal insight into Peter Prescott. Talking head comments by locals are: Oedipus, Minehan, Eric Law, Rick Harte, Lili Denison and Eric Lindgren.
In the 70 minute documentary you get to see them working up to their reunion gigs; especially the show at the 608 club in Cambridge (that didn't last long). In the extras there are 9 full songs performances.
I would have liked to hear more about how they created the music, more about their rock influences, more about their interest in Dadaist art and their use of its techniques, more about the concerns that motivate their lyrics, and more about Rogers' approach to guitar playing. I guess I just want more, maybe that's another film.
Despite that what you get here is a well done look at Burma and their not easy path as a band. It makes you admire them even more. They seem like such soft spoken men until they get onstage and the collective roar comes out that flattens everything in its path.
The Run and The Run Redux.
By Ralph Fatello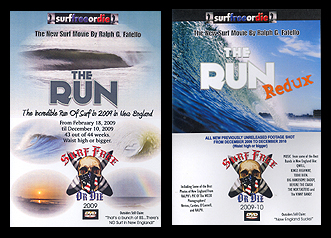 Ralph Fatello proves himself dependable and steady as he brings us the latest in New England surf action. Ralph is not the only one who is steady as these DVD's show the steady surf in NE. THE RUN as Ralph has branded it ran from February 18, 2009 to December 10, 2009 comprising 43 out of 44 weeks of waist high or bigger waves. Ralph proves every year that there are big waves to be had around here but a run like that is a real phenomenon. The result is two jam packed generous DVD's. Ralph shoots all the action straight ahead with no frills and excellent quality. Ralph's videos are the only place where when you say they are snow boarding you don't mean ON the snow but on the water WHILE it's snowing.
One of the changes is these videos is the use of more untraditional surf music. The mold is broken with all local music acts. So, now you get the local music scene along with the surfing one. One of the most used groups is QWILL. Ralph does some playing too. I like the way the moodier music plays off the action in the water. One long fiery instrumental makes for a dramatic section.
The videos also have a sense of place; you pick up on the locals with the small interviews and the small snippets of the street scene.
Along with the videos there are some beautiful still photos by a group of dedicated photographers who help document the scene. Extras include charity events that give credit to a community that gives back.
Both videos are long which makes them a great bargain.
You can get the videos at ....www.surffreeordie.com .
La Peste.
By Jan Crocker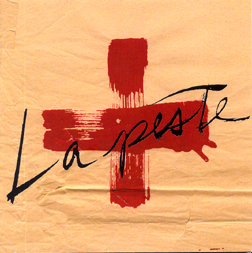 One of the problems with Boston Punk is that to enjoy it you have to make sure you live at least 30 years after the date. Here's an example. This is a video of La Peste from 1979 fresh on your doorstop now in 2010.
What a gem: an 8 song video from La Peste. We have been La Peste deficient from the beginning. There just never was enough from these guys. Only the lack of material in the day explains why they didn't get more attention.
Here we get to see their arty yet hot version of punk. Peter Dayton and Mark Karl both thin and tall; Peter dark and Mark blond and angelic looking. Peter's guitar buzzing and sometimes clanking like a steam engine while Roger Tripp will crack sharp on the snare and then make a busy rumble on the toms. It's all captured here on a good night. You also get the feel of the crowd and the space. It zaps you back to it's time and place.
The disc also has 12 more songs with tons of pictures of the group. It's all a must have.
Get it from Jan at his site http://www.kinodv.net/movies/archive/La_Peste-Package.html
American Hardcore .
From Sony Pictures.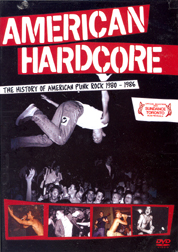 The story of hardcore in America as the title says. It's much worth seeing.. Three's lots of interviews by the principals of the scene and Boston gets its share, we care about that. They talk to Jerry's Kids, SSD, DYS and Gang Green. Springa gets himself in there a lot; it's hard to stifle that wild personality. They do give the props to SSD.
Black Flag, Bad Brains and Minor Threat get the attention they deserve. I liked the chance to see Ian MacKaye talk for a while. Rollins does the Rollins thing. H.R. from Bad Brains gives a lucid interview and they say that isn't always the way.
It's fantastic to see the short film bursts of gigs. Hardcore shows are the most exciting shows in rock and you can see that every time a film clip plays. Some times during a clip they subtitle the vocals which is actually a good thing. Putting words to the fierce onslaught of energy makes the impact even stronger.
Lot's of great photos.
The extras have 6 full songs. This is one place I thought they could have done more. There is one by Jerry's Kids and one by SSD.
The commentary by the directors is chatty and worth hearing.
This is readily available around.
Greeting Seasons/Groovmasters.
By Ralph Fatello.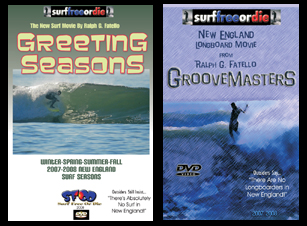 As sure as the seasons change Ralph Fatello gets out his surf videos. This year he has two: Greeting Seasons and GrooveMasters.
The local long boarders get their due in GrooveMasters. The triple fin guys used to see the long boarders as a throwback or oddity but here we see them as a comfortable community of very able surfers. They get the classic long gliding ride although they can get a modern move in when they want.
As with all of Ralph's video you get to see plenty of surfing in the New England breaks. The production is quality with good music, it's always easy to take in.
Greeting Seasons (clever) takes you through a year of ocean action in New England from Jan. 2007 to Nov. 2008. Sometimes it seems like none of the beaches have sand, it's always surfers working their way through rocks to get to the breaks. You have to wonder at the hardiness of the surfers who have wet suits on almost all year because even if the air is warm the northern Atlantic isn't.
Greeting Seasons comes up with two big celebrity surprises. First you get legendary Tom Curren surfing in conjunction with some event. One would never expect to find the three time ASP champ in NH but there he is and Ralph got him.
Next Ralph films gentleman surfer Shaun Tomson. This former world champ was just checking out the surf in NH!. I love Shaun so that was a big thrill for me.
If you like to check out the local surf scene this is the only place to go.
You can get the videos at ....www.surffreeordie.com .
Surf DVD's.
By Ralph Fatello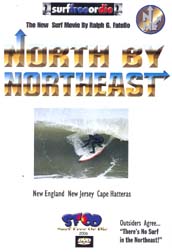 Ralph Fatello was always into surfing even during his days playing on the scene in the Vinny Band. When the BGN did a "Day in the Life" feature on Ralph it was all about the surfing. Now Ralph works his design agency (www.adlantic.com) and still spends his time surfing.
Also, he does one or two surf videos a year. The DVD's spotlight surfing in New England, New Jersey and Cape Hatteras, mostly. It's a kick to see the NE surfer in his element. These guys can cut it with lots of nice moves and some respectable waves. The winter surfing sections will give you frostbite just looking at them. These surfers are hardcore like the warm weather riders can never be.
Ralph does good production and you can see here what he will bring to the documentary on the Rat. One of his biggest strengths is matching music to visuals. All the DVD's have small side elements like jokes or interviews but nothing gets long because Ralph is going to show surf action, that what it's all about for him.
The surfing community is lucky to have someone like Ralph cranking these things out. Pictured here is his 2007 epic. All his DVD's can be bought in some surf shops in New Hampshire where he is based or on www.surffreeordie.com his web site.
This is the real deal, local action in the Atlantic. Very worth it for the interested.
The Cabinet of Dr. Caligari - Robert Weine.
From Lowbudget Video.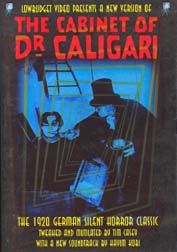 What a wonderful opportunity this is. A chance to see The Cabinet of Dr Caligari with some updating and it was done locally.
This film is so influential on many areas of art. I'm not going to go into the history and such because it has been done elsewhere. (Check out Wikipedia for a start.)
I know we all have trouble getting through silent film but this is too good not to tackle under any circumstance and here it is a pleasure. Tim Casey has cut the title cards and added subtittles which keep things moving. Hayim Kobi has added a winning electronic score. It's here in 5.1 surround sound if you want to crank it out and you should. It perks up the whole experience for the modern vewer.
Not having seen this for some time I was amazed again at the incredible set designs. To think these were done in 1920 is a source of wonder. Goth fans have to digest this, I mean it's mandatory.
This is available at www.lowbudgetrecords.com which is also Mr. Curt's label currently.
Very highly recommended.