The BGN News Archive
February 7, 2022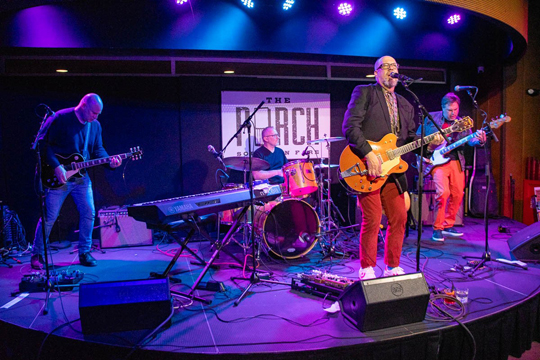 Speedfossil at The Porch
Even the hardiest club goers gave it a rest for a few weeks with Omicron raging. This week both Captain Easychord and John Keegan got back into action.
Friday, January 28th, Captain Easychord went to the second "Singles Scene Live" with the Chelsea Curve and guests Muck and the Mires at The Jungle. Even with a blizzard looming Easychord says there was a 'respectable draw'. Read his review and see his photos by clicking the photo link below.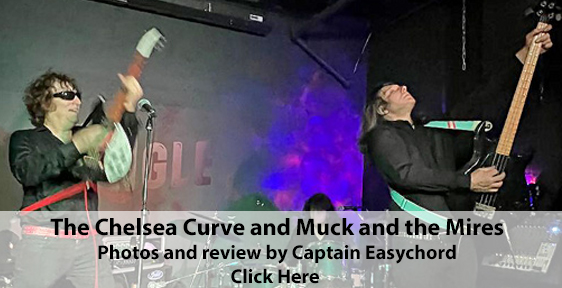 This Friday, Feb 4, John Keegan hit The Porch in Medford for pop rock with Speedfossil and Modern Day Idols. Speed Fossil's song/video of "Luckiest Man in the World" did it for us, what a great calling card that is!! Also of note: The band will throw an album release show at Sally O'Brien's on April 7th.
To see John's review and photos hit the photo link below.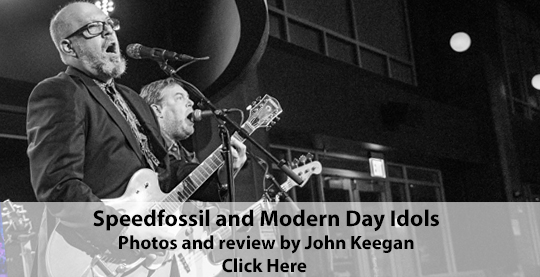 The outpouring of feelings for Randall Lee Gibson IV continued this week on social media. Now there is a GoFundMe page set up to help Randall's wife and daughter. Besides his drumming, Randall was a proud Union member working as a full-time as an electrician to support his family.
And this past Saturday Feb 5, beginning about 29 mins into the episode, Trash Flow Radio memorialized the late Randall Lee Gibson IV (June 1963 - Jan 27, 2022) and played tracks from The Flies, Scruffy the Cat, 21-645, The Copulators, and The Hummingbird Syndicate. You can listen here.
Red on Red Records has a lot planned for this year. The next drop is Hansen's Pop 'n' Rock '22 a Charles Hansen album with 22 songs. The amount of stellar work Hansen has done on other people's records is staggering at this point. To think of what he will have on those 22 cuts where he calls the shots will have the faithful salivating till its release. It's notable that the first single/video (to be released on Feb 24) is named "Tavern At the End of the World", the place Charles plays most often.
Red on Red promises releases by their whole roster this year. Speedfossil's upcoming No Anesthesia will be out on April 8th. And they have a record release show at Sally O'Brien's on Thursday April 7th.
Red on Red also have two new signings. One is of an established artist….the guessing game begins. They also declared they plan to link up and collaborate with a "sister Indie label" to promote them in the media…again with the guessing.
Finding inspiration and motivation during this Covid period has been one of Red on Red's defining characteristics. They help us all with their example and hard work.
Last week The Brattle ran the Poly Styrene I Am A Cliche documentary. The NY Times ran a great review on Feb 1. The review mentions the wide range of influence Poly Styrene still has today, arguably more than she even had originally. She and what she said will not go away. Poly had bipolar depression and died of cancer. It was not an easy life. Despite that she will always electrify and startle with her recorded voice. (I saw X Ray Specs at CBGB's. Poly was electrifying on stage but she was also so adorable with those cheeks and braces! I couldn't help myself, as she passed I pinched her cheek and said "You are SO CUTE!!" Not the response she wanted I 'm afraid - Miss Lyn)
Here is theNYT article Here's is an excellent Roger Ebert review.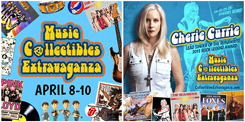 The Comic Con people are having a Music Collectors Extravaganza on April 8 to 10 in Boxboro. Musical guests are Runaway Cherie Currie, Carmine Appice, Mach Bell and Barrence Whitfield. There are performances by a roster of Red on Red artists like Kid Gulliver, Justine and the Unclean, Robin Lane, Speedfossil, Also there will be Barry Marshall, Jody Moore. Also: "A museum quality Pop Cultural Artifacts display from the David Bieber Archives will be on display", and knowing the Comic Con there will be more as the show gets closer. Tickets and more info here
Bandcamp is getting into live streaming. They announced this week: "With Bandcamp Live it's easy to stream your next performance or host a listening party. Make it free or sell tickets, and bask in fans' support via the merch table, virtual gifting, and live chat." We don't see that this solves the problem of the quality of the live stream, which has been a wide spread concern. More about this at Bandcamp
---
VIDEOS......
We're up to Chapter 17, and final segment of Tom White's Zoom documentary. This week Tom shows us some Zoomer reunions. Zoomers as adults playing Zoom games with a soundtrack from Murphy's Law!? ...wow!!
Sonic Lobotomy did their first new taping since the Covid began with a half hour with Evil Felipe. This was the first time we got to hear a full set by them and it reveals a solid set of worthy material. There are times when the lyrics get very personal and confessional and reveal a strong independence. Those are golden moments to us. The lead guitarist plays memorable lead lines and the rhythm section is strong. Asked for influences they sited: Destroy Boys (video), Snail Mail (video), Lunar Vacation (video) and together PANGEA (video). It was instructive to listen to those bands. You can see the link to Evil Felipe.
Smitt E Smitty & the Feztones will released their new song "Buzzkill Baby" on Valentines Day, Feb 14!! They have a teaser video on Facebook
---
PODCASTS.........
Blowing Smoke With Twisted Rico has Jesse Ahern in the studio. Jesse opens for the Dropkick Murphys these days. He did some acoustic songs also. Steeve made Ahern admit that he did some background vocals with Lenny Lashley to some new Dropkick Murphy songs being recorded at David Minehan's Woolly Mammoth studios. That's hot news!

Rat Tales continue to add past content into their YouTube channel. There's some newer acts like Mach Bell and Tim Jackson of Robin Lane but also some artists from the 60's Boston era of the Bosstown Sound. They have a twenty minute video with a Bosstown Sound overview with many of the main players that is very much worth seeing. That's here.
You can access the Rat Tales YouTube channel here.
---
NEW MUSIC/CDs......
The upcoming Duck & Cover EP Attention Economy is a spirit lifter. Even better – one song "Momento Mori" is on Bandcamp now. Vanyaland has an article that gets into the song. It's worth reading!! We would add two things they didn't mention. One, is Chris Brat's voice. It's so nice to hear that again. Two, what about that guitar solo at the 1:53 mark? The tone is clear despite the crunchy distortion in the rest of the song, and it's so melodic, well-crafted and structured purposely to lead back into the song. We can imagine how David Minehan, who recorded this, must have appreciated the artistry of it and made sure it was framed to be heard.
There's even more in there like the backwards piano at the beginning and the furious string scraping that sounds like a whirlwind at the 2:35 mark. A lot went into this track.
Generos are one of our favorites and a band we have urged people to check out. Now we do it again as the band releases a five song EP titled Wildcat.
There are very few bands that do so much with such simple elements as Graneros. Often it's two chords that carry the song. The trio plays rhythms that are strong but simple. You focus on the voice which sometimes has a rural folky element, and other times some sort of mystique as it funnels angst.
You might not know what they are singing about in "Big Book" but the emotions are real enough. The first line sung is "I, I can barely breathe. You, you decide for me. " You make up your own scenario. For us the mystery and intensity of the song are so real, we have it on our Top Ten Songs
A lot of the songs are like that, for example "Piss on the Moon" and Family Tree". They generate a feeling that you get lost in. All the five songs click like that.
We don't see where Graneros fit into any easy slot or genre. They are doing their own thing and that's exciting.
Rum Bar has been pouring out the new music as fast as we can listen. Now they do a change up and release a compilation of older material by all the Rum Bar groups we are now familiar with. Early Times has 27 tracks.
When you hear The Dents doing "One More Time" you get hit by Jen's voice and realize how long we've been hearing that. Then you hear The Downbeat 5 doing "Make Your Mark" and flip on the voice again.
It's similar with Muck and the Mires' "Leslie". Muck have revved up their attack but all the hallmarks of their sound are here.
It's been a long time since we have heard The Marvels. They were one of the few actual punk groups around during their stint and one of Miss Lyn's all time favorites. "Sorry" brings back that memory.
They have one of our all-time faves "Doll Eyes" by Tom Baker & the Snakes. Chris Rodgers' cut "I Know" stands out. His talent is undeniable.
There's a lot to hear. Our advice is just to get in there and go at it.
We caught the new Salem Wolves song "Hostile World" on the last Bay State Rock show. They tag it as Hostile Music for a Hostile World and that's what it comes across as. "We're not getting better' they rage. They capture current feelings of frustration and it seems to go by super-fast at two and half minutes and setting you up for repeated listens.
---
Here's some good shows coming up ..... Also note that most clubs require proof of vax and masks now!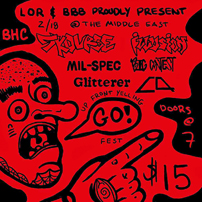 February 10 (Thursday) Linnea's Garden, Baabes, Adi Sun, Golder at The Jungle
February 11 (Friday) Minibeast & Royal Arctic Institute at Dusk in Providence RI (Early Show 7 PM – 10 PM!) FB page
February 12 (Saturday) Gene Dante & the Future Starlets, Parlour Bells and Eddie Japan at the Crystal Ballroom FB page
February 13 (Sunday) Boston Hassle Valentine Flea Market at The Middle East Up AND Down 12-6PM. Records, patches, vintage, posters, tarot readings, loads of vendors!! FB page for info.
February 17 (Thursday) Oh The Humanity! (10 year anniversary show!!), Kitner, Sky Tigers, Blame it on Whitman at O'Brien's
February 18 (Friday) The McGunks, Rockin' Bob Punk Band, The Prozacs, Follow Thru at The News Cafe in Providence, RI
February 19 (Saturday) The Nervous Eaters and Girl With a Hawk at the Burren. Facebook event page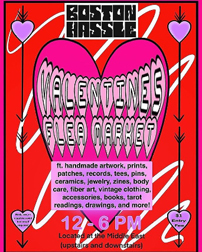 February 19 (Saturday) Tsunami of Sound, Bikini Whale, Stop Calling Me Frank at a new club we haven't heard of before The Premiere on Broadway. It's at 517 Broadway in Somerville. Here's the Facebook page for the show

February 19 (Saturday) Minibeast with The Royal Arctic Institute & Spall at Tiki Sun Studios Portland, ME. FB page.

February 20, 2022 (Sunday) In the Meantime, Hopeless Otis (NYC), Stubborn Hearts, Bad Idea USA with a somewhat early show - 4:30-8PM at The Jungle

February 20, 2022 (Sunday) - Sunday Matinee with The FU's, Knockover City, Stereo Vulture, Warthog - 2-6PM - at Thirsty First in Lowell.

February 22, 2022 (Tuesday) Gene Dante & The Future Starlets, Parlour Bells, Eddie Japan at The Crystal Ballroom, Somerville

February 22, 2022 (Tuesday) JoJo Richman is at the Wilber Theater. FB event page

March 3, 2022 (Thursday) Actor|Observer and Godseyes at Alchemy in Prov. RI

March 4, 2022 (Friday) Actor|Observer and Godseyes at Ralph's Rock Diner Worcester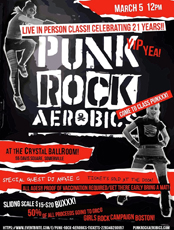 March 5, 2022 (Saturday) Punk Rock Aerobics, the original DIY workout since 2000 celebrates its 22 year anniversary with an in person class! "Yip Yes Punx!!" they are LIVE and IN PERSON!! at Crystal Ballroom Noon - 1PM. Tix at Eventbrite. FB page for more info
March 5, 2022 (Saturday) Red Mammoth Concerts presents a Tribute to The Faces at The French Club in Waltham, with Kid Gulliver, Justine and The Unclean, The Croaks and more to be announced!! Check out the FB page for updates.
March 12, 2022 (Saturday) Just plan on staying at the midway all day -Scotty Saints and the True Believers, Doc Rotten, The Stigmatics , Dave Strong do a Midway Matinee show = 3 PM – 7 PM. Facebook page
March 12, 2022 (Saturday) Boston Oi! Fest with The Welch Boys, The Bluebloods, The Abductors and Ice Cold Killers at The Midway - FB page.
March 12, 2022 (Saturday) Paper Tigers, Sunshine Riot, Luxury Deathtrap, High And Dry at Thirsty First in Lowell.
March 17, 2022 (Thursday) Zipper, PCP & the Knives, Fraud @ O'Briens
March 20, 2022 (Sunday) Verbal Assault, The FU's, Peace Test, Bullet Proof Backpack, Holy Hands at The Met in Pawtucket, RI - this is the rescheduled show from last September. All tickets will be honored for postponed show or refunds at point of purchase through 11.30.21 - FB page.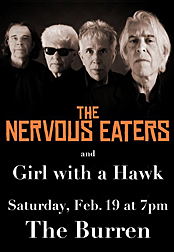 March 20, 2022 (Sunday) Church Girls, Suntitle, Carissa Johnson, Paper Tigers at The Middle East Upstairs.
March 20, 2022 (Sunday) Henry Rollins at The Wilbur for his Good To See You tour. Tickets here https://thewilbur.com/artist/henry-rollins/
March 22, 2022 (Tuesday) Henry Rollins: Good To See You 2022 at the Met in Pawtucket, RI FB page
March 24, 2022 (Thursday) Black Beach, Cronies(NYC,)Betties, Anxious Wave at O'Briens
March 25, 2022 (Friday) Richie Ramone, Public Nature, Shore City, Joy Boys at Askew in Provi RI FB page
March 26, 2022 (Saturday) The Dogmatics Record Release party with Gypsy Moths and Continental @ The New World Tavern. A night of non-stop local Boston Rock with three Rum Bar Recording artists. FB Page
March 26, 2022 (Saturday) Brockton Hard Core shows and Women Of The Pit presents: Dog Eat Dog, Kings Never Die, MAAFA, Car Bomb Parade, Wisdom & War, Capo Kong at The Brockton VFW Post 1046. 6:30- midnight. FB page.
March 27, 2022 (Sunday) The Legendary Cazbats at The Midway for a matinee shows at 3PM Matinee show
March 31, 2022 (Thursday) The Parquet Courts are at the Royale. Tickets are here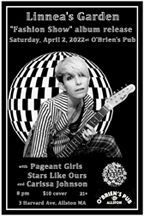 April 2, 2022 (Saturday) Linnea's Garden, Pageant Girls, Stars Like Ours, Carissa Johnson at O Brien's
April 7, 2022 (Thursday) Speed Fossil has an album release show at Sally O'Brien's
April 30, 2022 (Saturday) The Dogmatics at The Magic Room FB page
April 23, 2022 (Friday) Jawbreaker, The Lemonheads and Worriers are at the House of Blues. Get tickets at the House of Blues website
May 6, 2022 (Friday) My Life as a Ramone-An Interactive Speaking show by Marky Ramone followed by a screening of Rock 'N' Roll High School. "This multimedia event includes vintage photos, video clips and previously unheard stories behind the music." at The Greenwich Odeum Tix and info here.
May 13, 2022 (Friday) Post Punk Tribute Night w/ The Temple of Mercy, Gretchen & The Banshees, DJ Sawtooth at The Middle East Up. TIX
May 20, 2022 (Friday) "Post Punk Night" with Linda Been Pardee, Ad Frank, Gene Dante, Tony Savarino, Eric Brosius, Dan Kopko, Lisa McColgan, Killian Carcosa, Chuck Ferreira, David Santos, Stephen Hart, Henry Ryan, Allison Sigrist and Charles Membrino at Sally O'Brien's Union Sq Somerville. .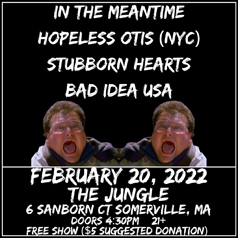 May 24, 2022 (Tuesday) Reverend Horton Heat, The Koffin Kats, Sasquatch & The Sickabillys at Alchemy in Providence, RI. FB page.
May 28, 2022 (Saturday) Razors in the Night & Tijuana Sweetheart Reunion Show at Sonia, also on the bill Nothing But Enemies. FB page
June 18, 2022 (Saturday) 40 Years of The Queers Anniversary show also with The Dwarves, The Jasons, Stubborn Hearts at Sonia. TIX
June 18, 2022 (Saturday) THE ZULUS are back at The Paradise - tix here.
CONTACT US AT....misslynbgn@yahoo.com Send us your gig listings, your anything else ya got!! You want your CD reviewed?? Contact us for that too.
---
---