The BGN News Archive
February 14, 2022
Even in the ice storm last week Captain Easychord went over to the Cantab Underground for Hambone Skinny, Shiny Beasts, The Doug Macdonald Band and Answerman.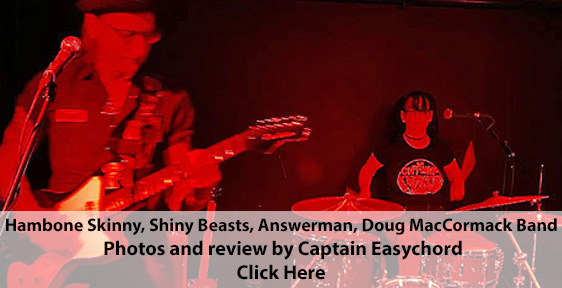 And this week, in better weather, John Keegan caught Linnea's Birthday Bash at The Jungle with Linnea's Garden, Baabes, Adi Sun and Pidge.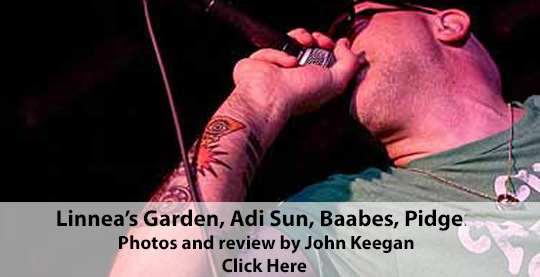 There is now an online obituary for Randal Lee Gibson IV and a gathering to honor Randal wil be held at Vazza's "Beechwood" Funeral Home at 262 Beach St, Revere on Sunday February 27 form 2PM to 6 PM. A memorial service will start at 5:30PM. In lieu of flowers the family is asking for donations in Randall's name to Right Turn.

Bandcamp is getting into live streaming: "With Bandcamp Live it's easy to stream your next performance or host a listening party. Make it free or sell tickets, and bask in fans' support via the merch table, virtual gifting, and live chat." We don't see that this solves the problem of the quality of the live stream, which has been a wide spread concern. More about this at Bandcamp https://bandcamp.com/about_live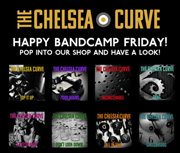 More congrats go to The Chelsea Curve!! Last week we heard they would be on the bill at Boston Calling ...now they are "crossing the Atlantic in May to play a set of UK shows, including a May 20 rager in the birthplace of Britpop, Camden Town. We're delighted to share the stage with our mod brothers Sharp Class at The Dublin Castle, part of an England mini-tour." Excellent news!!
Oh you guys...you will want to check out THIS...a collection of great photos of punk in Boston on Blank Generation Boston Rocked by Robert Post!!! Dead Boys, DMZ, Lyres, The Atlantics, The Clash at the Harvard Sq Theater, Mission of Burma, Real Kids at Cantones, Nervous Eaters at The Rat.....wow!!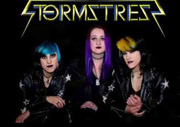 Stormstress released their new song "Fall With You" with a video to go with it on February 2…yes that's 2/22/22! Liz Borden is one of the producers. Stormstress Facebook page
Once Somerville posted on FB that they are setting up 8 dates between June - Sept, for a new 2022 Boynton Yards series! Yes! We are looking forward to seeing some music there again this summer! For now of course they have shows at The Rockwell and The Crystal Ballroom.
Steve Jones of the Sex Pistols is a simple guy and always frank. You get a good idea of what was going on in 1977 by listening to him. There's an interview on Louder Sound now where he confesses to listening to Boston and Journey during the punk years…he'd love to be on a desert island with only 70s classic rock playing. WHAT??? that's too frank!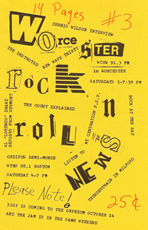 We wrote about Gary Storm in 2013 when he sent us his song "(I wanna be on the ) Cover of a Punk Magazine." In the video he does a visual list of punk mag covers. Well on his website he posts full collections of punk fanzines. Here is the page where he lines up a load of them that were active in the late 70s and early 80s. The BGN is in there of course but also some lesser known Boston zines and Brian Goslow's (we saw this posted by Brian on Facebook) Worcester Rock and Roll zine.
And speaking of fanzine coverage ... And Miss Lyn and Blowfish were just interviewed for Rock Writ, a podcast that "explores rock criticism and old-school fanzine culture" Our interview should be up in March sometime. We'll give you a link then.
There's a new documentary inspired by the book Rip It Up and Starting Again, that was about the post punk art rockers, that looks like something to keep an eye on. The doc is directed by Nikolaos Katranis and Russell Craig Richardson and includes interviews with Jah Wobble (PiL), Una Baines (The Fall), Alexander Hacke (Einstürzende Neubauten), the late Genesis Breyer-P-Orridge (Throbbing Gristle and Psychic TV) Stephen Mallinder (Cabaret Voltaire), A Certain Ratio, and Ana Da Silva (Raincoats). There's also some pretty rare live vids in there as well. No release date has been given but we will be watching out for it and the 15 minute trailer is tantalizing!!
You can see that here on Brooklyn Vegan.
---
BOOKS.....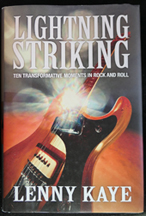 Lenny Kaye of the Patti Smith Group has a book out called Lightning Striking: Ten Transformative Moments in Rock and Roll. He lines up 11 cities and years where rock and roll has developed. Some are: Cleveland, San Francisco, Memphis, London, Detroit and Liverpool. All these are well trodden scenes where you would wonder what is left to say. Lenny digs in a little deeper and makes it interesting with clever turns of phrase.
In the end it's his own story that is the best thing here. He talks about getting together with Patti Smith in NYC with the CBGB's scene happening at the same time. He tells of the first times he saw Patti which was years before he played guitar to her poetry reading and then a few years before they repeated it. He gives a general outline of the group's career. To us that would be the book we would want to read. The book at Brookline Booksmith and Amazon
---
VIDEOS......
In the new Kid Gulliver video the band is in a virtual world and when they are in that virtual world, they are wearing virtual reality glasses…so what do they see? You're in a rabbit hole of realities. No matter, you have "You'll Never Know" playing which is one of their expert, ear-friendly tunes with alternate chiming guitar and power chord driven backdrop.
Paper Tigers are a group we came to know through their live streams during the pandemic. They've continued to work and now have a video for their song "Ursa Minor". It has the usual intensity of the Paper Tigers' material, so it was an eyebrow raiser to see the humor in the video. The video was filmed in the Allston area but is mostly interiors.
Even with the humor and the cardboard spaceship (or as we learned in the video - geimskip in Islandic) the angst that's in the song does come through in the video. It also helps you to focus on the sadness of the chorus, "We don't want to be, out here on our own, far from everything we know."
"Dark Nights" the new video from Michael Kane and the Morning Afters is another gritty yet tuneful rocker that they do so well. All their material is ready for radio and the big stage.
It's award season again…apparently…because Mach Bell has his nominations for The Second Annual Cowboy Awards!
Mach has the nominations all lined up in a video…see above. The Cowboy Awards will be broadcast on Sunday, March 27 at 7pm. .
One of the good things about music videos is you get to hear the song again. That's the case with Salem Wolves' "Hostile Music" video. Hearing the song some more confirms to us what a knock out tune it is. The line in the lyrics "we're not getting better" is our new catch phrase for this stretch of quarantine.
The video has a pastiche of alarming occurrences in film, paper and news footage showing things weren't great in the past either. It all fits the song's bleak outlook.
This will be part of an EP that will come out this spring.
We had an advance listen to "Looking" the new video by Linnea's Garden but now you can see it on YouTube (and can be seen above.)
This song is very bass centric. The dreamy quality is not a usual Linnea's Garden style. Don't miss that trippy section at the 2:15 and 3:36 minute mark.
The song is also on their Bandcamp page This is the first song from their Fashion Show album that will be released on April 1.
Nothing we like better than to immerse ourselves in some Damned. There's a new vid on the standing and importance of "New Rose". Warren Huart of Produce Like a Pro makes you love it all over again in his 18 minutes dissection of the song.
Jack White has a new sound on his latest song/video. "Fear of the Dawn" has a parcel of distorted guitar and theremin squelches and squeals. He couples that with a new color. Rather than red and white the video is all blue and white.
PODCASTS.........
Blowing Smoke With Twisted Rico interviews John Lynch of…well ... many bands ... Watts, Neighborhoods, Dirty Truckers, Avoid One Thing, Beth, as well as doing some shows with Steppenwolf. You get some of the Neighborhoods story from John's point of view. At one point Steeve says he was a punk in 1977 and John declares he was born in 1977. John also drops the bomb that he thinks that Neighborhoods will not play again, that it is probably over! Everyone sort of thinks this, but no one has said it outload before. It does seem that David is doing such outstanding work at Woolly Mammoth that he would want to focus on that.

The Above the Basement podcast is putting it on hold. They've been going 5 years and had 200 episodes. They won the Boston Music Awards Best Podcast award in 2020. Their podcasts will remain online There are interviews with Justine Couvault, Hilken Mancini, Linnea Herzog, Juliana Hatfield, Jen D'Angora, Oedipus, and Clint Conley.
---
Here's some good shows coming up ..... Also note that most clubs require proof of vax and masks now!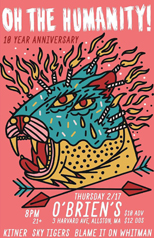 February 17 (Thursday) Oh The Humanity! (10 year anniversary show!!), Kitner, Sky Tigers, Blame it on Whitman at O'Brien's
February 17 (Thursday) The Chelsea Curve, The Downhauls and The Dents are at Notch Brewery in Brighton from 7 to 10 pm and it's FREE!! Facebook event page
February 18 (Friday) The McGunks, Rockin' Bob Punk Band, The Prozacs, Follow Thru at The News Cafe in Providence, RI
February 19 (Saturday) The Nervous Eaters and Girl With a Hawk at the Burren. Facebook event page
February 19 (Saturday) Tsunami of Sound, Bikini Whale, Stop Calling Me Frank at a new club we haven't heard of before The Premiere on Broadway. It's at 517 Broadway in Somerville. Here's the Facebook page for the show
February 19 (Saturday) Minibeast with The Royal Arctic Institute & Spall at Tiki Sun Studios Portland, ME. FB page.
February 20, 2022 (Sunday) In the Meantime, Hopeless Otis (NYC), Stubborn Hearts, Bad Idea USA with a somewhat early show - 4:30-8PM at The Jungle
February 20, 2022 (Sunday) - Sunday Matinee with The FU's, Knockover City, Stereo Vulture, Warthog - 2-6PM - at Thirsty First in Lowell.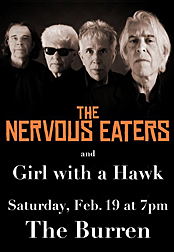 February 22, 2022 (Tuesday) JoJo Richman is at the Wilber Theater. FB event page
March 3, 2022 (Thursday) Jay Allen and the Archcriminals, Tad Overbaugh and the Late Arrivals, Sugar Blood Jinx at Notch Brewery Brighton. FB page.
March 3, 2022 (Thursday) Actor|Observer, Godseyes, Frantic Endeavor, OMNI, Late 9 at Alchemy in Prov. RI - FB page.
March 4, 2022 (Friday) Actor|Observer and Godseyes at Ralph's Rock Diner Worcester
March 5, 2022 (Saturday) Punk Rock Aerobics, the original DIY workout since 2000 celebrates its 22 year anniversary with an in person class! "Yip Yes Punx!!" they are LIVE and IN PERSON!! at Crystal Ballroom Noon - 1PM. Tix at Eventbrite. FB page for more info
March 5, 2022 (Saturday) Red Mammoth Concerts presents a Tribute to The Faces at The French Club in Waltham, with Kid Gulliver, Justine and The Unclean, The Croaks and more to be announced!! Check out the FB page for updates.
March 6, 2022 (Saturday) Louzy, Bochek, Subpunch at O'Brien's
March 12, 2022 (Sunday) Just plan on staying at the midway all day -The Prozacs, U-EY at the BUOY, Scotty Saints & the True Believers, The Stigmatics, Dave Strong do a Midway Matinee show = 3 PM – 7 PM. Facebook page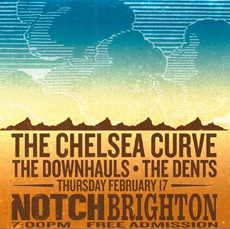 March 12, 2022 (Saturday) Boston Oi! Fest with The Welch Boys, The Bluebloods, The Abductors and Ice Cold Killers at The Midway - FB page.
March 12, 2022 (Saturday) Paper Tigers, Sunshine Riot, Luxury Deathtrap, High And Dry at Thirsty First in Lowell.
March 17, 2022 (Thursday) Zipper, PCP & the Knives, Fraud @ O'Briens
March 20, 2022 (Sunday) Verbal Assault, The FU's, Peace Test, Bullet Proof Backpack, Holy Hands at The Met in Pawtucket, RI - this is the rescheduled show from last September. All tickets will be honored for postponed show or refunds at point of purchase through 11.30.21 - FB page.
March 20, 2022 (Sunday) Church Girls, Suntitle, Carissa Johnson, Paper Tigers at The Middle East Upstairs.
March 20, 2022 (Sunday) Henry Rollins at The Wilbur for his Good To See You tour. Tickets here https://thewilbur.com/artist/henry-rollins/
March 22, 2022 (Tuesday) Henry Rollins: Good To See You 2022 at the Met in Pawtucket, RI FB page
March 24, 2022 (Thursday) Black Beach, Cronies(NYC,)Betties, Anxious Wave at O'Briens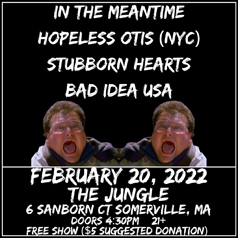 March 25, 2022 (Friday) Richie Ramone, Public Nature, Shore City, Joy Boys at Askew in Provi RI FB page
March 26, 2022 (Saturday) The Dogmatics Record Release party with Gypsy Moths and Continental @ The New World Tavern. A night of non-stop local Boston Rock with three Rum Bar Recording artists. FB Page
March 26, 2022 (Saturday) Brockton Hard Core shows and Women Of The Pit presents: Dog Eat Dog, Kings Never Die, MAAFA, Car Bomb Parade, Wisdom & War, Capo Kong at The Brockton VFW Post 1046. 6:30- midnight. FB page.
March 27, 2022 (Sunday) The Legendary Cazbats at The Midway for a matinee shows at 3PM Matinee show
March 31, 2022 (Thursday) The Parquet Courts are at the Royale. Tickets are here
April 2, 2022 (Saturday) Linnea's Garden, Pageant Girls, Stars Like Ours, Carissa Johnson at O Brien's
April 7, 2022 (Thursday) Speed Fossil has an album release show at Sally O'Brien's
April 30, 2022 (Saturday) The Dogmatics at The Magic Room FB page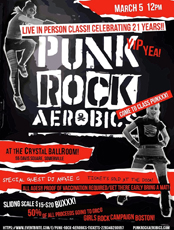 April 23, 2022 (Friday) Jawbreaker, The Lemonheads and Worriers are at the House of Blues. Get tickets at the House of Blues website
May 6, 2022 (Friday) The Cryptics, The Brunt Of It, The Martians, Color Killer at The Middle East Up. FB page.
May 6, 2022 (Friday) My Life as a Ramone-An Interactive Speaking show by Marky Ramone followed by a screening of Rock 'N' Roll High School. "This multimedia event includes vintage photos, video clips and previously unheard stories behind the music." at The Greenwich Odeum Tix and info here.
May 13, 2022 (Friday) Post Punk Tribute Night w/ The Temple of Mercy, Gretchen & The Banshees, DJ Sawtooth at The Middle East Up. TIX
May 20, 2022 (Friday) "Post Punk Night" with Linda Been Pardee, Ad Frank, Gene Dante, Tony Savarino, Eric Brosius, Dan Kopko, Lisa McColgan, Killian Carcosa, Chuck Ferreira, David Santos, Stephen Hart, Henry Ryan, Allison Sigrist and Charles Membrino at Sally O'Brien's Union Sq Somerville. .
May 24, 2022 (Tuesday) Reverend Horton Heat, The Koffin Kats, Sasquatch & The Sickabillys at Alchemy in Providence, RI. FB page.
May 28, 2022 (Saturday) Razors in the Night & Tijuana Sweetheart Reunion Show at Sonia, also on the bill Nothing But Enemies. FB page
June 18, 2022 (Saturday) 40 Years of The Queers Anniversary show also with The Dwarves, The Jasons, Stubborn Hearts at Sonia. TIX
June 18, 2022 (Saturday) THE ZULUS are back at The Paradise - tix here.
CONTACT US AT....misslynbgn@yahoo.com Send us your gig listings, your anything else ya got!! You want your CD reviewed?? Contact us for that too.
---
---