The BGN News Archive
August 6, 2018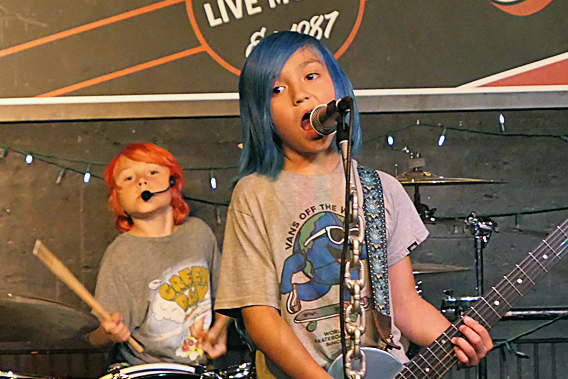 Color Killer
Photo:Blowfish
---
There's a real fascination with Color Killer. The obvious young age, and their proficiency are subjects to ponder. The other idea is that they are so obviously the next generation knocking on punk's door. We like to think that punk is a viable genre that will go on so we need to support those starting up. Color Killer are centered on pop punk. They take their lead from The Bottle Rockets, The Queers, The Ramones, The Lillingtons and Green Day.
It was fun seeing them at the Midway listening to the other bands on stage before them. They make it a point at every show to do that….ahem…hint, hint!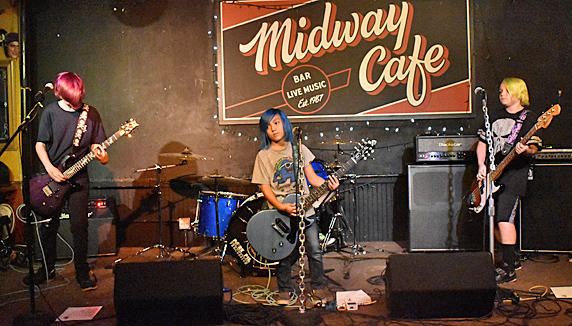 Color Killer
Photo:Blowfish
Their parents helped them set up on stage. That's a dynamic that you don't ever see. Tony, Lincoln's dad says he can't wait for them to grow up and move their own amps. There were no frills as they launched into their set. There was very little talking during the set. As a matter of fact they could teach a few bands about song segues. The set moved right along. Stage patter is something that probably comes with age.
The first song was one of their originals "Down With Winter". It has strong momentum with some cool fills, background vocals and a melody that has a catchy descending thing going on at one point. This is a good song to show you how good they are, give it a few listens and you get hooked. Listen to it here.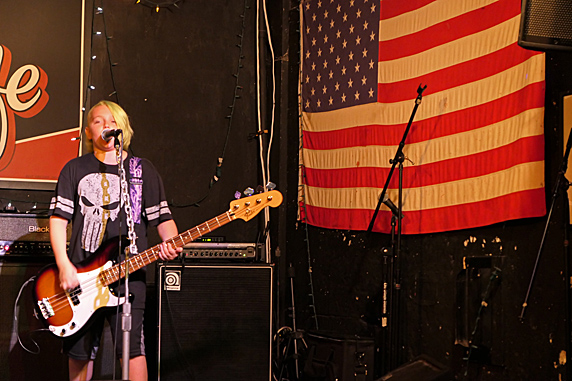 Nate - Color Killer
Photo:Blowfish

Their playing was more than capable. Lincoln on guitar plays those short fills without fail and with a nice tone. They covered "Holiday in Cambodia" and he hit all the different fills in that. He did those octave fills that moved around the neck (and that neck is big relative to his little eight year old hands) and never missed a note. Pretty good.

Check it out on the second video below.

Matt on drums almost seems like he's bored. It's just so second nature to him. He drummed and sang and it didn't seem challenging. You looked and you couldn't believe it.

"Football" was another original song. They introduced it by saying they hated football. The song sounds pro football at the begining but the last verse paints a dark picture. Another good one to listen to!!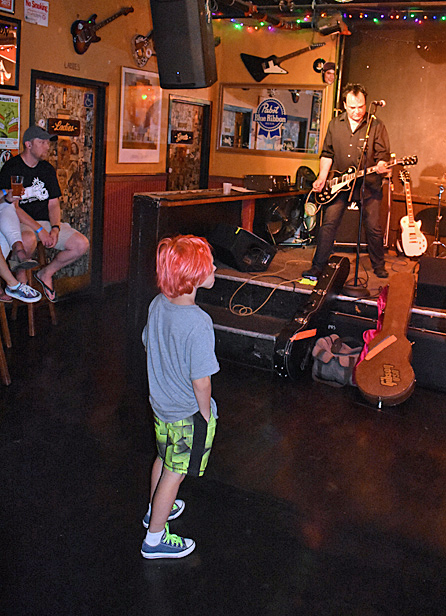 Matt watching State of the Union
Photo:Blowfish
"Toothless Wonder" was yet another original that is also an earworm. We thought this one borrowed a lot from The Jabbers' Don't Talk To Me" but it certainly stands on its own as well. Jay from The Prozacs is helping them write and that's a big boost. They got an encore and dished out "Blitzkrieg Bop". See the third video below.
There are qualities that they'll gain as they age that could make them a powerhouse band. Right now the qualities they have make them a fascinating band to see live. We never quite lost that feeling that we were seeing a phenomenon. There has been a few young bands through the years, but they remind us of the Rocky Fellers way back in the early sixties.
Some funny things you won't see with older bands. Matt, the drummer went over and sat on his mother's lap during State of the Union's set. He stuck his tongue out at the bass player during their own set. And he and Lincoln had a bubble gum blowing contest while watching the other bands. It's so fun to just watch them be little kids! One of their covers was "Holiday in Cambodia" and it really hit us. Do they even know what the song is about?? Do they know what the Vietnam War was? and do the know who the hell Pol Pot was and the atrocities he committed on his own people?? That song comes with a terrible history lesson.
But...They have one thing in common with older bands – they need you to go out and see them! So go see them!! They play out quite a bit.
Their CD is on Bandcamp And if you haven't already read our interview with the band; they'll be on A Crash Course for the Ravers on September 8th.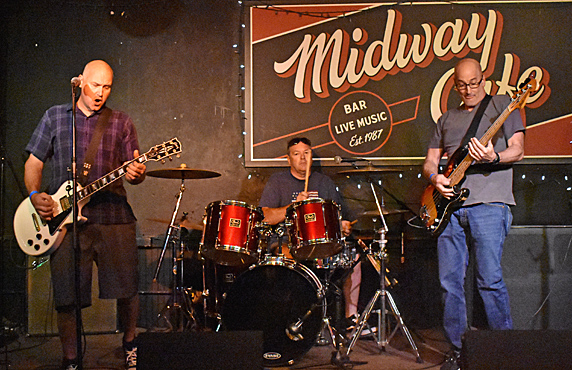 The New Frustrations
Photo: Blowfish
Earlier it was a satisfying set by The New Frustrations. Back in 2008 or so when we used to see them, they were a five piece. Now they're a trio.
They still have the same spirit as before with their love of seventies rock and early punk. Musically they seem to us to be at that point where the bands were in 1975. They knew the current rock music was bad and looked for a new way to play. They echo some of those bands like Dr. Feelgood who didn't go where the Ramones did but had a heightened energy.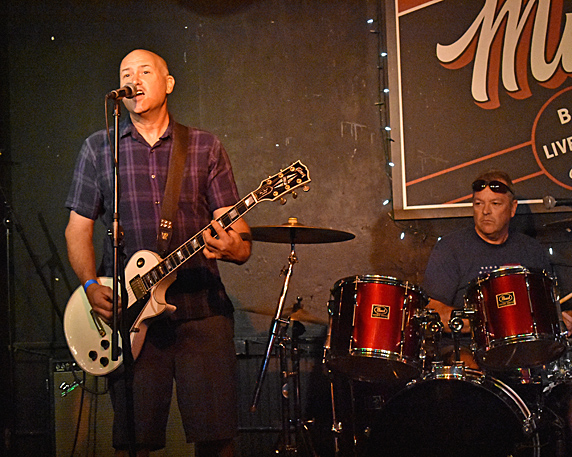 The New Frustrations
Photo: Blowfish
They hit all their marks in their first song "Radio Generation" from the EP Dee Backle. They also did "Right as Rain" from the same EP. Slimedog, who was there, confessed that it was his favorite song from them. A band that can write a song like that should have a higher profile than they do. They continued with all quality material. They did a few covers like the Flaming Groovies, "Teenage Head" (The second video below.) and "She's on the Cover (of Explosion Magazine)" by The Model Rockets. That song had an attention getting vocal intro. They actually had a cleaner sound than the original and we think that improved it.
They had one song called "Too Scared to Kiss You" with the lyrics "We ain't seventeen", meaning they're not that young anymore which was ironic because they were playing with Color Killer who aren't going to be seventeen for a few years yet.
We first became aware of State of the Union on the Crash Course for the Ravers Show on WMFO. Brian Young had them for guests a few times and they played in the studio and each time we loved their songs. We've seen them live a few times but this time we thought they could do no wrong.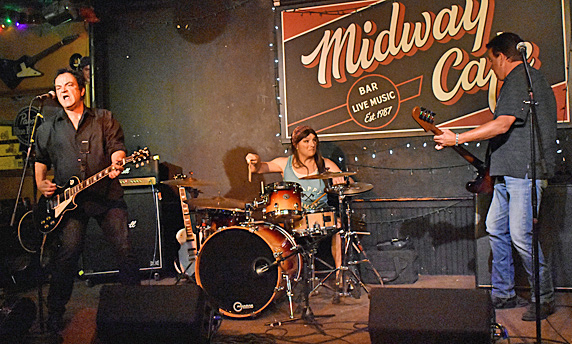 State of the Union
Photo:Blowfish
Lead singer Joe Perry has a little of the Joe Strummer swagger to him that comes off nicely. They also have Joey Wire on bass who takes over the singing a lot and has a powerful delivery. He put over "Bloodstains" by Agent Orange perfectly.
Then it's Sandy Summer on drums who can not be denied. That drumming could pick up and move a symphony orchestra to rock speed! It's loud and you can see how she's always using the whole kit. One trick she does is to start a fast roll very quietly and slowly increase the volume. You can hear it happening and it lifts you as you wait for it to break. It's a graphic example how music can move you. You can hear it below on the video of the Neighborhoods' song "No Place Like Home". It's at the 50 second mark. Sandy is a joy to watch up there. She loves loves loves playing the drums and she shows it! Often times she stole the show because of it.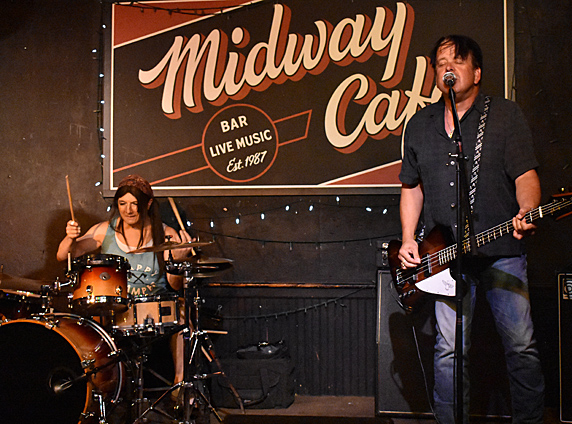 State of the Union
Photo:Blowfish
After they did "No Place Like Home" they went into another song that sounded like a Neighborhood song we didn't know. It turns out that was an original song called "Ring Me Up". One of the first songs they did called "Bombs In Boston" sounded like a Stiff Little Fingers song.
They did "Man Overboard" which is a song that sticks with you. When they sang, "Throw me a line, throw me a rope, I am a man overboard. Throw me some hope", it resonated.
All this comes through on their CD True which was recorded at Woolly Mammoth. David Minehan guests on a couple of songs on the CD too. Damn that Minehan, he is over every good local CD coming out! No wait, Thanks D Minehan for helping make such great stuff for our ears!!
State of the Union have a batch of new songs of equal quality and are looking for a label to release it on. Come on somebody, pick that up!!!! These guys are awesome!
In the end we realized that the New Frustrations, State of the Union and Color Killer all ended their sets with Ramones songs. It was "We Want the Airwaves", "Beat on the Brat" (Video above.) and "Blitzkrieg Bop" respectively. Great night of music!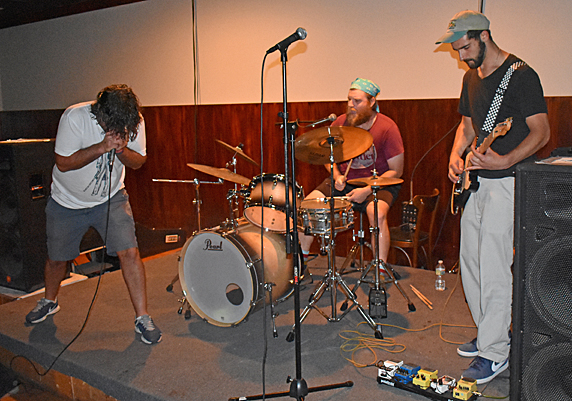 Sternman
Photo:Blowfish
It was 2016 when we caught some of Rawstrum's set. The intensity of the lead singer has stayed with us. He's now in a group called Sternman that played PA's Lounge on Friday. It seems like a whole different band. The band wasn't as strong as the older one but that singer hasn't lost any of his power. He crouches over on top of the microphone as if he is pouring all his emotional guts into it. He has different voices and inflections. He's channeling some deep stuff.
Then it was a short jump to Sally O'Brien's where Billy Connors was headlining. Before him was The Bordens. It turns out that is the name of the new band by Liz Borden of Lizzie Borden & the Axes, a notorious name and band. Liz has been involved in the Boston punk scene for a long time and her story is worth a book, we think.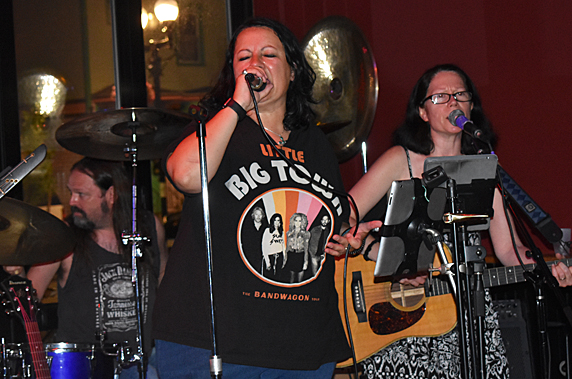 The Bordens
Photo: Blowfish
Liz has long played punk with a metal edge but judging by the set at Sally's, things have changed. The band started out with three tuneful rock songs. Liz is great with making sure that there is a strong melody in the mix to begin with. One song called something like "Shake" was a cool get-up-and-dance song. Another referenced the Go- Go's.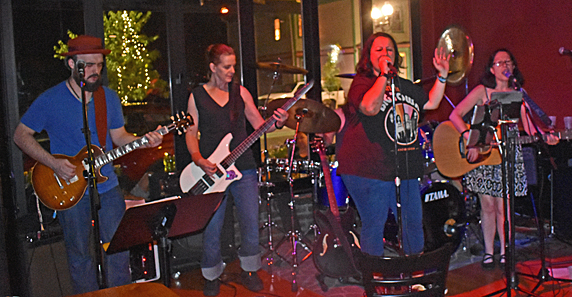 The Bordens
Photo: Blowfish
Then the group shifted into a country style and stayed there. To give you an idea; they covered The Band's "The Weight" and did a fine job with the vocals. They have four good voices in the lineup. One of the first originals was called something like "Sunday Morning Whiskey" and it was as country as anything could be. Most of the songs told stories. It was all working. We're so punk oriented it's hard for us to go down that country road but Liz did a good country set. They are releasing a new album in September they said. Meanwhile their last CD released in 2012 makes for some great listening.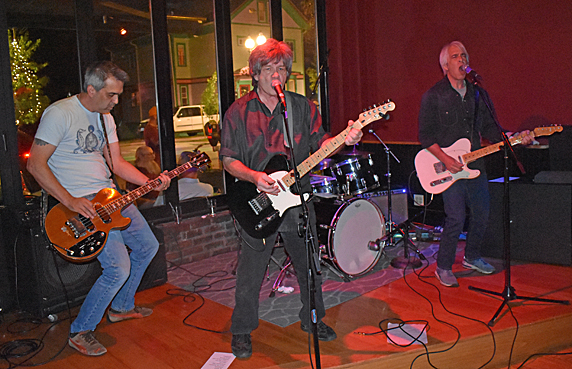 The Billy Connors Project
Photo: Blowfish
We've been pushing The Billy Connors Project for a while now. It's interesting to reflect on the Boston rock history the group represents when you see them on stage. Billy Connors goes back to the very beginning with the Boize, Adam Sherman was in Private Lightning, Rayboy Fernandes was drumming for The Atlantics and on bass Jamie Griffith is with the Dirty Truckers.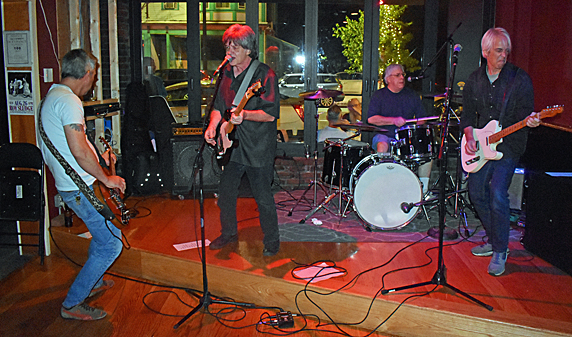 The Billy Connors Project
Photo: Blowfish
The set at Sally's had most of the material from their two EP's. We just reviewed the current one on our review page. There was a nice new song too called "It's Good To Be Alive". That might be sarcastic. The video of that is below. Their experience was revealed in their assured delivery and their abundant talent in their playing and the songs. The song "Knockdown Day" did its usual magic on us. This group's consistent shows and recording schedule are a template for a band looking to get into the current scene.
Not a load of people at Sally O's, maybe because of the Jeff Beck show in town. Judging by Facebook posts people are taking in a lot of hall and outdoor stadium shows this summer.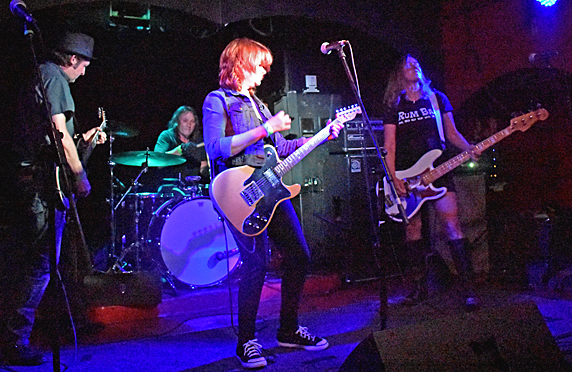 Justine and the Unclean
Photo: Blowfish
Us, we like it inside and AC'd and that's what we got on Saturday at the Middle East Up. We were actually cold at times! Why can't they have it like that all the time?
The show was booked by Justine Couvault and she graciously took the opening spot. Justine and the Unclean still seem like a new band to us. They came on fast and the sound of the band established in those first singles was up front at ME set. Those sweet vocals by Justine and Janet always sweep us off our feet. They did a lot of the material from the first album plus some new songs that make us greedy for the second effort.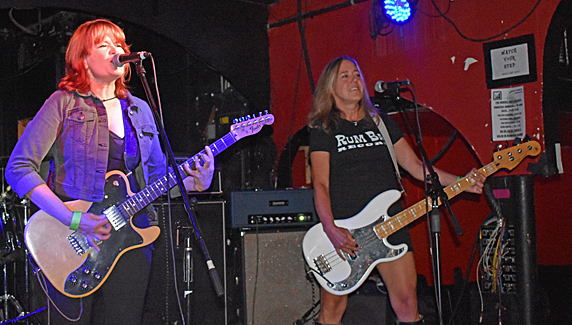 Justine and the Unclean
Photo: Blowfish
We were up close to Charles Hanson on guitar and we could see what he was playing but that didn't explain it. His solos are explosions of the unexpected. He's like Robert Quine of the Voidoids in the way that his notes are 'outside' but the sound is pure rock.
We were videotaping and Jim Janota sort of 'video bombed' the whole thing with his drum stick shenanigans. You can see that in the first video above. Check it out at the 1:23, 2:05 and 3:10 marks. Another drummer who often steals the show!
Can anyone not like this group?
Jeremy and the Harlequins
Photo: Blowfish
Justine brought Jeremy and the Harlequins from NYC. They were a refreshing change of pace. They take inspiration from late fifties rock and roll. They had blue denim shirts and sunglasses for an image. In the early punk years there were a few bands that mined the fifties. Rocky Sharp and the Razor Blades come to mind.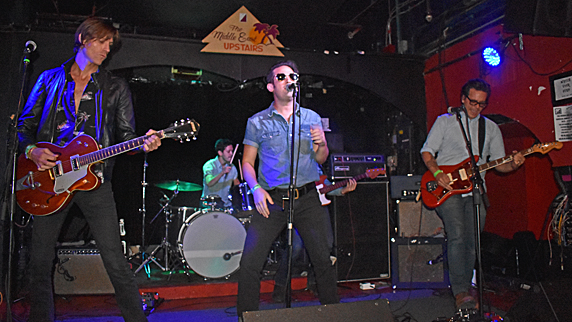 Jeremy and the Harlequins
Photo: Blowfish
The Harlequins are different in the sense that they don't go campy. They're using the music to evoke real emotions and they don't use it for a musical shortcut. Their songs were more complicated than the obvious Earth Angel/Blue Moon chord change (the I-VI-IV-V for you musicians).
We thought they updated the sound to make it palatable to todays' ears. Even more impressive for those that actually might have listened to rock in the fifties (Blowfish is one) is that they had that certain indefinable spirit that was the 50's zeitgeist. It's romantic and naïve. That these guys long removed from the decade could understand and capture that is amazing. Meanwhile if you didn't know any of that and just listened we think it was just a cool set. They're coming back on October 1 at Thunder Road with The Electric Six. We'll be there.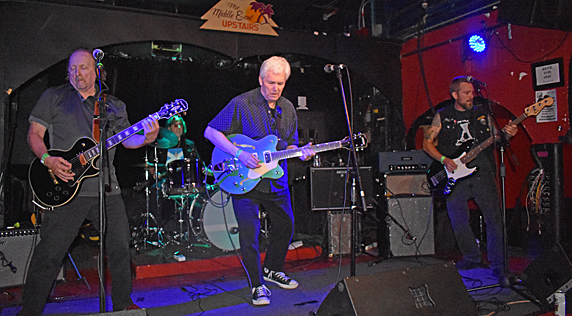 The Nervous Eaters
Photo: Blowfish
How many times have we been at a Nervous Eaters show? The answer is lost in history but the Nervous Eaters aren't. They are as vital as ever.
It took a song or two to straighten out the sound and then they took off. It was primo Eaters. New songs or old songs, it didn't matter, is was all pumped up and sharp.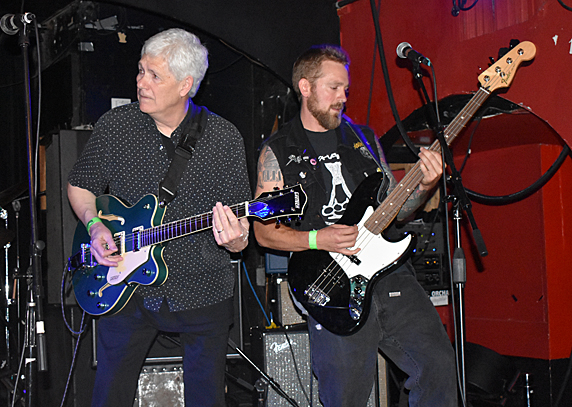 The Nervous Eaters
Photo: Blowfish

The way they are different now than back in the day is most notably in the vocals. Nick on bass also came with a good voice. The three vocal attack was pushing the material higher.

Another question: how many times have we heard "Last Chance" and why does it never fail? The intro has a short pick up drum roll and that first chord (a D to Dsus4) just seemed to hang in the air. At that moment you went to where the song was…which was…out there…somewhere. It was transporting. That's the magic of music.

Steve's solos were stunning and plentiful. The rhythm section was pumping. Alan had all those juicy fills. For the longtime fans the classic material was food for the soul. The new material fits right in and was sounding like new classic material already.

It was three great bands and a cool (literally) club. Lots of people we recognized.

John Keegan was at the David Byrne show on Wednesday. Click the photo below for photos and review.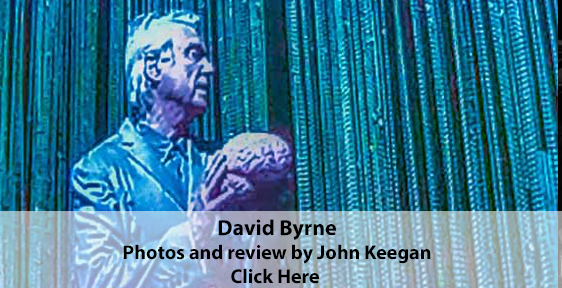 Catch up time for those not on Facebook: Midweek we posted an interview with Mikke Worm. He's been booking some punk shows and one coming up at the C Note on August 17 is his most high profile one yet. It has Gang Green, The Dogmatics, Diablogato, Antitbodies, Hardwired and Worm. We were interested in Mikke's story. Click the photo below to take you to the interviw.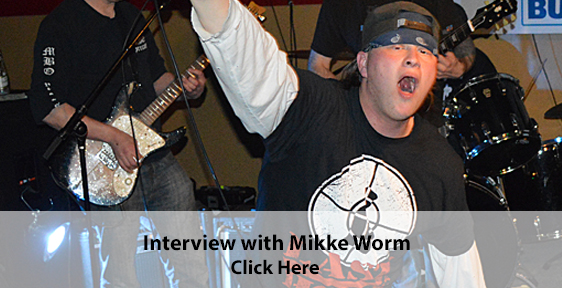 More band photos below the show listings
---
And in other news ....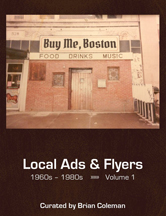 Mark Davis was at the Middle East show and he had a new book comprised of all posters and ads of Boston rock through the years. It's called Local Ads & Flyers: 1960s - 1980s - Vol 1 curated by Brian Coleman. The material comes from different people including David Beiber. Mark said it will be in some book stores soon on a consignment basis. You can get it via the author now HERE. We love this and we love what that VOL 1 seems to promise.

Also for the book lovers amongst you there is the list of Punk Writers You Should Know. The list includes Jim Carroll and Patti Smith.

Muck and the Mires have a new single out on Rum Bar records; Muckus Maximus. You can preorder it now. First 100 get a copy signed by the whole band.

Rum Bar also has a number of free downloads from a number of their bands. Justine & The Unclean's Be Your Own Reason for example.

The Midnight Creeps are back together for a show with "The Dead Boys" in Providence!! 9/11 (in gig listings below)

Sara and Joanie Swedes Stampede on WMBR has been cancelled. No new date for it has been decided yet.

Reminder:

Last but not least RED INVASION ...remember them?? one of Miss Lyn's favorite bands is reforming to do two shows!! And they are killer shows too!
September 12 (Wednesday) Cheetah Chrome's new "Dead Boys", The Ghost Wolves - added to the bill- The Nervous Eaters and the re-united Red Invasion!! at Sonia.
December 1 (Saturday) Red Invasion with Funeral Cone and Brix N' Mortar and one more TBA. @ The Middle East Upstairs
---
Here's some good shows coming up this week.....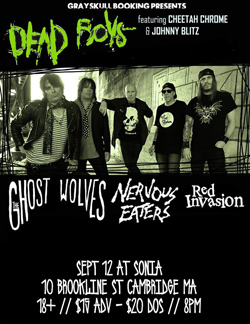 August 8 (Wednesday) The Blasters come back to ONCE -NOTE!!! this show has been moved and rescheduled to Brightom Music Hall - Sunday August 26!!! FB page for info
August 10 (Friday) OC45, El Escapado (Nashville), Michael Kane & The Morning Afters, 78 Revolutions Per Minute at the Middle East Up
August 11 (Saturday) Tigerman WOAH!, Threat Level Burgundy, The Screw-ups do a matinee show at the Midway 4-8PM
August 11 (Saturday) Billy Squire presents: A Night On The Delta featuring Andy California, Billy Squire, Detroit Rebellion, Hambone Skinny, and Red House at The Midway
August 11 (Saturday) MATB, The Lost Riots, The Prozacs, Wretched Hive at The Hotel Vernon in Worcester.
---
And further out we have...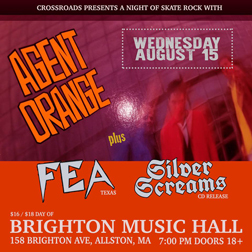 August 13 (Monday) Agent Orange, Fea, and more at Ralph's Diner in Worcester FB page
August 15 (Wednesday) Agent Orange are at the Brighton Music Hall TIX! Silver Screamsand Fea will be opening up for them. TIX here.
August 16 (Thursday) Viva Gina, Thrust Club , Radium Girls, Yes Commander at Sally O'Brien's
August 16 (Thursday) Feed the Punks with Sweet Brian at Jeannie Johnston Pub in JP. No free food but PUNK music spun by the DJ and a set by Video Filth
August 16 (Thursday) Agent Orange w/ FEA, MOTO and Zero Holds at Alchemy in Provi, RI
August 16 (Thursday) Michael Kane & The MAs, Reverand Dan, Volstead Act, Jonee Earthquake at the 13th Floor Music Lounge -JJs Tavern Florence, MA
August 17 (Friday) Yooth Decay, Braindeth, Cook Bag, The Knock Ups, Whoopi Sticks at Club Boho Cantab
August 17 (Friday) OC45 & Vaulted at the Verb Hotel - MUSIC STARTS at 5:45 PM and its FREE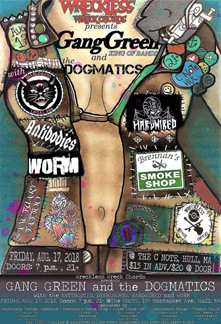 August 17 (Friday) Wreckless Chords presents: Gang Green & The Dogmatics...with...Diablogato, Antibodies, Worm- at the C Note in Hull - start time is 7 PM
August 17 (Friday) Richie Parsons Band, Tiger Bomb, Random Ideas at The Bayside Bowl in Portland, ME
August 17 (Friday) The Mess-Around will have their regular cast back at full strength with Jay Allen, Tom Baker and Justine Couvault. Joining them will be 3 firstimers, Chris Wagner from Modern Day Idols and Chris Kennealy and Rebecca Frank from The Gala. 4-6PM at The Plough.
August 21 (Tuesday) Mike Oregano, Coffin Salesman, Chandler Cross, KCUF, Gregg Perry at Tavern at the End of the World
August 24 (Friday) Actor|Observer (Record Release) w/ Long Time at Great Scott
August 24 (Friday) Tarantula Brothers, Black Leather Lagoon (members of The Gala US), The Egos at KOTO Salem FB page
August 24 (Friday) Lyres, Glider, Pop Gun, Knock Ups at Koto in Salem
August 25 (Saturday) Silver Screams, The Black Cheers, EVERT, Grand at the Midway for a matinee show 4-8PM FB page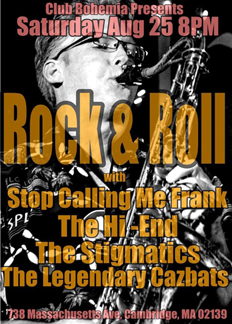 August 25 (Saturday) Stop Calling Me Frank, Hi-End, The Stigmatics at Club Boho at The Cantab
August 26 (Sunday) Sunday Matinee with Reason To Fight, Abductors, BFC, Pint Killers at the Midway 4-8PM
August 28 (Tuesday) In The Whale, Tied To A Bear, Blood Built Empire at O'Brien's Pub
August 28 (Tuesday) FAVL (from Italy), Brix N' Mortar, The Martians, Union Boys at Opus in Salem
August 30th to September 2nd 6th Annual Rat Beach Party The C-Note on Nantasket Beach! More info to come later!!
August 31 (Friday) Battery Bridge, Elle Zee, Corrola DeVille, Screw Cart and Fat Randy at Club Bohemia
August 31 (Friday) Petty Morals & When Particles Collide at The Plough
August 31 (Friday) MATB, After The Blackout, Time Out Timmy, Color Killer, Cook Bag at Beatnik's in Worcester
September 1 (Saturday) He's BACK!!! Keytar Bear (all healed up from his motocycle accident) with Tsunami of Sound,A Bunch of Jerks and Last Ones at Sally O'Brien's
September 2 (Sunday) Banshee, Funeral Cone, Feedbag, Time Out Timmy, Sewer Buddies day show 4PM- at The Midway
September 2 (Sunday) Beware the Dangers of Ghost Scorpion!, Le Yikes Surf Club, Little Troublemakers, Black Beach at O'Brien's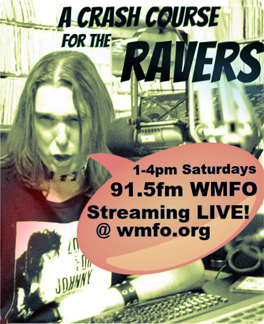 September 8 (Saturday) Color Killer will be on A Crash Course for the Ravers WMFO 91.5 1-4PM FB page
September 8 (Saturday) Mobina Galore, New Warden, Stray Bullets, Lucky United, MOTO at The Midway - 4-8PM early show
September 8 (Saturday) Richard Mirsky's CD Release Party at the Midway (night show)
September 8 (Saturday) The Queers on a boat!! doing the Rock On! Concert Cruise FB page for tix etc
September 9 (Sunday) The Queers, The Prozacs, CityState, Color Killer, Wretched Hive at the Waterfront Tavern Holyoke MA FB page doors at 7Pm
September 9 (Sunday) Punks For Pets 2018 w Special Guest Mobina Galore at The News Cafe Pawtuckeet RI FB page
September 11 (Tuesday) Killing Joke on their 40th Anniversary Tour at the Paradise FB page
September 11 (Tuesday) Cheetah Chrome's new "Dead Boys", The Ghost Wolves, Midnight Creeps, The Worried at Alchemy in Provi RI. The Midnight Creeps!!! so glad they are back!!!
September 12 (Wednesday) Cheetah Chrome's new "Dead Boys", The Ghost Wolves - added to the bill- The Nervous Eaters and the reformed Red Invasion!! at Sonia. This is one of only two shows Red Invasion will be doing. FB page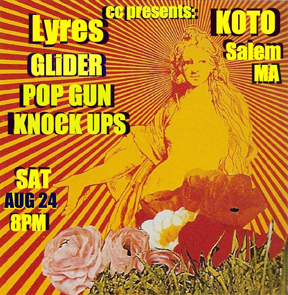 September 13 (Thursday) MC50 presents Kick Out The Jams - The 50th Anniversary Tour - whoa!! This is Wayne Kramer celebrating the 50th Anniversary of the MC5...with special guests!! At the Paradise. FB page
September 13 (Thursday) Fall-Fest 5 Day 1: featuring The Avengers! also on the bill - Silver Screams, Boot Rot, City Problems and a bunch more bands. It's at Alchemy. Music starts at 8PM Here's the FB page
September 13 (Thursday) Hudson Falcons, Genuine Rust, Sonic Libido and more TBA at This is an ALL AGES Matinee! at Thirsty First: Tavern & Grill, Lowell.
September 14 (Friday) Records Collecting Dust II Film Premiere at Regent Theatre in Arlington: it "focuses on the East Coast cities of Boston, New York and Washington DC, and includes in depth interviews with twenty eight highly influential people from the 1980's hardcore punk rock music scene." Including- Bob Cenci (jerry's kids) and John Sox (The FU's) as well as Ian MacKaye of Minor Threat/Fugazi, John Joseph of Cro-Mags, Dave Smalley of DYS/Dag Nasty, Amy Pickering of Dischord Records, John Sox of FU's, Walter Schreifels of Gorilla Biscuits/Quicksand, Roger Miret of Agnostic Front and Clif Croce of The Freeze." FB page
September 16 (Sunday) Black Market Flea by Boston Hassle & Ignore Rock n Roll Heroes - we went in June and it is awesome!!Lots of great vendors. Check it out folks!! 12-6PM FB page for info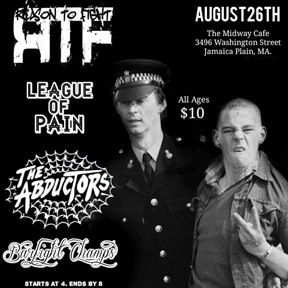 September 18 (Tuesday) ALL AGES MATINEE- 1-6PM : Hudson Falcons, Genuine Rust, Sonic Libido, Losers Circle at the Thirsty First Tavern in Lowell.
September 21 (Friday) Von Traps, Some Kind of Nightmare, Ray's Occult, Live Nude Girls at Club Boho
September 21 (Friday) Thalia Zedek Band album release party with special guests Sleepyhead at The Midway
September 22 (Saturday) The Knock Ups, Titans of Industry, Sweetcreem, MIDI Myers at The Midway
September 22 (Saturday) The Dogmatics, The Dents, HEAP at Cafe Nine in New Haven CT
September 23 (Sunday) The McGunks, Quiggs, Port City Saints, The Martians do a Sunday day show at the Midway 4PM
September 23 (Sunday) FEAR Plus Special Guests at the Middle East Down- Tix are $25...but maybe you'll want to shell out $125 for ameet and greet and early entry. Please!!
September 28 (Friday) Have Nots, Lenny Lashley's Gang of One, Cuidado, Blood Stained Brindle at The Middle East Up
September 28 (Friday) Stop Calling Me Frank, Soraia, Hambone Skinny & The Connection at Sally O'Brien's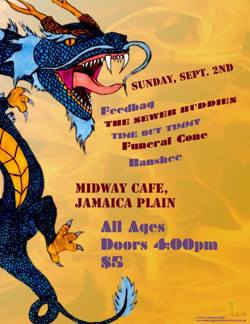 September 28 (Friday) When Particles Collilde, Dirty Dottys, Bloom at O'Brien's
October 12 (Friday) Salem Horror Fest After Party with Diablogato, Gray Bouchard and the Dedications and Petty Morals at Opus in Salem
October 14 (Sunday) Jagger Holly, MATB, The Prozacs, Mongorellis, Color Killer at Beatnik's in Worcester.
October 15 (Monday) Jagger Holly, Mongorellis, The Prozacs, Jimmy Jacked, Color Killer at Opus Salem
October 17 (Wednesday) The Damned are back and at The Paradise.
October 18 (Thursday) The Proletariat, Savageheads, Silver Screams at Sonia
October 20 (Saturday) Nervous Eaters, Indonesian Junk, Duck & Cover at the Middle East Up
October 20 (Saturday) Stop Calling Me Frank, Crunchtime, The Jiblantos and The Black Souls at The Midway for a 4PM matinee.
October 27 (Saturday) Lyres, GLiDER, the modifierS at The Middle East Up- Early show doors at 6:30PM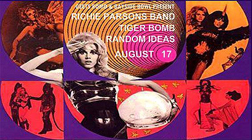 October 27 (Saturday) The Descendents w/ Teenage Bottlerocket at The Palladium in Worcester FB page for tix etc
November 2 (Friday) Roky Erikson at Once. Tix here.
November 10 (Saturday) The FUs, GLiDER, Classic Ruins and Screw Cart at Club Boho @ The Cantab. This is show 1 in a series called The Rosebud Rocks...remembering and celebrating our beloved Rosebud in Davis Square that was sold 4 years ago.
December 1 (Saturday) the second and final Red Invasion show - with Funeral Cone and Brix N' Mortar and one more TBA. @ The Middle East Upstairs
CONTACT US AT....misslynbgn@yahoo.com Send us your gig listings, your news and anything else ya got!! You want your CD reviewed?? Contact us for that too.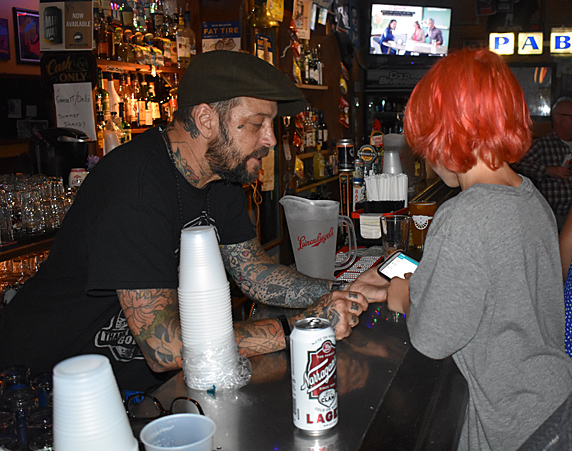 Lenny Lashley, "Here's a list of some of my favorte tattoo artists."
Photo:Blowfish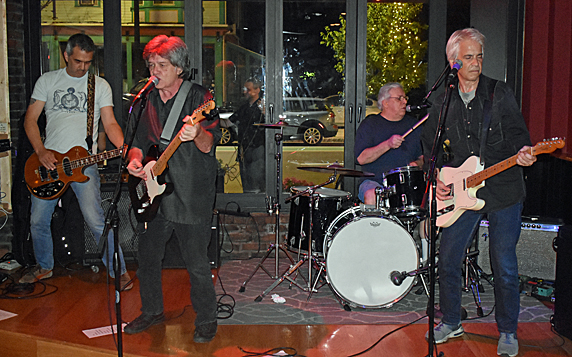 The Billy Connors Project
Photo:Blowfish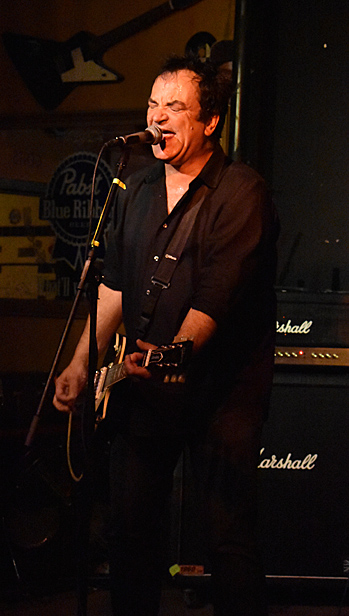 Joe Perry - State of the Union
Photo:Blowfish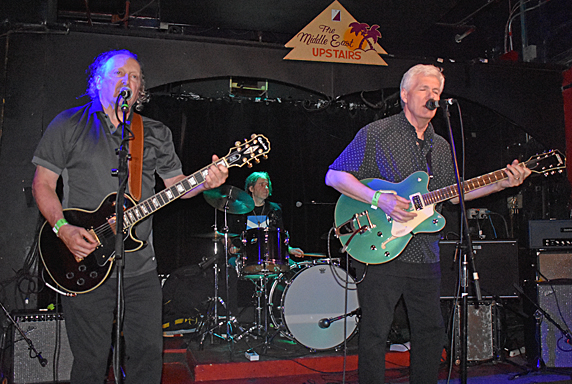 Nervous Eaters
Photo:Blowfish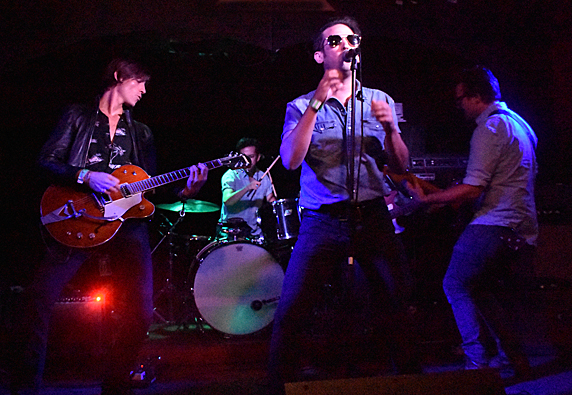 Jeremy and the Harlequins
Photo:Blowfish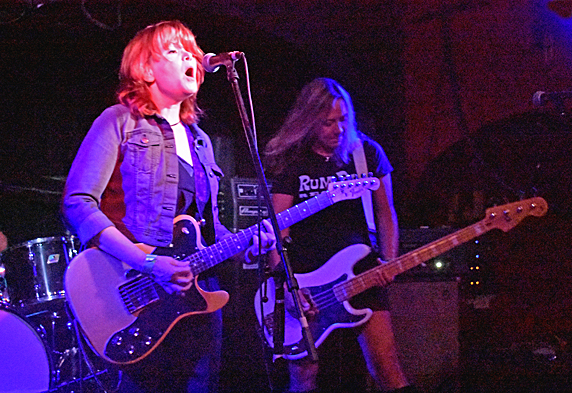 Justine and the Unclean
Photo:Blowfish
Billy Connors Project
Photo:Blowfish