The BGN News Archive
August 8, 2022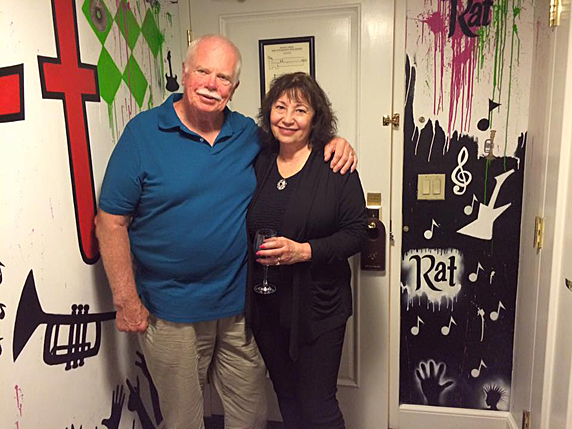 Jimmy Harold and his wife Mary Anne in the Rat Room
Photo: Melissa Morganti Zizza
We lost a big one this week ... Jimmy Harold, owner of "The Rat" has passed away.
It's a measure of the man that despite being responsible for the Rat, the most famous club in Boston history, the comments on Facebook this week were mostly about Jimmy himself. If you knew Jimmy even for a short time you can picture him now as you read this - he's leaning forward and digging into the story he's telling. (See the photo of him with Jan Collings - below right) Those stories were filled with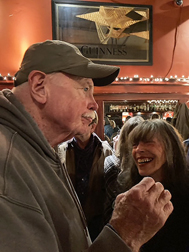 the love of what he did. For a guy who loves to tell stories he had the perfect job at the perfect time.
When interviewing him in 2006 it was obvious that he was a businessman. To him people who went to the Rat were customers. As fans we just paid our money and had a ball. Jimmy had to work the bands and bar and navigate the press and police. Those times were crazy and Jimmy was the responsible guy in the middle. We'll never know the amount of trouble he worked the club through.
He was such a business man that he went from owning the bar in the basement, to owning the upstairs bar to owning the whole building. When BU bought the area he reaped the benefits.
Being a business man wasn't all Jimmy was though ... he had a love of rock and a willingness to take a chance. Jimmy had the courage to book Mickey Clean and the Mezz which was more than a gamble, anyone at the time would have called it foolish.
The club scooped up the bourgeoning punk groups before anyone else. Getting the Runaways when they were red hot, booking the Damned before they were known, taking a chance on the Police on a recommendation. It may not seem risky now, but back in the day when punk scared most
people and it was denounced by politicians and community leaders, it took balls to stand squarely with punk if you were a business. And Jimmy did that.
Having been around from the beginning, and knowing Jimmy and the bands that played the Rat, we often heard of their interactions and their mutual respect.
When we interviewed him in 2006 he was unaware of the projects that involved the Rat. He didn't know about the documentaries that were being filmed at the time or the songs that had been written about the club. In fact, he was shocked. We filled him in and soon after he was involved, or at least informed of, future Rat oriented events. He was at the Rat Reunion in Davis Square in 2007 and showed up one year at the Rat Beach Party in Hull.
Just recently he was at a Nervous Eaters show. A short while back he also saw Frank Rowe at the Plough and Stars. In the photo below you can see how he's right in the middle of it and comfortable being there.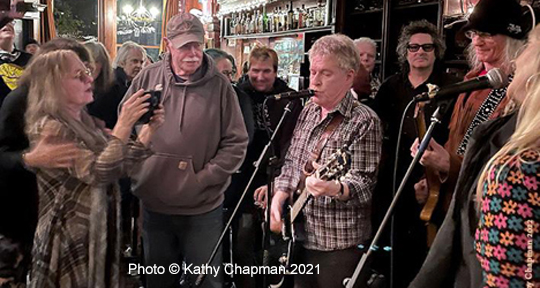 We were lucky to have Jimmy. He had the right combination of traits that allowed him to grasp what was going on culturally and to create a space that became a de facto home to bands and club goers for decades. Saying "The Rat" is a shortcut for talking about punk in Boston as much as saying any band name.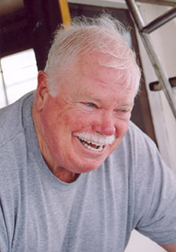 Just saying 'thank you' doesn't seem enough. To get some of the impact of what Jimmy Harold accomplish you can listen to Live At The Rat. Hear the raw outpourings of some of the Boston rockers. The music he helped continuers, the memories of nights at the Rat are still vivid, our debt to Jimmy is ongoing, his stories linger, his friendships endure and our love for the man is forever.
Miss Lyn, who worked for Jimmy in 1977 and has been friends with him ever since, and basically lived at The Rat from 1975 to who knows when ...wrote her tribute on Facebook. You can read that here.
Our condolences go to the family. Whatever sorrow we have is a shadow of what they are feeling.
RIP Jimmy Harold.
Our 2006 interview with Jimmy Harold.
The first look at The Rat Suite at the Hotel Commonsealth.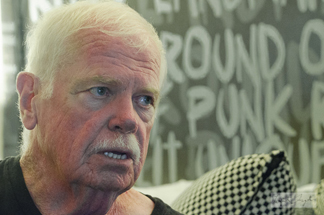 The Rat Suite and DVD party at the Commonwealth Hotel in 2017
The song "528" is the Nervous Eaters tribute to the Rat
The Scrapes doing "There's a Hole in My Heart Where the Rat Used to Be"
The documentary "Lets Go To The Rat" by Andrew Szava-Kovats on YouTube
An article by Jim Sullivan in the WBUR website with many memories by people who knew Jimmy.
If you can get by the paywall, here's an article in the Globe on Jimmy by James Sullivan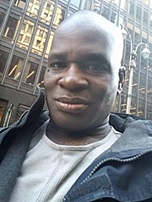 If you are not on Facebook the name Enyinnaya Okezie is probably new to you. For Boston music fans on the social site we are all friends with Enyi. Enyi died last week. Enyi was a rabid music fan and knew decades of rock and roll and had an opinion on it too. He interacted with rockers on and off line. He was an example of how Facebook can work in a positive way by connecting people with common interests. A lot of Facebook friends are going to miss Enyi.
Douglas Thompson on Facebook memorialized him with this quote, "Enyinnaya Okezie , the New York Rocker, The Nigerian Nightmare, or just Enyi ... was funny, super knowledgeable, and also very kind and compassionate."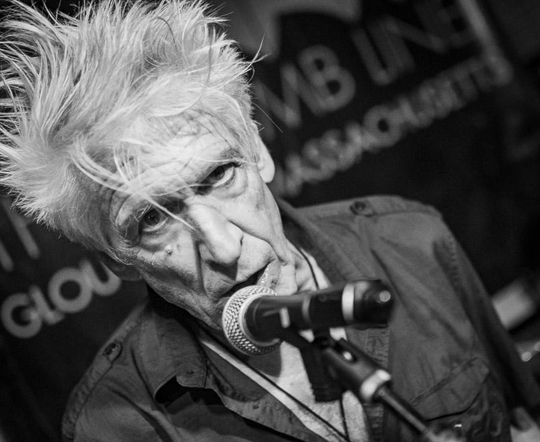 Willie at the Rhumb Line
Photo: John Keegan
Last week John Keegan went to The Rhumb Line in Gloucester to check out Willie Alexander who played a Thursday night with Billy Loosigian and bassist, Dave Sag and drummer Steve Chagara, The Wrecking Crew of Gloucester rhythm section.
John writes that: "Everything feels loose-limbed - pushed but groovin'. .. Willie is all barrelhouse boogie-woogie, big splayed-finger punked up block chords with a twist of ecstatic, righteous, tent house revival pounding in case you missed Mass last week. Loosigian rides shotgun. He's smooth. His solos have an impeccable arc. You're in the backseat loving the ride...."
To see the whole review click the photo link below.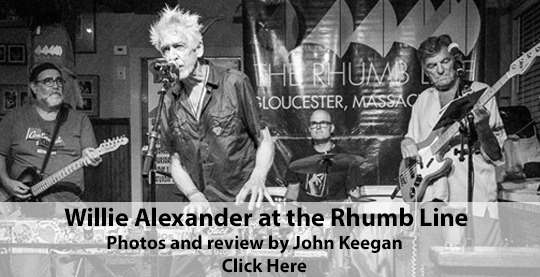 Guitarist Curt Florczak has left The Hi-End. That group had just released a new single "Scene Queen". We first heard Curt in Greg Allen's Fringe Religion where his solos were standouts. The Hi-End is still going on and we'll be on the lookout for Curt's next move and if you need guitar repairs, Curt does that too!
Another band exit: Andy Excuse is no longer playing bass for Kid Gulliver. He's looking for a new gig if your band needs a bass player.
Locals Key of Caustic have signed with Code 213 Records who identify themselves as "Home of the Hits". What hits? Well, listen to their artist The Penetrators doing "Shopping Bag" below. If that low-fi fuzzed up garage rocker is one of the hits – we're with them all the way!
This week the Worcester Telegram gives a close critique of Motel Black's new album Humor Balance.
Critic Victor Infante dissects the lyrics of a few songs to get a more nuanced look at the dark tone of the album. His comment on the melody of the last song, "Single Stall", we think is also descriptive of the whole song, "…(it) rolls like fog until it ultimately evaporates." A few listens to this album and you get into that noir mood yourself.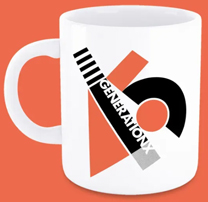 Barney Bubbles is an artist any punk will recognize. He did the Generation X logo, some Elvis Costello illustrations, work for Stiff and John Copper Clark. He now has a website with t-shirts and cups. It's a bit pricey because it's from England but you might want to take a look. His online shop https://shop.barneybubbles.com/shop/categories/all/page/1
Bauhaus is on a World Tour from May until September, with some USA dates.
They released "Drink the New Wine" their first song in 14 years!! It was inspired by the surrealists and was written using the surrealistic method called "The Exquisite Corpse". That means the four musicians wrote their parts separately without hearing the other parts – which are then mixed together. Hear it on YouTube
Bauhaus plays the MGM Music Hall at Fenway on September 13 Tour dates - Tickets
---
VIDEOS......
Carissa Johnson is now working with Rum Bar Records so we get a new song and video. The "Merry Go Round" video is set, yup, on a Merry Go Round. The visual actually does reinforce the metaphor as Carissa relentlessly walks through the horses.
The song has a heavy and thick sounding guitar at its base that we love. It may be her best effort yet. All the elements of this song click.
Carissa does everything right, we're just waiting for the general public to wake up and take notice.
Stability is a band we're first hearing here with their video "Already Dead." It's cranking all the way through. We want to hear more. A whole set of similar songs would be killer. They describe themselves as a New England band.
We think "Indiana Line" by Crow Follow was their best effort yet. The song careens like an out of control rig. A scratchy radio transmission in the beginning is haunting.
They do a lot of tricks to depict this visually. There's ample use of animated chalk drawings that add a primitive touch. Ruby Viens, Wayne Viens' daughter is in the video. She delivers the intriguing asides in the chorus that adds even more mystery.
The Pixies video of their whole set at Rockpalast in Koln Germany in July is good viewing. It's professionally done so its clear visuals and sound. The new material like "Human Kind" sounds good next to the classics like "Wave of Mutilation", "Monkeys Gone to Heaven", "Gigantic", "Here Comes Your Man", and "Where Is My Mind"
The Brain Eaters were an NYC 80's horror group. Pete "Damien" Marshall, the guitarist for Samhain, was in the group. They will be releasing an album that collects all their 7 inch and cassette material for the first time. In advance they've made this video of "Ballad of Arcane" available. It was filmed at CBGBs
"Animal" by More Kicks from London starts on the bare side but strong with a bass lick. It takes it's time but by the end they have done up a nicely crafted and rocking tune. It's first single from the band's second disc, Punch Drunk, out this September.
More on the group and their upcoming album on the New Noise website
Looking for something new? This video "Season Premier" by Baby Got Back Talk fits the bill. There's a lot of familiar modern punk sounds in it but then the guitar playing is a bit different and the vocals are very distinct. They are very harmonious, smooth and clear. A whole album of this should reveal a new take on punk.
---
RADIO......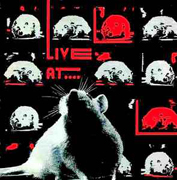 In his most recent show Brian Young on Crash Course for the Ravers played most the Live At the Rat in memory of Jimmy Harold. The he played The Police and The Cars.
Hear the show by going to the WMFO schedule page hitting Crash Crouse for the Ravers on Saturday and them hitting Archive on the next page.
Joanie Lindstrom on her Late Risers Show on Thursday did a four song set of groups that played the Rat in memory of Jimmy Harold. The lineup was: La Peste, Dead Boys, DMZ and Nervous Eaters.
You can catch the show on the WMBR LRC archives at click on the link to the Thursday 8/4 show.
We found this great fourteen minute clip of Thom Lane RIP doing a show on WFNX from March of 1988. it was posted back in May 16, 2012. Thom sounds very smooth on this. You get to hear the music FNX was playing at this time and that's a trip in itself. Listen to it here.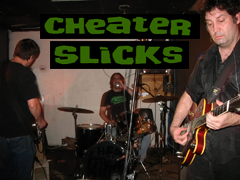 On Ron's Monday Late Risers Club he played an old live set by Cheater Slicks from the early 90s. You can hear that by going to the WMBR LRC archive at and hitting the Monday 8/4 LRC show.
Earlier in the show Ron played a song by The Irrational Library. A lot of new songs are about things that could have been written in the last few hundred years but The Irrational Library picks subject matter that could only be written lately. That song is "The Algorithm". It's an oddball arty punk song. The lyrics are worth checking out, they are on Bandcamp Hear it below.
---
PODCASTS.........
This week Blowing Smoke with Twisted Rico gets the story from Pete Sjostedt of Muck and the Mires and formally the Ape Hangers.
Pete talks a lot about his growing up years. Musically, Cheap Trick's first album had a large influence on him. He has a complicated history of bands. He ended up in Los Angeles, did lots of live shows but nothing else clicked. He played with Johnny Angel for a short time. There's a few more turns and then the Ape Hangers forms. They peak with their song "I Don't Want to Live Today" getting on the Empire Records soundtrack.
Pete talks about joining Muck and the Mires. He almost was in the original line up but didn't follow through. A few years later and he's in!
---
NEW MUSIC/CDs......
More music from Today Junior is always a time for celebration for us. They are one of our favorite new groups. The new single "Hot Plastic" is in advance of their next album. This was all done in their practice space.
The song starts with a few chords in a comfortable grove. The thing is that the whole sound is just so them. The chords resonate only the way they do it and the rhythm sort of rolls and stutters in their own way. Its sounds beachy, summery and romantic. This is a good a time as any to get familiar with Today Junior.
Locals Sunshine Riot have released "Parole Board" preceding a forthcoming EP. The have an alt/indie sound. The song slowly evolves and gets darker and darker as the lyrics unfold. Some of it my get by you but when you get to the line "we have Methadone now" it will get your attention. Everything seems to come together at that moment and you realize this song is relating a bleak reality.
Apeland is a DIY space in Holyoke. They now have a 27 cut compilation album filled with groups who have played the club.
Bands we know and who have played Boston are the Prozacs, Worm, Planet Mercury and Sky Tigers. The Worm song is ten seconds long!
We're going to spotlight Cry Havoc's "Onslaught". It's a ripper and reminds us of the gig we saw them do at the Midway
Kool Kat Records are known as maybe the best spot to find all things Power Pop. They've put their time into the 3 CD (63 cut) album POP AID - A Power Pop Compilation to Benefit the Citizens of Ukraine. Support the Ukraine and get a big pile of Power Pop. Buy the digital on Bandcamp or get the CD at Kool Kat Records
The one sort of semi-local group The Flashcubes (Paul Armstrong from 1.4.5. is in the group) are included with a version of "When You Walk In The Room".
The group named Jerry has Ken Stringfellow (The Posies) helping with the song "Turn Away".
Starbyrd gets kudos for doing up an anti-war song titled "Stop This War" that is in line with 60s efforts of the same nature, but they pile on reams of 12 string jangle.
---
Here's some good shows coming up .....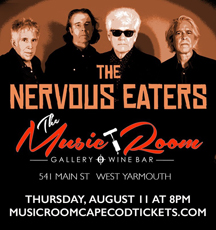 August 11, 2022 (Thursday) Salem Wolves, Michael Kane & The Morning Afters at Notch Brighton- Free Admission but they will be collecting non-perishable food donations at the door -Show times 7-11 pm
August 11, 2022 (Thursday) The Nervous Eaters are at the Music Room Gallery & Wine Bar in West Yarmouth.
August 12, 2022 (Friday) Today Junior, FEEP, Falcon Brunch at The Middle East Up.
August 12, 2022 (Friday) La Armada (R.D./Chicago), Zeta (Venezuela), Neighborhood Shit, Sick Minds, Born from Demise, Hard Target at Sammy's Patio Revere Beach. FB page. 7PM.
August 12, 2022 (Friday) Radio Compass, Diablogato, Bird Language at Faces Brewery Malden
August 13, 2022 (Saturday) Summer Shimmer at Once @ Boynton Yards - a full day and night of glam rock and glitter! This Outdoor Festival has it all! Come out and support your local musicians and vendors. There will be food, bar, live music, PLUS Glam Karaoke with The People's Karaoke and a costume contest Glampionship with trophies for the glammiest of them all." also 8 local bands including Gene Dante & The Future Starlets, The Jacklights, Sapling, Linnea's Garden, Weakened Friends, Happy Little Clouds and The Pom Poms...this is an all day event with vendors etc- FB page.
August 13, 2022 (Saturday) Vampire Lounge - Goth Night at The Hawthorne Hotel in Salem with DJ Kuro! FB page.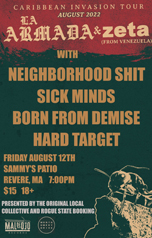 August 14, 2022 (Sunday) Murdoch, Men and Volts, Meaghan Casey and the Latchkey Boys, Tyler Bejoian - Midway Matinee Starts at 3PM.
August 15, 2022 (Monday) Time and Place, Shepards, Pink Slip at Charlie's Kitchen
August 15, 2022 (Monday) Michael Kane, Matt Demello, Ken Bousquet at The Midway
August 19, 2022 (Friday) Key of Caustic, Flightless, Minx, Space Casino at The Middle East Up.
August 19, 2022 (Friday) Messer Chups, The Devils Twins, Damnation at Askew Provi, RI
August 20, 2022 (Saturday) Three Hour Tour! with SCMF, The Dogmatics, and Barrence Whitfield on a boat! 21+ $30. Boarding starts 3:30, departure at 4:00 from Rowes Wharf FB page.
August 20, 2022 (Saturday) The Fleshtones, GLiDER, & Tiger Bomb w/ Emcee DJ Brian Young - The Magic Room - FB page.
August 21, 2022 (Sunday) Voice Of Addiction, Brix'N Mortar, Blame it on Whitman, Color Killer - 3PM matinee at The Midway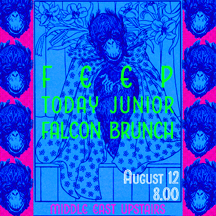 August 21, 2022 (Sunday) Presidential Disgrace (Bangor), Butch Baby (MA), Septic Approval, East End Redemption, Skum City (nyc) for an afternoon show at Sun Tiki Studios, Portland, ME- Starts at 5 and is only $7!! FB page.
August 25, 2022 (Thursday) Motel Black, Little Fuss, The Daylilies at Notch Brighton - FB page.
August 26, 2022 (Friday) Heat Wave 22' w/The FU's, Worm, Kermits Finger, Rockin' Bob's Punk Band and .... More TBA, At the C Note in Hull. FB page.
August 26, 2022 (Friday) Bone Up Brewing Sixth Anniversary Bash! 3 days of music! The Guilloteenagers, Blood Built Empire, Lesser Glow, and Worshipper. FB event page is here.
August 26, 2022 (Friday) Kepi Ghoulie + Friends, Bad Idea USA, Adult Learners at Faces Brewing Co. Malden. FB page.
August 26, 2022 (Friday) Hambone Skinny at The Shaskeen Pub, Manchester, NH.
August 27, 2022 (Saturday) Kids Like Me & You (KLYAM) Spring & Summer Program at Morse-Kelley Playground a couple blocks from the Armory. line up to be announced.
August 27, 2022 (Saturday) Phantom Ocean, Orbiter, Minusworld, Thrust Club - 3PM Matinee at the Midway Cafe FB page
August 27, 2022 (Saturday) Neighborhood Shit, Dead Low, Jerry's Got Jokes, Beyond Agitated, Blast Shield at The Midway - night show ...with FREE Pizza and sponsored by Narragansett Beer. FB page.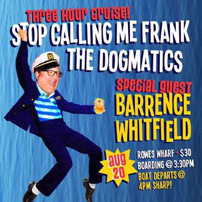 August 27, 2022 (Saturday) The Worst, Typhoid Rosie, Marianne Toilet and The Runs, Breaking Up at The Middle East Up.
August 27, 2022 (Saturday) Bone Up Brewing Sixth Anniversary Bash! Organ Meats, The Weisstronauts, DnA's Evolution, Benthic Realm, Attest, Sky Tigers, and Crowfeeder. FB event page is here.
August 27, 2022 (Saturday) Tiger Bomb, Bad Larrys & Sapling at Marshall Wharf Brewing Co in Belfast, ME FB page.
August 28, 2022 (Sunday) Bone Up Brewing Sixth Anniversary Bash! Sunken City, Blue Manic, DnA's Evolution, North Star the Wanderer, and Sexless Marriage. FB event page is here.
August 29, 2022 (Monday) Shortest Life, Bed of Razors, Beyond Agitated, Blast Shield at The Midway
September 2, 2022 (Friday) The Woggles with Muck and Mires & The Chelsea Curve at The Porch in Medford
September 3, 2022 (Saturday) Chris Brokaw, Samantha Hartsel, Target and the Facilities (Rich Mirsky's new band) and Kenne Highland's Airforce at The Midway.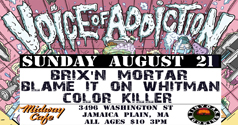 September 3, 2022 (Saturday) Murphy's Law with Reason to Fight and RISK at the Shaksheen Pub, Manchester, NH -FB page.
September 4, 2022 (Sunday) Somerville Rock + Roll Yard Sale in Union Square Somerville. FB page for updates!
September 5, 2022 (Monday) Daniel & Al's last show w/ Dutch Tulips, Tatooine Punk Scene, IWICSB at Charlie's Kitchen....see the FB page.
September 7, 2022 (Wednesday) Kids Like Me & You (KLYAM) Spring & Summer Program with Leopardo from Switzerland at O'Brien's
September 8, 2022 (Thursday) GUTTERMOUTH, The F.U.'s, Wimpy Rutherford of The Queers, Baabes - FB page. TIX!!
September 8, 2022 (Thursday) Zip Tie Handcuffs, Talk Chalk, Going222Jail at O'Briens
September 8, 2022 (Thursday) D.R.I at Alchemy in Provi, RI - FB page.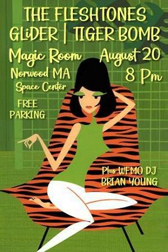 September 10, 2022 (Saturday) Key of Caustic at The Flying Embers Tap Room (152 Hampden St, Boston, MA 02119)
September 16, 2022 (Friday) Dave Herlihy, lead vocalist and principal songwriter for the legendary Boston band O Positive is at The Burren.
September 16, 2022 (Friday) The Loud Neighbors, Paper Tigers, Salem Wolves, Holy Hands at Dusk Provi RI
September 17, 2022 (Saturday) Kids Like Me & You (KLYAM) Spring & Summer Program at Lincoln Park Somerville (near Union Square) more info to come.
September 17, 2022 (Saturday) Punks For Pets with Joy Boys, Sleep Mode, Sourpunch, Musclecah, Ghost Grrrl, The Debutantes, The Something Somethin's, The Stigmatics - at The News Cafe - early show starting at 1PM. Bring something for the doggos and kittehs check the Donation List on the FB page.
September 18, 2022 (Sunday) The Dream Syndicate at the Crystal Ballroom - TIX
September 23, 2022 (Friday) Soulside, Verbal Assault, Bedmaker, Wrong War at Once at The Armory - 6PM!! . Tix and info
September 24, 2022 (Saturday) The Superfonics have reunion gig at the Midway with Classic Ruins and Shiny Beasts
September 24, 2022 (Saturday) Supersuckers, White Dynomite at The Middle East Up.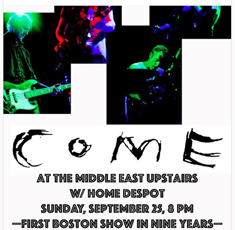 September 25, 2022 (Sunday) Come is doing their first home town show in NINE years at the Middle East Up with Home Despot.
September 25, 2022 (Sunday) Amyl and the Sniffers at Big Night Live on September 25 TIX
September 29, 2022 (Thursday) Early Exit, Paper Tigers, Long Autumn, Robotic Hawks - Middle east Up.
October 5, 2022 (Wednesday) Dr. John Cooper Clarke at City Winery
October 7, 2022 (Friday) Joan Jett Birthday show with Anrea Gillis & Friends and Sue Minichiello & friends doing EVERYTHING Joan Jett. At Sally O'Brien's
October 9, 2022 (Sunday) L7: Bricks Are Heavy 30th Anniversary at Big Night Live FB page.
October 11, 2022 (Tuesday) Lion's Law, Violent Way, Blood Stained Brindle, Battery March at Sonia - TIX!!
October 11, 2022 (Tuesday) Agent Orange, Midnight Creeps and Gnarnia at Alchemy in Provi, RI FB page.
October 15, 2022 (Saturday) Third Annual Punktoberfest at Thirsty First in Lowell...check the FB page for updates, bands etc.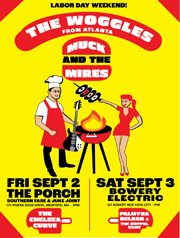 October 20, 2022 (Thursday) June of 44, The Thalia Zedek Band at The Middle East Down
October 21, 2022 (Friday) Key of Caustic at The Square Root.
October 23, 2022 (Sunday) Dead Boys with The Briefs and Suzi Moon has been moved to Alchemy. FB page.
October 28, 2022 (Friday) FEAR performing The Record in its entirety at The Middle East Down - FB page.
November 5, 2022 (Saturday) The Mahones, The Pourmen, The Gobshites at Askew in Provi.
November 12, 2022 (Saturday) SO/CAL Punk Invasion 2022- Black Flag, The Dickies, TSOL, Total Chaos at The Granite State Music Hall Laconia, NH - TIX!
November 17, 2022 (Thursday) The Thigh Scrapers, Mad Painter, Doug MacDonald Band, The Stigmatics at The Middle East Up.
November 20, 2022 (Sunday) Hardcore Stadium presents - The Trouble at the Middle East Down (alas this show is sold out)
CONTACT US AT....misslynbgn@yahoo.com Send us your gig listings, your anything else ya got!! You want your CD reviewed?? Contact us for that too.
---
---