The BGN News Archive
September 12, 2022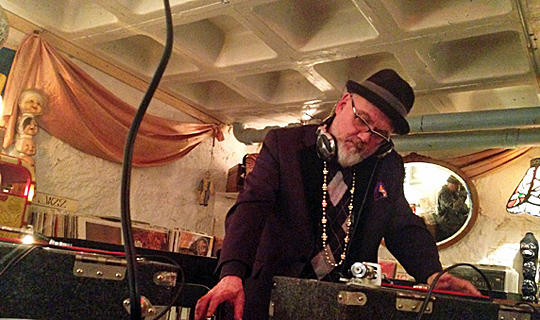 Brother Cleve spinning at Store 54 in 2015
All the more jarring because it was unexpected, we heard Saturday that Brother Cleve (Robert Toomey) died.
Brother Cleve played keyboards with the Suede Cowboys, Billygoons, Fox Pass, Combustible Edison and toured with the Del Fuegos. Later he played with Richie Parsons solo records. He did lots of DJ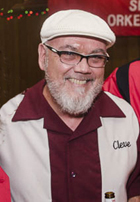 gig, Tiki parties his specialty. .
He is someone who fashioned his own way. He had a deep knowledge of outsider music. He did liner notes for Sun Ra, Esquivel and other exotica musicians. His love of mixed drinks led to his becoming a mixologist extraordinaire who was a sought after bartender for events.
He created the first weekly lounge music and cocktail party at Lizard Lounge in Cambridge
His list of accomplishments could go on and on. He was one of the most interesting people to talk to. He didn't show off his knowledge but he knew a lot and you could learn a lot if you listened. He was very down to earth, easy going and comfortable to be around. He was born cool.
Here's an article on how Brother Cleve became a mixologist. Brother Cleve is in this video about Combustible Edison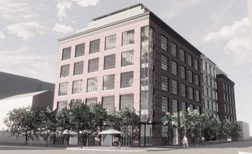 The NEW Middle East

And new unsettling news about the Middle East .... it will be demolished!! – that was the news that put a scare though the Boston music scene this week.

The reality of the story is that probably nothing immediate is going to happen.

The Sater's have been looking to sell the club for a while. We talked about that in January 2020 (the story in Cambridge Day newspaper is here) That building is a valuable piece of real estate!! They bought the building in 2014 for 7.1 million. In 2020 they put it up for sale for 40 million. No sale was made.

The Sater's want to tear down the club and make a six story hotel with two "music venues" on the street and cellar levels. This is an ambitious plan and seems to us it would take a few years to finance, plan and approve before anything would happen. We'll see. This is the story in the Cambridge Day newspaper. And Another biz journal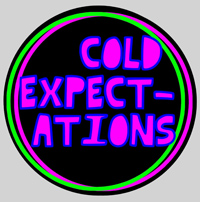 Cold Expectations have a lot of future plans. They have a single, "Hey Compromise" (produced by David Minehan) coming out in the first week of October on Red on Red Records. Keep track of Red on Red on Bandcamp A video for the song is scheduled for the end of this month.
On Wednesday 10/5 they will be playing live on "On The Town with Mikey Dee" on WMFO 91.5 FM, 9pm till midnight. The band will be on around 10pm. Listen online
At the end of the month (Saturday 10/29) they'll part of the Dress Like a Rock Star Halloween party at the French Club in Waltham Stupidity, the killer garage rockers from Sweden. Facebook event page
Kid Gulliver goes back to Madrid, Spain next year. It's May 6, 2023 at the Wurlitzer Ballroom.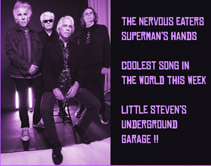 "Superman's Hands" by the Nervous Eaters was the Coolest Song In The World on Little Steven's Underground Garage show this last week 9/8 on his Labor Day show.
The next song was a Bruce Springsteen song. Please pinch us, I think we're dreaming.
The Underground Garage have updated their interface. It's much easier now to hear and navigate through the shows. Hear it here
It's another record store success story! Chris Wrenn is opening up a new record store/t-shirt business in Beverly. This case is a different in that Chris is the owner of Bridge Nine Records and has had a store previously but the building got sold during the Covid problems.
It's an interesting story where Chris ended up with both as sports oriented t-shirt company and a punk label. He tried to start a company that helped touring musicians but when that failed to get financing he went to selling Red Sox shirts (named Sully's Brand) just when the Sox took off on a winning streak. With the money he made he used to start up his band touring business. The store had a big opening this last weekend. Here's the story on Patch.com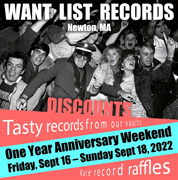 And Want List Records is having their one year anniversary sale. Brian Coleman went from books (Buy Me, Boston) to vinyl. The store is located inside the Mall at Echo Bridge, 381 Eliot St, Newton Upper Highlands. From Friday September 16 to Sunday the 18th, they are going to put some special gems in the stacks and sell at a 20% discount. They will also have a few record raffles. Here's their website
And even more record store news… Blue Bag Records at 2325 Mass Ave in Cambridge is closed and now has a sign stating that a new record store "will be arising" in the same spot and opening in mid-September, any day then! The note can be seen on the Blue Bag Records Facebook page
Vanyaland did a short profile on a new Boston trio named Viruette. "Viruette" is also the name of their song. The song and the performance are impressive. We'll be interested to see how they develop.
Here's the story on the Vanyaland website
---
VIDEOS......
The Pixies have released yet another single, "Dregs of Wine" off the next album, Doggerel, out on September 30. The song was written by guitarist Joe Santiago.
---
PODCASTS.........
Blowing Smoke with Twisted Rico has Chuck Ferreira on the mike this week. Chuck is a much in demand drummer. He's played with the Shang Hi Los, Lonely Leesa and the Lost Cowboys, Greg Hawkes, Eddie Japan, Aloud and others.
With Greg Hawks it was Chuck that drew him out to do shows again. He had some Shang Hi Los news. They are putting finishing touches on their full length album. The target date for that is early in the new year. They just shot a new video for the first single that will come out.
Steev brings up a point we have thought about too. In the past people were in one band. If they played with another band it was a major problem. It was seen as unfaithful. Today most people are now in multiple bands. When and how that changed is lost in the haze.
---
NEW MUSIC/CDs......
Hummingbird Syndicate have a new 10 cut album titled Sound + Light. The album also marks the last recorded effort of Randall Lee Gibson RIP.
The album is less psyche than the last. The focus is very much on the songwriting from Macey and Shipley.
If you've ever been to Paris "Always Shinning" will resonate with you. The song captures all the scenes of the city. It's an audio postcard.
"Tell Me Now" is a song of heartbreak. Here's where Macey's pristine production and crystalline guitar tone work to the max to put you in the heartbreak zone.
"Gracefully" the first song and "Let's Float Away" the last song are close to five minutes long, and that helps them work. They both have a wide lyrical sweep to them. They show the wisdom of a long life. This is not teenage music. The album is the music of experience gained in a life's journey.
We think Today Junior should be on all the "Best Of.." lists and we don't understand why they aren't. This thought comes on the heels of a new single called "Second Guessing" which is from a forthcoming album. It's got the Today Junior sound, a little indie, surfy and emotional. They have such an identifiable sound that we get sucked into their world the minute we hear it.
"Second Guessing" is a very straight forward effort for them. The four chord progression that underlines the song is not uncommon but the voicing of the chords is sweet. Harry on guitar also logs in a solo with some sparkling riffs.
It's Crow Follow so of course it's midnight, smoky and there's a rumble in the air. That's the scene in "Iron Bottom Sound" Crow Follow's latest song release. It could be about a real place but it comes across as a mythological locale that promises 'big fun'. We're used to the low sound with Crow Follow but they defy expectations with some trumpet fills which lend an even more jazzy tone to the song.
We stumbled through two and a half years of a pandemic shutdown. There are efforts to shake this era off and reboot. That's the feeling we get from some of the latest Rum Bar Releases.
The Rum Bar's Stars Like Ours self titled release collects three previous recordings and we get a chance to hear them all at once and get a clearer picture of the group. It also allows the group to present themselves anew and give these songs another chance for airplay.
Stars Like Ours gives Michelle Paulhus a chance to show her voice more than in her other groups. The songs have a punky punch with enough pop in the melody to make things click.
We like a lot of songs on this: "High", "Radio", "Lines", and Chasing". Some of those we remember from hearing live too, which shows how good they are. We saw them in 2016 and 2017
Our fave is "Love in a Parking Lot". The title alone is a winner but the song is neat too.
Wire Lines from New Bedford have a new four song EP titled Walpole Here We Come.
The first song "Transatlantic Flight" has lyrics that set up a Twilight Zone type scenario or a plot that develops like Lost. It does that in a mere 1:58. They describe themselves as 'post punk' and 'post hardcore' which just means they play it hard. The singer does the occasional yell. He will scream out a word or phrase because of its position at the beginning of the sentence even if that is something as inconsequential as 'of it'. The emphasis is where the singer wants it, so it works.
"Eraser" is another nightmare type scenario. It ends with the pithy, "We had to die because that's all that ever happened".
Last Halloween the group played a whole set as The Smiths. On the EP they cover two Smith's songs. They give them a bit more muscle than the originals but have all the twists and turns in there. It shows that this band has some depth to them.
We line "Transatlantic Flight" below. We urge you to go to Bandcamp and read the lyrics too.
---
Here's some good shows coming up .....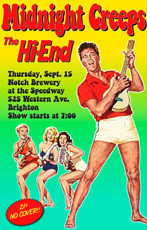 September 13, 2022 (Tuesday) Brave the Sea, Pint Killers, Degenerates of Punk at Thirsty First in Lowell MA FB event page.
September 15, 2022 (Thursday) The Hi-End, The Midnight Creeps FREE at Notch Brewery Brighton!! FB page.
September 15, 2022 (Thursday) Ginger Ibex, Melt at The Jungle
At The Jungle September 16, 2022 (Friday) The Downhauls, Duck & Cover, Blame It On Whitman at Faces Brewery in Malden. FB page.
September 16, 2022 (Friday) Dave Herlihy, lead vocalist and principal songwriter for the legendary Boston band O Positive is at The Burren.
September 16, 2022 (Friday) The Loud Neighbors, Paper Tigers, Salem Wolves, Holy Hands at Dusk Provi RI
September 17, 2022 (Saturday) Kids Like Me & You (KLYAM) Spring & Summer Program at Lincoln Park Somerville (near Union Square) more info to come.
September 17, 2022 (Saturday) ANTIfest with ANTI-FLAG - TWO shows 4:00PM All Ages with Mint Green and Rebuilder (TIX) and 9:00PM 18+ with Brendan Kelly (TIX) at the Brighton Music Hall. TIX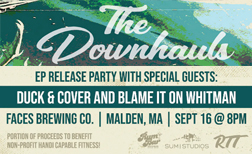 September 17, 2022 (Saturday) A Vulture Wake, Counterpunch, Ruin the Nite at Faces Brewery Malden- FB page
September 17, 2022 (Saturday) The Gypsy Moths, Stop Calling Me Frank, The Haymakers at The Porch Medford.
September 17, 2022 (Saturday) Mad Painter and Kenne Highland's Airforce at the Newburyport Brewery ( 4 New Pasture Rd Newburyport, MA) FB page.

September 17, 2022 (Saturday) Punks For Pets with Joy Boys, Sleep Mode, Sourpunch, Musclecah, Ghost Grrrl, The Debutantes, The Something Somethin's, The Stigmatics - at The News Cafe - early show starting at 1PM. Bring something for the doggos and kittehs check the Donation List on the FB page.
September 18, 2022 (Sunday) Brunch with Larry Newman with Simon Ritt, David Harrison, Lily Kelso at The Jungle. 11AM!!
September 18, 2022 (Sunday) The Dream Syndicate at the Crystal Ballroom - TIX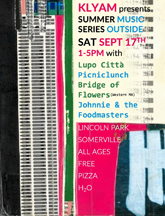 September 22, 2022 (Thursday) Seepeoples, Paper Tigers, Old Tom & The Lookouts at O'Brien's

September 22, 2022 (Thursday) Thalia Zedek Band, Andy California, Daughter of the Vine at Notch Brewery Brighton

September 23, 2022 (Friday) Soulside, Verbal Assault, Bedmaker, Wrong War at Once at The Armory - 6PM!! . Tix and info

September 24, 2022 (Saturday) The Superfonics have reunion gig at the Midway with Classic Ruins and Shiny Beasts - this is a 3PM matinee show! FB page.

September 24, 2022 (Saturday) October FUZZ with Kind, Major Stars, Electric Street Queens, and Sundrifter at Bone Up Brewery Everett - FB page.

September 24, 2022 (Saturday) Supersuckers, White Dynomite at The Middle East Up.

September 25, 2022 (Sunday) Come is doing their first home town show in NINE years at the Middle East Up with Home Despot.

September 25, 2022 (Sunday) Joy Boys, Today Junior, Dog LIps, Alex Walton, Shame All Star Band at O'Brien's

September 25, 2022 (Sunday) Amyl and the Sniffers at Big Night Live on September 25 TIX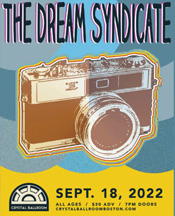 September 29, 2022 (Thursday) Key of Caustic is playing the Boston MiniFest at Sonia on 9/29, doors 6pm.
September 29, 2022 (Thursday) Early Exit, Paper Tigers, Long Autumn, Robotic Hawks - Middle east Up.
September 29, 2022 (Thursday) The Modern Day Idols, Tad Overbaugh & the Late Arrivals at Notch Brighton 7-10PM
September 30, 2022 (Friday) Crow Follow Record Release Party with: The Daylilies and The Jacklights at The Square Roots, Roslindale.
October 1, 2022 (Saturday) Benefit for Pine St. Inn ft. The Welch Boys w/ Chris Doherty, Nothing But Enemies, The Hagglers, Guns of Brighton at The Midway - get TIX here FB page.
October 1, 2022 (Saturday) A Wilhelm Scream, Oh The Humanity at the Middle East Down
October 1, 2022 (Saturday) WhistleStop Rock, Linnea's Garden, Justine and The Unclean, Kid Gulliver, The Chelsea Curve at The Jungle
October 1, 2022 (Saturday) Octoberfest at Dusk with a Full day/night of live music. Indoor and outdoor stages. Bands/Food/Drinks/Vendors. Bands: Vudu Sister, Jade Tourniquet, Brown Apples, Joy Boys, DNR, Minibeast, Paranoid Android, LooksThat Kill, Parapalegic, Ski Bunny, Atlantic Thrills, Joudy Ju, Northeast Traffic - starts at 2PM and goers all day and night. FB page.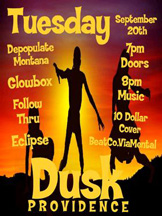 October 5, 2022 (Wednesday) Dr. John Cooper Clarke at City Winery
October 7, 2022 (Friday) Joan Jett Birthday show with Anrea Gillis & Friends and Sue Minichiello & friends doing EVERYTHING Joan Jett. At Sally O'Brien's
October 8, 2022 (Saturday) Roger Miller will be performing some of Dream Interpretation at the Lilypad Facebook page
October 9, 2022 (Sunday) Plymouth Punk Rock Market at Mayflower Brewing in Plymouth Mass. 12-5PM - FB page for info, vendors etc.
October 9, 2022 (Sunday) L7: Bricks Are Heavy 30th Anniversary at Big Night Live FB page.
October 9, 2022 (Sunday) Brix 'N'Mortar, Cry Havoc, Triggered, Blood Stained Brindle, Grip Bite at Dusk in Provi.
October 11, 2022 (Tuesday) Lion's Law, Violent Way, Blood Stained Brindle, Battery March at Sonia - TIX!!
October 11, 2022 (Tuesday) Agent Orange, Midnight Creeps and Gnarnia at Alchemy in Provi, RI FB page.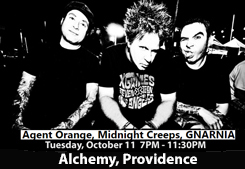 October 14, 2022 (Friday) Shakedown at the Shaskeen - Scissorfight returns to the stage with Drunk off diesel and Humanoids. at the Shaksheen Pub Manchester, NH
October 15, 2022 (Saturday) Speed Fossil are at The Square Root
October 15, 2022 (Saturday) Third Annual Punktoberfest at Thirsty First in Lowell...Razors In The Night, The Fake Boys, SkyTigers, Taken By Vultures, Diablogato, Warthog, Chumhuffer, Working Poor USA, The Downhauls, Hagglers, Baabes, CE Skidmore And The Damn Fine Band ... FB page
October 20, 2022 (Thursday) June of 44, The Thalia Zedek Band at The Middle East Down
October 21, 2022 (Friday) Key of Caustic at The Square Root.
October 21, 2022 (Friday) Stars Like Ours, Gene Dante & The Future Starletes, Paper Tigers at Faces Brewery Malden
October 23, 2022 (Sunday) Dead Boys with The Briefs and Suzi Moon has been moved to Alchemy. FB page.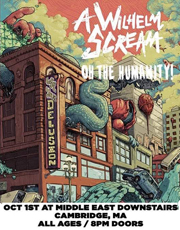 October 28, 2022 (Friday) FEAR performing The Record in its entirety at The Middle East Down - FB page.
October 29, 2022 (Saturday) Red on Red Dress Like a Rock Star Halloween Party with Stupidity (from Sweden) with Keith Streng from the Fleshtones, Cold Expectations, Andrea Gillis, Justine & The Unclean and Speedfossil - at the French Club in Waltham. FB page
October 29, 2022 (Saturday) Tiffy, Divine Sweater, Kipani, Paper Tigers at O'Brien's
November 5, 2022 (Saturday) The Mahones, The Pourmen, The Gobshites at Askew in Provi.
November 7, 2022 (Monday) Starcrawler at The Brighton Music Hall - this is all ages and EARLY at 6:30PM TIX.
November 11, 2022 (Friday) Hardcore Stadium Presents: Wound Man, Tinnitus, Robert Siege, Hideous, Shawnie Brando, Strictly Hip Hop, Sinister Wand, Operation Paperclip, Biproduct at The Middle East Down. Doors at 5 PM.
November 11, 2022 (Friday) Speed Fossil are at Sally O'Brien's
November 11, 2022 (Friday) The Teezers, The JackLights, Phantom Ocean, Key of Caustic at The Jungle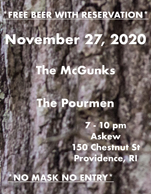 November 12, 2022 (Saturday) SO/CAL Punk Invasion 2022- Black Flag, The Dickies, TSOL, Total Chaos at The Granite State Music Hall Laconia, NH - TIX!
November 16, 2022 (Wednesday) Youth of Today, Art Thieves, ICU at The Middle East Down TIX!!
November 17, 2022 (Thursday) The Thigh Scrapers, Mad Painter, Doug MacDonald Band, The Stigmatics at The Middle East Up.
November 20, 2022 (Sunday) Hardcore Stadium presents - The Trouble at the Middle East Down (alas this show is sold out)
November 25, 2022 (Friday) The Sheila Divine, Valleyheart, The Rupert Selection at the Paradise Facebook event page Tickets
November 26, 2022 (Saturday) Dinosaur Jr., Guided by Voices and Eugene Mirman are at the House of Blues -FB page
December 17, 2022 (Saturday) The Lemonheads are playing the Paradise
December 18, 2022 (Sunday) The Lemonheads are playing a seco0nd show the Paradise - Facebook event page
October 11, 2023 (Wednesday) The Mission UK & The Chameleons: Deja Vu Tour 2022 Rescheduled to 2023!!! also on the bill Theatre of Hate
CONTACT US AT....misslynbgn@yahoo.com Send us your gig listings, your anything else ya got!! You want your CD reviewed?? Contact us for that too.
---
---