The BGN News Archive
September 19, 2022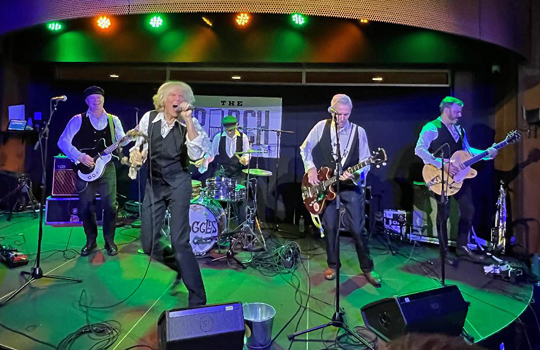 The Woggles at The Porch
The Fleshtones and The Woggles are two garage bands whose regular tours have become traditions to many. That's certainly true in Boston. Their shows have a lot in common with religious revival meetings where the faithful come out!
Captain Easychord caught both groups in their latest swings through the area. The bands are decades old but the venues were new: The Magic Room and The Porch. The lucky local bands that shared the bill were Tiger Bomb and Glider for the Fleshtones and Muck and the Mires and The Chelsea Curve for The Woggles.
Hit the photo link below to read the review and see the photos.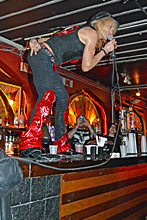 Michael Monroe
- top of ME bar

The Slater family made a statement about the Middle East plans on Facebook. They think the new plans won't happen before 2024 and the club will be open during that time with only a 'short interruption' during the redevelopment of the space. That last part sounds optimistic.

The statement starts:

"The Middle East has been the heart of Central Square for over 50 years, and the Sater Family is pleased to announce that the Middle East will remain the heart of Central Square for another 50 years! "

To read the rest go to the club's Facebook page

Once is going big on Halloween.

They have two Rockwell shows. The first on October 26 at the Rockwell called Ska-lloween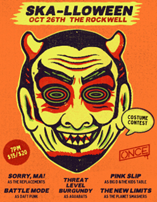 with Sorry Ma, Pink Slip, battlemode, The New Limits, and Threat Level Burgundy. On October 30 it's Lucretia's Daggers' 20th Spooky Anniversary with Lucretia's Daggers, Lobotomobile, Dead Harrison and Melt.
Then there are two shows at the Arts At the Armory. October 29 has the Halloween Cover Extravaganza with Bikini Whale as the B-52's, A Lad Insane as David Bowie, Gretchen & the Banshees as Siouxse & the Banshees and Staring at the Sea as The Cure. On October 31 they will show the Rocky Horror Picture Show and have a live cast.
---
SHORT CUTS......
According to a post by Liz Borden, Tanya of Stormstress has had a successful throat operation. The groups tour starting in April is still going to happen.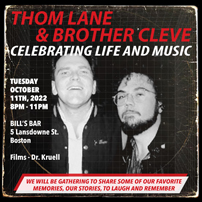 There will be remembrance of WMBR/LRC's Thom Lane now, regrettably, it's also for Brother Cleve at Bills Bar on Tuesday October 11. It's from 8 to 11pm.
Weakened Friends had a big setback just before their tour is starting (on 9/20). Their merch supplier went bankrupt – they had no merch and no refund. They pleaded their case online and got help there. The'll have merch and they are ready to rock.
Weakened Friends Facebook page
Big Dig Records is opening in the space that Blue Bag Records occupied. That would be 2325 Mass Ave, Cambridge. It should be opened as you read this, not much more info at the moment.
---
RADIO......
Mach Bell will be a guest on Crash Couse for the Ravers on Saturday Nov 19. Crash Course for the Ravers is on WMFO on Saturday between 1 and 4 pm.
Facebook page for Mach's show on CCFTR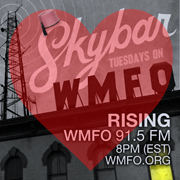 On Skybar's Rising show on WMFO this past Thursday he had The Downhauls (Michelle and Lauren) on for an interview. The Downhauls have released an album on Rum Bar Records that collects some previous releases.
They reveal that they have another half dozen songs ready to be recorded for the next album.
This Tuesday Skybar has Brad Hallen of the Nervous Eaters for an interview.
Skybar's show has been on for two hours during the summer but is now going back to the one hour format. You can hear the Downhauls show in the archive. Go the WMFO schedule https://www.wmfo.org/schedule/ hit the Rising show on Tuesday at 8 then hit the 'archive' button.
---
PODCASTS.........
Blowing Smoke with Twisted Rico interviews Frank Meyer who plays with the Streetwalkin' Cheetahs who have a double CD album of covers out now. Frank has worked in movies as well as writing and playing with James Williamson of the Stooges and Eddie Spaghetti of the Supersuckers.
He gets into the new album of covers and how he got hooked up with Lou Mansdorf.
---
NEW MUSIC/CDs......
Actor|Observer have released "Fool's Gold", a new single preceding their new album Songs For the Newly Reclusive . The song is a frank look at the gentrification of Boston and the effect it's having on the artists of the city. The group has an interview in the Allston Pudding where they discuss the club situation. The loss of Great Scott was big for the band. Meanwhile we can all see the bigger clubs, not as friendly to smaller acts, continue to be built.
The song attacks the problem Actor|Observer way, which is to say you get emotionally involved in the situation. This is what 'putting everything you have' in a song sounds like.
We're glad this notable band has made its way through the pandemic times and was able to keep its power and creativity in tack.
Brad Marino has done something different with his latest album Basement Beat. He's already proved that he can deliver a quality pop/punk/garage album at will. Now, Basement Beat is his version of a Ramone's album.
Brad says right on the cover that "no upstrokes were used in the making of this record". That's step one, and you can hear it's true. Then alliteration in the song titles, he's done that with: "Rubber Room", "Communist Creep". Nancy is a Narcoleptic" and over the top with "Sick Sick Sick Sick" and "Talk Talk Talk Talk".
The sound, melodies and the chord changes are all spot on. It's so obviously a labor of love. There's not a false note figuratively or literally in the whole project. It does its job by reviving your love of the Ramones again as it serves up its replica Ramones tunes.
Brad has given us so much good music since his work with the Connection. We always look back at that Great Scott's show in June of 2012 that was our first time hearing the Connection and Kurt Baker (link to that show) as the good music continues to flow from these guys.
The album, from Rum Bar Records, should be up online soon.
Rum Bar Records has hooked up with the The Streetwalkin' Cheetahs from LA to release a double album All the Covers (And More). It's a compilation of all the group's covers done since their beginning in 1995. They are off albums and demos along with some live cuts. They have guest stars along the way, like the great Wayne Kramer, Cherie Currie, Jimmy Zero and Sylvain Sylvain.
It's amazing to say that there are no misses on this big project. The song picks show good taste and obviously reflect the group's influences. They have the knack of instilling in each effort that sweet something that made the song worth coving to begin with.
All songs vibrate with energy, a manic energy even. That's where they start, they never think of letting up.
There are three Radio Birdman songs, one with guest Denz Tek. The Dead Boys also get three covers.
They give Wayne Kramer four songs to let loose and they are worth the price right there.
They cover two Stooges songs live: "Funhouse" and "1970". Those songs have been covered a lot. The Cheetahs show why they are still worth going at by delivery blistering performances.
They don't transform the songs but rather stick to the way you know them. Hear how they nail "Know Your Product" by The Saints below.
Over the years there have been interesting side lines along with the punk music. There were all the zines (like ours), books, Punk Rock Aerobics, Ed Moose's store in Allston, Fashion and art shows, the Hoodoo Barbeque. In that line up in 1979 there was also the Duplex Planet. That was a zine put out by David Greenberger. He published interviews with members of retirement homes. Ernest Noyes Bookings was the most popular. There have been zines and CD's exclusively with his thoughts.
The thing from the beginning has been the captivating way these older people expresses themselves. They came across as lovable characters, but opinionated. Their facts came together in a space that was often devoid of logic and consistency. There's an air of surrealism about it. It made for very entertaining reading.
Well David really never stopped with the Duplex Planet. See his web site.
He now has a new CD of material titled David Greenberger & The Waldameer Players Today! There are 40 cuts. They have a person's thoughts each with a personalized musical setting. Instruments vary. There are drums, sitar, Theremin, silverware, saxophone, tuba bass, jaw harp, piano and more. There's a John Cage randomness and spaceness about the backdrops that adds to the readings.
The thing is that the memories of the nursing home residents still have the same attraction they did back in 1979. We guess that shouldn't be a surprise, people are people. One thing has changed, we are closer in age to those people in the nursing home and that's something to think about.
Contact david@duplexplanet.com for ordering information.
More info on David Greenberger's activities at http://www.davidgreenberger.com/
Nick and the Adversaries have to ability to play several styles. In their latest album Confidence Man they play mainly ska. They bring their excellent songwriting to the ska game and that makes it a cut above the rest.
They have a few cuts that sound more poppy with no ska beat. We like "Think About It" which sounds a lot like Joe Jackson. Hear that below.
We spotlighted Baby Got Back Talk's video for their song "Season Premier". They are from NYC and are punk/alternative and distinctive enough to separate themselves from the pack. They are young and some of the lyrics capture current issues.
They now have a five song EP out titled Existential Shred? In the past we would say 'radio friendly', now let's say it's seems like it could capture a young audience.
"Don't Go Quietly" has some nice guitar work at the beginning and also shows their effective vocals.
---
Here's some good shows coming up .....
September 22, 2022 (Thursday) Seepeoples, Paper Tigers, Old Tom & The Lookouts at O'Brien's

September 22, 2022 (Thursday) Thalia Zedek Band, Andy California, Daughter of the Vine at Notch Brewery Brighton

September 23, 2022 (Friday) Soulside, Verbal Assault, Bedmaker, Wrong War at Once at The Armory - 6PM!! . Tix and info

September 24, 2022 (Saturday) The Superfonics have reunion gig at the Midway with Classic Ruins and Shiny Beasts - this is a 3PM matinee show! FB page.

September 24, 2022 (Saturday) October FUZZ with Kind, Major Stars, Electric Street Queens, and Sundrifter at Bone Up Brewery Everett - FB page.

September 24, 2022 (Saturday) Supersuckers, White Dynomite at The Middle East Up.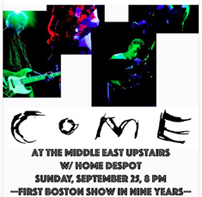 September 25, 2022 (Sunday) Come is doing their first home town show in NINE years at the Middle East Up with Home Despot.
September 25, 2022 (Sunday) Joy Boys, Today Junior, Dog LIps, Alex Walton, Shame All Star Band at O'Brien's
September 25, 2022 (Sunday) Amyl and the Sniffers at Big Night Live on September 25 TIX
September 26, 2022 (Monday) Zygote Theory, Vangelism, Rawstrum ....Rawstrum will be playing songs from their new CD Cold Dreams... at The Midway.
September 29, 2022 (Thursday) Key of Caustic is playing the Boston MiniFest at Sonia on 9/29, doors 6pm.
September 29, 2022 (Thursday) Early Exit, Paper Tigers, Long Autumn, Robotic Hawks - Middle east Up.
September 29, 2022 (Thursday) The Modern Day Idols, Tad Overbaugh & the Late Arrivals at Notch Brighton 7-10PM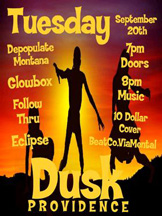 September 30, 2022 (Friday) Crow Follow Record Release Party with: The Daylilies and The Jacklights at The Square Roots, Roslindale.
October 1, 2022 (Saturday) Benefit for Pine St. Inn ft. The Welch Boys w/ Chris Doherty, Nothing But Enemies, The Hagglers, Guns of Brighton at The Midway - get TIX here FB page.
October 1, 2022 (Saturday) A Wilhelm Scream, Oh The Humanity at the Middle East Down
October 1, 2022 (Saturday) WhistleStop Rock, Linnea's Garden, Justine and The Unclean, Kid Gulliver, The Chelsea Curve at The Jungle
October 1, 2022 (Saturday) Octoberfest at Dusk with a Full day/night of live music. Indoor and outdoor stages. Bands/Food/Drinks/Vendors. Bands: Vudu Sister, Jade Tourniquet, Brown Apples, Joy Boys, DNR, Minibeast, Paranoid Android, LooksThat Kill, Parapalegic, Ski Bunny, Atlantic Thrills, Joudy Ju, Northeast Traffic - starts at 2PM and goers all day and night. FB page.
October 5, 2022 (Wednesday) Dr. John Cooper Clarke at City Winery
October 7, 2022 (Friday) Joan Jett Birthday show with Anrea Gillis & Friends and Sue Minichiello & friends doing EVERYTHING Joan Jett. At Sally O'Brien's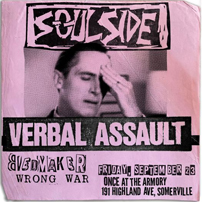 October 8, 2022 (Saturday) Roger Miller will be performing some of Dream Interpretation at the Lilypad Facebook page
October 9, 2022 (Sunday) Plymouth Punk Rock Market at Mayflower Brewing in Plymouth Mass. 12-5PM - FB page for info, vendors etc.
October 9, 2022 (Sunday) L7: Bricks Are Heavy 30th Anniversary at Big Night Live FB page.
October 9, 2022 (Sunday) Brix 'N'Mortar, Cry Havoc, Triggered, Blood Stained Brindle, Grip Bite at Dusk in Provi.
October 11, 2022 (Tuesday) Lion's Law, Violent Way, Blood Stained Brindle, Battery March at Sonia - TIX!!
October 11, 2022 (Tuesday) Agent Orange, Midnight Creeps and Gnarnia at Alchemy in Provi, RI FB page.
October 14, 2022 (Friday) Shakedown at the Shaskeen - Scissorfight returns to the stage with Drunk off diesel and Humanoids. at the Shaksheen Pub Manchester, NH
October 15, 2022 (Saturday) Speed Fossil are at The Square Root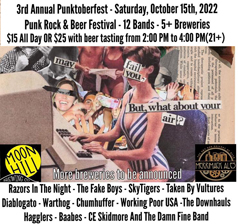 October 15, 2022 (Saturday) Third Annual Punktoberfest at Thirsty First in Lowell...Razors In The Night, The Fake Boys, SkyTigers, Taken By Vultures, Diablogato, Warthog, Chumhuffer, Working Poor USA, The Downhauls, Hagglers, Baabes, CE Skidmore And The Damn Fine Band ... FB page
October 20, 2022 (Thursday) June of 44, The Thalia Zedek Band at The Middle East Down
October 21, 2022 (Friday) Key of Caustic at The Square Root.
October 21, 2022 (Friday) Stars Like Ours, Gene Dante & The Future Starletes, Paper Tigers at Faces Brewery Malden
October 23, 2022 (Sunday) Dead Boys with The Briefs and Suzi Moon has been moved to Alchemy. FB page.
October 28, 2022 (Friday) FEAR performing The Record in its entirety at The Middle East Down - FB page.
October 29, 2022 (Saturday) Red on Red Dress Like a Rock Star Halloween Party with Stupidity (from Sweden) with Keith Streng from the Fleshtones, Cold Expectations, Andrea Gillis, Justine & The Unclean and Speedfossil - at the French Club in Waltham. FB page
October 29, 2022 (Saturday) Tiffy, Divine Sweater, Kipani, Paper Tigers at O'Brien's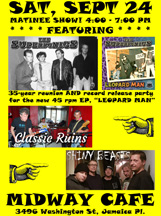 November 5, 2022 (Saturday) The Mahones, The Pourmen, The Gobshites at Askew in Provi.
November 7, 2022 (Monday) Starcrawler at The Brighton Music Hall - this is all ages and EARLY at 6:30PM TIX.
November 11, 2022 (Friday) Hardcore Stadium Presents: Wound Man, Tinnitus, Robert Siege, Hideous, Shawnie Brando, Strictly Hip Hop, Sinister Wand, Operation Paperclip, Biproduct at The Middle East Down. Doors at 5 PM.
November 11, 2022 (Friday) Speed Fossil are at Sally O'Brien's
November 11, 2022 (Friday) The Teezers, The JackLights, Phantom Ocean, Key of Caustic at The Jungle
November 12, 2022 (Saturday) SO/CAL Punk Invasion 2022- Black Flag, The Dickies, TSOL, Total Chaos at The Granite State Music Hall Laconia, NH - TIX!
November 16, 2022 (Wednesday) Youth of Today, Art Thieves, ICU at The Middle East Down TIX!!
November 17, 2022 (Thursday) The Thigh Scrapers, Mad Painter, Doug MacDonald Band, The Stigmatics at The Middle East Up.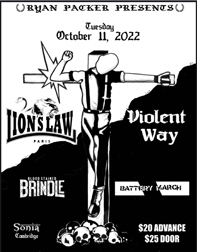 November 20, 2022 (Sunday) Hardcore Stadium presents - The Trouble at the Middle East Down (alas this show is sold out)
November 25, 2022 (Friday) The Sheila Divine, Valleyheart, The Rupert Selection at the Paradise Facebook event page Tickets
November 26, 2022 (Saturday) Dinosaur Jr., Guided by Voices and Eugene Mirman are at the House of Blues -FB page
December 17, 2022 (Saturday) The Lemonheads are playing the Paradise
December 18, 2022 (Sunday) The Lemonheads are playing a seco0nd show the Paradise - Facebook event page
October 11, 2023 (Wednesday) The Mission UK & The Chameleons: Deja Vu Tour 2022 Rescheduled to 2023!!! also on the bill Theatre of Hate
CONTACT US AT....misslynbgn@yahoo.com Send us your gig listings, your anything else ya got!! You want your CD reviewed?? Contact us for that too.
---
---