The BGN News Archive
September 20, 2021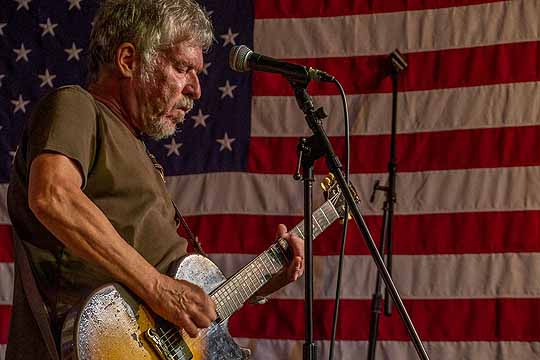 Frank Rowe celebrates his 70th Birthday at the Midway
Photo John Keegan
John Keegan was out for live music this week and played some of it himself. He was at the Frank Rowe 70th Birthday party. Classic Ruins played of course and John runs down their set list "…Labatt's, Rocco's Wake, the Billy Borgioli penned "Forget About It", "Cheap Champagne", "Geraldine"," NyQuil Stinger", "1 + 1", and the, now watch what you wish for, "Heart Attack". "
| | |
| --- | --- |
| Classic Ruins | Unnatural Slacks |
Opening the show was Unnatural Slacks which was Richie Parson and friends. Richie covered songs from his whole career. Again John's set list tells a story.….." The Gremies' "No Surfin' in Dorchester Bay", and Richie's recent solo stuff including "Winter's Dream", "Love Letter", and "When You're Dancing". They also hit Axe songs "Shopping for a Friend", "Summertime", and "Three-chord Rock". Finally, they throw on "Your Eyes" and "Animal Gray" from Plan 19 for good measure."
| | |
| --- | --- |
| Link Brothers | Kenne Highland's Air Force |
Steve Aquino of the Lyres played with his group the Link Brothers whose mission is to play the Link Wray catalog.
Topping the show was Kenne Highland's Air Force. Somehow the pandemic has only energized Kenne or as Keegan colorfully suggests, "Someone must have shoved some electrodes up Kenne's ass and hit the high voltage switch." John ought to know he's playing sax in the group.
Do they really have a song called "Trickfucked Again" and what's that about? We're longing to have "Dead Boston Clubs" in recorded form.
But enough summarizing John, get over to his full report and amazing photos. Hit the photo link below.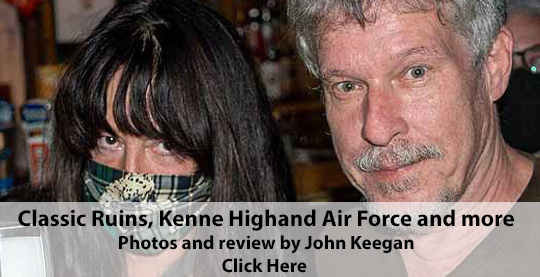 Kids Like You and Me put on a Saturday afternoon outdoor show one block from Miss Lyn's. So we had to check it out. Got there, sadly just as Johnnie & The Foodmasters were finishing up their last song. Sorry guys! But as they say: "Once called worst band in Cambridge, but this was Somerville!" so they rocked!!
| | |
| --- | --- |
| Sidebody | Margaret Garrett |
Sidebody was up second, they started out with a conceptual piece; the drummer and the lead singer were writhing around with each other on the ground, the song was sung quietly with very little accompaniment. Hmm, OK. Turns out the vocalist, Hava Horowitz can sing in many different styles. She offers recordings on YouTube. I'm not surprised because the second song was as sultry sort of Speakeasy song that sounded great, a good vehicle for her voice. From there they went into other … territories. They were pretty simple and basic but Hava emotes throughout!
Next up Margaret Garrett with her own band. She's got that light and breezy sound and does it so well. It was perfect for a warm Saturday afternoon.
| | |
| --- | --- |
| Steve, Kim, Duncan, Bliss Cam | Sidebody |
There were about 60 people there, pretty good turnout! In the crowd we ran into Kim and Cam Ackland, Steve Riccardo, and Mickey Bliss. Here's hoping KLYAM can get more shows at Lincoln Park this year!!
And yes we asked Mickey about Club Bohemia and he says Yes all things look good for more music down there. That's excellent news.

---
The Hong Kong in Harvard Square is getting back to live music, They have announced just one show for November 1 but promise more soon. Check out their Facebook page to keep posted. In a band? Want to play there? email: HongKongHarvardBooking@gmail.com.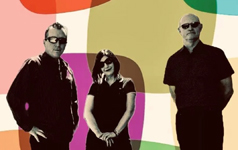 The Chelsea Curve has a Q & A in The Music Bugle. They mention something we think is very true: that on the newly recorded material They "spent…extra time on writing, refining, layering instruments and vocals and creating these songs that have no chance of sounding the same live". Though we do think they can handle the new songs live we have been blown away with the new material for that exact reason. The Jam, they site as an influence, had a rawer, simpler stage sound but their albums had more details in them.
Next time to hear the Chelsea Curve is this Saturday at the Medford Porchfest. The Facebook event page
We heard from Rich Mirsky this week. Hixxgiving, that low brow celebration of Thanksgiving, is happening at the Midway on Saturday, November 13. It starts at 3:00pm and is all ages, $10. This year's line up is - Zagnutt, Black 13, HIXX, Black Clouds from NJ. They usually have some free grub for you to forage on as the trailer romance songs.
SHORT CUTS......
Nancy Barile who wrote I'm Not Holding Your Coat was a punker before she was a teacher. Here's a story of a punk who became a banker at (Lloyds of London) and once he earned enough money ….back to punk!!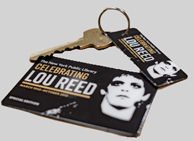 The New York Public Library acquired Lou Reed's archives in 2017. Now they will have the first curated show from that material; "Lou Reed: Caught Between the Twisted Stars". There will be books, records, guitars and more on display. The show will cover all of Lou's career starting right from the 1959 group he had in high school named The Shades to his last show in 2013. The show runs from March 2, 2022 through August 27 of 2022. You can read about it in the Gothmist
The Brooklyn Vegan posts another cover from the upcoming album I'll Be Your Mirror: A Tribute to The Velvet Underground & Nico. Sharon Van Etton takes "Femme Fatale" and slows the tempo a bit and gives it a breathy delivery, milking the already moody song. The lineup of artists for this project includes Iggy, Kurt Vile and Thurston Moore. You can hear the song and read the article at Brooklyn Vegan
---
VIDEOS......
Red on Red has signed up Sweden's Stupidity! That's welcome news. They've played Boston a few times and we hope they come around many more times. "Magical Girl" by Stupidity has a garage heart, though they sandwich it between some super psychedelics.
Drummer Tommy Boy was interviewed by Mighty Manfred on this Coolest Conversations on Little Steven's Underground Garage. He explains the story behind the fact that Keith Streng of the Fleshtones has been involved with the band. Tommy mentions that the last time he saw Manfred was playing at the Middle East in Boston with the Woggles. Listen here.
The Stranglers do not disappoint with their new song and video. The song has the Stranglers sound, not something guaranteed with new members. The video is a mysterious chase with legendary football player (and Stranglers fan) Stuart Pearce being pursued by a gang in Parkour style. There's some more about the new album on the Rock n Load website
Before this they released the song "If You Should See Dave" about keyboardist Dave Greenfield who died this year. We've never heard The Strangles soft side like this. Near the end the lyrics actually say, "this is where your solo would go." Wow! Wonderful tribute. Read some more about the song on the Classic Rock website
It's been a few months since we got a new Bands Bear and Banter. Now there's Episode 8. The beers are: Small Change - Whatever's Cool With Me, Timberyard Brewing – Hindsight, Lord Hobo – Life.
For the bands they looked at "Beach" by The Jacklights, Nightspell with "Pegasus, and Thunder Jacket doing "Losing Sleep". Senseless Optimism's video for "Why" was like a hard hitting mini movie,
---
PODCASTS......
Blowing Smoke With Twisted Rico catches up with the always busy and interesting Hilken Mancini.
The early days of Fuzzy with their record label dealings are very interesting. Hilken thinks of herself as an 'idea' person and Punk Rock Aerobics that was started in 2000 is a great example of that. She left the door open for some shows by The Monsieurs but didn't say that they were a working band anymore.
The story of how Billy Ruane saved the Aerobics gig is amazing in its way. Hilken became inspired by the California Rock Camp and began the Boston chapter with seed money from Billy Ruane. Billy to the rescue again!! Though, she says Punk Rock Aerobics never made much money.
A.J. Wachtel's Wachtelligence. For the current episode he's got the king himself – Willie 'Loco' Alexander.
Willie says he didn't even know most of the Velvet Underground material when he joined. And, as you can imagine, he said he was bombed most of time.
He relates how the Boom Boom band came about, that was one of the pivotal forming moments of Boston punk. Willie says he wrote "At the Rat" for Mickey Clean and the Mezz but they never used it. He considers one his musical high points as "Pup Tune" off the Live at the Rat album.
Currently he's doing some things in the studio and he's concentrating on his painting. So, nice to hear Willie again. We miss having you around town WA!!!
---
Music/CDs......
The Hi End are back with another song. They don't waste a second as the drums start the rock. The group sounds tighter than ever. They are wound up and barely contained.
There's a lot packed into this four minute ditty. At the 1:45 mark they give a minute of guitar work. It starts with some figures played with some whammy bar action and ends with some very fast runs. The song comes back full force for another minute. That's how to structure a song.
Either Richard Mirsky's songs are getting deeper or we're listings closer. The song he just released "Wet" has a minimal accompaniment but the emotion is strong. When you get to the line" I'm starting to suspect you won't miss me when I'm gone" it hits its mark.
Rich also recorded a 40 year old song called "Kilmarnock St". He plays all the instruments on this. We suspect that he was living on that street back in the day. This sounds like a sad drug tale.
---
Here's some good shows coming up .....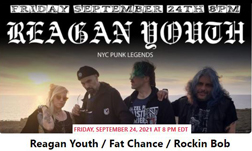 September 24 (Friday) Reagan Youth along with Rockin Bob Punk Band, Fat Chance, Neighborhood Shit, Sorry Mom at Sammy's Patio in Revere FB page.
September 24 (Friday) Diabolgato, Salem Wolves, The Evil Streaks at Koto. As per order of the City Of Salem, masks must be worn regardless, and that includes the bands onstage.
September 25 (Saturday) Fluffapalooza at Once Somerville @ Boynton Yards - It's Fluff Fest's 16th Anniversary!! The Macrotones, Flying Vipers , blindspot , The Shirts & Shoes , Minibeast, Emperor Norton's Stationary Marching Band, Tory Silver, Black Helicopter, Girl With a Hawk, SOR Watertown House Band. Music starts at 1PM. Tix here.
September 25 (Saturday) Roslindale Porchfest special: Guilloteenagers, Hambone Skinny, Ski Bunny starting at 1:30PM on Malverna Rd Rozzie. FB page for map and times.
September 25 (Saturday) The Chelsea Curve rocks the driveway!! Starting at 4:00, DJ Sherman will be spinning the best of Britpop, Northern Soul, Postpunk and 80's British Ska, followed by The Chelsea Curve at 5:00, blasting out our mod pop tunes for your listening pleasure!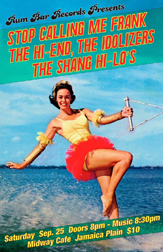 September 25 (Saturday) Stop Calling Me Frank, The Hi-End, The Idolizers, The Shang Hi-Lo's at The Midway
September 25 (Saturday) The Royal Arctic Institute, Clamb, Home Despot, Sapling at The Jungle
September 30 (Thursday) Shiny Beasts, Martin, Morell & Fredette and DJ sets by The Swedes Stampede w/ WMBR's Joanie and Sara J at Notch Brighton @ The Charles River Speedway 21+ [6PM] FB page.
September 30 (Thursday) Nervous Eaters/Barrence Whitfield/Willie Loco and the Boom Boom Band/Carissa Johnson at the Paradise . Get Tickets Here!
October 1 (Friday) Linnea's Garden, Gene Dante and the Future Starlets, State of the Union at Koto in Salem FB page.
October 2 (Saturday) Boston Rocks for Julie Duffy: Duncan Wilder, Heretix, Stomp Box, Sam Black Church, Only Living Witness, Tree at The Paradise - music starts at 7PM. FB page.
October 2 (Saturday) Oh the Humanity! record release show at O'Brien's
October 2 (Saturday) Lyres, Classic Ruins, The Modifiers at the Middle East Up. FB event page Tix here.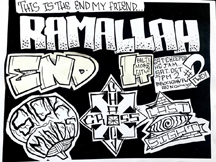 October 2 (Saturday) Ramallah, End It, Sick Minds, Chaos Cross, and Last Sight - Brockton VFW all ages -7PM. Note!! Presale for this show is sold out. We will have approximately 50 tickets at the door. If you don't have a ticket, get there early. FB page.
October 2 (Saturday) Cape Cod Punk Rock Showcase featuring Dead Low, Neighborhood Shit, Cry Havoc, Working Poor USA, Worm at the Brewster VFW 989 Freemans Way. Starts at 6PM Facebook event page
October 3 (Sunday) Thalia Zedek, Andrew Cohen, Honey Radar at O'Brien's Pub
October 4 (Monday)Gary Numan at the Paradise...is CANCELLED.
October 5 (Tuesday)The Chops, Weatherworn, Louzy, Key of Caustic at The Midway
October 8 (Friday) Hardcore Stadium presents No Pressure, Koyo, Fleshwater, JINX, Crescent Ridge at the Middle East Up. All Ages.
October 9 (Saturday) Little Billy Lost, Peppermint Kicks, Bunch of Jerks at The Square Root FB page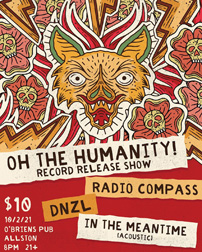 October 9 (Saturday) Stubborn Hearts CD release party at News Café with The War in Kids and They Them Femme.
October 9 (Saturday) NE Ska Summit doc w/ The Copacetics and Riki Rocksteady at the Regent Theater Arlington FB page
October 10 (Sunday) Scurvy Dog Parking Lot Mega Show III with Hope Anchor (9:30 pm), Kepi Ghoulie (8:45 pm), the Worried (8:00 pm), the Hammer Party (7:15 pm), Disfellowshipped (6:30 pm), Black Sorcery (5:45 pm), Anxious Wave (5:00 pm), the Hi-End (4:15 pm), the Smoke Breaks (3:30 pm), Moodrunners (2:45 pm), Brown Apples (2:00 pm). WOW 13 hours of music!! FB page.
October 14 (Thursday) Ministry at the House of Blues. Tickets
October 15 (Friday) the Dogmatics and Gypsy Moths at The Magic Room. FB event page
October 15 (Friday) Tsunami of Sound, Jonee Earthquake Band, Doug Macdonald Band, Kenne Highland's Airforce, The Thigh Scrapers at Pete's Grille Quincy. FB page
October 16 (Saturday) 2nd Annual Punktoberfest at Thirsty First in Lowell - The Welsh Boys, 45 Adapters, Brix'n'Mortar, The Only Things, Disco Volante, Diablogato, DNZL, Gripbite, Stoploss, Color Killer, Nick the Barbarian, Horsehands, Timmy Heist & The 456 - starts at 2PM!! FB page
October 16 (Saturday) The Cretins, State Of The Union, The Challenged, Rusty Things, DJ Chris Atwood at Bill's Bar Landsdown St by Fenway Park. FB page.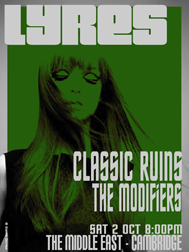 October 16 (Saturday) Magic Room in Norwood presents Smitt E. Smitty & The Feztones and Gene Dante & The Future Starlets FB page

October 16 (Saturday) The FU's, Bitter, Arctic Horror and Give Up at The MIdway All Ages, starts at 3PM. FB page

October 22 (Friday) Brad Marino, Geoff Palmer and Kurt Baker playing 2 sets of hits from all their bands with The Dents in the middle. At The Square Root.

October 24 (Sunday) Nervous Dater, Good Looking Friends, Tatoonie Punk Scene, Stubborn Hearts at O'Brien's in Allston

October 29 (Friday) The Dents, Black Helicopter, Motel Black at O'Brien's

October 31 (Sunday) Dropkick Murphys At Hogan's Run again 7-11PM...best Tessie costume wins a free drinks bracelet for the night. FB page.

November 1 (Monday) YAY!! The Hong Kong is back!! Ignorantes, Wanted, G.R.I.N., The Massacaered, 4 Minute Warning,

November 5 (Friday) Shake The Faith (reunion gig!!) with Little Billy Lost at The Magic Room in Norwood. FB page. Here's a vid of Shake The Faith at the Channel 1989

November 5 (Friday) The Guns of Brighton return to the Breakaway in Danvers FB page here.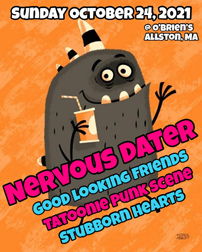 November 6 (Saturday) Mister Vertigo, Modern Day Idols, The Chelsea Curve, If We Go At All...8PM show at the Midway
November 13 (Saturday) Field Day (x-Dag Nasty), Moving Targets, Lenny Lashley's Gang of One at the Middle East Up TIX!!
November 13 (Saturday) Tsunami of Sound, U-ey at the Buoy at The Square Root
November 19 (Friday) Hardcore Stadium and Grayskull Booking Presents: Slapshot - Celebrating 35 Years of Hardcore Day 1- Stars & Stripes, Noi!se, COA, Patriot, Violent Way at Sonia - (already sold out!!)
November 19 (Friday) Joan Jet & the Blackhearts will be at the Chevalier Theatre in Medford Square. Tickets.
November 19 (Friday) Letters to Cleo are at the Paradise. Tickets here
November 20 (Saturday) Lurid Purple Flower, Verdegree, Motel Black, Shrink Ray at The Jungle
November 20 (Saturday) Hardcore Stadium and Grayskull Booking Presents: Slapshot - Celebrating 35 Years of Hardcore Day 2 -Slapshot, Sheer Terror, Death Before Dishonor, Pummel, Count Time - at The Middle East Down. (already sold out!!)
November 27 (Saturday) Jason Bennett & the Resistance, The Damaged, The Hagglers, & Chris Skel at The Middle East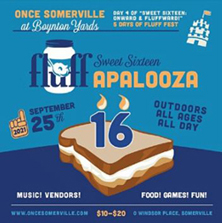 November 27 (Saturday) Dinosaur Jr. at the House of Blues on Saturday Nov 27. Tix
November 30 (Tuesday) The Labor Pains, Disqualifier, Tensor, Bad Sandy, The Lost Boys at The Midway. FB page
December 11 (Saturday) The Hi-End, Watts, Freeloader - Middle East Up - starts at 12:30PM!!
March 13, 2022 (Tuesday) Reigning Sound at the Sinclair Tickets: https://www.axs.com/events/402182/reigning-sound-tickets
April 22, 2022 (Thursday) Circle Jerks at the Paradise
CONTACT US AT....misslynbgn@yahoo.com Send us your gig listings, your anything else ya got!! You want your CD reviewed?? Contact us for that too.
---
---
---